This week it's all about those cold weather comfort foods as we start thinking about Spring!
National pancake day is February 21 - think about having some fluffy buttermilk pancakes for breakfast! Or, if you don't have time in the morning, what about breakfast for dinner?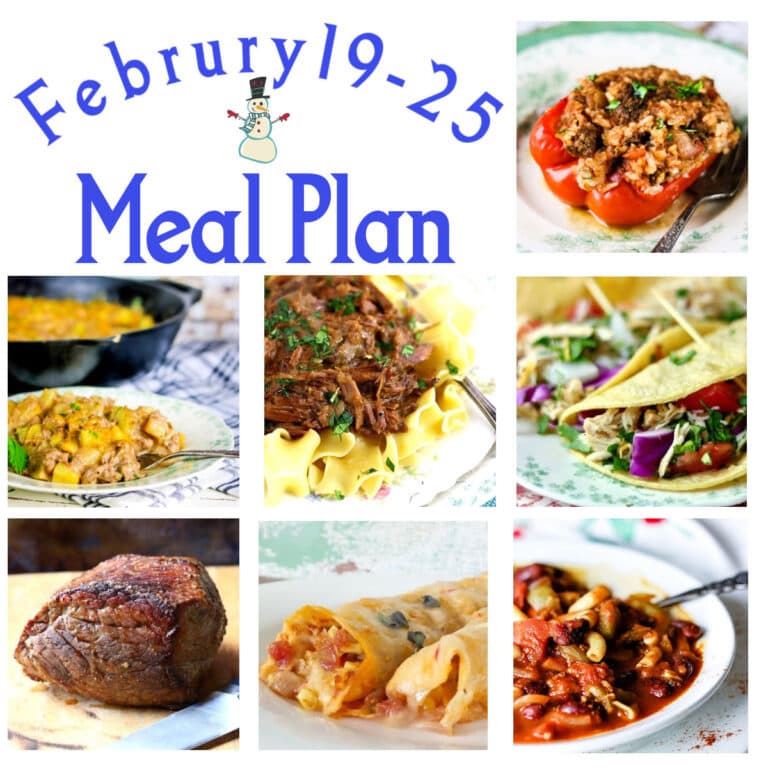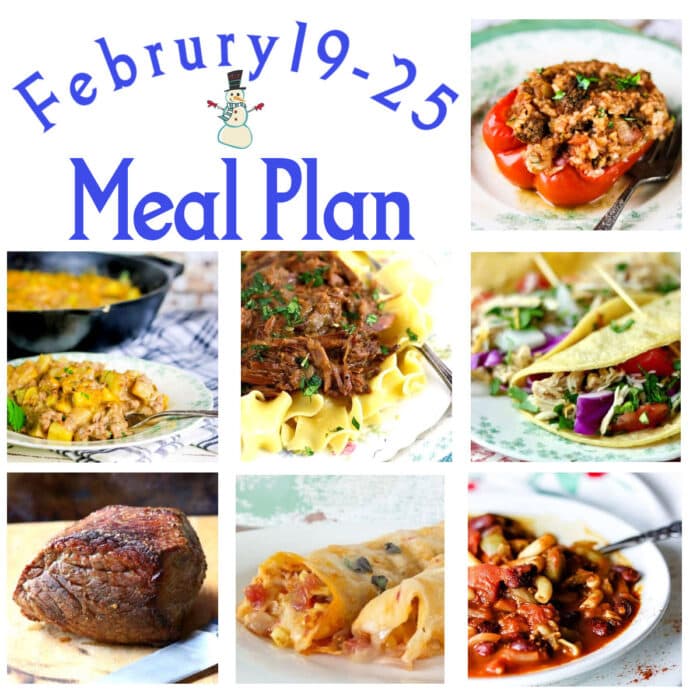 Jump to:
🫑 What's in Season?
A better question might be, "what isn't in season?"
Everything is ripening and coming into the Farmers' Markets now. It's fresh, in season, and at it's best. Make the most of these fresh flavors.
Apricots
Beets
Bell pepper
Berries (raspberries, strawberries, blackberries, blueberries)
Chiles
Corn
Cucumber
Eggplant
Figs
Green beans & Wax beans
Mangoes
Melon
Nectarines
Okra
Peaches
Pineapples
Plums
Radishes
Tomatoes
Zucchini and yellow squash
As we get closer to spring more comes in season! In Texas, California, and other states with longer growing periods we'll even begin to see strawberries.
Try adding some mandarin oranges to a spinach salad. The vitamin c in the oranges helps your body absorb the iron in the spinach... plus it's yummy!
You should be able to easily find the following produce at your local farmer's market depending on where you live.
Citrus - especially grapefruit
Beets
Broccoli
Brussels sprouts
Cabbage
Carrots
Cauliflower
Celery root
Collards
Kale
Rutabaga
Spinach
Strawberrries (Texas & California)
Turnips
💭 Tips for success
Here are tips for getting it all done this week!
Keep canned and frozen foods around for when you are strapped for time. Canned diced potatoes, frozen onions and green peppers mix, canned carrots - these are all convenience foods that make dinner prep quicker and easier in a pinch.
Get in the habit of batch cooking. Buy a big bag of chicken breast at Costco and cook it all in the slow cooker at once. Separate the chicken into meal sized portions and freeze to use as needed. You'll save time and money.
Stuffed peppers freeze well. Make a double batch and freeze half of it for another day.
Leftover beef and noodles? Put it in a pot with beef stock, a can of carrots drained, and some frozen peas - it makes a great soup.
Leftover cornbread? Serve it for breakfast with sausage gravy.
February 19
February 20
February 21
February 22
February 23
February 24
February 25
📚 Related recipes
Grocery List
I've tried to add all of the ingredients called for but I suggest you go over the recipes before you finish your grocery list just to double check that you have everything.
The following are affiliate links. We are a participant in the Amazon Services LLC Associates Program, an affiliate advertising program designed to provide a means for us to earn fees by linking to Amazon.com and affiliated sites.
ground beef
rump roast
bacon
chicken breast
potatoes
garlic
hatch chiles
arugula
shallot
carrots
cucumbers
red peppers
green peppers
corn
bananas
strawberries
oranges
parsley
cilantro
basil
onions
lime
frozen peas
elbow macaroni
egg noodles
Ro*Tel tomatoes and chiles
stewed tomatoes
kidney beans
corn
creamed corn
cream of mushroom soup
chipotle in adobo
chiles
rice
dried potato flakes
chicken stock
beef stock
liquid smoke
garlic powder
smoked paprika
chili powder
cumin
oregano
active dry yeast
all-purpose flour
baking soda
baking powder
white chocolate instant pudding mix
cocoa
toffee pieces
white chocolate
vanilla
pecans
hazelnuts
brown sugar
sugar
confectioner's sugar
sweetened condensed milk (eagle brand)
evaporated milk
crushed pineapple
pineapple rings
coconut
maraschino cherries
Cool Whip
milk
buttermilk
Cheddar
Monterey Jack cheese
heavy cream
sour cream
cream cheese
butter
eggs
balsamic vinegar
honey
crumb pie crust if you aren't going to make one homemade
corn tortillas
Oreos
mayonnaise
tequila
rum
grapefruit juice
key lime juice
spicy V-8 juice