Crispy, baked sweet potato fries are easy to make with these tips and tricks! All of the healthy goodness of sweet potatoes in spicy, salty, sweet, and crispy fries! It's the perfect side dish for all of your favorites from hamburgers to roast chicken. You can use fresh sweet potatoes or yams interchangeably in this recipe. I think these fries are particularly good with meatloaf.
For this recipe you'll need: raw sweet potatoes or yams, coconut oil or olive oil, cornstarch, garlic powder, smoked paprika, cinnamon, chipotle powder, brown sugar, salt, pepper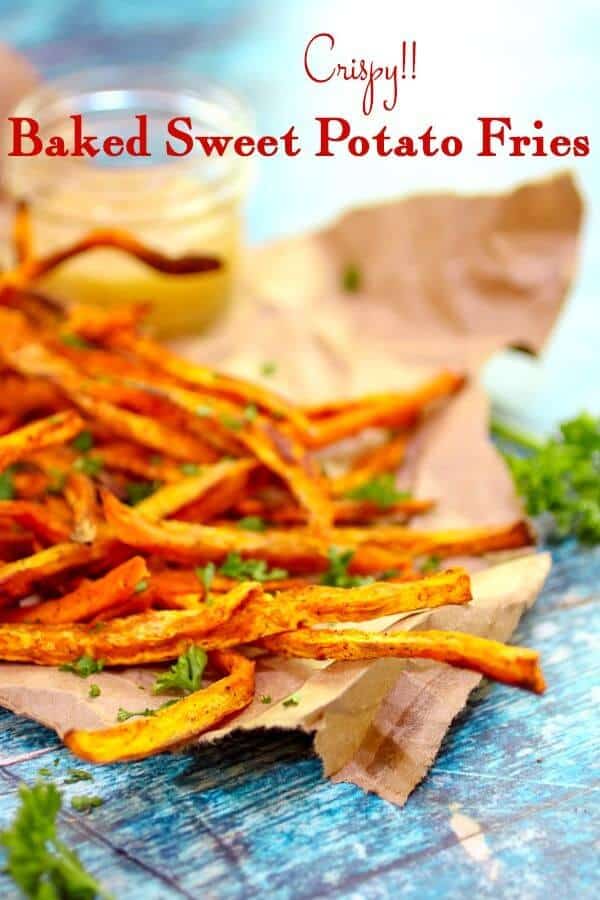 Baked Sweet Potato Fries Recipe Backstory
So y'all, sweet potato fries haven't ever been one of those recipes I was dying to try. You see, years and years ago (before sweet potato fries were even a thing) I was taking some out of town friends to the airport somewhat late at night. We had planned to stop and get a little something to eat but everywhere had either a long wait or it was closed.
We ended up at this little diner that looked like it could have popped out of an episode of Happy Days. The words quaint and charming come to mind. Since we were all adventurous cooks we decided to give it a try…
One of the items on the menu was sweet potato fries with brown sugar dip and I thought it sounded absolutely amazing. I love sweet potatoes and the idea of some sort of juxtaposition between sweet potatoes and French fries? Yes please!
When the fries got put on the table we all looked at them expectantly. Our first indication to beware the unknown should have been the way the fries cowered together limply on the red checkered paper in the basket. The paper was discolored from a pool of oil that seeped from the sweet potato fries like the tears of chefs all over the world who could feel that something had shifted in the universe.
"I'll try them", I said with what I hoped was my most cheerful voice.
I picked up one of the fries and it immediately fainted in my fingers like an overly dramatic 1920's heroine. I looked dubiously from the limp fry in my hand to the thick, grainy, dip to my right. My friends watched with horror and intrigue as I forced the fry into the dip and took a bite.
The dip was pure Crisco and brown sugar. We paid our check, left hurriedly, and grabbed some fast food at the drive-thru.
So now y'all have an idea why I was hesitant to jump on the sweet potato fries train. I am happy to say that my baked sweet potato fries are crispy and light – and you can add whatever kind of sauce you like best. No judgement from me.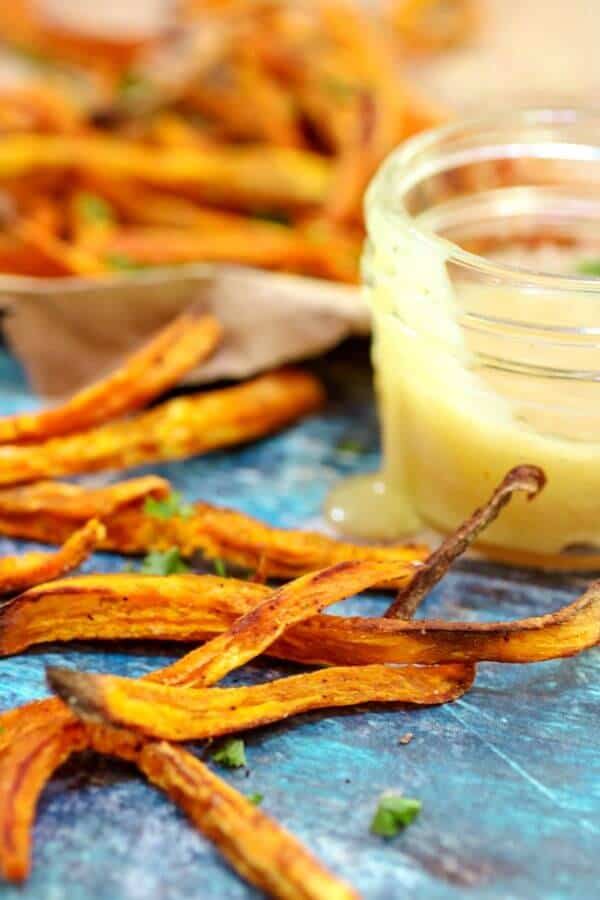 Bake Sweet potato fries at 425F for the best results.
Sweet Potato Fries FAQs
This recipe is rated: easy. Peeling, cutting, and baking required so there should be adult supervision for older children. Young children can toss the raw fries in the oil or mix the spices.
How do you make sweet potato fries crispy?
The secret to crispy, light, and delicious sweet potato fries is very simply… cornstarch. Toss the uncooked fries in the cornstarch and salt mixture before you add the oil and bake. Sprinkle with your other seasonings when they come out of the oven. That's it!
How do you make sweet potato fries in the oven?
Position your rack in upper third of oven and preheat it 425 degrees F. Add the prepared fries to an oiled cookie sheet in a single layer and bake.
Are sweet potato fries better for you than french fries?
Sweet potatoes have more nutritional value than regular potatoes and the sweet potato fries are usually baked rather than fried so there is less fat.
Do you need to soak sweet potato fries?
Sweet potatoes don't have the same amount of starch that regular potatoes do so there is no need to soak them.
How to Make Crispy Baked Sweet Potato Fries Step by Step
These fries are so easy that you'll be making them as a side dish all the time! Follow these steps and tips for perfect baked sweet potato fries every single time.
Preheat the oven to 425F
Mix the salt and cornstarch and set aside.
Mix the seasoning blend and set aside.
Peel the sweet potatoes.
Pat dry with paper towel.
Cut in 1/4-inch "fries". Make sure they are all uniform sizes.
Pat dry with paper towel, again.
Toss in the cornstarch-salt mixture.
Drizzle with oil and toss lightly.
Arrange in a single layer on an oiled cookie sheet without crowding.
Bake at 425F.
Remove from oven and season with the seasoning mixture.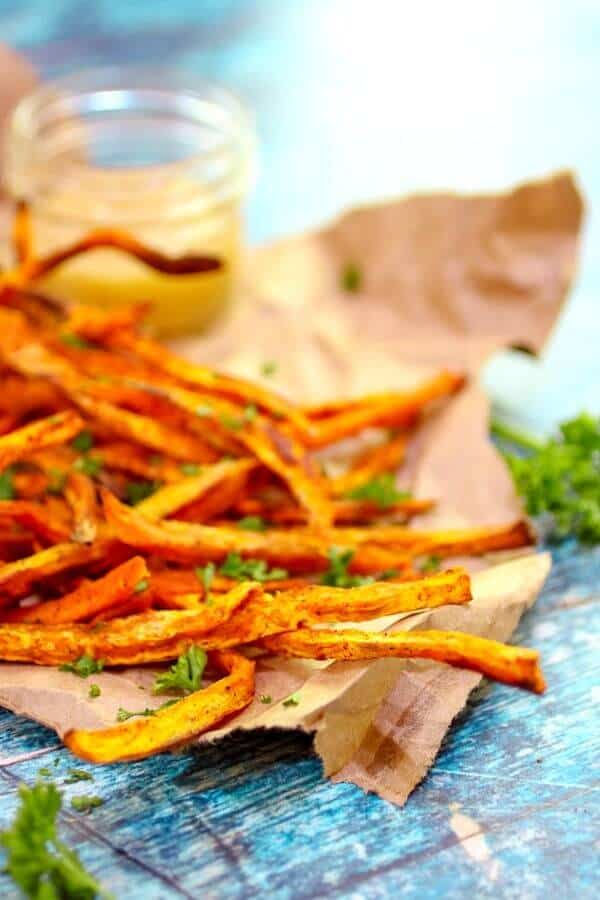 Homemade sweet potato fries are so simple to make right in the oven!
Tips for the Best Sweet Potato Fries
Here are some more things to know about getting the best results from this recipe.
It's been said but it bears repeating – be sure to cut the fries in thin, even pieces- about 1/4-inch thick.
Sweet potato fries can be cut a day or two ahead of time and stored in the refrigerator until you're ready to bake. If you keep them in a bowl of water with a little squeeze of lemon in it they won't discolor. Just be sure to pat them very dry before finishing the recipe.
Always flip the fries about halfway through.
Don't crowd them or they will steam rather than oven-fry.
Let sweet potato fries rest for around 5 minutes after they come out of the oven to crisp up even more.
Don't let them sit too long or they will get soggy.
They are best when they come right out of the oven but you can warm up leftovers in the oven until they crisp back up.
How to Cut a Sweet Potato into Fries
One of the secrets of homemade sweet potato fries success is cutting the fries in even, 1/4-inch slices. How do you make evenly sized, straight sided fries out of a roundish sweet potato? No problem!
Peel your sweet potato.
With the potato on its side on your cutting board cut off 1/4-inch from the long side furthest from you to create a flat surface.
Place the sweet potato on the flat side you've just created.
Cut longwise into 1/4-inch thick slices.
Continue to cut into evenly sized slices turning the sweet potato to a larger flat side as needed to keep it stable.
Cut the slices into 1/4-inch thick fries.
You May Need…
The following are affiliate links. We are a participant in the Amazon Services LLC Associates Program, an affiliate advertising program designed to provide a means for us to earn fees by linking to Amazon.com and affiliated sites.
What's new? Check out my Restless Chipotle & Co. Store on Amazon! Thanks so much for being a part of Restless Chipotle!
I went too many years without a good knife! A good knife is safer, easier to use, and just feels better in your hand. This is the chef's knife
my husband bought me last year and I love it!
More of My Favorite Side Dishes
Here are some more of my favorite side dishes! They're family favorites and I bet your family will love them too!
And everyone goes crazy over these Crack Potatoes from Plain Chicken!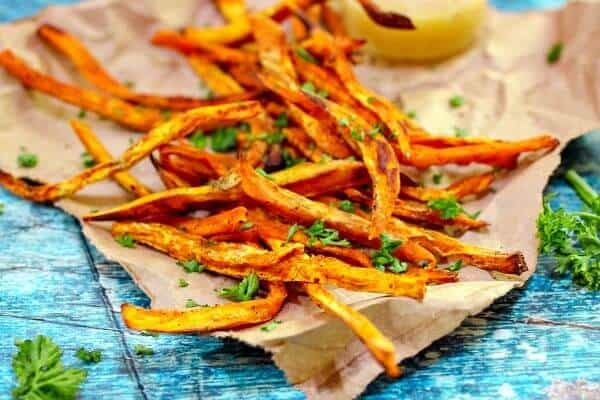 Homemade sweet potato fries baked in the oven are a healthy, family friendly side dish!
Baked Sweet Potato Fries Recipe
Serve these homemade sweet potato fries with your favorite burgers fresh off the grill, fried chicken, or as a snack! And, be sure to go back and read through the tips section before you make them to get the very best results. If you love this recipe please give it 5 stars.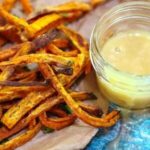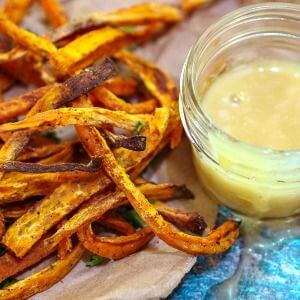 Crispy Baked Sweet Potato Fries
Print
Add to Collection
Go to Collections
Crispy baked sweet potato fries recipe is a sweet, salty, smoky, spicy addiction you'll want to make over and over!
As an Amazon Associate I earn from qualifying purchases.
Ingredients
2

pounds

sweet potatoes

1

tablespoon

cornstarch

1/2

teaspoon

salt

1

teaspoon

brown sugar

,

optional

1/2

teaspoon

garlic powder

1/2

teaspoon

smoked paprika

1/4

teaspoon

chipotle powder

1/4

teaspoon

cinnamon

1/2

teaspoon

cracked black pepper

2

tablespoons

liquid coconut oil or extra-virgin olive oil
Instructions
Place rack in the upper 1/3 of the oven. If using 2 racks place one in the upper 1/3 and one in the lower 1/3.

Mix the cornstarch and salt. Set aside.

Mix the brown sugar and remaining spices. Set aside.

Preheat the oven to 425F.

Oil baking sheets lightly with oil.

Peel the sweet potatoes and cut them into fries about 1/4-inch wide by 1/4-inch thick. Make them as evenly sized as possible.

Toss into the cornstarch and salt mixture to coat evenly – shaking off excess.

Place half on each baking sheet, in a single layer, being careful not to overcrowd.

Drizzle oil over the fries and toss to coat with oil.

Bake for 20 minutes.

Remove the pans from the oven and carefully flip the fries so the other side can get crisp.

Bake for 15 more minutes, or until they are crispy.

Watch carefully – they'll burn pretty quickly.

Remove from oven and season with the seasoning mixture.

Serve hot.
Notes
Baked sweet potato fries are best when fresh. You can crisp up leftovers by heating them in a hot oven for a few minutes.
Nutrition
Calories:
180
kcal
|
Carbohydrates:
32
g
|
Protein:
2
g
|
Fat:
4
g
|
Saturated Fat:
0
g
|
Cholesterol:
0
mg
|
Sodium:
278
mg
|
Potassium:
509
mg
|
Fiber:
4
g
|
Sugar:
6
g
|
Vitamin A:
21555
IU
|
Vitamin C:
3.6
mg
|
Calcium:
45
mg
|
Iron:
1
mg
Sign up for the emails and never miss another recipe!!
We'll never share your email or send you spam. Pinkie swear.