The right spices transform a boring, easy meal into a flavorful, five-star feast. Whether it's an extra burst of heat here or a subtle, earthy- freshness there, simple spices and herbs make even cheap meals taste gourmet.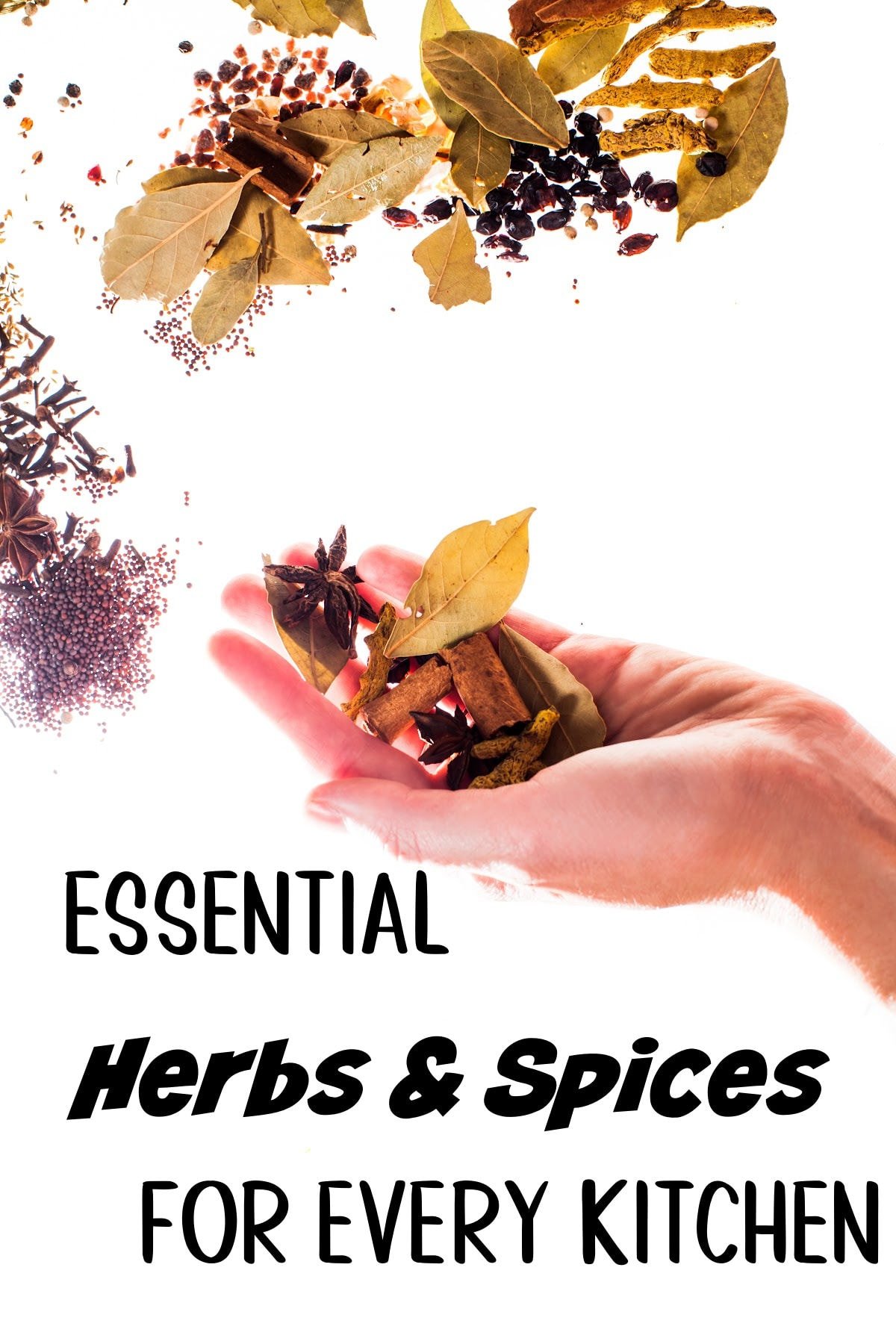 Table of Contents
Today, we'll discuss the must-have spices and herbs every kitchen needs. No matter what you're cooking, you'll learn how to choose versatile spices, how to store them, and discover which ingredients make the perfect addition to your favorite meals.
🥫 Storage
Dried herbs and spices can add a lot of flavor to your dishes—as long as they're stored properly, that is.
Always keep spices tightly covered and in a cool, dry place. Though your spice rack might look pretty in front of your little kitchen window, avoid direct sunlight.
Glass containers are a great way to prevent strong-flavored spices from transferring their flavor to milder spices. It's also nice to be able to see at a glance which spice you're grabbing, without searching for labels.
Ground spices lose their flavor over time and should be tossed after about 6 months.
Whole spices last longer than ground spices. They'll last for years when stored in a cool, dark place.
Fresh herbs, on the other hand, are a little trickier to store for long periods of time. For herbs still attached to stems (like cilantro or chives) store them in the fridge in a small cup of water.
Otherwise, wrap fresh herbs in a damp paper towel and then place them gently into a plastic bag. Keep the bag open and refrigerate until you're ready to cook.
💭 Things to know
Expert Tip: Dried herbs and spices don't have a very long shelf life, so it's best to buy small quantities at a time! Avoid the temptation to stock your spice collection with those huge, wholesale store containers.
An easy way to buy small amounts of spices is to visit a store like Whole Foods. Shop the bulk section to buy as much or as little as you need.
With some dried herbs (like oregano and parsley) you can increase the depth of flavor by rubbing them between your fingers. This helps release the flavorful oils that hide deep inside the little leaves.
When adding flavor with dried spices, a little often goes a long way. Start small, at first. You can always add more spice as you taste test.
Most "sweet" spices aren't actually sweet at all. For example, cinnamon is great in sweet treats as well as savory dishes.
Don't sprinkle spices straight from their jar over a steaming or boiling pan. (Use a measuring spoon, instead.) The moisture from the steam can introduce bacteria into the container and ruin your remaining spice.
Spices & Herbs Every Home Cook Needs
If you're venturing into the world of everyday cooking, you might be intimidated by all of the spice options out there.
Good news! This collection of essential spices and herbs helps you learn how each is used. So, you can easily decide which of the many different spices you want to try first.
Though more of a cooking "building block" and less of a spice, we'll also discuss the different types of salt and pepper.
Allspice
Basil
Bay Leaves
Caraway Seeds
Cardamom
Cayenne
Chives
Cilantro
Cinnamon
Cloves
Coriander Seeds
Cumin
Dill
Garlic
Ginger
Lavender
Nutmeg
Oregano
Paprika
Parsley
Rosemary
Saffron
Sage
Thyme
Turmeric
Salt and Pepper
Not all salt and pepper are created equally. In fact, using the proper kind can make (or break) your favorite recipe!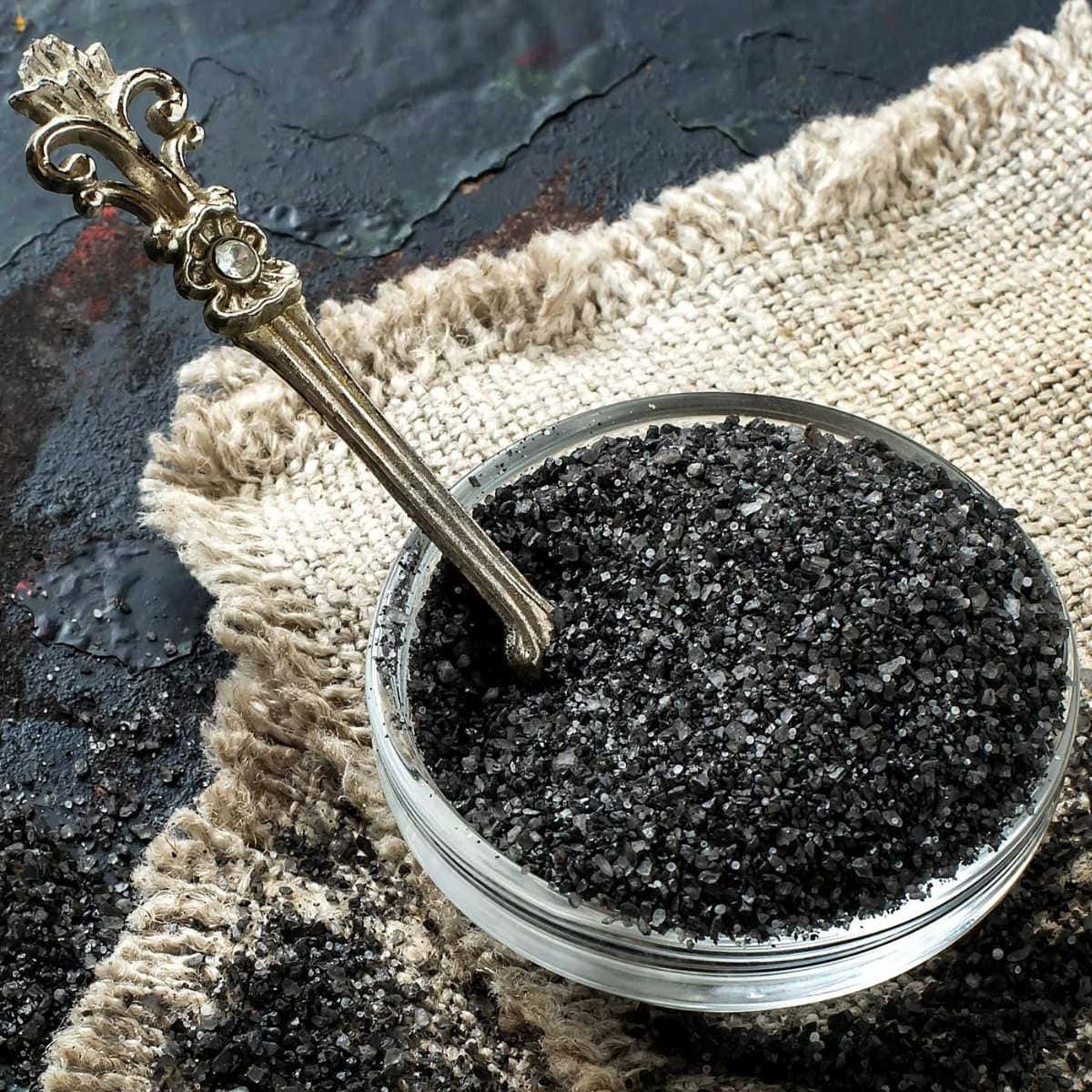 Salt
If you're already scratching your head in confusion, don't worry. Here's an easy breakdown of the different kinds of salt and when to use each.
Sea Salt—comes from the sea, and contains additional minerals. Sea salt is crunchy (since the grains are larger) and has quite a salty flavor.
Kosher Salt—largest, coarsest grain of salt, and the most versatile. It dissolves quickly which helps when seasoning meals. This is the one I recommend the most and is an essential ingredient in my recipes!
Finishing Salt—finishing salts are granular and uneven, which makes them perfect for decorating (or finishing) a meal. They're sometimes flavored, too. They're a good final touch, but not ideal for cooking.
Table Salt—a very fine grain of iodized salt. It's called "table" salt because you'll usually find it served in a salt shaker at dinner. The small granules make it easiest for measuring out small, precise quantities, like when baking bread, cake, and other goodies.
Pepper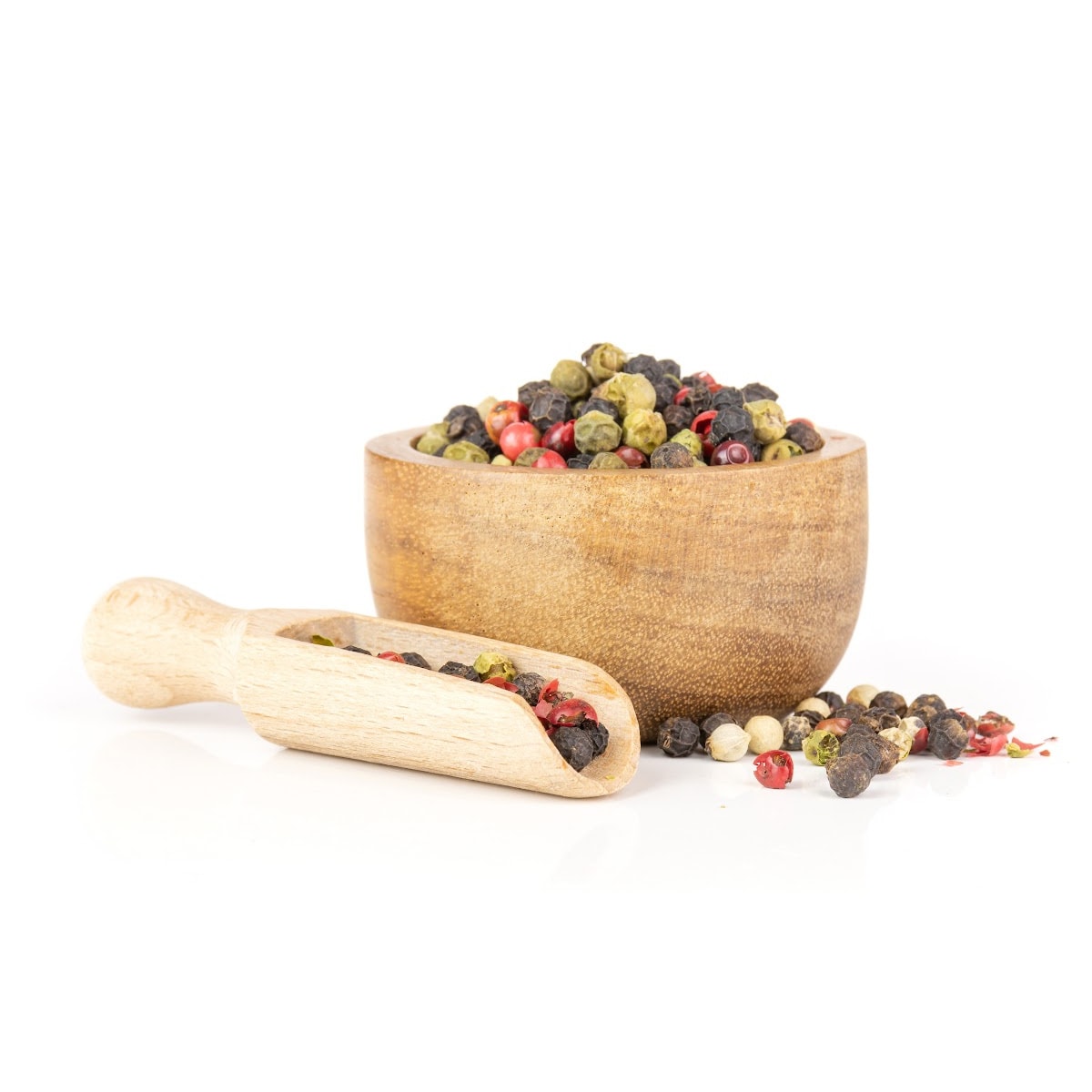 We can't talk about the best spices and herbs without touching on a big one: peppercorn.
Pink—pink peppercorns are slightly sweeter and mild in spice. This makes them a great candidate for mild dishes, like butter-based sauces, seafood, and even certain desserts!
Green—green peppercorns are milder than black since they're picked before the plant matures. They're great on fruity dishes and game meat.
White—white peppercorns start off like black but are picked at peak ripeness and soaked until the outer shell comes off. The flavor is grassy and mild.
Black—black peppercorns are picked before peak ripeness and allowed to dry, which causes them to turn black in color. They have a fresh, black pepper flavor.
It's best to use a pepper grinder to crack whole peppercorns fresh, rather than buying ground pepper. Though they come from the same plant, freshly cracked pepper has tons more flavor. Ground black pepper tends to taste dull and stale.
Herb & Spice Blends
Spice rubs and herb blends are a great hack to speed up prep. Instead of pulling out lots of different spice bottles, just use one and you're good to go!
Don't get swept up in the excitement and replace all your spices with spice mixtures. By doing so, you'll start to lose some of the versatility that makes cooking with herbs so fun.
Here are the main herb and spice blends that every kitchen needs!
Chili Powder
Chili powder is made with different types of chilies to create a unique, spicy, smoky seasoning. It's used in almost every style of cooking, including Mexican, Tex-Mex, American, Asian, and Indian cuisine.
I recommend making your own chili powder with Ancho chilies for the most amazing, mouthwatering flavor you can brag about!
Herbes de Provence
Herbs de Provence comes from southern France and refers to a tasty blend of fragrant, dried herbs. It generally includes rosemary, thyme, marjoram, basil, and oregano.
If you find yourself gravitating towards European-style pasta, meat dishes, or homemade gravy, you might like to grab a bottle of Herbs de Provence. Otherwise, just use the herbs you've already stocked in your pantry!
Curry Powder
Many home chefs like to keep a bit of curry powder in their spice rack for Indian-inspired dishes. The bright yellow spice blend is made of mostly cumin and allspice.
Curry powder tastes great with white meats, soups, and stews. You can add it to a simple white sauce and spoon it over chicken and rice!
Cajun Seasoning
Slap Ya Mama and Tony Chachere's are household brand names for a good reason. Cajun seasoning blends are made from different types of peppers, onion powder, garlic, paprika, and other delicious, tangy flavors.
I prefer to make my own Copycat Tony Chachere's Seasoning. It's easy and cheap to do! Then, we slap it on everything from chicken and pork to potatoes and veggies that just need a little kick.
Montreal Steak Seasoning
Montreal steak seasoning is a simple blend of salt, peppers, garlic, and onion. It's a great building block for flavoring meats and veggies because it goes well with just about anything.
If you grill a lot, you might consider adding a steak seasoning blend to your spice cabinet. It's a quick way to add some basic flavors to your dish. Plus, you can always change up the flavor of your meal by adding other spices and herbs, too.
Spices, Herbs, and Blends for Every Kitchen
Spices aren't just for spicy foods. Used properly, herbs and spices are a great addition to any type of cuisine and meal.
They enhance the flavor profile of whatever you're making, without adding hardly any time, cost, or effort to the cooking process.
Simple, good flavors that get friends and family excited to gather around your dinner table—after all, isn't that what food is all about?
Related