Lavender shortbread cookies are crumbly and buttery with a delicate touch of tangy lavender. The dough can be made ahead and stored in the refrigerator to slice and bake as desired. Lavender makes them smell wonderful as they bake.
When we had the tea room my daughter and I used lavender in baking and beverages as much as possible. Not only is it kind of unique but it gives foods and drinks a wonderful tang that is almost lemony. In fact, it's wonderful with lemon zest in almost anything. It goes with white chocolate, too. In fact, I have a lemon and lavender truffle recipe I want to post soon — probably next week.
For these lavender shortbread cookies you'll need the following ingredients: salted butter, Confectioner's sugar, vanilla paste, kosher salt, all-purpose flour, dried culinary grade lavender
In a hurry? Click here to go straight to the recipe.

The Restless Chipotle Channel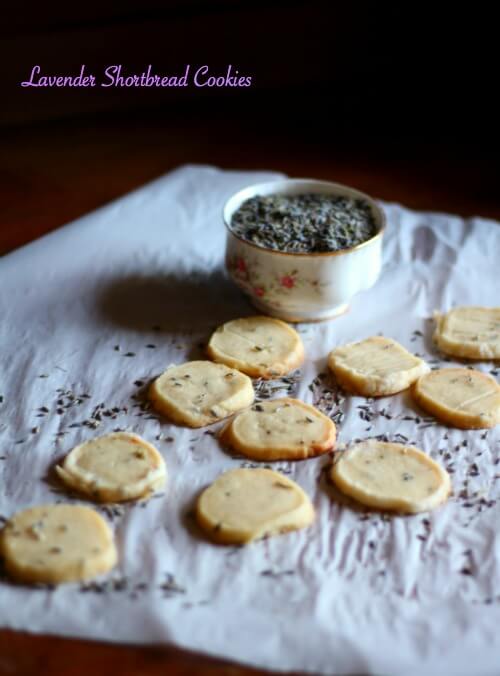 I know that cookie season is over and I know that lavender recipes are kind of a spring thing but I've always been a bit of a rebel and I made these at Christmas. They were a hit. Well, except when my daughter tried to kill the photographer with one. You don't believe me?
As you know all of my kids were home for Christmas. This is no easy task because I have eight kids, two kid-in-laws, and three grands PLUS three of my kids are in the military. We had not all been together at the same time in years and we hadn't been together for Christmas in at least a decade. Since everyone was together, and I am pretty sure that took a special dispensation from God Himself, I wanted to get pictures done. Well, that posed two problems.
We never hire anyone to do pictures because both Erin and Matthew are talented photographers.
Since Chris and Ariel flew in on the 23 and out on the 26 the only day we could do it was Christmas Eve.
Luckily Erin has a friend that is also a very talented photographer and she agreed to come out to our house to do the shoot. But that still doesn't tell you how Erin tried to kill her with a cookie.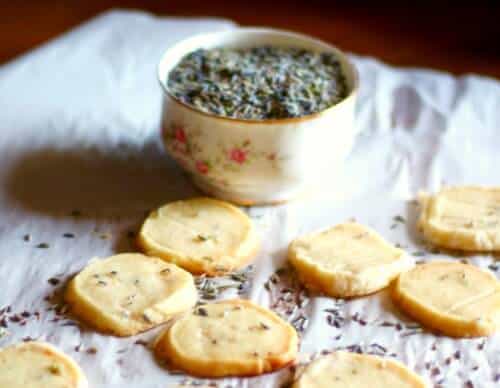 When the photographer got here Erin handed her a cookie and said, "My mom made these and they're amazing. Try one."
And the photographer dutifully took a bite, not asking what they were.
Apparently you can be allergic to lavender.
A little Benadryl and we got the pictures done. I haven't see them yet but I can hardly wait.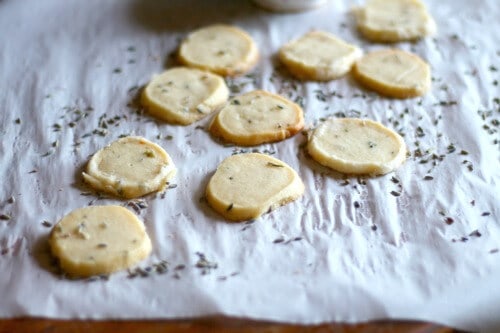 So, these cookies. If you aren't familiar with culinary lavender you're missing out. It's one of the main ingredients in Herbes de Provence, it is amazing with lamb or chicken, and it's fabulous in all kinds of side dishes and desserts. The key to cooking with it is to use it sparingly or else your food will taste like soap. A wonderful, hand-milled French soap but soap none-the-less.
These are crumbly, buttery, and not too sweet just like a good shortbread should be. The light golden tops are spotted with pieces of lavender buds and it's very pretty. They are on my list for Easter but they would be wonderful at baby or bridal showers. They'd work well at a Spring tea, too.
The recipe is one of the few I've developed that NEEDS salted butter. It just makes the cookies taste better.
The following contains affiliate links. If you click through and buy I will get a small commission that goes to help keep the blog up and running smoothly. Thanks so much for being a part of Restless Chipotle!
Culinary lavender can be tricky to find and when you do it is often REALLY expensive. I found it on Amazon for a lot less than anywhere else but you get a ton of it. No problem, it won't really go bad and you can use it in sachets and such. Plus, I have several lavender recipes coming up so you'll go through it. 🙂
Vanilla paste works better than vanilla extract in this recipe because it doesn't "water down" the dough but still gives a good vanilla flavor. You can use vanilla extract if you don't have the vanilla paste.

Nielsen-Massey Vanillas 4-oz. Madagascar Bourbon Vanilla Bean Paste
Ok… ready for the lavender shortbread cookies recipe?

Print Recipe
Lavender Shortbread Cookies
Crispy, crumbly, buttery shortbread cookies are given a tearoom twist with just a hint of lavender. Perfect for fancy showers and teas. If you've never cooked with lavender before these are a great place to start.
Ingredients
1

cup

salted butter

,

, room temperature

1

cup

Confectioner's sugar

1/2

teaspoon

vanilla paste

,

(or vanilla extract)

1/4

teaspoon

Kosher salt

2

cups

flour

1 1/2

teaspoons

dried culinary grade lavender

Confectioner's sugar for rolling.
Instructions
Beat the butter and Confectioner's sugar until fluffy.

Add the vanilla paste and salt; beat well.

Mix the flour and the lavender and beat into the butter mixture.

Form into a long roll and wrap in waxed paper.

Chill until firm.

Preheat the oven to 300F.

Roll the log of cookie dough in Confectioner's sugar to coat the outside.

Slice 1/4-inch thick slices and place on parchment paper on a cookie sheet.

Bake for 20 minutes, or until done.

Don't let them brown too much, just a light golden brown around the edges.

Cool completely – the texture is best when cool.
If you liked the Lavender Shortbread Cookies Recipe you may also like…
Lemon Lavender Greek Yogurt Pound Cake Bake Your Day
Honey Lavender Biscotti The Joyful Foodie