Accidentally make too much homemade cookie dough? Trying to get ahead on holiday baking? If you're wondering how to freeze cookie dough (and baked cookies, for that matter) you're in the right spot.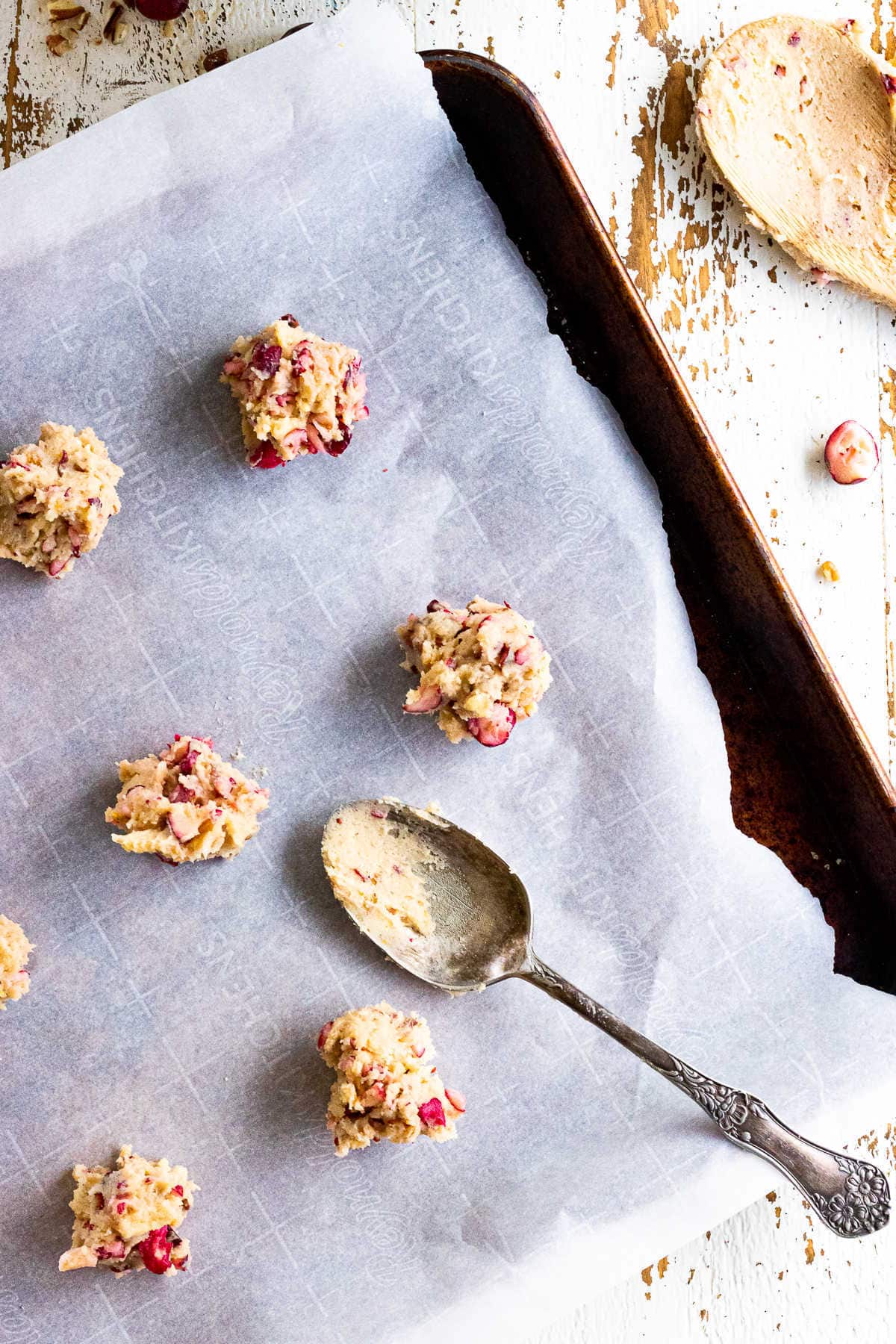 Table of Contents
🗝️ Key takeaways
Having frozen cookie dough on hand at all times is a great way to impress guests and surprise the family.
You can bake cookies straight from the freezer, which is perfect when you have no energy for prep but need a sweet treat.
I'll share how to prevent freezer burn so your scrumptious sweets taste like bakery-fresh cookies (even if they're months old!)
Raw cookie dough balls are super easy to freeze, but don't stop there. You can also keep cut-out cookies, store-bought cookie dough, and fresh-baked cookies in the freezer too.
As my kids would say, that's sweet.
How long can you freeze cookie dough before it goes bad?
Cookies are generally made with butter, sugar, flour, and eggs—plus lots of other good stuff, like nuts or chocolate. When combined into a cookie dough, these ingredients tend to hold up well in the freezer.
Though each type of dough will vary a little bit, you can keep store-bought and homemade dough in the freezer for two to three months. After that period of time, the quality won't be as good.
How to freeze cookie dough
For best results, different types of cookie dough require different freezing methods. Here's the good news: it's all super simple.
Store frozen dough in a vacuum-sealed freezer bag for best results. Otherwise, an airtight container will do.
Drop cookie dough
Follow the recipe as directed for your drop cookies.
Portion the dough onto a parchment-lined baking sheet.
Flash-freeze the cookies by putting the cookie sheet in the freezer.
Once the drop cookie dough is solid to the touch (about thirty minutes), remove from the freezer.
Place the frozen dough balls into an airtight container or freezer bag.
Label and store the bag or container in the freezer.
Rolled cookie dough
Follow your recipe and shape the dough with a cookie cutter or knife.
Lay each cut-out cookie dough piece on a baking sheet covered with parchment paper.
Flash-freeze the cookies by placing the entire baking sheet into the freezer. Don't worry—cookie dough freezes quickly.
After thirty minutes, or when the dough is solid, remove from freezer.
Lay each frozen dough piece in an airtight container or plastic bag.
Separate layers with parchment paper to prevent sticking.
Label and store the bag or container in the freezer.
Other types
What if your favorite cookie recipes don't fall into one of the categories above? Don't worry—the same freezing process applies.
Shape, flash-freeze, then transfer, and for-real freeze. Proper storage is the key, so make sure your container is sealed nice and tight.
If it's easier for you, simply freeze an entire brick of dough. In that case, wrap it very snuggly with two layers of plastic wrap.
Forget to open that Pillsbury cookie dough package? You can freeze commercially sealed packs or tubes of dough as they are—just throw 'em right in the freezer.
To thaw full batches of cookie dough, transfer it to the fridge—don't let it sit at room temperature. Even a couple of hours out of the fridge can ruin your dough.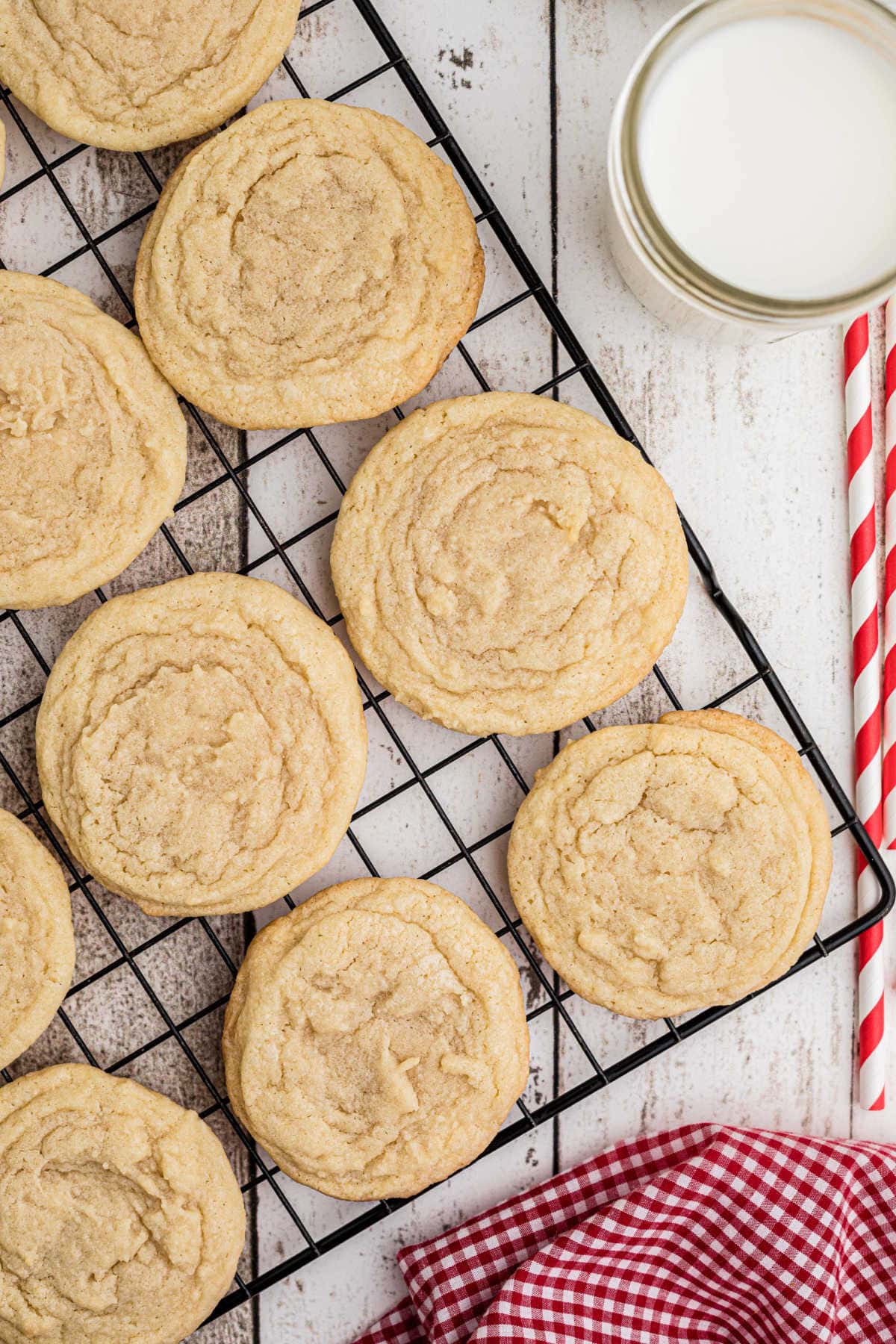 How long can you freeze cookies before they go bad?
Made too many cookies and now you can't even think about sugar?
Experts say that store-bought and homemade cookies will keep safely for six months to a year in the freezer. However, frozen cookies taste best if you enjoy them within three months.
How to freeze baked cookies
For optimal freshness after thawing, freeze baked cookies in an airtight container. Freezer-safe bags work okay, but be sure to squeeze out extra air. A vacuum sealer is best if you have one!
Drop cookies
Be sure to let fresh cookies cool before freezing.
Wrap each cookie tightly in plastic wrap.
Place wrapped cookies in a freezer-safe bag.
Remove air from the bag, if possible.
Seal and freeze.
To thaw, let your cookie(s) sit at room temperature for an hour.
You can speed up the thawing process in the microwave using ten-second intervals.
Rolled cookies
If warm, let fresh cookies cool.
Wrap individual cookies tightly with plastic wrap.
Place each cookie into a freezer bag.
Remove air from the bag, if possible.
Seal and freeze.
When ready to enjoy, let the cookie(s) sit on the counter for an hour.
You can also speed up the process by heating in ten-second intervals in the microwave.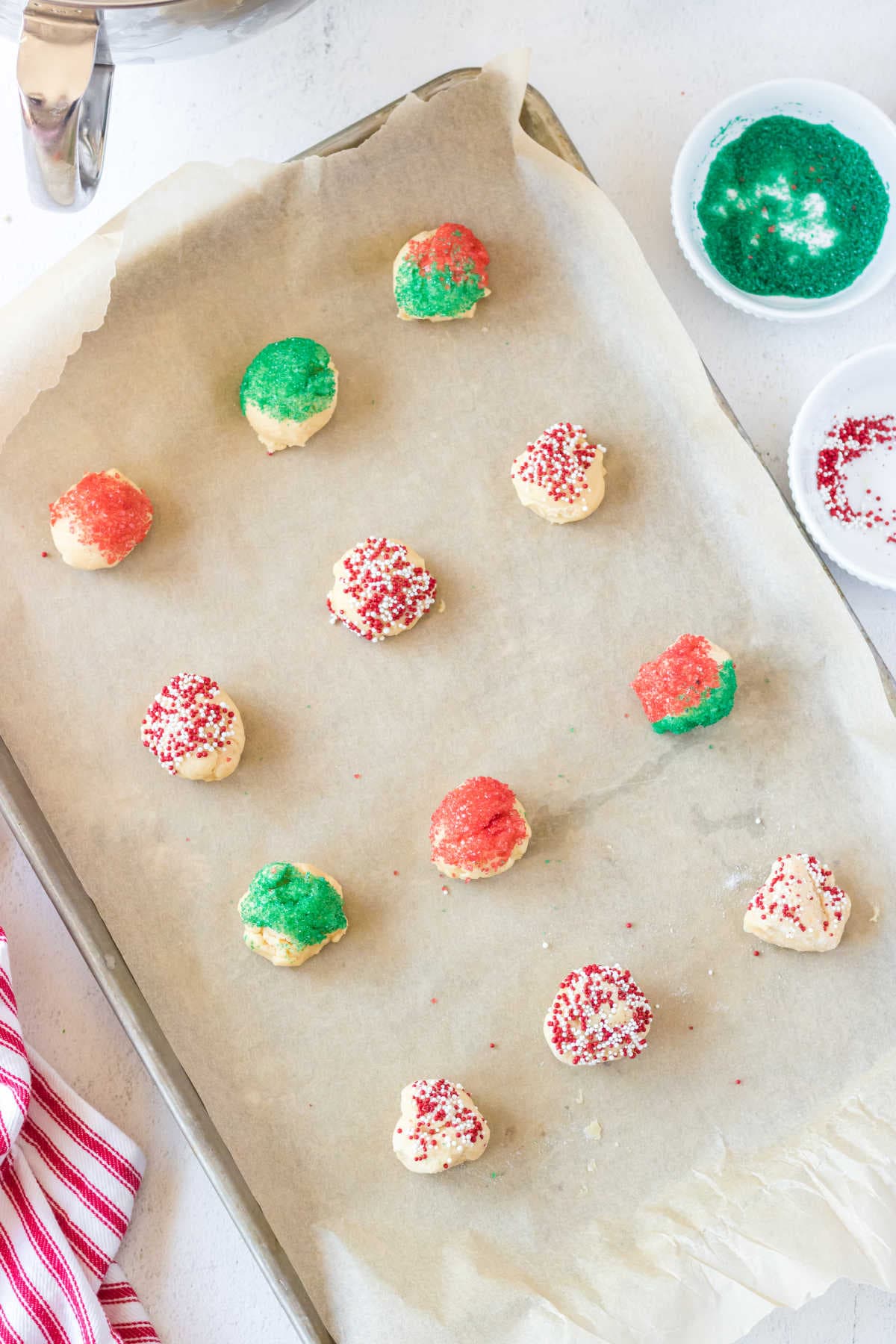 Other types
Not going to be able to finish all those classic chocolate chip cookies you picked up from Costco? Want to savor the fresh batch of cookies from your favorite bakery as long as possible?
The best way to do so is using a similar storage method as above. Wrap the cookies tightly in plastic and then store each wrapped cookie in another airtight container.
I recommend wrapping them individually rather than throwing the whole bunch into a bag. It allows you to pull out one (or a few) at a time and seal the bag back up without directly exposing the other cookies to air.
Already frosted your sweet treats? No worries. You can store buttercream-frosted cookies easily.
👩‍🍳 FAQs
How do I know if my cookie dough is spoiled?
Eating bad cookie dough is a quick way to ruin a good day. Look for signs of spoilage, such as hard/crusty edges, discoloration, a sour smell, or visible mold—yuck.
Can I eat cookie dough past the expiration date?
No, you shouldn't. Moist, floury environments (like cookie dough, pastry crust, and bread) are breeding grounds for bacteria growth. Plus, because of the texture, it's sometimes tough to notice mold. 
What are drop cookies?
Drop cookies are the kind you make into small balls between your palms or scoop out with a cookie scoop. Drop cookie dough makes plenty of different types of cookies, such as chocolate chip, crinkles, snickerdoodles, and peanut butter cookies.
What cookies can you make with rolled cookie dough?
Rolled cookie dough is dough you flatten with a rolling pin and stamp or cut out. Typically, Christmas cookies, sugar cookies, and gingerbread cookies are made with rolled dough—all of your holiday season favorites!
Can I eat raw cookie dough? Pretty please?
The people who make the food rules say that eating raw eggs and raw flour can make you sick. I know plenty of people like to lick the spatula, but they do so at their own risk—you've been warned!
💭 Things to know
Expert Tip: Food safety first! Jot down the flavor and the date you freeze your dough (or the best-by date) so you don't have to guess later on. No one wants to eat weird freezer-burned cookies.
Maintain a freezer temperature at or below 0 degrees F.
Don't try to cool hot things quickly by placing them in the freezer—this can throw off the temp and ruin your frozen items.
Separate single layers of frozen cookie dough with parchment paper so that nothing sticks together—unless you like jumbo cookies, of course.
You can use wax paper for freezing, but remember it's not oven-safe.
For best results, don't let raw cookie dough hang out at room temperature. Not only can it ruin the texture of your cookies, but it might even leave you with food poisoning!
You can generally bake frozen cookie dough without thawing it. Add an extra minute or two to the original bake time, check the cookies, and bake for a few minutes longer if needed.
Get creative! Make a cookie "cake" by baking cookie dough in a skillet, or experiment using your air fryer for frozen cookies instead of the oven.
📚 Related recipes
Nothing on this list tickled your fancy? Don't worry—I have about 50 more cookie recipes that you'll love. Grab a glass of milk and get baking!
🫶 Restless Chipotle recommends
As an Amazon Associate, I earn from qualifying purchases.
A vacuum sealer is a great way to keep food of any sort fresher longer! It's great for freezing cookies!
Always use a freezer label to ensure you know what is in the container and when you first put it in the freezer.
📞 The last word
Make an extra batch or two of cookie dough and have it on hand for a quick treat anytime! It makes me feel ridiculously organized and on top of things.
Especially during the Holidays!