If you're looking for a quick and easy way to have fresh cookies whenever you want then you've found it. Using frozen cookie dough in an air fryer gives you perfect cookies in about 5 minutes!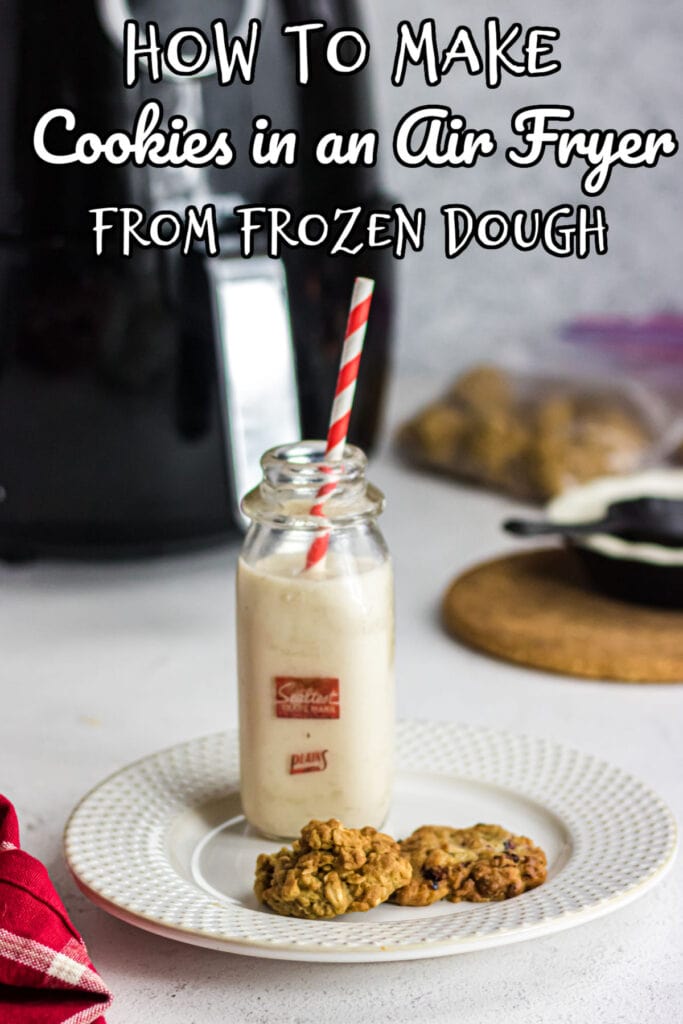 Table of Contents
❤️ Why you'll love it
This is a great way to bake your favorite cookies in just five minutes.
No need to heat up the oven, the air fryer will do all the work for you.
You can make just one or two homemade cookies whenever you want.
You may hate me after you try this because you'll want to bake cookies every day. It's the best way to make a small batch of cookies.
I like to freeze my homemade cookie dough in spoonfuls then make just one or two when I have a cookie craving.
They're warm, they're gooey, and they are easy and mess-free! So much easier than heating up a conventional oven!
🥄What you'll need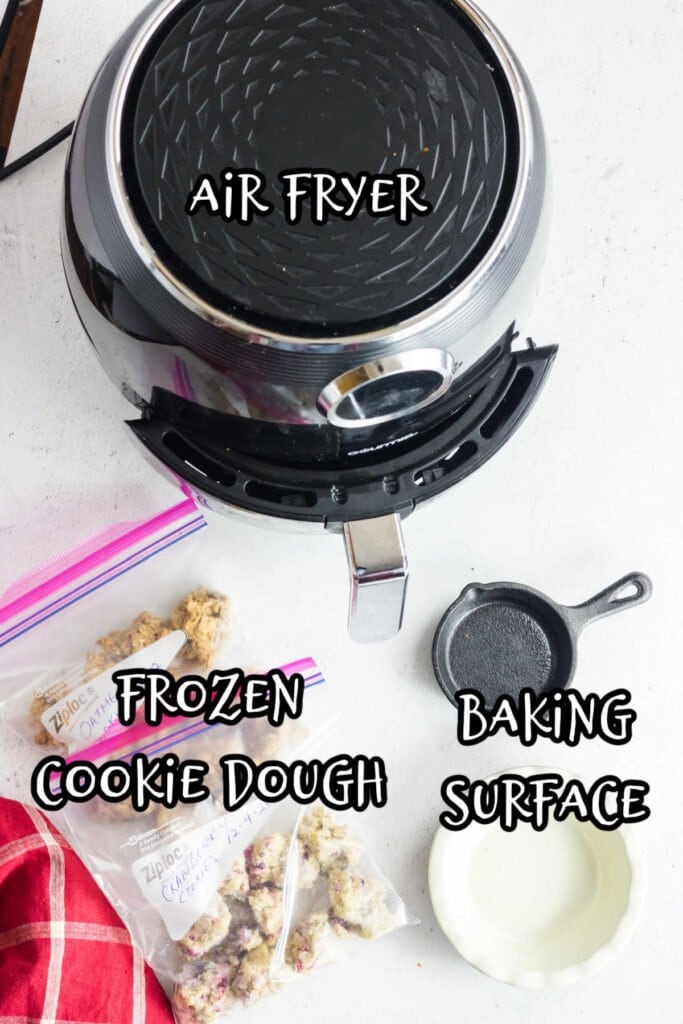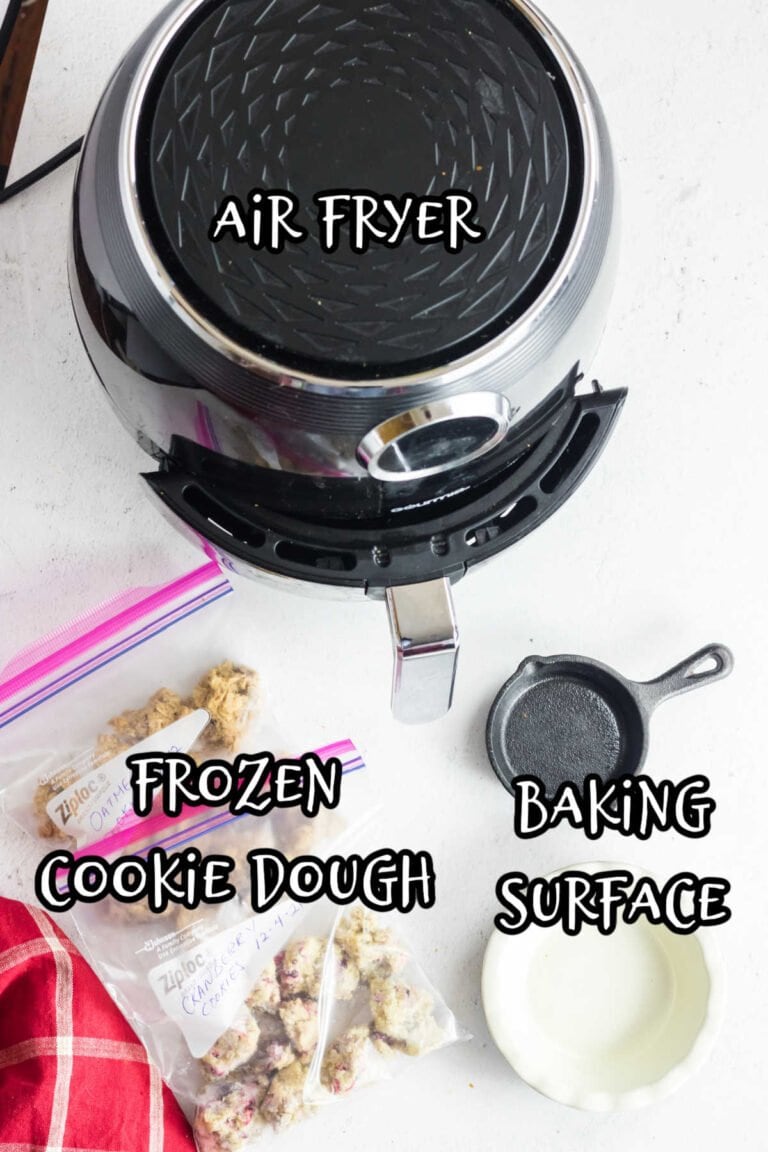 The following are affiliate links. We are a participant in the Amazon Services LLC Associates Program, an affiliate advertising program designed to provide a means for us to earn fees by linking to Amazon.com and affiliated sites.
You'll need the following items to make this recipe successfully.
🥫 Storage
Store cookies in an airtight container at room temperature for up to one week - if they last that long.
Baked cookies can also be frozen in a freezer safe container for up to two months but when they're this easy there's really no point.
💭 Things to know
Expert Tip: Frozen cookie dough does not spread in the air fryer the way it does in the oven. The cookies will be thicker and rounder if you cook from frozen.
This will work with almost any favorite cookie recipe. The first time watch extra carefully so you can see the exact cook time and temperature that works best.
Flash freeze your cookie dough on the cookie sheet then put it in a freezer bag. That's all you need for fresh, gooey cookies anytime.
There's a special air fryer parchment paper that you can use but be sure to check manufacturer's instructions.
The amount of cookies that you can bake at one time will depend on the size of your air fryer. Don't try to make an entire batch of cookies this way - it would take forever.
With these directions you can use your favorite homemade cookie or store bought frozen cookie dough.
These directions are for using frozen cookie dough balls not raw cookie dough.
Watch your cookies closely as the hot air can burn them quickly.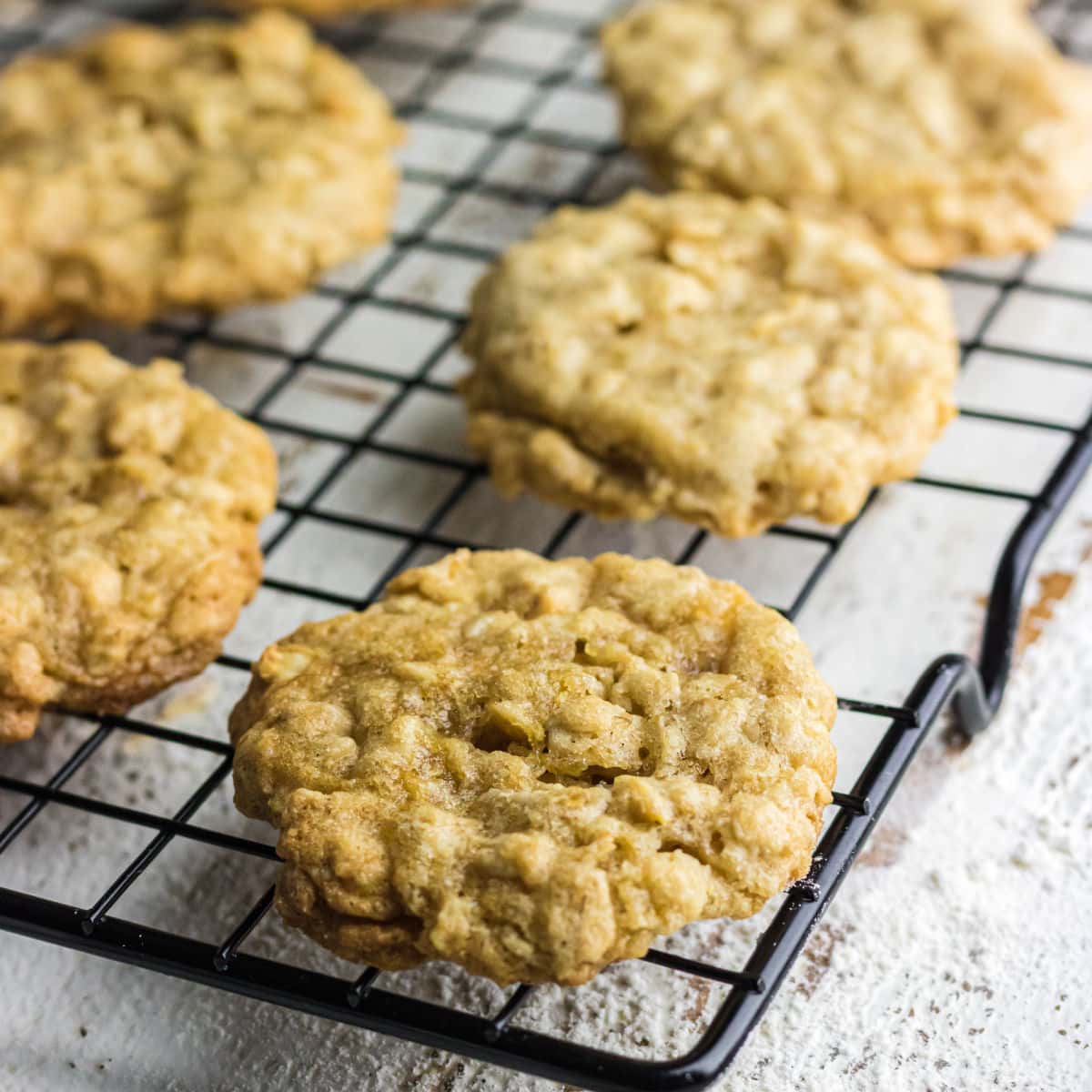 👩‍🍳 FAQs
What temp should you air fry your cookies?
Cook at 320 degrees F for 5 minutes - or about 20 degrees below the oven temperature called for.
Can I put aluminum foil in an air fryer?
Yes, just be sure to keep it away from the heating element.
How long do you cook frozen cookies?
Baking cookies in the air fryer takes about 5 minutes, however if your cookies are on the larger side they may require a longer baking time.
Can you use a glass dish in an air fryer?
I recommend using  a mini cast iron skillet or a ceramic pie plate in your air fryer for best results, however you can use a glass oven safe dish also.
📚 Related recipes
All of these can be frozen then baked using this method whenever you want a fresh, warm cookie!
🍪 How to bake frozen cookie dough in an air fryer
Baking cookies from frozen dough in an air fryer takes just about 5 minutes from start to finish! It's a quick way to have a fresh, warm cookie anytime you want one!
Added plus is the edges and top tend to get crisp while the centers stay chewy - just about perfect in my opinion!
Time needed: 5 minutes
Choose a baking pan.

Choose a small baking pan that will fit in your air fryer - or you can use parchment over the rack. Make sure it does not come in contact with the heating element or you could have a fire!

Place frozen cookie dough on the baking suface.

Place the frozen cookie dough balls on the baking pan or parchment. Don't thaw it first.

Different surfaces give different results.

The cast iron pan made the cookie crisper. The ceramic pan made the cookie softer and cakier.

Place on rack.

Put the baking surface on the rack in the air fryer basket and put it into the air fryer.

Set the temperature of the air fryer to about 320F.

Most drop cookies bake really well at 320F.

Set the time for 5 minutes.

The cookies should bake from frozen in 5 to 7 minutes.

Flatten cookies if desired.

Since frozen cookie dough doesn't spread well in the air fryer you might want to gently flatten the cookies about half way through baking time.

Check for doneness.

Check on them toward the end of your cooking time to make sure you don't over-bake them. They'll continue to cook a little bit once they are out of the air fryer and cooling.

Let cool.

Remove the cookie from the air fryer and let it cool before eating. They are very hot when they come out of the air fryer.