A watermelon basket might be just the perfect centerpiece for your next summer cookout. I have been making watermelon baskets since I was a teenager. They are so pretty and so easy to do. Takes about 20 minutes. Best of all you can fill them with any mixture of fruit.
Yesterday we had an impromptu party to celebrate the new pool...It isn't a real, in-ground pool because of the flooding but it is a big pool none-the-less and works very well to keep everyone cool! An added bonus was the the teenagers were off to youth camp for the week so it was just the three little ones, plus our friends youngest child. Between us we have 14 kids.... 3 grandkids...and two in-laws... generally our parties are huge and make a large dent in the food budget...but yesterday? BLISS! There was food left! Anyway, I didn't want to have to cook so I thought hoagies and fruit. Tom Thumb had these wonderful watermelons and I had blackberries and raspberries in the fridge. Decision made.
How to Make a Watermelon Basket
You want to pick a good watermelon. Look at the stem end; it should be brown and shriveled. The melon should look like it fell off the vine not like it was cut off the vine. Next check the rind for soft spots - you don't want them. If you see brown stripes that's a good thing - it's supposed to mean ant trails so the melon is sweet. I'm not guaranteeing that. Yellow is fine - that is usually where the melon rested on the ground. Next you want to thunk it. It should sound hollow and echoey. Also...if you want real flavor? Buy local and stay away from the seedless watermelons. In my opinion they have hybridized the flavor right out of those things! You can make melon balls with a melon baller OR you can just cut the melon in chunks. I usually make melon balls until I am tired of it..then use chunks. As long as you put the chunks on the bottom no one cares. 🙂 Cut a thin slice off the bottom so it will be stable on the platter or table. Now, figure out where you are going to put the basket handle. Cut along one side of the handle, then the other. Cut straight down as deep as you want the handle to be tall. Keep the width at about 2-inches. Now clear out the melon flesh from beneath the handle until it sticks up and looks like a basket handle.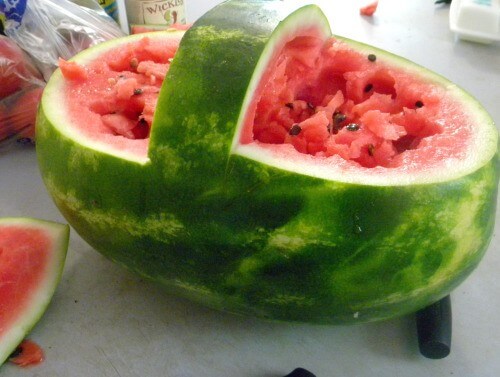 Watermelon basket in the early stages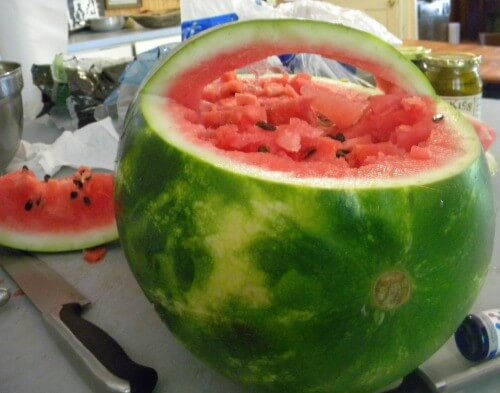 At this point you will begin to clean the flesh from the inside of the rind. Mix it with your chosen fruit in another bowl. Now... I often will soak the fruit in champagne and a little sugar, or vodka and a little sugar...however we had kids eating this so I soaked it in Mountain Dew. You don't have to soak it at all..it just adds a little sparkle.  Continue clearing out the  flesh until you have an "empty basket". At this point you can fancify (Fancify: Audet dictionary - to make fancy.. antonym -  uglify - to make ugly) the edges byu cutting them in scallops or points - or just leave them smooth.  Pile the fruit into the melon basket. Chill well and use as the centerpiece for your table.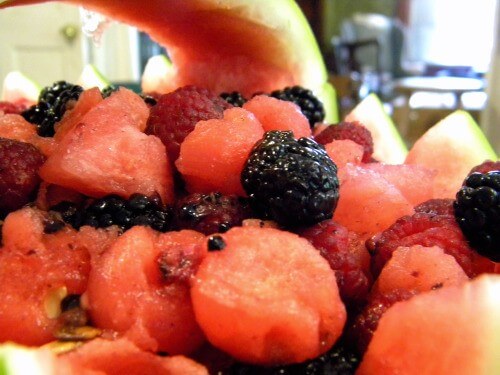 I like to add a little faux creme fraiche to fruit. It is a luxurious twist and I like how it looks. It is so simple to make that you will be making it right an left...goes with any fruit.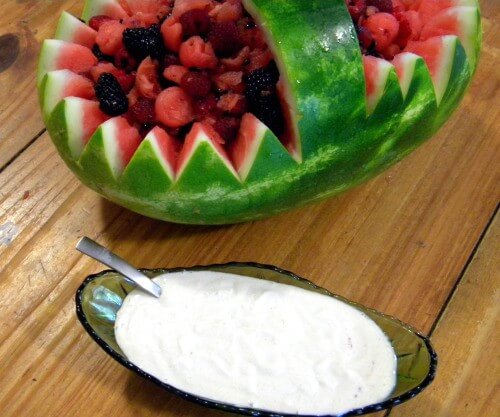 Just take 1 cup of sour cream and add about 1/4 cup of sugar. Add a teaspoon of vanilla and a tablespoon of Monin Lavender syrup or a touch of rose water. Spoon it over fresh fruit.