Learn how to make this pretty watermelon basket filled with fresh fruit salad! It's seriously easy with these step by step instructions and images.
Fruit is the perfect dessert for a summer cookout and this is an impressive way to serve it.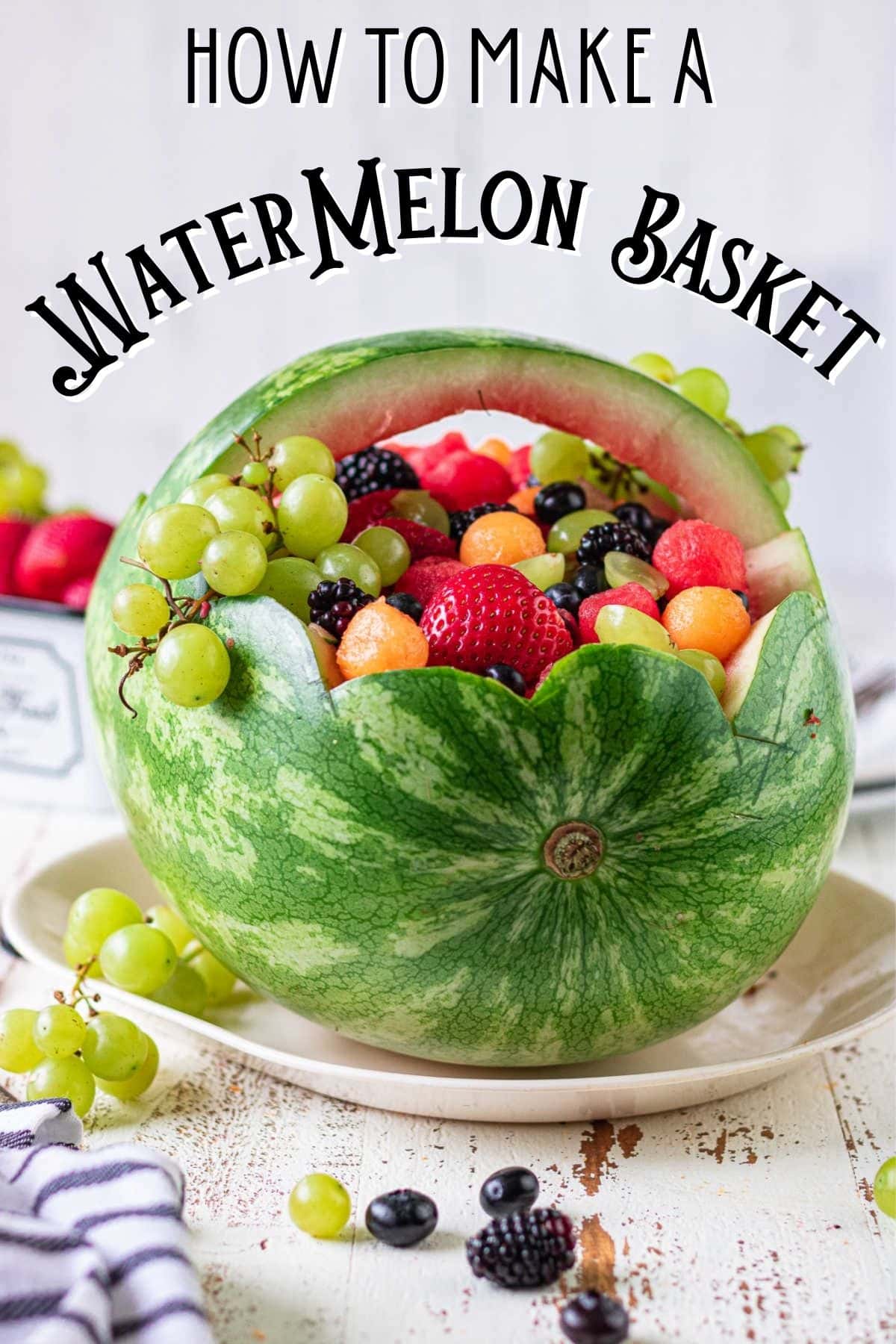 Jump to:
❤️ Why you'll love this recipe
Perfect for summer parties, baby showers, bridal showers, and cookouts!
So pretty and carving up a watermelon is really easy!
You can use just about any mixture of fruit that you like.
You know, when you take a watermelon basket to a potluck or party people go wild over it. They can't help themselves!
A watermelon fruit bowl or basket really looks fancy but it's not difficult at all! I have been making them since I was a teenager.
Use these step by step images to carve your own watermelon basket that looks like a professional did it!
This makes a great side dish for Easter!
🧾 Ingredients
What fruit should you use? There's no exact answer.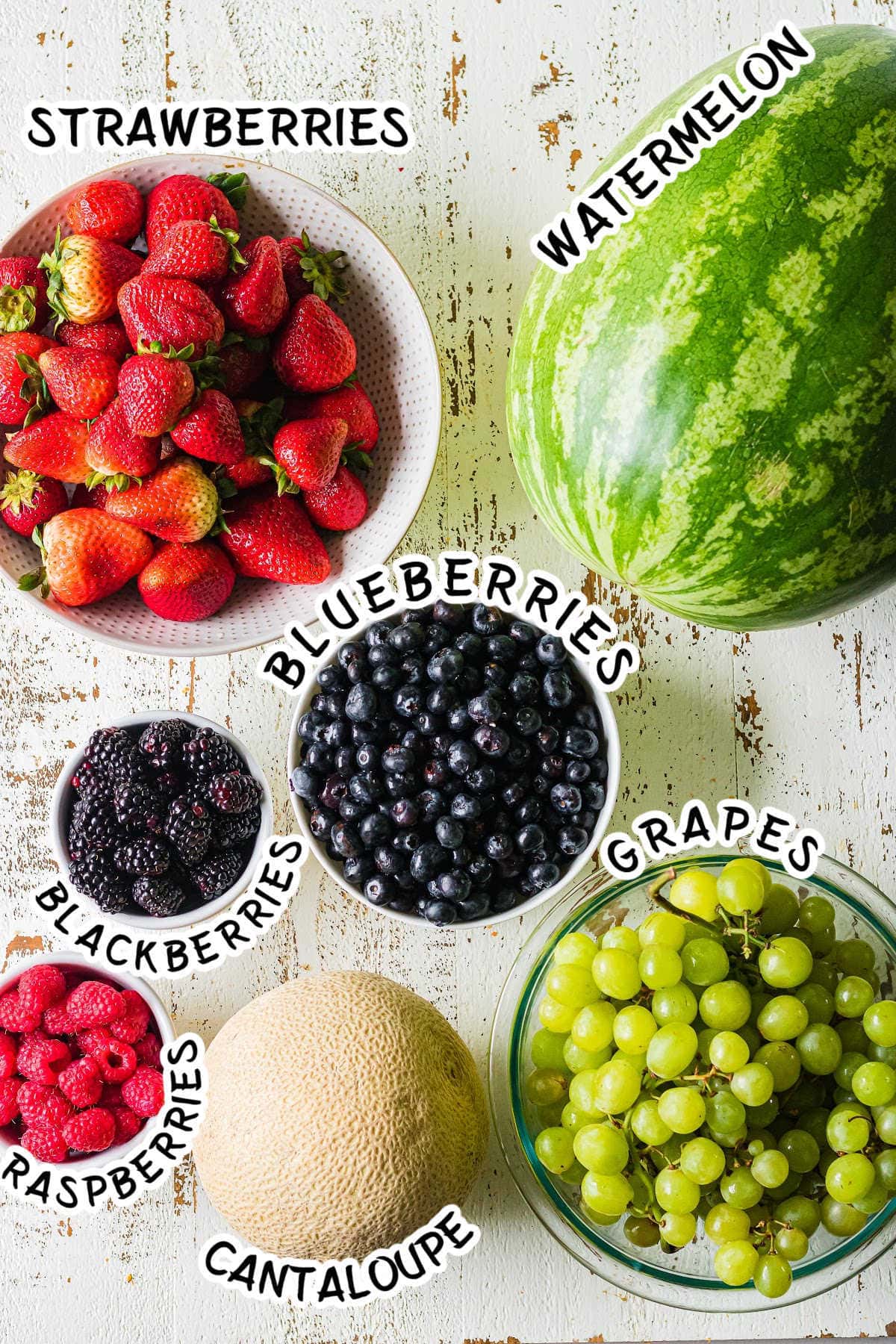 Use any combination of fruit you like. Honeydew melon is delicious in this as well.
Other possibilities -
pineapple
kiwi
mango
passion fruit
star fruit
mandarin oranges
🥫 Storage
Store the prepared fruit in a big bowl covered with plastic wrap or in an airtight container. Keep it in the refrigerator and it will last for a few days. You may need to pour off some juice before using it.
It's best not to try to make your watermelon fruit basket more than a day ahead of time. The texture of the fruit can suffer.
Don't freeze this!
💭 Tips for success
If you're having just a small get-together try making a cantaloupe melon basket instead.
If it wobbles you can take a thin slice off some of the rind on the bottom of the watermelon to flatten it out and give it a stable base. Don't cut through to the pink, though!
Use a sharp knife to carve a watermelon basket - there's less chance of it slipping and cutting you.
Zig-zag cuts are a nice change (and easier to cut) from scallops. They'll be even easier if you use a small paring knife rather than your large sharp knife.
A seedless watermelon works best.
Cut grapes in half, especially if there will be toddlers eating.
Save the pieces of watermelon that you can't make into balls for margaritas or sorbet.
Use fully ripe fruit without bruises or discolorations.
Keep extra mixed fruit covered with plastic wrap in the refrigerator.
You can draw perfect scallops by using a small juice glass held against the melon as a guide.
You can make melon balls with a melon baller OR you can just cut the melon in chunks. If you'd like to make shapes cut bigger chunks into a 1-inch thickness and use cookie cutters to cut out stars, circles, or whatever.
Soak the fruit in champagne and a little sugar, or vodka and a little sugar...however we had kids eating this so I soaked it in Mountain Dew. You don't have to soak it at all..it just adds a little sparkle.
Faux Devonshire cream is delicious spooned on top of each serving.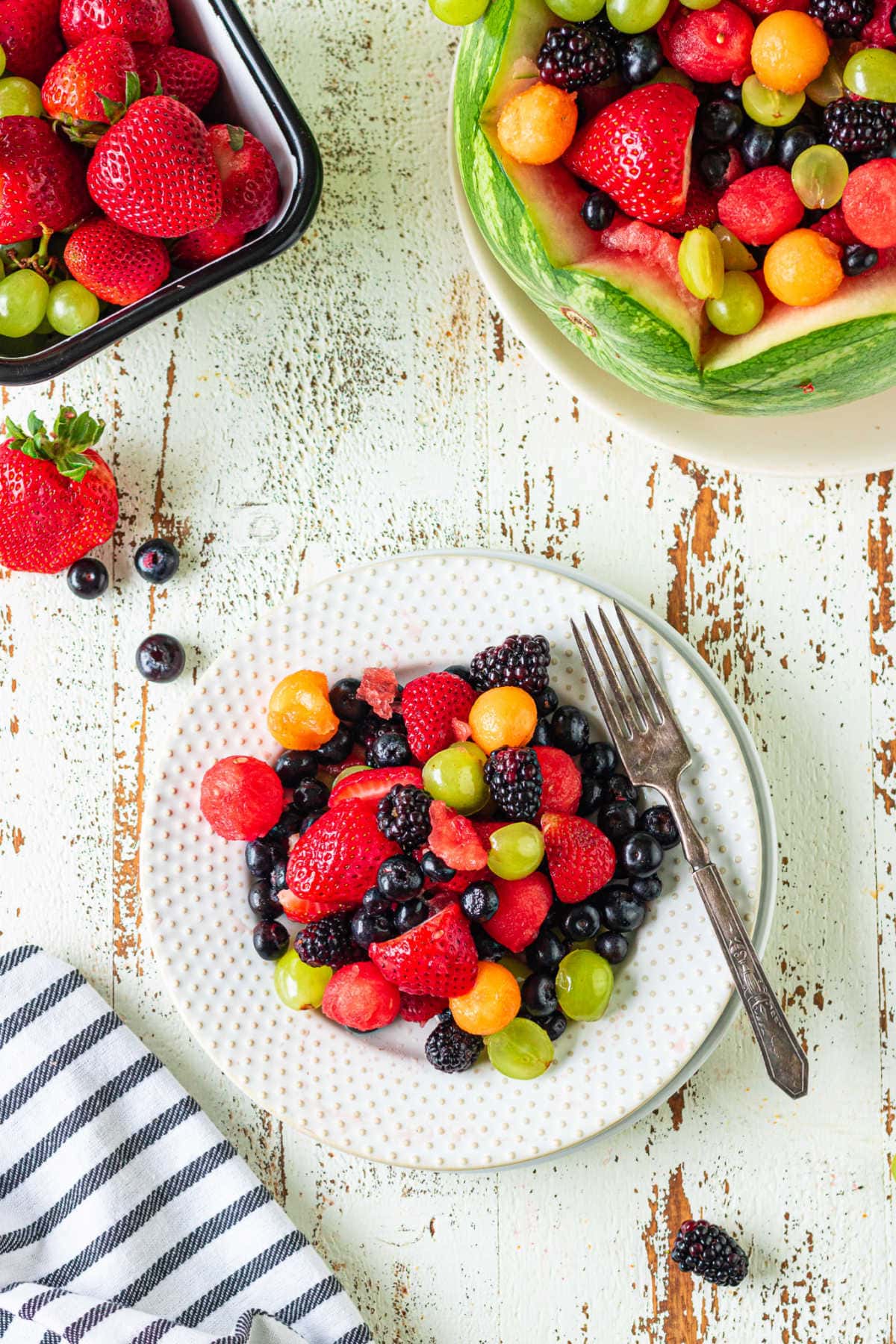 🍉 How to choose a good watermelon
You want to pick a good watermelon, right? Here's how-
Look at the stem end; it should be brown and shriveled.
The melon should look like it fell off the vine not like it was cut off the vine.
Next check the rind for soft spots - you don't want them.
If you see brown stripes that's a good thing - it's supposed to mean ant trails so the melon is sweet. I'm not guaranteeing that but it's worth thinking about.
Yellow spots are fine - that is usually where the melon rested on the ground.
Next you want to thunk it with your fingers. It should sound hollow and echoey.
Choose an oblong watermelon with a relatively flat bottom so it is stable. Think of your design - if you are making a whale (like the one shown at the bottom of the page), for example, you'll want a round watermelon.I prefer an oblong shaped melon because it's easier to work with. If you can find one with a flat bottom that's the best.
👩🏻‍🍳 Frequently asked questions
Can you make a watermelon basket the day before?
Sure! Just make sure to cover it with plastic wrap and keep refrigerated for up to 3 days. Sometimes I'll store the fruit separately from the basket.
How do you prevent a watermelon from being split while carving it?
Make sure it is well chilled before you start to carve. The fruit splits when it is warm from the pressure of the juice expanding so keeping it cold will help!
What do you need to make watermelon balls?
It's easiest to make if you have a melon baller. That's a special tool with a rounded spoon on each end. See instructions below.
How long does a watermelon last?
Uncut watermelon will last up to 10 days at room temperature once you bring it home from the store. If you are picking it yourself it will last up to a month off the vine. Once it's cut open it should last 3-4 days when stored in an airtight container in the refrigerator.
How long will a carved watermelon last?
It will look best the first 24 hours but if covered and refrigerated it will be fine for up to a week. The cut fruit should be stored separately.
🐳 Watermelon basket inspiration and ideas
Here are four more watermelon baskets to inspire you!
The baby buggy watermelon is so cute! The pacifier really makes the whole look. This would be perfect for a baby shower.
The fancy-handled watermelon is pretty enough for a bridal shower. You could even weave ribbon through the holes.
My daughter loves the ocean and sea creatures. I made this whale for one of her parties.
The spiked edges are easier to carve than the scalloped ones.
🎥 Instructional Video
Click on the image to watch me make this recipe from start to finish with extra tips! (Video opens in a new tab).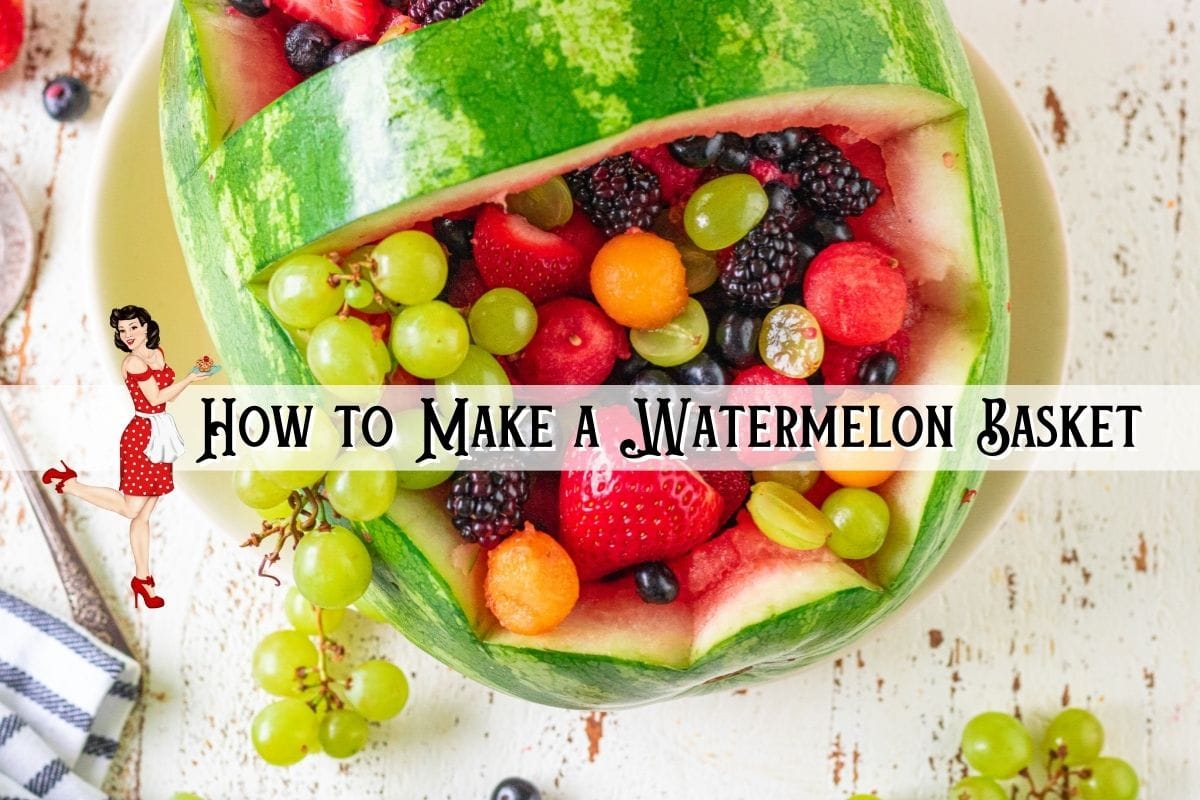 📚 Related recipes
I love this on a summer brunch table.
🧺 How to make a watermelon basket
Time needed: 45 minutes
Learn how to carve a watermelon basket filled with summer fruits. It's a beautiful centerpiece for your next cookout or picnic!
Before you start be sure to wash blueberries, strawberries, or other small fruits that you'll be using. Slice the strawberries and grapes, too. That way when you're ready to mix everything up you won't have to stop and prepare the fruit.
Mark the watermelon

Figure out where you are going to put the basket handle. Mark the handle placement and the scallops (or other shape) using a sharpie. Keep the width at about 2-inches.

Carefully cut

Cut along one side of the handle, then the other. Go straight down as deep as you want the handle to be tall. Cut carefully along the markings with a sharp knife. Make sure you cut through the rind and to the meat of the watermelon.

Remove rind

Carefully remove the watermelon rind as you cut around your design.

Remove the watermelon

Carefully remove the watermelon from under the basket handle to begin forming the basket. Clear out from beneath the handle until it sticks up and looks like a basket handle. Use a melon baller to create melon balls as you hollow out the watermelon.

Remove all the melon.

Remove all of the melon to create a hollow basket.

Make Melon Balls

Use the small side of the melon baller to make balls with the cantaloupe.

Mix the Fruit

Mix the fruit, watermelon balls, and cantaloupe balls together and fill the hollowed out watermelon basket with the fruit. Keep any extra fruit covered in the refrigerator to replenish the basket as needed.

Garnish and Serve

Place the basket on a platter. Garnish the fruit basket with a few clusters of grapes, mint leaves, or whatever you like and serve.​


Enjoy!

​A watermelon basket is such a pretty way to serve all that beautiful summer fruit available now. Use your favorite in season fruits!
Final thoughts
Watermelon baskets do take a little practice but they add so much to the table! Be sure to cut carefully with a sharp knife and to take safety precautions.
Draw your pattern on the melon before starting your cuts and then let your imagination soar!
First published June 2010. Last updated June 28, 2023 for additional tips and FAQs.