This easy  English muffin bread recipe has all of those nooks and crannies and craters of an English muffin but in a quick, no-knead loaf. It's fragrant and has that distinct flavor that we all love.
NOTE: I got notice this morning (3/16) that Pinterest removed this pin because someone claimed it was stolen content. I assure you it was not, This post with images was first published in 2011 by ME … I am in contact with pinterest and hopefully will have it sorted out soon. Thanks!
For this recipe you'll need: all purpose flour, active dry yeast, honey, kosher salt, baking powder, milk, butter, cornmeal, 2 bread pans 
If you are in a hurry click here to go straight to the recipe.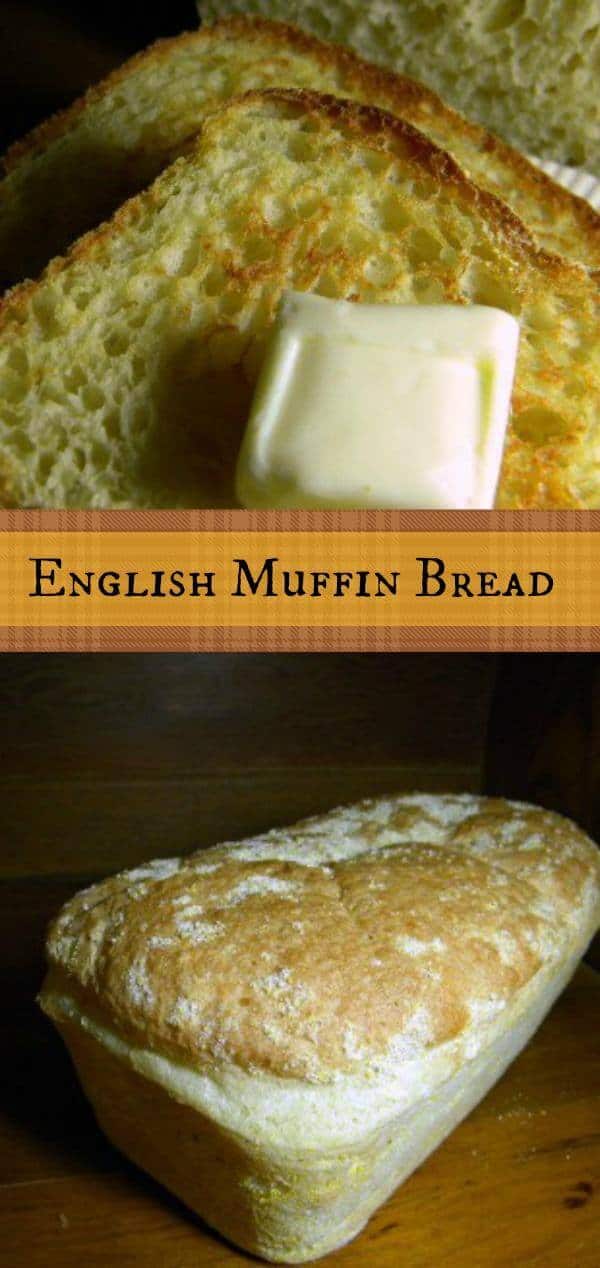 I think that the best thing about English muffins is the way that butter and honey melts and pools in the craters.In fact I have been known (I'm sure you won't be surprised) to put so much butter and honey on my English muffin that it overflows and oozes down the sides in a warm, buttery, sweet-sticky river. That's the best.
I have never been fussy about what variety or flavor they were — I love them all from sourdough to whole wheat.
Even though I have tried and tried to get them exactly right at home I just can't do it but that's OK. With this recipe for an English muffin bread loaf I can have that perfect texture and flavor anytime and it doesn't take forever, either. It's a batter bread which makes this a super easy recipe. No kneading, no mess, and you can have it hot and steaming out of the oven in less than 90 minutes. 90 short minutes to English muffin nirvana Don't cave to the temptation to slice it and eat it hot.  Cool it at least part way and then be sure to toast it.  It will be better that way.
Now, I've seen a lot of images for English muffin bread on Pinterest. It bothers me that so many of the slices look almost exactly like a slice of regular bread. As far as I am concerned it's not English muffin bread unless it has that coarse, bumpy texture (to hold the butter and honey, of course) and distinct English Muffin flavor. It shouldn't taste like bread at all! It's got to taste like a…
(say it with me…)… ENLISH MUFFIN!!!
Accept no substitutes!
I promise you this loaf will come out perfectly and the flavor will be amazing. You can make two large loaves of English muffin bread with this recipe or you can double it and make four. I'd double it if I were you — it tends to disappear quickly and you can freeze it if you need to.
Use coarsely ground cornmeal to dust the pans. It will give you that flavor and slight texture that the conventional English muffins have. If you don't have any cornmeal you can just dust the pan with flour instead. Not a big deal but not as good either.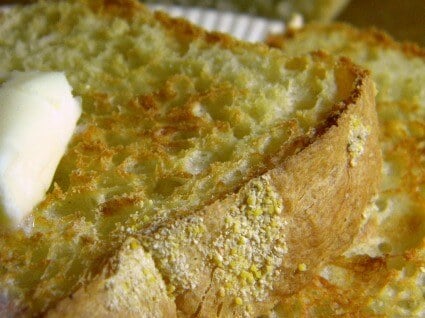 Mmmmm…. look at that crust. So, seriously… what do you like best on your English muffins? My favorite is butter and honey, hands down. LOTS of butter and honey.
The following are affiliate links to products I use and think you'll find helpful in making this recipe. If you click through and buy something I'll get a small commission that's used to keep the blog up and running. Thank you for being a part of Restless Chipotle!
Red Star Yeast – This is the yeast I use most of the time. I buy it in bulk from Amazon (which makes it VERY affordable) and it's always been good until it's gone. Keep it in a tightly sealed container in the fridge to keep it fresh unless you go through it as fast as I do. Red Star Active Dry Yeast
Bread Pans – I use the Pyrex ones because I think the bread bakes more evenly and the crust is better. I love those big rounded tops! I never had consistent success with the shape of bread loaves until I used glass. I only use the Pyrex ones. They are less expensive and nice and sturdy. I have 10 bread pans, all Pyrex, that I've used for at least 10 years with no mishaps. Pyrex 1.5-Quart Clear Basics Glass Loaf Pan (Set of 2)
No Knead English Muffin Bread Recipe
Here's that English Muffin Bread Recipe!! By the way, if you like making easy batter breads like this one try the whole wheat beer bread recipe! I think you'll love it. Be sure to  Click HERE to pin this recipe for later.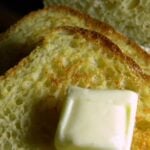 English Muffin Bread
An easy, no knead loaf with the texture and flavor of an English muffin. Perfect toasted and served warm with butter and honey.
Ingredients
5 1/2

cups

flour

you may need less or a little more

2

tablespoons

dry yeast

1

tablespoon

honey

1/4

cup

warm water

2

teaspoons

kosher salt

1/4

teaspoon

baking powder

2 1/4

cups

warm milk

Butter and cornmeal for greasing and dusting the pans
Instructions
Mix the yeast, honey, and water. Set aside.

Sift the salt, baking powder, and flour.

Add the milk and one cup of the flour to the yeast mixture.

Blend well.

Add the remaining flour, OR ENOUGH TO GIVE YOU A SOFT GOOPY DOUGH and beat.

You should have a very soft, goopy dough. Yes. I said goopy.

Spoon the dough into 2 loaf pans that have been greased and dusted with the cornmeal.

Set aside in a warm place until the batter has doubled and is at the top of the pans, or a little above. This may take 30 to 45 minutes.

Preheat the oven to 425F

Dust the tops of the loaves with cornmeal and bake for 15 minutes or so. Loaf will sound hollow when tapped.

Bake for 20-25 minutes if you want a crisper, more golden crust.

Cool and slice.
Recipe Notes
You can make this with whole wheat flour, half whole wheat and half white.
You can add raisins, dried cranberries, dates, etc.
Nutrition Facts
English Muffin Bread
Amount Per Serving
Calories 183
Calories from Fat 9
% Daily Value*
Total Fat 1g 2%
Cholesterol 3mg 1%
Sodium 306mg 13%
Potassium 102mg 3%
Total Carbohydrates 35g 12%
Protein 5g 10%
* Percent Daily Values are based on a 2000 calorie diet.
If you liked this English Muffin loaf recipe you might also like…