This homemade buttermilk bread recipe is so easy that even a beginner can do it! It's the best bread ever for sandwiches with a velvety crumb with a slightly sweet flavor that comes from honey. If you've never worked with yeast doughs before you might want to read this guide before you start.
This recipe has been undated from the original 2008 version to improve reader experience. Last updated August 2018
For this buttermilk bread recipe you'll need: yeast, powdered ginger, sugar, buttermilk, honey, salt, baking soda, bread flour, unsalted butter. If you don't happen to have buttermilk try the Amish White Bread — It's a very similar recipe!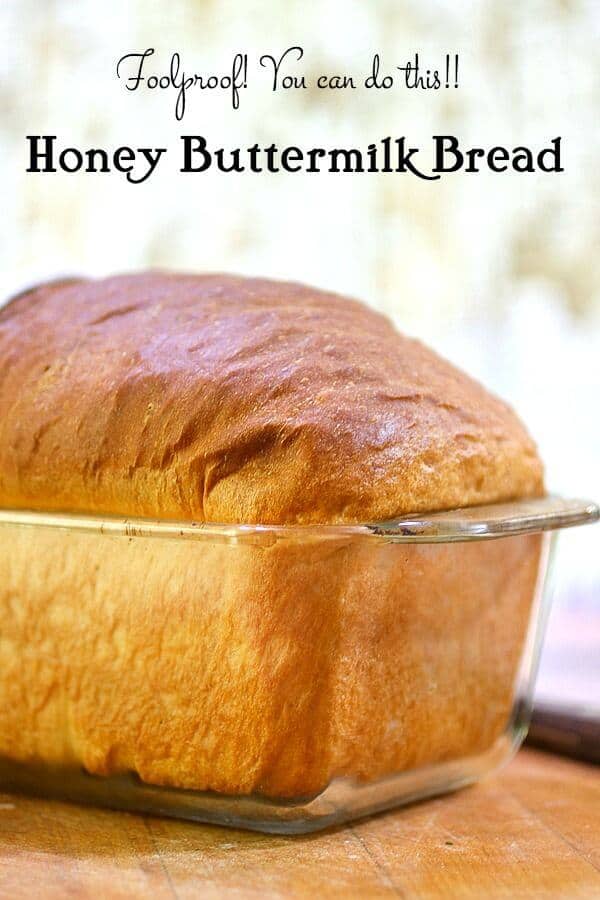 Making Homemade Bread Is Easy
This recipe is so unbelievably light that it doesn't seem like homemade. It's sweet but not too sweet so it makes a great sandwich no matter what the filling is. You can taste the honey but it's just lightly sweet; not overpowering at all.
How I Learned to Make Bread
I was lying on the couch one day, paging through a Seventeen magazine and they had a recipe for bread. I don't know if they still publish recipes but they used to. I was bored, it seemed like a cool 70's kind of thing to do, and why not? After all, the early 70s were all about artisan and handcrafted things.
So I did it. I just followed the directions and there it was.
Bread.
It was magical. The house smelled great and I had accomplished something I had never seen or done before. I'd never had homemade bread. Honestly, it was one of those moments that changed my life. It was an epiphany and would more or less guide my food life from that moment on.
This Recipe Was the First of Many!
The result was delicious — I was hooked. In fact – so hooked that I have made hundreds of bread recipes since then!
Say "yeast bread recipe" and most people get intimidated. Making homemade bread is a skill that few people take the time to learn these days. Well, there's nothing scary about it and it's actually a lot of fun! Here are some tips, tricks, and tools to help you get over any fear you may have so you can create gorgeous loaves of bread like these!
Buttermilk Bread FAQs
Here are the questions I am most frequently asked about this recipe.
What does buttermilk do in bread?
Buttermilk brings a pleasant tang to baked goods. The acids in the buttermilk help to tenderize the gluten so the texture is softer. It also helps the bread to rise.
Can you substitute honey for sugar in bread recipe?
This bread is made with honey but you can use sugar in it instead. To substitute honey for sugar or sugar for honey use 1 cup of sugar to 1 cup of honey or vice versa. If you are substituting honey for sugar in a recipe you'll likely need to cut the other liquids by 1/4 cup per cup of honey.
How do you keep bread crust crispy?
Don't cover it as it's cooling. You can also brush it with egg white blended with 1 teaspoon of water before baking.
How to knead dough by hand
A lot of people have asked me how to knead dough for homemade bread without a mixer so I finally did a video to demonstrate the process. Plan on it taking you 10 to 15 minutes to knead by hand. You can see an instructional video on how to knead bread here.
How do I know when the bread is done?
You can use an insta-read thermometer if you like. Push it into the side of the loaf – the center of the bread should be about 200F.
You can also turn the bread out and tap the bottom. It will sound hollow. After you've baked bread a few times you'll just know.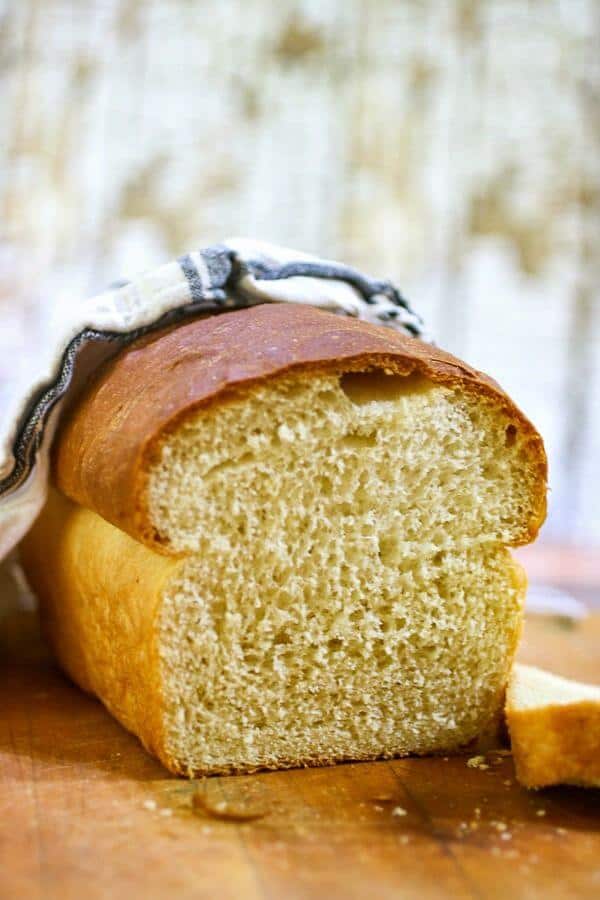 What Is Buttermilk and Why Use It in this Bread Recipe?
Real buttermilk is a thing of the past. It used to be the liquid that was left after churning butter but now it is a combination of skim milk and other ingredients with a culture added — something like yogurt. The acids that form are what helps give this honey buttermilk bread its fantastic texture.
I like making my own. You can buy the starter online or you can use a little of the commercial buttermilk to start it. Yes, you'll still get some of those icky ingredients but the amount is comparatively minute. Here is the post on how to make buttermilk if you haven't seen it before. It's so easy and you'll be amazed at the difference in your baked goods. .
How to Make Buttermilk Bread in a Bread Machine
Many of you have asked about making this recipe in a bread machine. One reader, Debbie, did so and she left this comment. I thought it might help.
If you want to make it and bake it in a bread machine cut the recipe in half, set it on white bread setting, and add ingredients in this order (or according to your manufacturer's instructions):
Water
Buttermilk
Butter
Honey
Sugar
Salt
Flour mixed with ginger and baking soda
Yeast
High Altitude Baking Instructions
This is not a problem here in Texas – at least not in my area! However, King Arthur Flour has some great tips for high altitude baking on their site. The information about bread and yeast is at the bottom of the page.
Here's a quick overview –
Basically you'll need to decrease the amount of yeast in the recipe so if it calls for 1 tablespoon yeast you'll want roughly 2 1/2 teaspoons of yeast instead. You'll follow the recipe but more than likely you'll need to adjust the amount of flour you use to get the right texture – it may take a couple of tries.
Also your rising time will be MUCH faster so keep an eye on your dough!
Tips for Perfect Results
Make sure all ingredients are at room temperature.
Use fresh yeast.
Make sure your liquids are not more than 110F.
Grease the dough before rising.
Let the dough rise in a warm spot.
Cover while cooling for soft crusts.
Yeast Baking Troubleshooting Guide
I've written a series of posts to help with questions about yeast baking and troubleshooting problems you may experience. Be sure to take a look before getting started.
Also – these tips on getting your bread to rise properly are what keep my breads high and light!
You Might Need
Be sure to check out the essentials for success page to find links to the tools and ingredients I use most often in my baking.
The following are affiliate links. We are a participant in the Amazon Services LLC Associates Program, an affiliate advertising program designed to provide a means for us to earn fees by linking to Amazon.com and affiliated sites.
What's new? Check out my Restless Chipotle & Co. Store on Amazon where you'll find all kinds of nostalgic goodness! Thanks so much for being a part of Restless Chipotle!
If you've wanted to learn to bake bread but it never comes out quite the way you think it should… you might like my book, Bread BootCamp. It's gotten great reviews! Not only does it contain this honey buttermilk bread recipe, there are recipes for batter breads, cinnamon rolls, whole wheat bread, and many more!
Bread Bootcamp is available on Amazon for Kindle or in paperback.
More of the Best Bread Recipes from Restless Chipotle
I make bread a lot – I just love the process! Here are more of my favorite recipes – which is your favorite?
Easy Old Fashioned White Bread

Homemade Buttermilk Bread Recipe
I really think you'll love this recipe – it's the best bread ever! So many people have made this yeast bread and told me it was their family's new favorite.
Are you a fairly new bread baker? Read this post on how to make homemade bread first. You may also like this guide on types of flour.
If you like this recipe please give it 5 stars!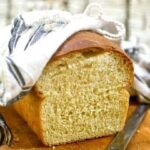 Honey Buttermilk Bread Recipe
Print
Add to Collection
Go to Collections
Tender buttermilk white bread with the delicate flavor of honey. The stronger the honey the better the flavor so use pure raw honey, buckwheat or other strong flavor.
Prep Time
2
hours
30
minutes
rising time
2
hours
15
minutes
As an Amazon Associate I earn from qualifying purchases.
Ingredients
1

tablespoon/packet

yeast,

I usually use 1 because I buy in bulk.

1

pinch

powdered ginger

1

teaspoon

sugar

1/4

cup

warm water

,

105F

2

cups

warm buttermilk

,

105F

1/3

cup

honey

1

teaspoon

kosher salt

3/4

teaspoon

baking soda

6

cups

white bread flour

,

divided use

1/4

cup

unsalted butter

,

melted and cooled so that it is warm to the touch but not hot.
Instructions
In a medium sized bowl mix the yeast, ginger, sugar, and 110F water.

Set aside for 5 minutes or until foamy.

Whisk the buttermilk, honey, salt, and baking soda together and add it to the yeast mixture.

Add three cups of flour and mix until smooth, about 3 to 5 minutes on low of a stand mixer.

Pour in the butter until it is totally mixed into the batter.

Add the rest of the flour, one cup at a time, keeping mixer on low speed.

When dough pulls from the sides of the bowl remove it from the mixer to a lightly floured surface. Knead until elastic and smooth.

You can also knead in your mixer according to manufacturer's directions.

Place in greased bowl, turn to grease the top, and cover with a clean tea towel.

Allow the dough to rise for 1 1/2 hours, or until double.

Punch down and form into two loaves. Place in greased loaf pans and grease tops.

Cover, and allow to rise for 45 minutes, or until it is just about to the tops of the bread pans.

Bake for 30 minutes. You can cover the tops with foil if they brown too fast.

Remove loaves from oven and brush with melted butter.

Allow to cool in pans for 10 minutes.

Gently run a knife around the edge between the bread and the pan to loosen it.

Turn out and cool completely on a rack.

Cover the loaves if you want soft crusts.
Notes
The baking soda does two things… It works with the acid in the buttermilk to help the bread rise high and light and balances any off tastes from the acids in the buttermilk.
Tips –
Make sure all ingredients are at room temperature.
Use fresh yeast.
Make sure your liquids are not more than 110F.
Grease the dough before rising.
Let the dough rise in a warm spot.
Cover while cooling for soft crusts.
Nutrition
Calories:
188
kcal
|
Carbohydrates:
33
g
|
Protein:
5
g
|
Fat:
3
g
|
Saturated Fat:
2
g
|
Cholesterol:
8
mg
|
Sodium:
183
mg
|
Potassium:
72
mg
|
Sugar:
6
g
|
Vitamin A:
110
IU
|
Calcium:
34
mg
|
Iron:
0.4
mg
Sign up for the emails and never miss another recipe!!
We'll never share your email or send you spam. Pinkie swear.