If you've ever tried to make yeast bread and failed you'll want to pin, bookmark, and save this post for easy reference. I'm going to help you figure out why your bread isn't working out for you with these yeast bread baking tips.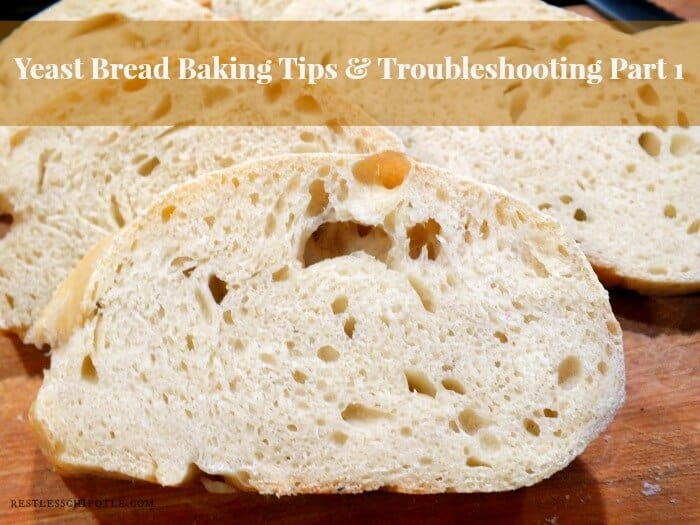 There can be a variety of reasons why your bread doesn't bake up the way you expected it to. Yeast bread baking is one of those skills that takes a lot of practice because you can't give exact measurements. Good bread depends on at least eight things:
A good recipe
Fresh, active yeast
Quality ingredients
Sufficient kneading
Long enough rising time in the proper temperature (but not too long)
The right size pans
Proper oven temperature
Proper cooling and cutting
Let's take these things one at a time. As you can imagine this is going to be a long post so grab a snack before we get going.
Yeast Bread Baking Success
A Good Bread Recipe
Finding a good bread recipe isn't as easy as you might think. Most of us, who have been making bread for centuries, don't really take the time to measure ingredients. We go by feel, look, smell, and a dark magic bestowed on us by the great bread baking fairy. So, when we go to write the recipe out we may over or under-estimate the exact measurements.
Basic bread has five ingredients and only the first three are really necessary —
Yeast
Water
Salt
Sugar or other sweetener
Check to make sure your recipe has these. If it leaves out sugar, salt, or both you can leave it out, too. If you like formulas then memorize the following:
Bread = 3 parts flour + 1 part liquid + 1 tablespoon of active, dry yeast for every 6 cups of flour.
Most basic yeast bread recipes are going to have around 6 cups of flour and 2 cups of water and they'll make two loaves. The other part of that equation is this. Sometimes the dough will need a little more or a little less flour to be exactly right. There is no way to predict it. That knowledge comes by experience. Those beautiful loaves that come out of my oven?
I have been baking bread since 1973. That' 41 years of experience. The first loaves I made where not quite so lovely!
Fresh Active Yeast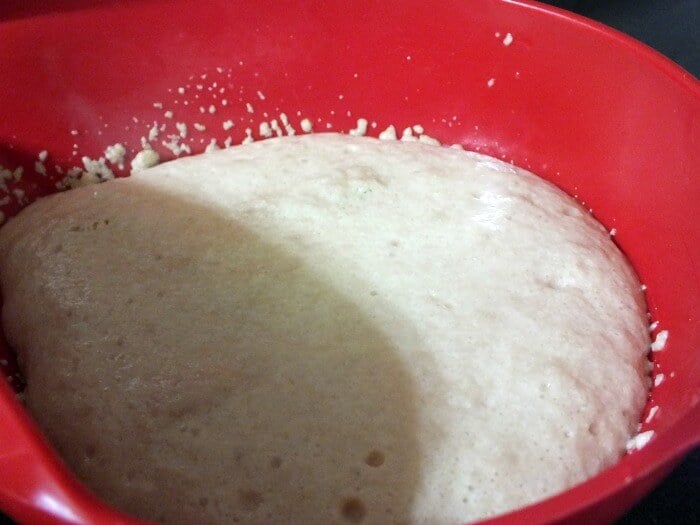 The yeast should foam up like this when you "proof" it.
You can get yeast in packets or jars at the grocery store or you can get Active Dry Yeast in one or two pound bags online if you use it a lot. It's tons cheaper to get the bigger bag and it will last six months or more in the fridge. Always let your yeast come to room temperature before you use it.
Some recipes call for the Rapid Rise yeast but I don't like it. When bread rises too fast it doesn't develop the same flavor and texture. Always test your yeast by putting it in the bowl and adding about ¼ cup of the 105F water to it. I always add a pinch of sugar and ginger, too. Stir it up and set it aside for a few minutes.
After ten minutes or so you should see that it has bubbled up and is foamy. That means that it is working. You're good to go. If it doesn't foam up then you'll need to get more yeast because yours is dead. This is called "proofing" the yeast.
Quality Ingredients
You know what I am going to say. Your recipe results will only be as good as the ingredients you put in it.
Flour
All purpose flour is fine for most breads but you won't get the same rise and texture as you would have with bread flour. That's OK if you are inexperienced. All purpose flour is much easier to work with for a novice bread baker. As far as brands go, my favorites are King Arthur or Bob's Red Mill
Water
If you have water that has a mineral taste to it use filtered water so that your bread doesn't taste weird. Your water should always be comfortably warm to the touch — shoot for about 105F to 110F, but don't worry because yeast can work as low as 95F or as high as 120F.
Salt
Kosher salt is the best. It is pure and you will get consistent results.
Sweetener
You can use sugar, brown sugar, honey, agave, unsulfured molasses, or whatever. Just be aware that each will give the bread a slightly different flavor. For example, I like to use a heavily flavored buckwheat honey with whole grain breads because the flavor doesn't get lost. White bread is best with a lighter honey, like wildflower or orange blossom.
Sufficient Kneading
There are two ways to knead bread. You can knead it in a mixer or by hand. If you are only making bread once or twice a year then you probably don't need a mixer. If you plan on making it a lot you'll need a good mixer like Kitchen Aid or better. If you plan on making whole grain breads a lot you'll want a Bosch. I have both a Kitchen Aid and a Bosch because I bake a lot of bread and a lot of different kinds of bread.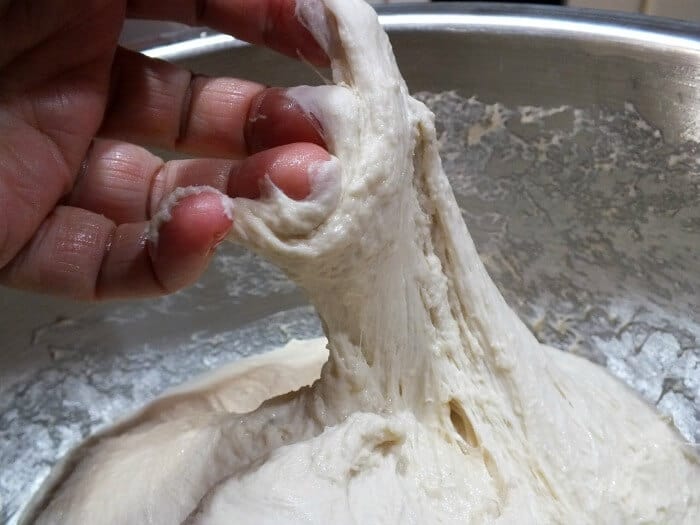 This yeast dough is stretchy and elastic but still much too sticky! it will need more flour and more kneading time.
By Hand
Learning to knead by hand is important. I recommend that if you've never hand kneaded bread that you give it a try. I think it teaches you more about how the bread should look and feel than using a mixer. If you are kneading by hand don't try to make anything but white bread! Whole grain breads can be hand kneaded but it takes time and practice...and muscles of steel.
If you are 5' 5" or under do not try to knead your bread on the counter. You will hurt your arms and back, plus you'll have to work too hard. Take your bread dough to the table, assuming it is lower. Your kneading surface should allow your arms to hang with just a slight bend at the elbow when your hands are palm down on it.
Sprinkle the surface of the table with a little flour tto keep the dough from sticking.
Starting from the middle, push the dough away from you with the palm of your hand.
Fold the edge back to the middle and give the dough a quarter turn.
Repeat the pushing and folding action for about 5 minutes.
Now your arms are probably tired so clean up a little and then come back to the dough.
Knead it another 5 minutes or so.
When the dough is ready it will feel somewhat like your earlobe when you pinch it. When you gently pull on it the dough will stretch a little instead of breaking off.
If you are unsure if you have kneaded enough use the window pane test.
Pull off a small piece of dough.
Stretch it as much as you can.
If it is kneaded correctly the dough will stretch very thin without tearing.
Kneading by Mixer
Fit the mixer with the dough hooks.
Mix in your ingredients as directed in your recipe using the lowest speed. It's best to add the flour ½ cup at a time and mix it in well before adding the next ½ cup.
When there is enough flour in the dough it will pull away from the sides of the bowl leaving them clean.
Turn the speed up one notch.
Knead on this speed for 5 minutes.
After 5 minutes you can do the earlobe test or the windowpane test but your dough should be right. Do not over knead your dough!
***********************************************************
That's probably enough for you to take in right now. Let's take a break and let this information about yeast bread baking soak in. I'll finish the last four necessary steps to great bread in Part 2 - Yeast Bread Baking Part 2.
In the meantime, take a look at several bread recipes and break them down. Do they follow the 1:3 ratio? Hint: In the 1:3 ratio the liquid doesn't have to be water.