Homemade bread with a beautifully rounded top, baked golden brown, and just out of the oven is a beautiful thing — there's no doubt about it. Sometimes, though, you need something closer to a commercially shaped bread loaf. You know, something that is squared off so that you can make perfect French Toast, or Texas Toast, or whatever. When you need something like that, with a slightly sweet, velvety crumb then you are looking for Pain de Mie.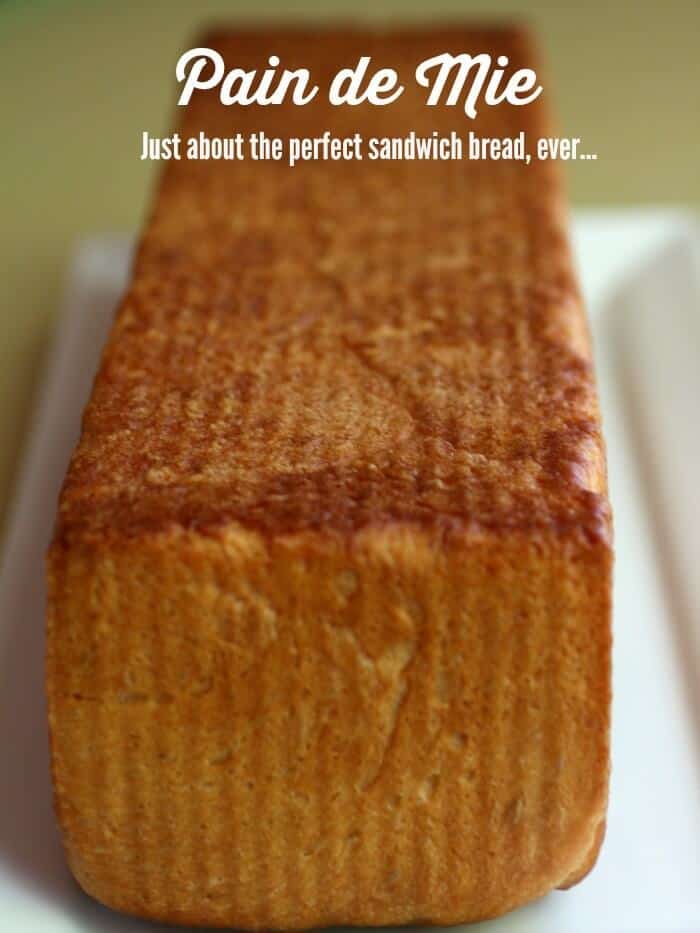 Pain de Mie is kind of hard to translate. Pain, of course, means bread. La Mie refers to the inside of the bread or the crumb. So, pain de mie loosely translated means a loaf of bread with no crust — and that's pretty much what it is!
You'll need a pain de mie pan, sometimes called a pullman loaf pan. This is a sturdy bread pan that is a little thinner and longer than normal and has a top that slides on. As you bake the bread with the top on the dough takes on the perfect rectangle shape of the pan and only a very thin, soft crust is formed. It makes perfect bread for sandwiches, French toast, and other dishes. The loaf is mild, slightly sweet, and not too "yeasty" with a delicate, velvety crumb that stays soft. I like it cut about 1 1/2 inches thick because it's just right for a toast base for creamed chicken or a saucy type topping. It doesn't get soggy. It's also my favorite thickness for French Toast.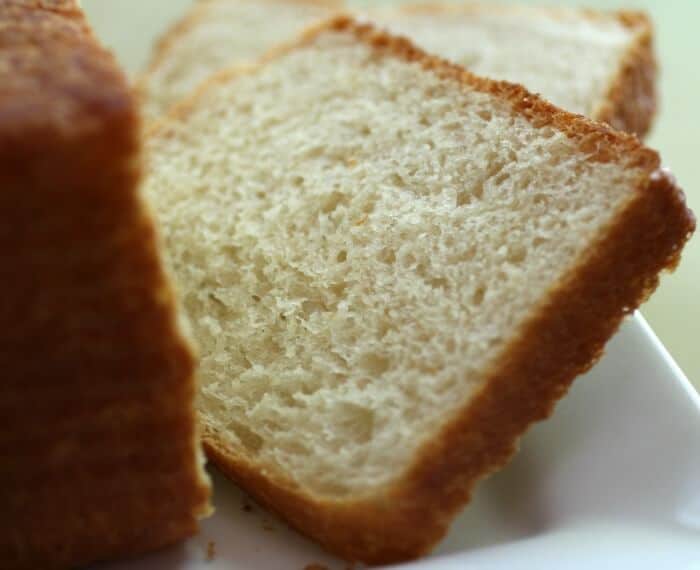 I learned to make the best French Toast from Hawkeye on M.A.S.H. Seriously! My mom always made a very bland, eggy version that I didn' t like at all. Once I was watching M.A.S.H. and Hawkeye and Trapper were reminiscing about their favorite foods. Hawkeye had a wistful look on his face (I had a thing for Alan Alda back then — those eyes!) and talked about French Toast – beating the mixture until it was frothy and then sprinkling cinnamon so that it floated on top. I figured if there was cinnamon there had to be a little sugar, and if there was sugar then surely a little vanilla wouldn't hurt…
Pretty soon I had perfect French Toast, thanks to a fictional doctor in Korea with amazingly sexy eyes.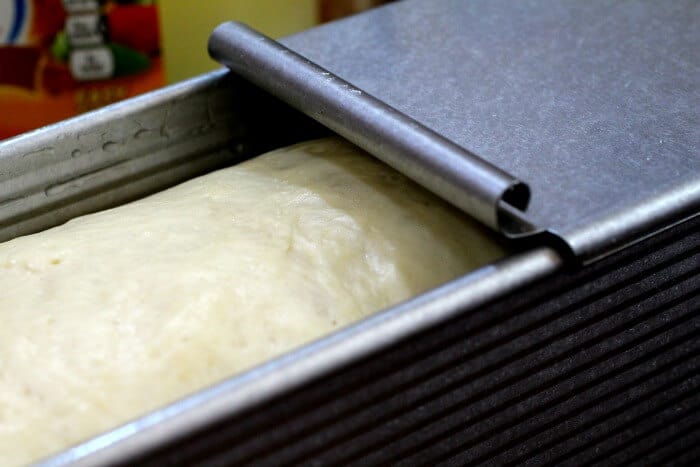 The following are affiliate links. We are a participant in the Amazon Services LLC Associates Program, an affiliate advertising program designed to provide a means for us to earn fees by linking to Amazon.com and affiliated sites.
What's new? Check out my Restless Chipotle & Co. Store on Amazon! Thanks so much for being a part of Restless Chipotle!
I love my Pullman loaf pan. It is made in America and is heavy and durable with ripples on the inside that keep the bread from getting soggy or sticking.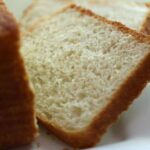 Pain de Mie (Pullman Loaf)
Print
Add to Collection
Go to Collections
A mild bread with a delicate flavor and velvety crumb. It is baked in a special pain de mie pan so that is is perfectly squared off and has the thinnest crust possible. Great for French Toast.
Prep Time
2
hours
10
minutes
Total Time
2
hours
55
minutes
As an Amazon Associate I earn from qualifying purchases.
Ingredients
1

tablespoon

active dry yeast

2/3

cup

milk

1

cup

water

6

tablespoons

unsalted butter

2

teaspoons

salt

3

tablespoons

sugar

1/4

cup

nonfat dry milk

3

tablespoons

dehydrated mashed potato flakes run through the blender

4 3/4 – 5

cups

bread flour
Instructions
Add the yeast and sugar to the water.

Set it aside for 10 minutes until it is bubbly and looks creamy.

Add the rest of the ingredients and mix until the dough comes together. Knead for 5 minutes by machine or 8 minutes by hand.

Transfer the dough to a greased bowl, grease the top of the dough, and cover with a tea towel.

Let rise for 2 hours, or until double in bulk.

Lightly grease a 13 x 4-inch pain de mie pan.

Gently press down the dough and shape it into a 13-inch log.

Fit it into the pan.

Cover the pan with lightly greased plastic wrap and let the dough rise unil it is just below the lip of the pan, about an hour but possibly more.

Remove the plastic.

Lightly grease the inside of the cover and slide it onto the pan.

Let the dough rise for an additional 10 minutes or so while the oven is preheating to 350F.

Bake the bread for 25 minutes.

Remove the pan from the oven and take off the cover.

Return the loaf to the oven and bake it for an additional 20 minutes, or until the bread tests done. An instant read thermometer, inserted into the center, will read 190F.

Remove the bread from the oven and place on a rack to cool completely, taking the loaves out of the pans after 10 minutes.
Nutrition
Calories:
230
kcal
|
Carbohydrates:
41
g
|
Protein:
7
g
|
Fat:
4
g
|
Saturated Fat:
2
g
|
Cholesterol:
8
mg
|
Sodium:
208
mg
|
Potassium:
106
mg
|
Fiber:
1
g
|
Sugar:
3
g
|
Vitamin A:
127
IU
|
Vitamin C:
2
mg
|
Calcium:
33
mg
|
Iron:
1
mg
Tried this recipe?
Tag me!! @Marye_RestlessChipotle
If you liked Pain de Mie you may also like…
Honey Oat Pain de Mie King Arthur Flour
Whole Wheat Pain de Mie King Arthur Flour
Jewish Rye Bread Restless Chipotle
Amish White Bread Restless Chipotle