This easy sandwich bread is known as pain de mie, bread of the crumb in French because of its perfect texture.
Don't want to scroll through the page to get to the recipe? Use the table of contents to click on the section you want.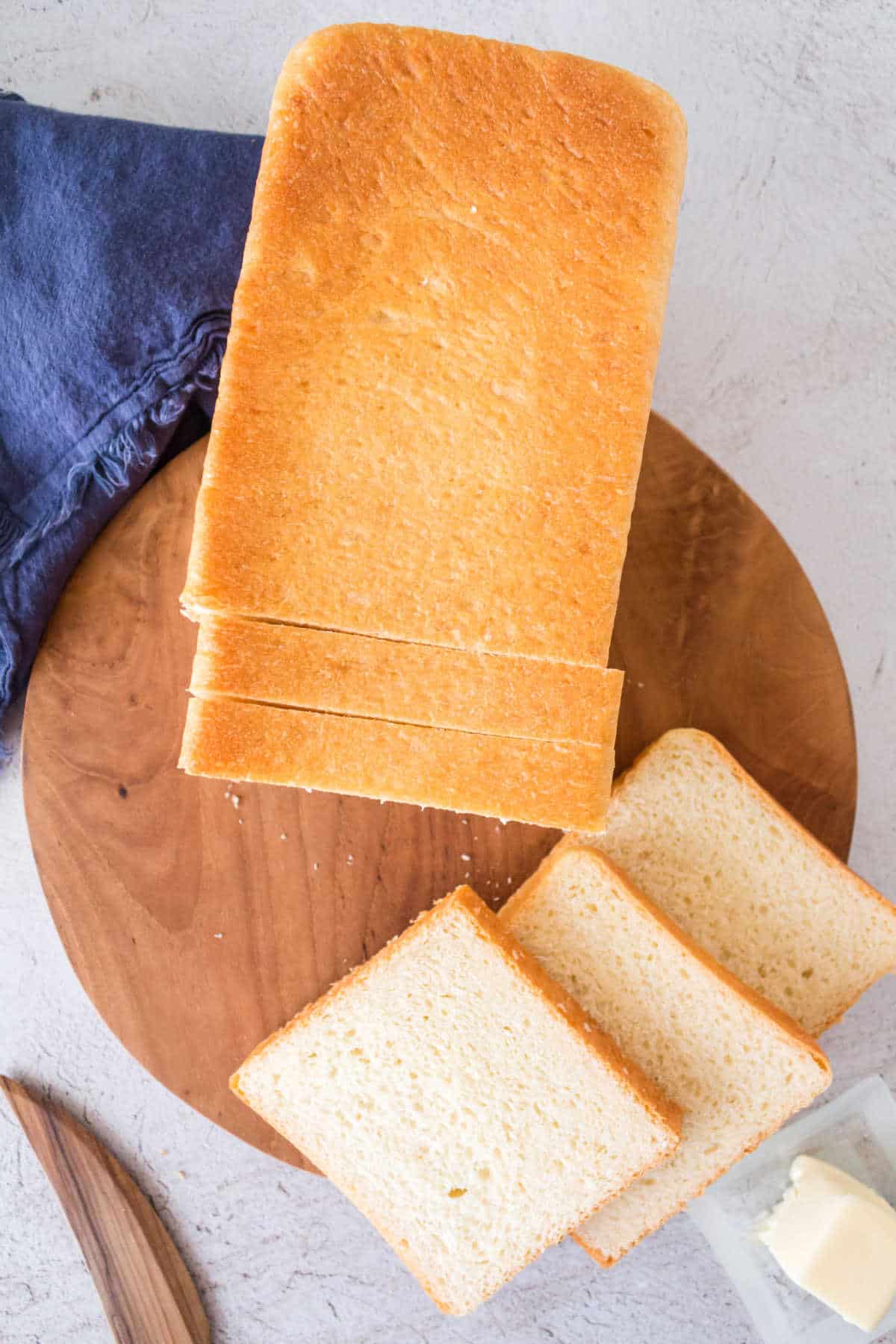 Jump to:
🗝️ Key takeaways
The crumb on this bread is soft and tender and since there's very little crust it's great for the little kids. No more cutting off the crusts!
This versatile loaf is tasty as a sandwich loaf, Texas toast, or French toast
A Pullman loaf pan (also called Pain de Mie pan) has a top on it while it is baking. This means that the bread has a flat top with almost no crust at all.
Pullman bread, also known as pain de mie, is a classic-style loaf of bread, recognized best for its well-known square slices and cravable texture!
Plus, the thin, golden brown crust is easy to trim off without much waste for elegantly presented tea time snacks—or, to appease picky eaters!
Fun fact: most types of bread loaves that you buy for sandwiches from the bread aisle in the grocery store (not the fresh bakery section) are technically pain de mie, too!
🧾 Ingredients
This is an "at a glance" list of ingredients. You'll find the list and the measurements in the printable recipe card below.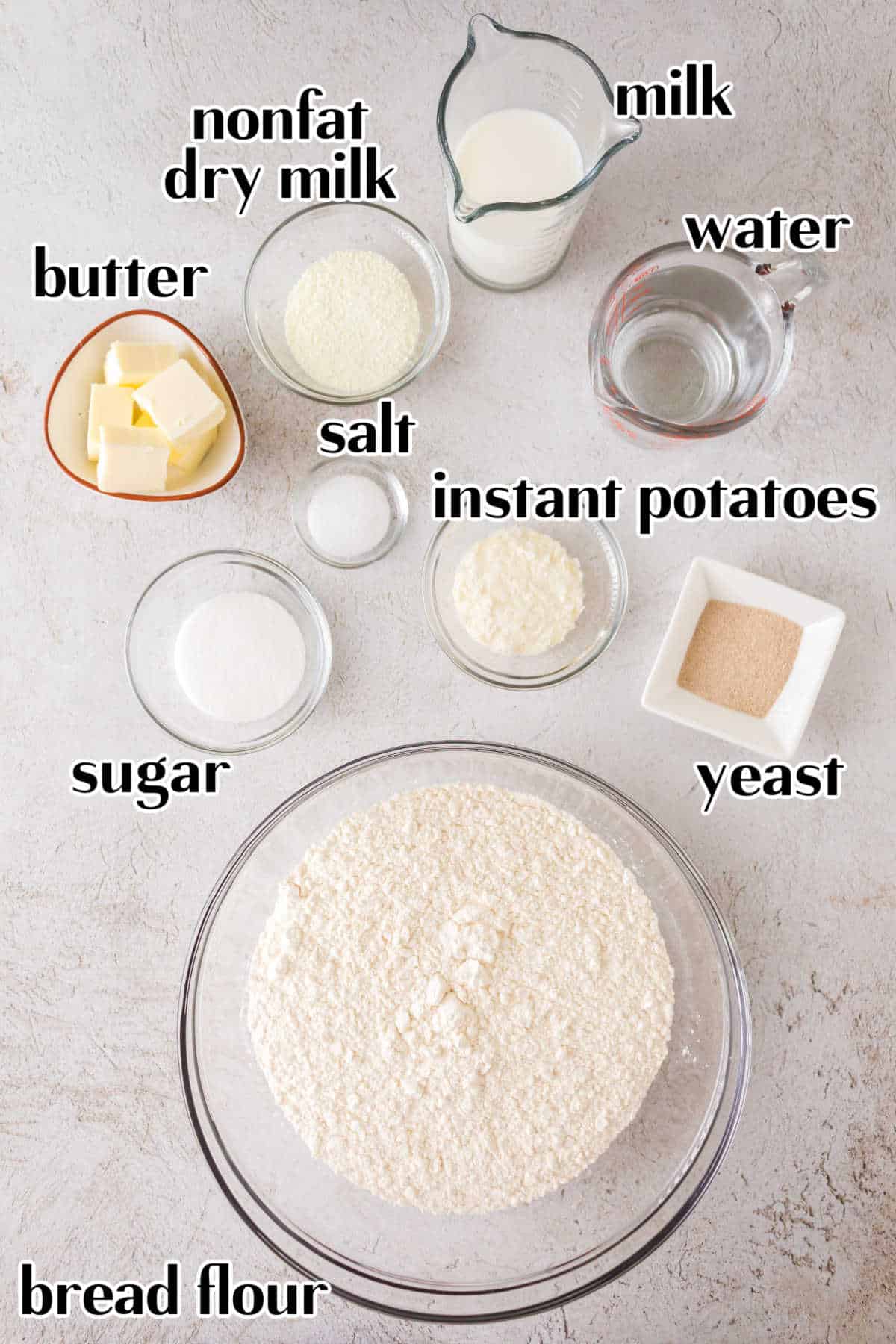 📖 Variations
Knead in about ¾ cup of raisins or dried cranberries
Use half whole wheat flour
Knead in ¾ cups of chopped pecans
Follow the filling and shaping instructions for cinnamon swirl bread but bake it in the Pullman pan.
🔪 Instructions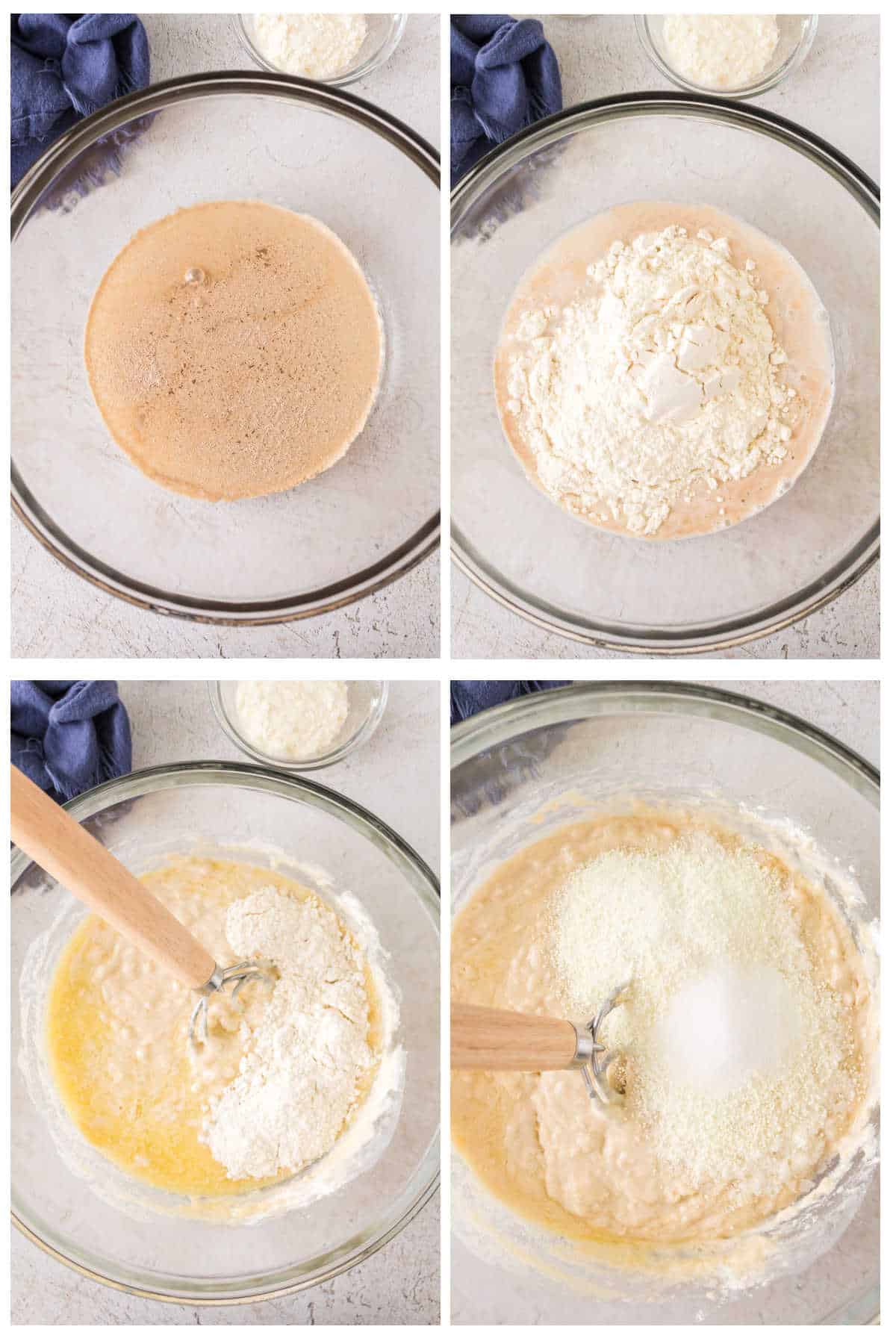 In a large bowl, combine the active dry yeast, sugar, and warm water.
After about ten minutes, add two cups of flour to the yeast mixture.
Pour in the milk and butter. Stir.
Add the salt, dry milk powder, and mashed potato flakes.
Add the rest of the flour slowly, mixing until smooth bread dough forms.
Transfer dough to a lightly greased bowl and let rise, covered, in a warm place for two hours or in the fridge overnight.
Place dough in a Pullman pan. Let rise until it reaches the lip of the pan.
Slide the metal cover over the pan. Bake with the cover on.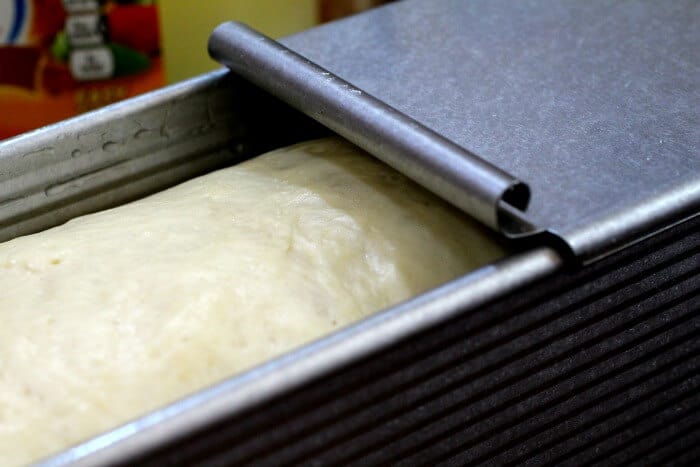 🥫 How to store leftovers
Like most homemade loaf bread, Pullman loaves are best enjoyed within three or four days of baking. However, you can also freeze the bread for up to three months!
To store the Pullman bread, wrap it in plastic wrap or aluminum foil and keep it at room temperature.
Be sure to tightly cover any cut sections of the bread to prevent air from getting in and drying out the loaf.
To freeze
For longer storage, place the wrapped loaf into a freezer-safe bag and put it in the freezer for up to 3 months.
I like to slice the Pullman loaf, first, sandwiching each slice in between a piece of parchment paper. That way, I can easily pull out an individual slice or two any time I have a taste for delicious sandwich bread!
You can thaw a full Pullman loaf at room temperature, or pop a slice or two straight from frozen into the toaster if you just can't wait—when the bread cravings call, they're hard to ignore!
💭 Things to know
⭐ Expert Tip: Pay close attention to the ingredient temperatures written in the recipe. Unless otherwise indicated, the rest of the ingredients should be at room temperature for the best loaf ever!
Sometimes tap water has chemicals or components that can interfere with the yeast and affect how the dough rises. It's best to use spring water from a bottle if you can.
If you choose the two-hour first rise, try to set the bowl in a draft-free place. Yeast is the most effective for quick growth around 75 degrees F. The warmth of your kitchen from a preheated oven is ideal!
If you have time make it the day before and let it rise overnight in the refrigerator for the first rise, before shaping.
If you don't have a Pullman bread pan, coat two regular loaf pans with non-stick spray or olive oil. Divide the dough between them, and cover tightly with a greased sheet of foil. Then, wrap each of the pans in another layer or two of foil, sealing them securely.
No guesswork is needed to tell when your bread is finished baking—just check it with an instant-read thermometer. The internal temperature at the center should be 190 degrees F.
To easily get the bread out of the hot pan, turn a cooling rack upside down over the top of the loaf pan. In one fluid motion, flip over both the rack and pan. Then, simply lift the pan off of your beautiful, warm bread.
Let the bread cool completely on a wire rack before cutting into it or wrapping for storage.
You can cut this paper thin for fancy things and thick for things like Texas toast. It's super versatile.
💡Great Idea: Substitute up to half of the bread flour for whole wheat flour, depending on the type of flavor you like. Pullman loaves make great whole wheat bread!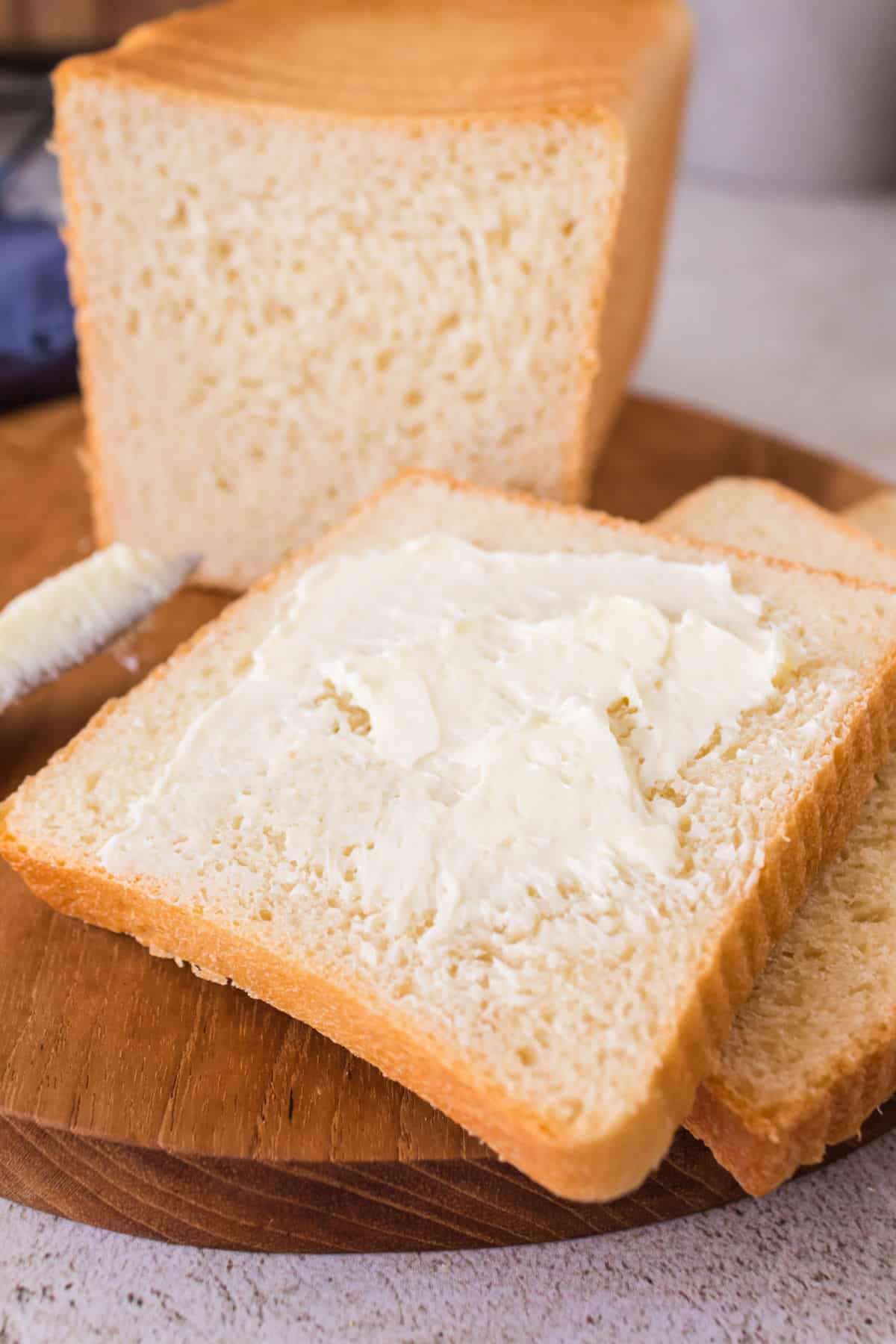 👩‍🍳 FAQs
What is the difference between bread flour and all-purpose flour?
A Pullman loaf is a bread often used for sandwiches and French toast. It has a delicate texture, soft crumb, and slightly sweet flavor. Pullman loaf is made in a special pan with a sliding lid at the top that keeps the bread in a block shape as it bakes.
What's the difference between Pullman loaf and Pain de Mie?
Pain de mie is the French name for Pullman Loaf. There's no real differences between the two. Pain de Mie, loosely translated, means a loaf of bread with no crust — and that's pretty much what it is!
Why is this type of bread called a Pullman loaf?
The fun nickname originates with the Pullman railway company. The only bread they made was pain de mie in the special, square tin pan. Supposedly, the straight edges stacked together better than round loaves for more effective storage. Funnily enough, the loaves resembled the rectangular, angled shape of the Pullman cars, too!
What do the potato flakes do?
Potato starch holds onto water very well, which makes this type of bread extra moist and soft!
Can I use instant yeast, instead of active dry?
You can! Unlike active dry yeast that needs "activation" (the first two steps of our recipe), instant yeast is ready to go right off the bat. So, just mix it into the ingredients and go on with the recipe!
Do I have to use a Pullman loaf (pain de mie) pan?
Nope. You can bake in any type of loaf pan. You can bake it in anything you want and you'll have delicious homemade bread - but it's not pain de mie without the special pan.
What does Pullman bread tast like?
The loaf is mild, slightly sweet, and not too "yeasty" with a delicate, velvety crumb that stays soft.
📚 Related recipes
Y'all know I make a lot of bread. It is relaxing and makes the house smell like home - much better than any candle! Here are some of my favorites -
🫶 We recommend
The following are affiliate links. We are a participant in the Amazon Services LLC Associates Program, an affiliate advertising program designed to provide a means for us to earn fees by linking to Amazon.com and affiliated sites.
These are the tools and products I use in this recipe.
📞 The last word
This is one of my favorite breads to make. When you take the cover off (careful not to burn yourself) the aroma that wafts up into your face will have you drooling!
I like it cut about 1 ½ inches thick because then it's just right for a toast base for creamed chicken or a saucy type topping. It doesn't get soggy. It's also my favorite thickness for French Toast when I'm not using my quick Brioche.
This is perfect for s'mores stuffed French toast!
If you click on the number of servings in the recipe card you can adjust the measurements up or down for the exact number of servings you need.
If you love this recipe please comment below & give it 5 stars ⭐️⭐️⭐️⭐️⭐️
📖 Recipe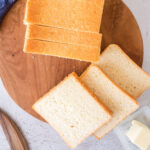 Pullman Loaf, AKA Pain de Mie Bread
Print
Pin Recipe
Save
Saved!
Pullman loaf, also called Pain de Mie, is a mild bread with a delicate flavor and velvety crumb. It is baked in a special bread pan so that it is perfectly squared off and has the thinnest crust possible. Great for French Toast.
As an Amazon Associate I earn from qualifying purchases.
Ingredients
1

tablespoon

active dry yeast

1

cup

water

,

spring water is best

3

tablespoons

sugar

⅔

cup

milk

,

whole milk

6

tablespoons

butter

,

unsalted, melted and cooled to room temp.

2

teaspoons

salt

¼

cup

nonfat dry milk powder

3

tablespoons

dehydrated mashed potato flakes run through the blender

,

don't reconstitute them - add them dry.

4 ½

cups

bread flour

,

up to 5 cups
I earn a commission from Instacart from qualifying purchases.
Instructions
Add the yeast and sugar to the water.

Set it aside for 10 minutes until it is bubbly and looks creamy.

Add the milk, melted butter, and 2 cups of flour and mix well.

Mix in the salt, dry milk powder, and mashed potato flakes.

Add more flour, a little at a time, until the dough is smooth and soft.

Transfer the dough to a greased bowl, grease the top of the dough, and cover with a tea towel.

Let rise for 2 hours, or until double in bulk - or overnight in the refrigerator.

Lightly grease a 13 x 4-inch pain de mie pan.

Gently press down the dough and shape it into a 13-inch log.

Fit it into the pan.

Cover the pan with lightly greased plastic wrap and let the dough rise unil it is just below the lip of the pan, about an hour but possibly more.

Remove the plastic.

Lightly grease the inside of the cover and slide it onto the pan.

Let the dough rise for an additional 10 minutes or so while the oven is preheating to 350F.

Bake the bread for 25 minutes.

Remove the pan from the oven and take off the cover.

Return the loaf to the oven and bake it for an additional 20 minutes, or until the bread tests done. An instant read thermometer, inserted into the center, will read 190F.

Remove the bread from the oven and place on a rack to cool completely, taking the loaves out of the pans after 10 minutes.
Notes
Storage:
Pullman loaves are best enjoyed within three or four days of baking. Just keep covered at room temperature.
However, you can also freeze the bread for up to three months. Wrap tightly with plastic wrap then in aluminum foil.
Tips:
Make sure all of your ingredients are at room temperature unless otherwise indicated.
If you have time make it the day before and let it rise overnight in the refrigerator for the first rise, before shaping.
If you don't have a pullman loaf pan you can spray any loaf pan really well with nonstick bake spray, then add about ½ the dough, spray nonstick spray on a sheet of aluminum foil and cover tightly , sealing it on the loaf pan. NOW wrap the loaf pan with a couple of layers of aluminum flour tightly. It's not perfect but it will work.
This bread freezes like a charm. I like to slice it and freeze it with parchment between the slices so I can use just what I need.
Let it cool completely before cutting. You can cut this paper thin for fancy things and thick for things like Texas toast. It's super versatile.
You can make whole wheat pain de mie by substituting whole wheat flour for up to half the bread flour.
You'll find more helpful tips and variations in the body of the post.
Nutrition Facts
Calories:
132
kcal
|
Carbohydrates:
21
g
|
Protein:
4
g
|
Fat:
3
g
|
Saturated Fat:
2
g
|
Cholesterol:
8
mg
|
Sodium:
232
mg
|
Potassium:
78
mg
|
Fiber:
1
g
|
Sugar:
3
g
|
Vitamin A:
127
IU
|
Vitamin C:
2
mg
|
Calcium:
29
mg
|
Iron:
1
mg
Nutrition information is estimated as a courtesy. If using for medical purposes, please verify information using your own nutritional calculator. Percent Daily Values are based on a 2000 calorie diet.
Sign up for the emails and never miss another recipe!!
We'll never share your email or send you spam. Pinkie swear.
First published April 22, 2014. Last updated August 14, 2023, with new images and improved readability.
What's new? Check out my Restless Chipotle & Co. Store on Amazon where you'll find all kinds of nostalgic goodness! Thanks so much for being a part of Restless Chipotle!