Next time try this chile cheese bread.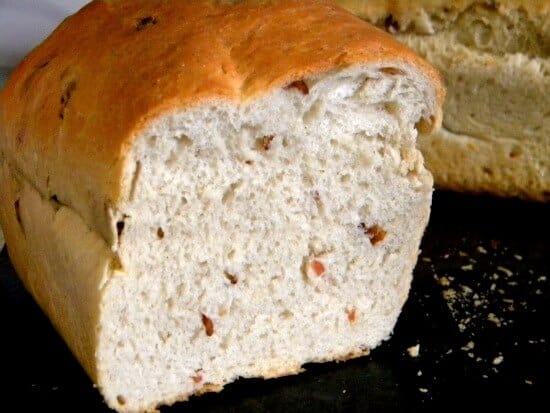 Mention bacon and I will start salivating. Bacon is the stuff that dreams are made of - an aroma and flavor that tempts even the most dedicated vegetarian.
I should know, I was once a dedicated vegetarian. I will agree with anyone that says bacon is good with almost anything - except Jack. Jack-in-the-Box came out with a bacon shake that Ethan and I had to try.
Try it we did and at first sip I found my mouth filled with scorched vanilla. There wasn't much bacon (if any) but they had added a glug of artificial smoke flavoring to a vanilla shake. Imagine drinking a vanilla shake as you were leaving a burning building.
Just because you can doesn't mean you should. However...candied bacon in cookies and breads, crisp bacon in side dishes, bacon on the plate? I heart it all.
While I was on my very-much-needed vacation I was planning on making bread.
The house was still basking in the aroma of the bacon I had cooked for breakfast and I had the drippings left in the pan - I hadn't put them in a container yet. (You do save bacon drippings, right?)
The plan was to make bread for toasted cheese sandwiches and and all of a sudden I wondered what it would be like to use bacon and bacon grease in the bread.
I will tell you what it was like - it was AWESOME.
The bread is fluffy and delicious; all of the flavor and texture of good homemade white bread.
The bacon flavor is delicate at first, intensifying as you eat. And, with this bread, the flavor is stronger when it is cool than when it is warm.
Keep in mind that the flavor of your bread will be directly related to the flavor of your bacon. Use a good, applewood or hickory smoked bacon for the best flavor.
It was amazing as part of the grilled cheese. It was amazing toasted and buttered the next day. Three loaves lasted less than 36 hours. Imagine this as the base of bacon, lettuce and tomato sandwiches or topped with caramelized onion.
So good.
Be careful of the salt. Your bacon is all ready salted and the saltiness of the bread will be related to the saltiness of the bacon.
No brand of bacon is the same so taste a slice before you make the bread to see if you will need to add more or less salt.
Sponge method
I used a sponge method with this. All that means is that you don't add all of the flour.
You only add enough to make the dough gooey and then you let that rise in a large bowl. It is important that you not add salt or fat at this point because those ingredients will keep your bread from rising well.
Once the sponge has risen then you will stir it down and add the bacon fat, salt, more flour and other ingredients as directed in the recipe.
Knead
This time you will want to knead it until it is smooth and elastic and only a little sticky. Adding too much flour will make the bread heavy so be careful.
If you are using your stand mixer use the dough hook and knead according to manufacturer's instructions.
To knead by hand:
Turn dough out on floured surface.
Push dough away from you.
Fold over and pull toward you. My YouTube video should help show you how.
First rise
Form the dough into a ball and oil it. Put it into an oiled pan and let it the dough rise (or proof) in a warm place for about an hour, or until it has doubled. Not sure if it is ready? Gently poke your finger into the dough. If the indent remains it is ready for the next step.
If not? Give it a little longer.
Shape
Punch the dough down and cut it in three equal parts. A scale will come in very handy for this. Form each part into a loaf and place it in a well greased loaf pan.
Oil the tops and cover them with a tea towel.
Second rise
Put them in a warm place to rise again.
This time you want them to come just to the top of the bread pan or a little over it. They will rise more in the oven.
Bake
Brush the bacon bread loaves with a little of the bacon grease or butter and place the bread pans in the preheated oven to bake.
Let the loaves cool out of the pans. Put a towel over the bread as it is cooling for a soft crust or cool it uncovered for a more crisp crust. Slice it when it is cool.
Try not to eat an entire loaf.
📖 Recipe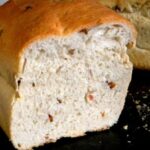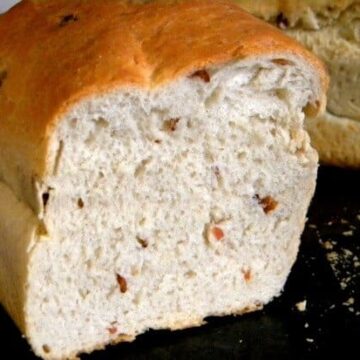 Bacon Bread
Print
Save
Saved!
Savory, slightly smoky bacon bread is an easy white sandwich bread studded with crispy bacon. It's fantastic for all kinds of sandwiches but especially grilled cheese with tomato soup!
As an Amazon Associate I earn from qualifying purchases.
Ingredients
7-¼

cups

all-purpose flour

2

tablespoon

light brown sugar

1-½

teaspoons

kosher salt

2

packages

active dry yeast

2 ½

cups

warm water

⅓

cup

bacon drippings

¾

pound

bacon

,

crisp-cooked and crumbled
I earn a commission from Instacart from qualifying purchases.
Instructions
Add yeast and sugar to ½ cup of the water. Stir to dissolve and allow to bubble.

Add the rest of the water.

Mix 2 cups of flour into the water and blend well.

Allow this sponge to rise for 30 minutes.

Mix 2 more cups of flour, bacon grease, bacon, and salt into the sponge and beat on slow speed.

Add the rest of the flour, a little at a time to make a soft dough.

Turn out on a floured kneading board and knead for 5 minutes or until smooth and elastic.

Oil the ball of dough and put it into an oiled bowl to rise for one hour or until doubled. (I used bacon grease)

Punch the dough down and divide into 3 parts.

Form each part into loaves and place in greased pans.

Allow to rise until doubled, about 30 minutes.

Preheat oven to 375F

Brush the tops of the loaves with bacon grease.

Bake for 30 minutes or until loaves sound hollow.

Remove from pans and cool before slicing.
You'll find more helpful tips and variations in the body of the post.
Nutrition Facts
Calories:
127
kcal
|
Carbohydrates:
8
g
|
Protein:
3
g
|
Fat:
9
g
|
Saturated Fat:
3
g
|
Trans Fat:
1
g
|
Cholesterol:
12
mg
|
Sodium:
149
mg
|
Potassium:
45
mg
|
Fiber:
1
g
|
Sugar:
1
g
|
Vitamin A:
5
IU
|
Vitamin C:
1
mg
|
Calcium:
4
mg
|
Iron:
1
mg
Nutrition information is estimated as a courtesy. If using for medical purposes, please verify information using your own nutritional calculator. Percent Daily Values are based on a 2000 calorie diet.
Sign up for the emails and never miss another recipe!!
We'll never share your email or send you spam. Pinkie swear.
First published March 7, 2012. Last updated October 6, 2021 for minor editorial details and image resizing.