There's nothing that will make your kitchen smell better than this easy white bread recipe! It's been tested for decades by busy home cooks just like you and I — and it never fails to be perfect! Soft and buttery on the inside with a crisp crust, this homemade bread has been pleasing families for centuries! Originally published June 2007 – this post has been updated.
For this recipe you'll need: All purpose flour, active dry yeast, sugar, water, milk, butter, salt, ginger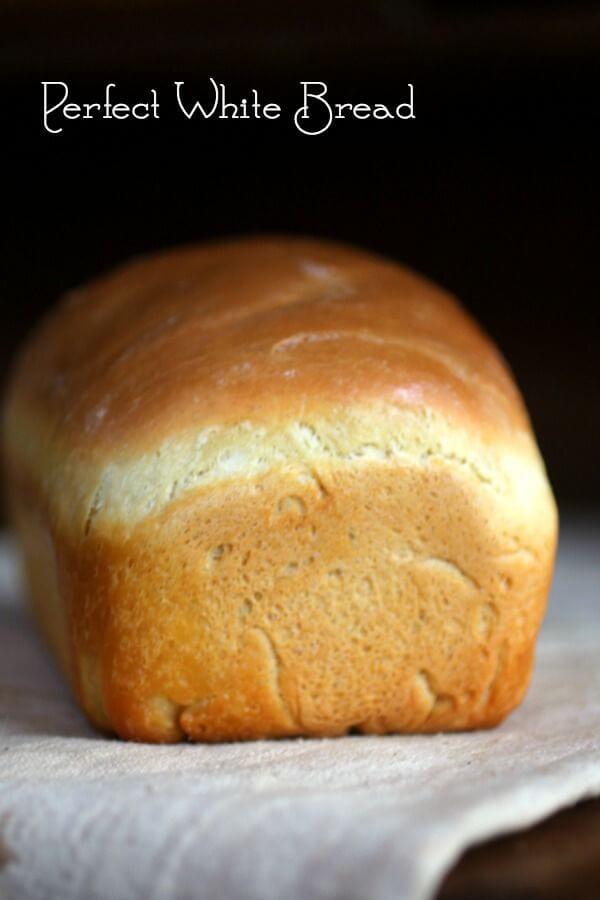 This easy, homemade white bread recipe is one that I have been using since I baked my first loaf at age 13 or so. I promise you that if you take it slow and are careful of the temperature of the ingredients it will come out perfect every single time. This is the perfect recipe for beginning bread bakers of all ages.
Nothing smells as good as bread baking!
When my dad was alive it was almost like he had an internal radar. I am not necessarily a scheduled kind of person but just about the time I put a loaf to cool on the counter he would knock at my door…The heels were his favorite and I rarely had intact loaf by the time he left. The heels were all gone.
Thank God we get to keep our memories even after our loved ones are gone. The are priceless aren't they??
This easy white bread is a traditional recipe, one that is probably very similar to what your grandmother or great-grandmother made. You don't need to use bread flour, all purpose flour is fine. That means that you can knead it by hand without too much trouble.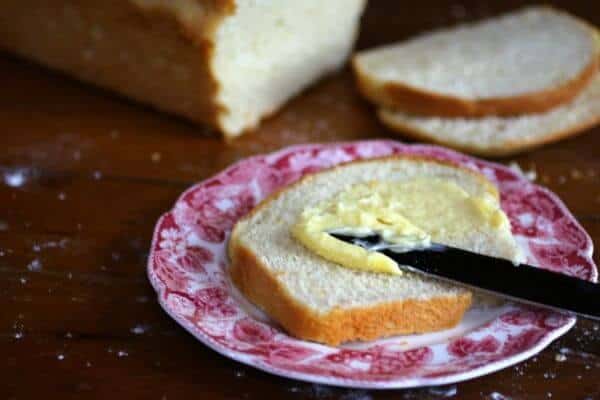 The Role of the Ingredients in Homemade Bread
Each ingredient brings its own little talent to the easy white bread dough. You should never try to vary a homemade bread recipe until you have some experience and understand what role each ingredient plays, as well as how it works with the other ingredients.
Flour gives the bread structure and holds the air bubbles that the yeast gives off during rising.
Yeast easts the sugars in the dough and gives off a gas. This is what causes the bread to rise.
Ginger gets the yeast going. Think of it as the bread's first cup of coffee in the morning.
Sugar feeds the yeast and helps it to grown
Milk gives the texture of this bread a delicate softness.
Butter helps the crumb stay soft and gives it more flavor.
Salt enhances the flavor and keeps the bread from rising too much.
Things You Might Need
The following are affiliate links. We are a participant in the Amazon Services LLC Associates Program, an affiliate advertising program designed to provide a means for us to earn fees by linking to Amazon.com and affiliated sites.
Thanks so much for being a part of Restless Chipotle!
I like to buy a large quantity of yeast at one time. It's much cheaper that way and it will last in a tightly sealed jar in the refrigerator for a long time. You may not think you'll go through that much but trust me… you will!
Some of you have asked about the bread pans I use. Mine are the Pyrex 9x5x4 inch loaf pans. You can find them on Amazon –
Pyrex 1.5-Quart Clear Basics Glass Loaf Pan (Set of 2)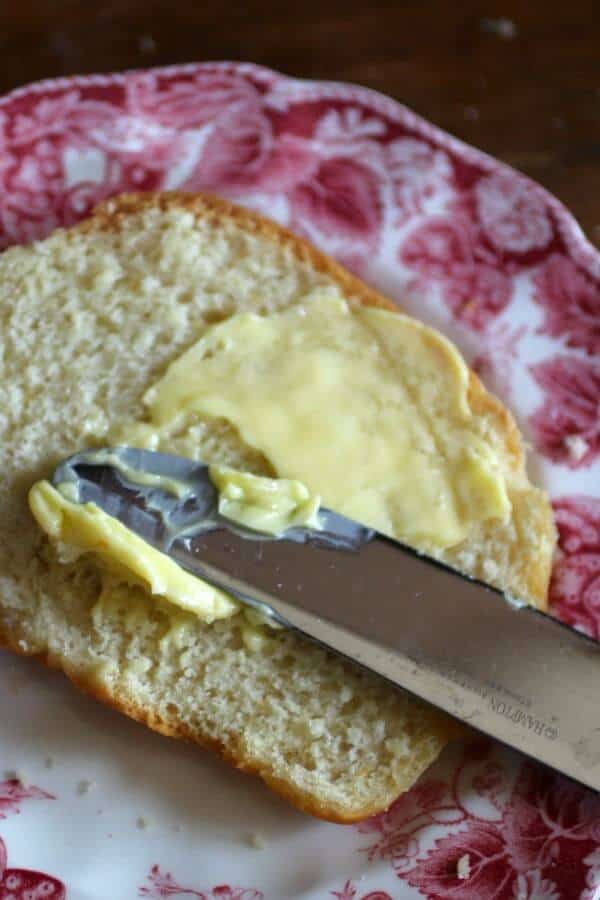 Easy White Bread Recipe
Here's that easy white bread recipe! Give it a try! If you like this recipe please consider giving it 5 stars in the recipe card below. 🙂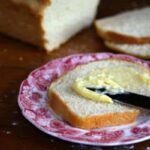 Perfect White Bread
Print
Add to Collection
Go to Collections
Soft, old fashioned white bread for toast, sandwiches or just hot and fresh, oozing with melted butter.
Prep Time
1
hour
45
minutes
Total Time
2
hours
15
minutes
As an Amazon Associate I earn from qualifying purchases.
Ingredients
1

cup

milk warm to the touch

,

or, if you have ALOT of sour milk..use sour

2

tablespoons

sugar

1/4

teaspoons

ginger

,

it is a yeast activator, you wont taste it.

2

teaspoons

salt

2

tablespoons

unsalted butter

,

room temperature

1/2

cup

warm water

5-6

cups

white flour
Instructions
Stir the sugar and butter into the warm milk.

Sprinkle yeast, ginger and a pinch of sugar on the water.

Stir to dissolve and let it stand until bubbly.

Add to milk mixture with 3 cups flour.

Stir in the salt.

Beat at medium speed about 2 minutes or stir by hand until batter is smooth.

Add enough remaining flour to form a dough that leaves the sides of the bowl.

Turn on to lightly floured surface, cover and let rest 10 minutes.

Knead until smooth and elastic-about 10 minutes.

Round up into a ball and oil all sides.

Place in a lightly oiled bowl and cover with a tea towel.

Let rise in a warm place until doubled about 1 1/2 hours. (The inside of the oven with the light on is perfect).

Punch down.

Cover and let rise again until doubled, about 30 minutes.

Shape into a loaf and place in an oiled bread pan.

Lightly oil the tops.

Let rise until almost doubled, and bread is rounded above the pan, maybe 30-45 minutes.

Bake at 375 for 30 minutes, or until loaves sound hollow when tapped on the bottom.

Cool in pan for 5 minutes, remove from pan, and finish cooling.

If a soft crust is desired cover the loaf with a clean tea towel during the cooling process.
Sign up for the emails and never miss another recipe!!
We'll never share your email or send you spam. Pinkie swear.
More popular bread recipes from Restless Chipotle
Cracked Wheat Buttermilk Bread
Original Image