Bread baking is one of the "lost" arts that has been increasing in popularity for the past several decades. Following is a list of Bread baking FAQs (frequently asked questions) that I am asked most often by readers.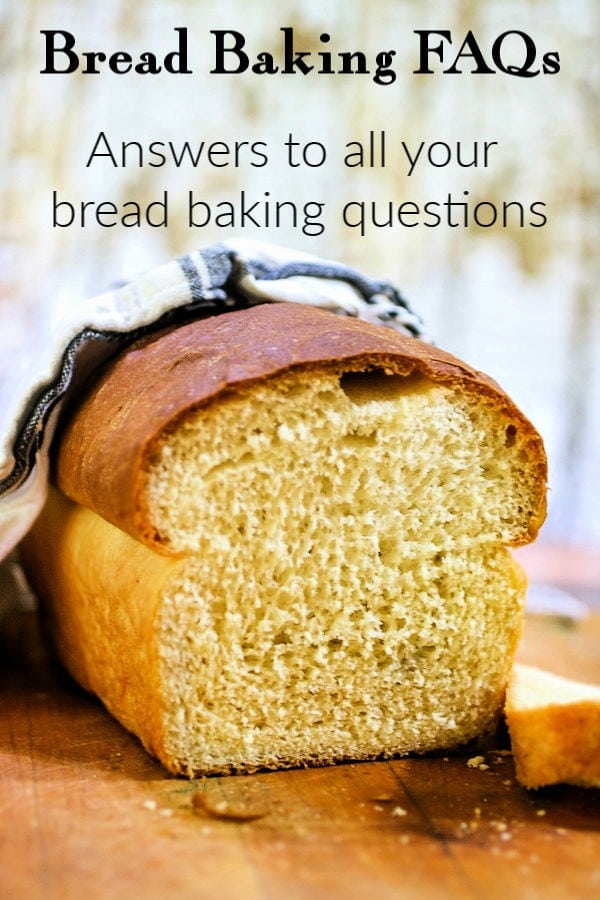 Jump to:
Finding Answers to Your Bread Baking Questions
Since bread baking isn't as common as it was in the past it may be hard to find answers to questions that you might have. After all - most of us can't just run over to Aunt Bea's house and ask!
If you don't find the answer to your question amongst the bread baking FAQs here please leave a comment and ask.
I'll try to answer it as soon as possible. Be sure to check out the links to other helpful articles I've written as well. You may find the answer in one of those.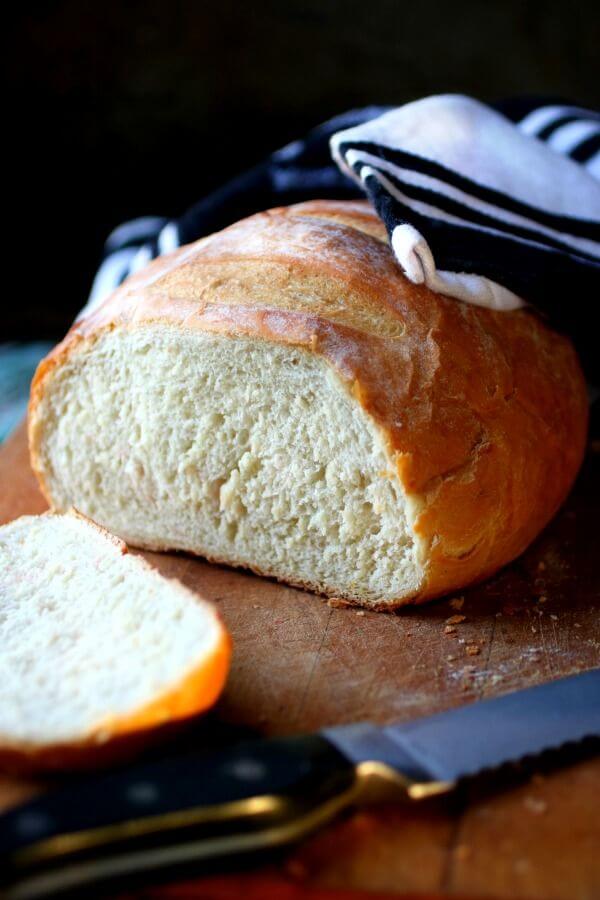 Bread Baking FAQs
I've tried to keep the questions in some sort of order so that, for example, all of the questions about kneading are together and all the questions about rising are together.
Is homemade bread good for you?
Homemade bread has a few simple ingredients while commercial bread has several, and most of those can't be pronounced. Of course, whole grain breads have more nutritional value than white breads but homemade bread is certainly good for you.
Is it cheaper to bake your own bread?
Yes it is. It costs about half the amount to make your own loaf compared to a commercial loaf.
How much bread can you make from 1 kg flour? (8 cups)
About 2 loaves
How do you make soft bread?
Use white flour, substituting 1 tablespoon gluten for 1 tablespoon flour in ever cup of flour (so 4 cups of flour -4 tablespoons flour + 4 tablespoons gluten). Knead well and don't over bake. When the bread is baked cover it with a clean towel as it cools.
Can you make homemade bread without sugar?
Yes. You can either use honey, maple syrup, or molasses to feed the yeast or leave the sweetener totally out. If you do leave it out  the dough will take longer to rise because the yeast has little to feed on.
Can you use all purpose flour instead of bread flour?
Yes - all purpose flour has slightly less protein so the bread may not rise as high and may be more dense than loaves made with bread flour.
How do you use instant yeast for baking bread.
Use ¾ of the amount of instant yeast as the regular yeast called for in the recipe. You can add the yeast directly to the dry ingredients - no need to proof it before using. Your rising time will be faster so keep an eye on your dough the first few times you use it.
Can you make bread with baking powder instead of yeast
Yes. The texture will be different but you can substitute an equal amount of baking powder for the yeast in a recipe. You won't need a rising time. Put it straight in the oven.
Can you make bread with baking soda instead of yeast?
Yes, but you'll need to add an acid. You'll need ½ baking soda and ½ lemon juice to equal the full amount of yeast. So 1 tablespoon yeast = 1-½ teaspoons baking soda and 1-½ teaspoons lemon juice. Your bread texture will be different and you won't need a rising time.
How do you know when to stop kneading dough?
The dough will be smooth and elastic - if you pull it out slightly it will move back into shape. An old trick is to pinch your own earlobe - when bread is properly kneaded the dough will feel like an earlobe when pinched.
Can I use a dough hook instead of kneading?
Yes. Kneading by hand takes a lot of energy and strength. It's good to know how to do it but a dough hook is generally quicker, and easier!
Can you over knead bread dough?
Yes - and it will make the bread tough. If you think you've over-kneaded the dough let it rise a little longer to help relax the gluten.
What ingredient makes bread rise?
The gluten in the bread traps the bubbles created by the yeast and causes the bread to rise. That's why it's difficult to get gluten free breads to rise the same way that regular breads do.
How do you make bread rise?
Bread needs a warm spot to rise in - 110F is ideal but anything over 75 degrees will work. You can turn your oven on low for a few minutes then turn it off and put the bread in there, the top of a water heater... really anywhere that is warm and without drafts. It will rise in a cool room - it just takes longer.
Can dough rise too long?
Yes! If it rises too much it can collapse in the oven. If you've begun a batch of bread and something comes up so that you can't finish it's best to grease the dough, cover it with plastic wrap, and place it in the fridge until you can continue with your recipe.
What do you cover dough with when rising?
A clean towel works perfectly for this. Some people use plastic wrap - but I find a tea towel is best because it allows the dough to breathe.
Why does bread have to rise twice?
Multiple rising times result in a finer gluten structure than if you just let it rise once. You'll have a finer crumb and softer bread. Some old recipes require three rises!
How do you know when bread is proofed? How do you know when bread has risen enough?
Gently push your finger into the dough. If the dent fills in it hasn't risen enough. If the dent remains you are good to go!
What happens if you don't let dough rise long enough?
You'll end up with a brick hard enough to make a patio with.
Does bread rise while baking?
Yes it does - it will rise a bit more in the oven. If you've let it rise TOO much before it goes in the oven it may collapse, though.
How do I shape bread without a loaf pan?
You can shape it in a round and bake on a flat baking sheet, shape it into an oval, a baguette, or any free form shape you like. If your dough is too loose to hold a shape you can bake your bread in a cake pan or oven safe bowl or casserole dish.
Why is my homemade bread so dense?
The most common causes of dense bread are: the yeast was old, the dough was under-kneaded, or rising time was too short. If you are using whole wheat flour then try adding 1 tablespoon gluten per cup of flour.
How do you keep bread soft when baking?
Follow instructions carefully and make sure that you are using a good recipe for white bread - My buttermilk bread is always soft and delicious.
Why does my bread sink in the middle after baking?
There are a couple of reasons but the most likely culprit is that the bread wasn't kneaded enough.
How do you keep the crust soft?
Brush the hot bread with butter as soon as you remove it from the oven and cover with a tea towel during cooling.
How do you store bread after baking?
For crusty loaves - store them unwrapped at room temperature.
Sliced - place in closed paper bags.
Soft-crust loaves - store in airtight plastic bags, or wrap in plastic wrap, or foil. Store at room temperature.
If you are storing bread longer than about 2 days it's best to freeze it.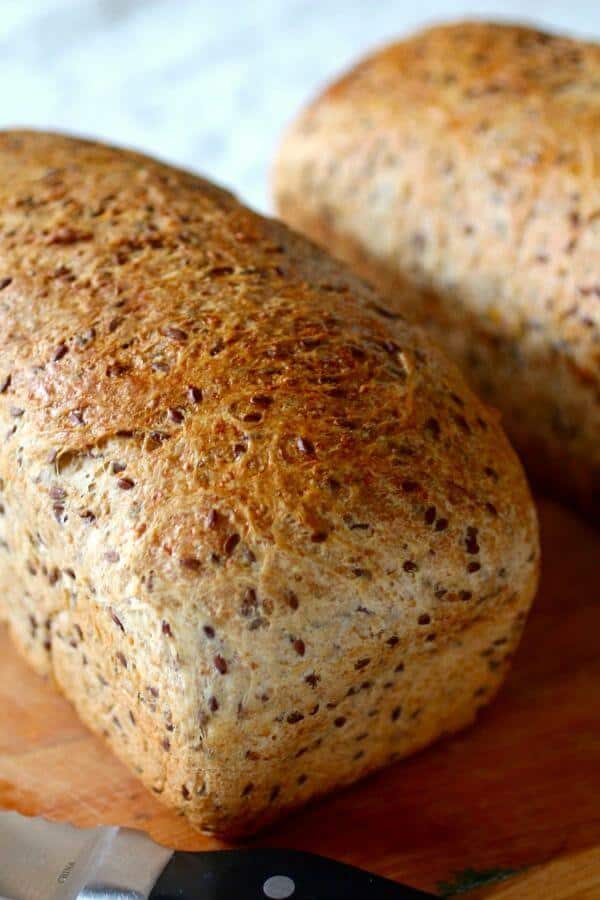 More Helpful Bread Baking Posts
If you didn't find what you were looking for in the bread baking FAQs take a look at the following posts.