Are you having issues with your yeast bread baking? Troubleshooting help is here!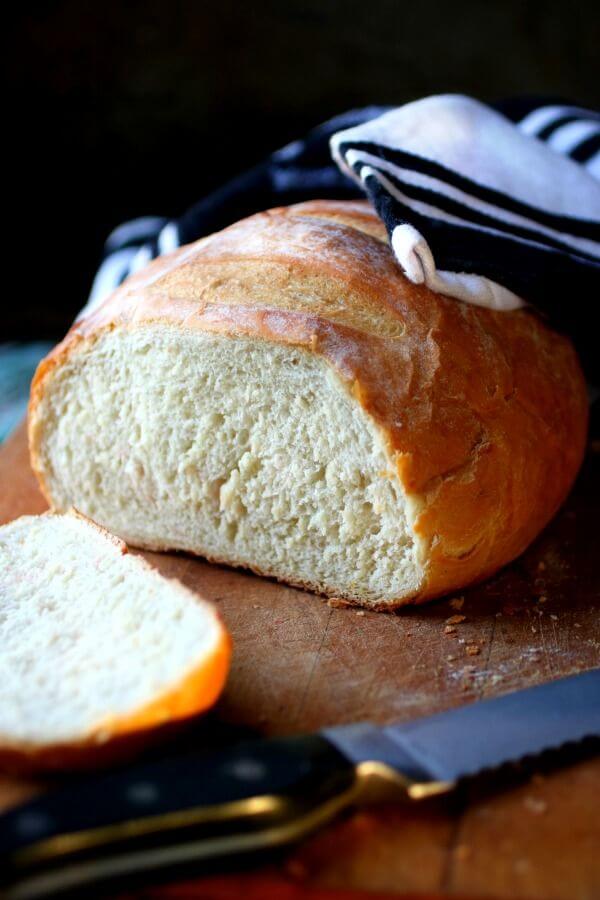 If you've read through Yeast Bread Baking part one and part two then congratulations! You really can bake a loaf of bread and have it come out properly — although you may need plenty of practice to achieve the perfect loaf. If you've carefully followed all of the steps in the previous two articles and it still had trouble then you should be able to find the answer in this article. If you can't then message me on the RestlessChipotle Facebook page and I will try to help you figure out what happened. If you'll dedicate yourself to trying, following the recipes exactly, and keeping open dialogue with me I promise you you'll end up with a fantastic loaf of bread.
Now... if you are baking yeast bread troubleshooting is one of those things you are going to need to know how to do eventually. Listen, everyone screws up sometimes. Once in awhile I get a loaf that looks like ... well just weird. So, bookmark this so you'll know where it is and can use it when you need a reference.
First - The Perfect Loaf
You can't make the perfect loaf unless you know what one is, right? As with everything else there is a standard by which good bread is judged. Will yours always meet the standard? No, it won't. Like any standard it is somewhat unachievable but you want to get as close as you can.
So, what does the perfect loaf of bread look and taste like?
This is from Farm Journal Country Fair Cookbook, 1975, one of my favorites.
An excellent loaf of yeast bread should havee an evenly rounded top and b symmetrical in size and with no cracks,bulges, or bumps. Between he tip and the sides, there should be a "break", which should be even and have a well shredded look. Crusts on all yeast breads should be crisp and tender. The interior color should be even with no light or dark streaks and should feel soft and fine with no crumblinesss. The crumb [interior of the bread] should have many small even holes.
Yeast Bread Baking Troubleshooting
If you've had a problem with your bread baking see if you can figure out what went wrong with these common problems and causes.
Dough Didn't Rise or it Rose Very Slowly
The best temperature for the rising period is a draft-free 85F to 95F. It will rise more slowly at lower temperatures probably won't rise at all if the room is much below 70F.
You didn't give it enough time. When the kitchen is too cool it may take double the amount of time to rise.
House too cold. If the house is too cold it won't rise at all.
You killed the yeast with liquids that were too hot. Active Dry Yeast needs 110F to 115F. Rapid rise yeast uses 120f to 130F, and yeast cakes use 90F to 95F. Use a thermometer until you get used to the way the water should feel.
You made the yeast dormant by water that was too cold.
You used too much or too little sugar, honey, or other sweetener. Too much will inhibit the growth of the yeast while too little won't give it enough to allow it to rise. Always follow the recipe exactly, especially at first. Recipes are formulated for success - at least mine are!
You used too much salt. Salt restricts the growth of yeast. Follow the recipe for when you add salt. I usually try to add it last but the tomato swirl bread recipe calls for it early on. Always follow the recipe!
You didn't use enough yeast.
Too much flour/ too stiff of a dough.
Your yeast was expired or bad. Always proof it!
You may have not used enough flour (this is unusual but it happens).
Your rising period was too short.
Kneading was insufficient to develop the gluten.
Your pan was too big.
Sticky Dough
Not enough flour.
Too much kneading. Knead it until it is elastic but more is not necessarily better.
Low gluten flour. Use bread flour or a good all purpose flour.
Cracks, Bulges, or Lumps
You used too much yeast.
It wasn't kneaded properly.
You had too much dough in the pan.
You left it to rise too long.
You started it in a cold oven or the oven temperature wasn't hot enough.
You let it cool in a cold draft.
No Shred or Break between the Top and the Sides
Not kneaded enough.
Low gluten flour
Too Much Shred or Break between Top and Sides
Oven is too hot.
Didn't rise long enough.
Wasn't shaped well.
Flat Top
Dough rose too long or wasn't kneaded enough.
Collapsed in the Oven
Allowed to rise too much.
Low gluten flour. Next time use bread flour or add gluten to your recipe.
Oven was too cold.
Heavy or Dense Loaf
Water was too hot and killed yeast.
Ingredients weren't mixed well.
Room temperature was too cold during rising time.
Either there wasn't enough gluten present in the flour or it wasn't developed enough through sufficient kneading.
Dough wasn't allowed to rise enough.
Holes in Bread
Holes are desirable in artisan loaves but not in sandwich loaves.
Too long of a rising period after shaping.
Too cool of an oven.
Not enough flour.
Not kneaded well.
The air wasn't properly pressed out during the punching down.
The shaping wasn't done properly.
Crumbly Bread
Dough wasn't kneaded well (this is the most common reason).
Flour doesn't have enough gluten.
Too much flour.
Too long of a rising time.
Gummy or Doughy Bread
Oven temperature was too high.
Bread was removed from the oven too soon. Make sure it sounds hollow when thumped on the bottom.
Off Flavors
Yeasty - too long of a rising time or too hot of a kitchen during rising.
Sour - too long of a rising period or poor quality ingredients.
Stale flavor - Old flour.
Crust Problems
Tough - too much handling of the dough or not enough rising time.
Pale crust - too much salt, too low of a baking temperature, or too little sugar. Also, the dough may have been allowed to develop a crust during rising time. Remember to keep it oiled and covered!
Wrinkled Crust - Loaf cooled too quickly in a draft.
Soggy - bread was left to cool completely in the pan. Let it cool for a few minutes and then remove it from the pan to cool completely.
Too Thick - too much flour, a crust formed during rising, bread baked too slowly in too cool of an oven.
Crust Separates from Bread - dough developed a crust before baking. Grease surface and cover dough when rising.
Bread Doesn't Brown on the Sides
Bright pans will reflect the heat away from the dough.
Overcrowding the pans in the oven will keep the sides from browning.
If you are having trouble with yeast bread baking your problem is probably going to fit in one of these areas. If not, be sure to catch me on the Restless Chipotle Facebook page and ask there. You can do this!