Easy Amish White bread recipe is a sweet, velvety-textured, homemade bread that's perfect for sandwiches. You can make it by hand or in a bread machine – both instructions included. It freezes well, too.
For this Amish white bread recipe you'll need: whole milk, sugar, yeast, salt, coconut oil, bread flour, butter, two 9 by 5 inch loaf pans (measured from outside edge to outside edge. 1- 1/2 quart), and an instant read thermometer. You can find a list of bread baking tools and helpful information on the Essentials page.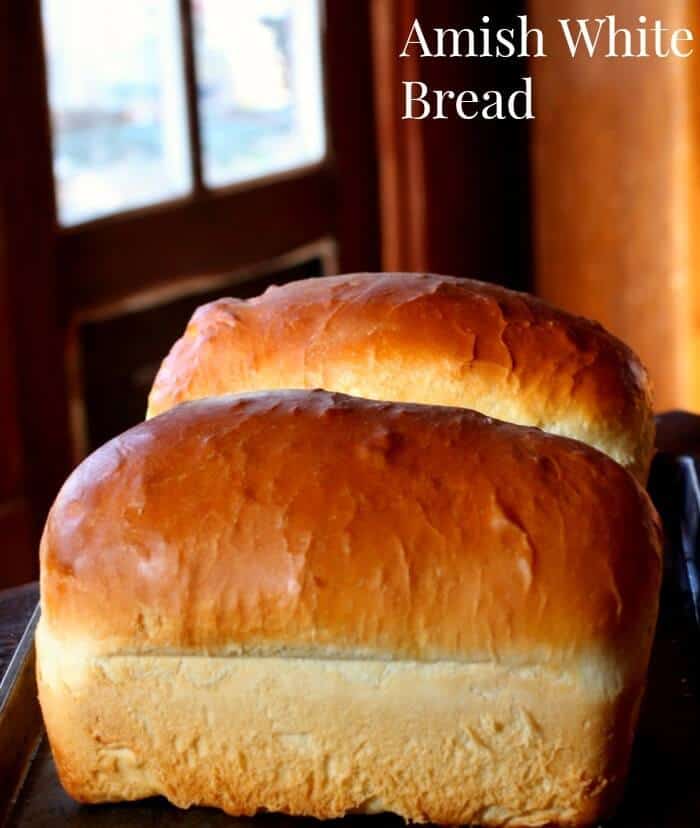 Bread Flour or All-Purpose?
This recipe works best with bread flour but you can also use all purpose flour if you like. Just be aware that the texture will be a little more dense and your loaf will not rise as high. It freezes well, too. You can form this dough into dinner rolls, cinnamon rolls, hamburger buns… you can knead in up to 2 cups raisins, chocolate chips, or nuts… you can even roll it out, sprinkle with cinnamon and sugar, and roll it up for a gorgeous, buttery cinnamon swirl loaf. You're going to love this versatile bread recipe!
Homemade Amish White Bread
Amish white bread is a tender, fluffy loaf with a velvety texture. If you are looking for the homemade equivalent of Wonder Bread you'll want to try this.
It is somewhat sweet — and when I say somewhat I mean like those fabulous, hot dinner rolls they have at Logan's Roadhouse or Hawaiian rolls. If you want something less sweet you can cut the sugar in half. It will change the texture a bit but will still be great.
This is one bread recipe I don't often use butter in. I use organic extra-virgin coconut oil because it adds just a little flavor to the bread. A light vegetable oil will work, too. Try it with coconut oil, light vegetable oil, and melted butter and just see what you like best.
But Is It Amish?
I honestly couldn't tell you if Amish white bread is Amish or not. I do know it is really awesome good.
I spent part of my childhood in Pennsylvania and was used to seeing Amish families driving their buggies to church, rolling hills dotted with white farmhouses and well ordered farms, and best of all (to me) those gorgeous quilts hanging on clotheslines. When I got older and did my stint as a fine artist people often commented on the intense colors I used in my paintings. It's something I soaked up during those years.
And of course the aroma of fresh breads and pastries, cakes and cookies, pies and tarts that wafted over the countryside like some kind of crazy incense.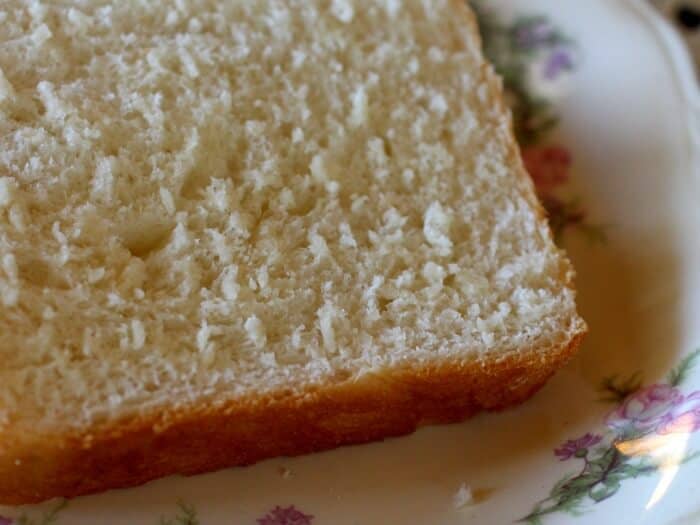 Tips for Homemade Bread Success
If you've had trouble with bread before be sure to read these posts on troubleshooting and tips:
How to Knead Bread by Hand Video
Several people have asked me how to knead bread by hand. I made this video – hope it helps.
How to Make Bread Step By Step Images
If you'd like a visual step by step here it is – oh, and just so you don't feel the need to tell me… yes, I got the pictures out of order. 🙂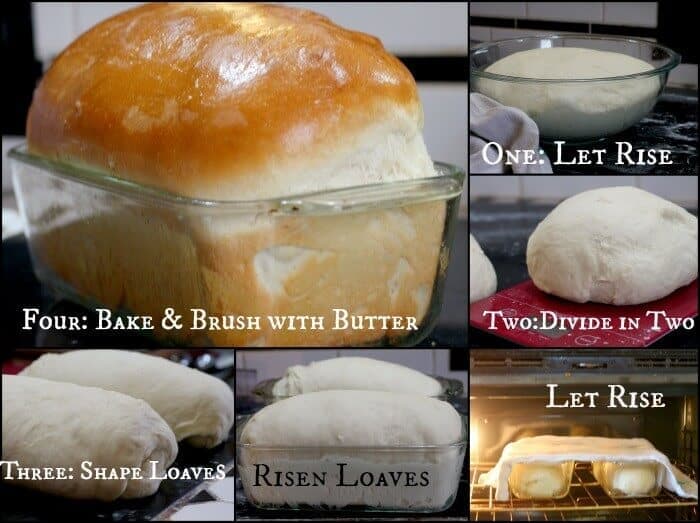 Supplies You May Need…
The following are affiliate links. We are a participant in the Amazon Services LLC Associates Program, an affiliate advertising program designed to provide a means for us to earn fees by linking to Amazon.com and affiliated sites.
What's new? Check out my Restless Chipotle & Co. Store on Amazon! Thanks so much for being a part of Restless Chipotle!
I use a Bosch to make bread with. I love my Kitchenaid but it just doesn't handle bread as well as I'd like. If you plan on making bread often I'd recommend saving up for a Bosch. It lasts forever. You won't regret it.
Making homemade bread does take some practice but it is so very worth it!
Many people have asked me if you "have" to use bread flour. The bread will rise higher and lighter if you do but you can substitute all-purpose flour if you must. I do not recommend it.
More Favorite Bread Recipes
Amish White Bread Recipe
You are going to love the sweet tenderness of this easy loaf! Once you've gotten some practice with this give the Buttermilk Cinnamon Swirl Bread or Rustic White Bread a try.
Love this recipe? Give it a 5 star rating!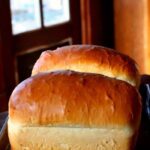 Amish White Bread
Print
Add to Collection
Go to Collections
Amish white bread is an easy, tender sandwich loaf that slices easily without crumbling. Its velvety texture and sweet flavor make it a hit with the kids. This recipe makes 2 loaves and freezes well for up to 6 months.
Prep Time
2
hours
30
minutes
Ingredients
1

cup

water

,

110F

1

cup

whole milk

,

110F

2/3

cup

sugar

1 1/2

tablespoons

active dry yeast

1 1/2

teaspoons

salt

1/4

cup

mild vegetable oil

,

— coconut oil works really well here!

5-1/2 to 6-1/2

cups

bread flour

2

tablespoons

melted butter
Instructions
Conventional Method
Dissolve the sugar in the warm water and milk in a large bowl.

Whisk in the yeast.

Set aside for 5 to 10 minutes, or until the yeast mixture gets foamy.

Whisk in the salt and oil.

With the mixer running add the flour, one cup at a time, until the dough pulls away from the bowl.

Knead by machine about 5 minutes.

If you are hand kneading mix in the flour until you have a sticky dough, turn the dough out onto a lightly floured surface and knead for 10 minutes or until the dough is smooth and elastic – adding flour as needed.

Oil a large bowl and place the ball of dough in it.

Oil the top of the dough and then cover with a damp cloth.

Allow it to rise until it has doubled in bulk. This will take about an hour.

Punch the dough down.

Knead for three minutes or so and divide in half.

Let rest for five minutes.

Shape into loaves and then place in greased 9×5-inch loaf pans.

Brush the tops with the melted butter.

Let rise for 30 minutes, or until the dough has risen an inch or so above the pans.

Bake at 350 degrees F for 30 minutes, or until loaves sound hollow when tapped.

For a soft crust butter the tops and place a clean tea towel over the baked loaves as soon as you take them out of the oven. Let them cool for about 5 minutes and then take them out of the pans to finish cooling, covering them back up with the tea towel.
Bread Machine
Add ingredients to your bread machine in the order the manufacturer recommends.

Select white bread cycle.

Press "start".

When the dough has risen once and second cycle of kneading begins, turn the machine off. Press "start" again to reset the machine.

The dough will rise a second time before it bakes.
Nutrition
Calories:
86
kcal
|
Carbohydrates:
9
g
|
Protein:
0
g
|
Fat:
5
g
|
Saturated Fat:
1
g
|
Cholesterol:
5
mg
|
Sodium:
238
mg
|
Potassium:
23
mg
|
Fiber:
0
g
|
Sugar:
9
g
|
Vitamin A:
1.4
%
|
Vitamin C:
0
%
|
Calcium:
1.7
%
|
Iron:
0
%
Tried this recipe?
Tag me!! @Marye_RestlessChipotle
Submit Your Own Images
Let's Keep in Touch!