This Little Debbie copycat Zebra Cake recipe is so easy and addictively good. You cut a dense white cake into the desired shape, split it, fill it with the creamy marshmallow filling, and cover it with melted white chocolate. The little homemade snack cakes are perfect for school lunches, they freeze well, and stay fresh for days.
For this recipe you'll need: white cake made from homemade white cake mix, white chocolate candy melts, white vegetable shortening, colored sprinkles, marshmallow cream, confectioner's sugar, vanilla, heavy cream
Jump to Recipe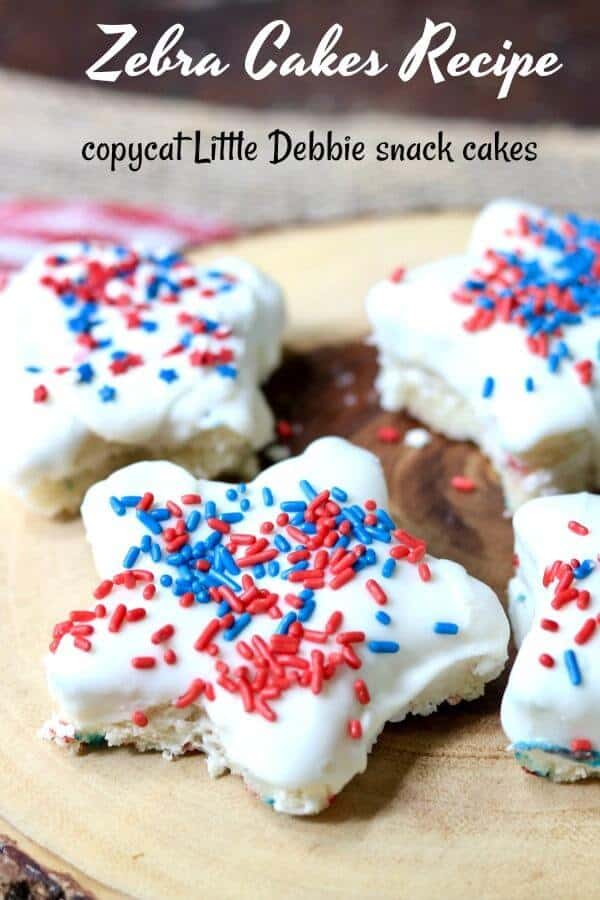 So my almost 17 year old son took one bite of these and said, Dang! These are like Zebra Cakes on steroids.
There ya go. If you were wondering whether or not they were good you've got your answer right there. I made them for the 4th of July but you can make them in any shape with any color sprinkles you want. Easter eggs, hearts, Christmas trees, pumpkins…
The problem I've had in the past was that the cake was too light and tender to split easily and I always ended up with tons of broken pieces. Well, not these. The homemade white cake mix I posted the other day (link in ingredients list AND in recipe) comes out more like a dense spongecake and it's super easy to cut and shape. Perfect for making this copycat Zebra cake recipe!
These will freeze well, too. I'm planning on making several batches to have in the freezer for back to school lunches. Y'all know that's just right around the corner, right? Dang, I've already gotten emails from the kids' school reminding me about buying school uniforms.
Lord, those things are expensive!
You know, I understand a dress code. I do. I grew up in a time when girls finally got permission to wear pants to school at some point when I was in 5th or 6th grade. There were more regulations about hair length, skirt length, where the waist of the pants should hit, and how your makeup was done than Walgreen's got pills but we had a little freedom in what we wore and our parents had a little freedom in how much they spent.
Now there are uniforms in most of the public, charter, and private schools in my area. The uniforms run me about $400 per kid per year. This year I only have to buy for two kids which has me happy and sad at the same time because they are the last two in school. There's no real way to save money on the uniforms – sure you "may" be able to find some second hand but mostly you're going to pay out of pocket.
And it isn't cheap.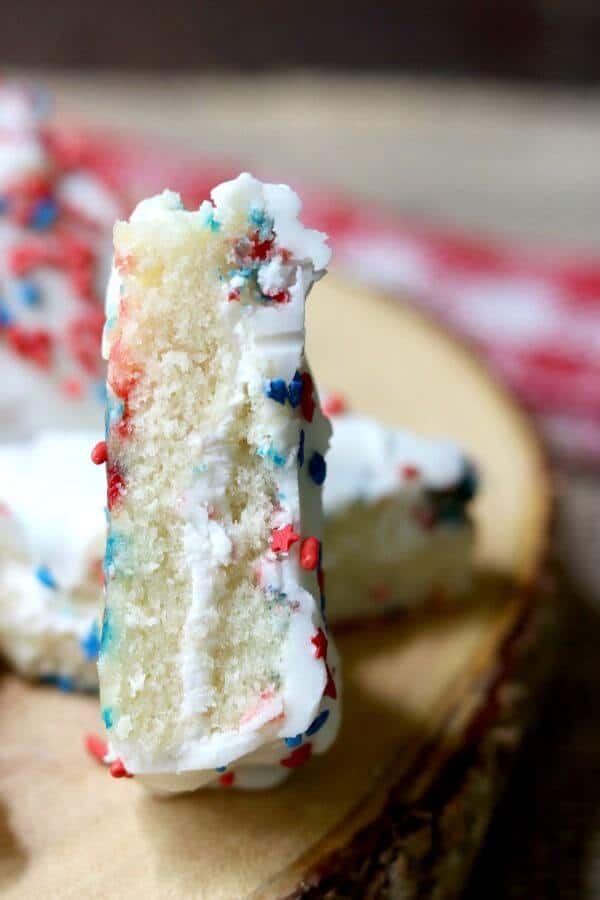 I know the reasoning – the kids aren't competing with their clothing, kids from less affluent homes don't feel bad… etc. I get that. I really do. It's another way to level the playing field. I'm just concerned that the level playing field is going to cause problems later on. I mean, when I had a job where I worked with other people some of those people wore expensive designer outfits to work when I was shopping at Sanger Harris… and maybe the person next t me was shopping at Sears. Even now, there are bloggers that do REALLY well for themselves and there are others that seem to work really hard but never quite get over the hump. Having a level playing field isn't very realistic and it doesn't teach you to look at yourself and be the best you can be without worrying about what someone else has.
Jealousy is an ugly emotion that is best dealt with not catered to.
On that note, you might want to send two of these pretty, little cakes in the kids' lunches  because they're going to have a couple of jealous friends if you don't.
Hints for Making Homemade Zebra Cakes
Use a sharp cutter and push straight down to make the shapes
Make sure the cutter is a pretty basic shape – a giraffe shape is probably not a good idea
A cake with a texture closer to pound cake works best
Use a sharp, serrated bread knife held horizontally to split the cakes
Add sprinkles to the batter
Use other flavorings in the cake batter – almond, for example
If you place the filled homemade snack cakes on a rack and pour the melted chocolate over it the glaze will be smoother and cover better
Use a thin layer of raspberry jelly underneath the marshmallow filling
Melt some chocolate and drizzle it across the white glaze while it's still wet for the true zebra cake recipe and look
Let these homemade snack cakes dry completely before storing
For longer storage put them in the freezer layered between sheets of waxed paper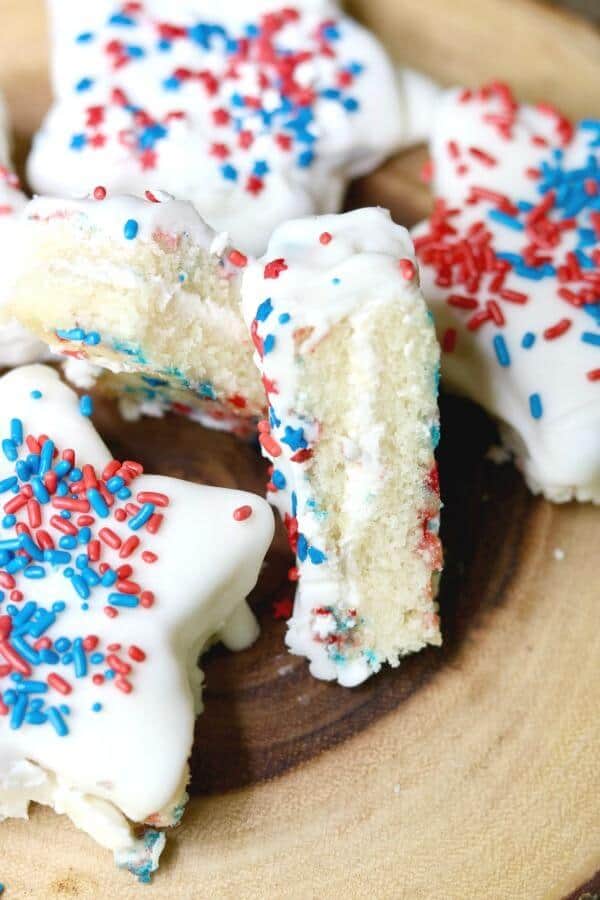 YOU MIGHT NEED…
The following are affiliate links. We are a participant in the Amazon Services LLC Associates Program, an affiliate advertising program designed to provide a means for us to earn fees by linking to Amazon.com and affiliated sites.
I like this Calphalon jelly roll pan for these homemade snack cakes because it's heavy and sturdy. I want to be able to use my pans for a long time, how about you?
How to Make Zebra Cake Recipe – Video
I'll show you exactly how to cut the cakes and assemble them. Take a look.
Copycat Zebra Cake Recipe
Warning! Once you make these homemade snack cakes you'll be hooked! They are SO good.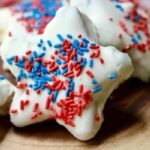 Copycat Little Debbie Zebra Cake Recipe
Print
Add to Collection
Go to Collections
White cake with a sweet, marshmallow filling is covered with white chocolate. Perfect copy of the popular snack cakes only you can decorate these for any occasion!
As an Amazon Associate I earn from qualifying purchases.
Ingredients
1

white cake,

, baked according to directions in a 12x18x1 inch jelly roll pan
Marshmallow Filling
1/2

cup

butter

1

cup

marshmallow cream

1

teaspoon

vanilla

1/4

teaspoon

almond extract

1-1/2

cups

confectioner's sugar

,

, more as needed

1

tablespoon

heavy cream

,

,more as needed
White Chocolate Glaze
16

ounces

white chocolate

,

, I used candy melts

2

tablespoons

white vegetable shortening
Instructions
Cake
Let the cake cool completely

Carefully cut in desired shapes.

Slice cakes in half horizontally with a sharp, serrated knife.
Marshmallow Filling
Add the marshmallow and butter to a bowl of a mixer.

Beat on high until well blended.

Switch to low and beat in the vanilla and confectioner's sugar.

Switch to high and, with the mixer running, add enough cream to get a fluffy texture.

Beat on high for a minute or two or until light and fluffy.
Assembly
Spread an even layer of filling on the cut side of half of the cakes.

Top with the other half and press down gently.

Freeze for about 30 minutes.
Glaze
Melt the white chocolate and shortening together in the microwave in 1 minute increments. Stir often.

When the glaze is smooth and runny remove the cakes from the freezer.

Spoon the glaze evenly over the top of a cake and smooth with a knife, letting it run down and cover the sides.

Place in the refrigerator to harden and set.
Nutrition
Calories:
381
kcal
|
Carbohydrates:
53
g
|
Protein:
3
g
|
Fat:
17
g
|
Saturated Fat:
10
g
|
Cholesterol:
22
mg
|
Sodium:
300
mg
|
Potassium:
101
mg
|
Sugar:
38
g
|
Vitamin A:
200
IU
|
Vitamin C:
0.2
mg
|
Calcium:
129
mg
|
Iron:
0.7
mg
Sign up for the emails and never miss another recipe!!
We'll never share your email or send you spam. Pinkie swear.
If you loved this homemade snack cake recipe you may also like…
From left to right: Black Forest Cupcakes, 50 Best Cupcakes on the Internet, Copycat Twinkies Cupcakes