Warning! Once you make these homemade snack cakes you'll be hooked! They are SO good.
Don't want to scroll through the page to get to the recipe? Use the table of contents to click on the section you want to go to.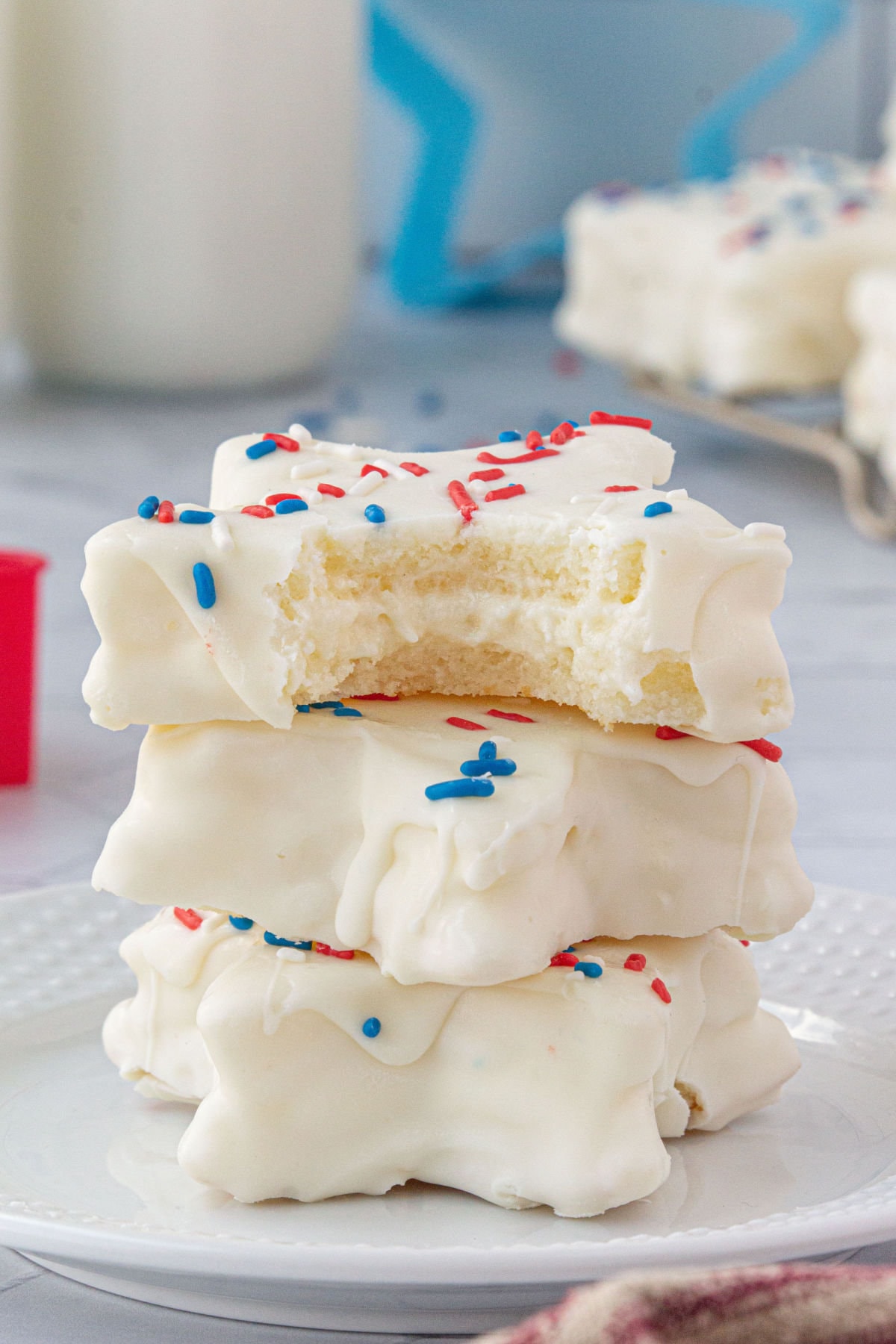 Jump to:
❤️ Why you'll love it
Easy to freeze and great for school lunches
You can customize homemade zebra cakes to fit any occasion
The "real thing" tastes so much better than store-bought cakes
This Little Debbie zebra cakes recipe is just like the classic lunchbox treat, but better in every way!
The cute little homemade snack cakes are tender and sweet and filled with a light marshmallow fluff filling that no one—kids nor adults—can refuse!
Best of all, you can cut and decorate them in any shape, for any holiday you wish! So many possibilities.
🧾 Ingredients
This is an overview of the ingredients. You'll find the full measurements and instructions in the green recipe card (printable) at the bottom of the page.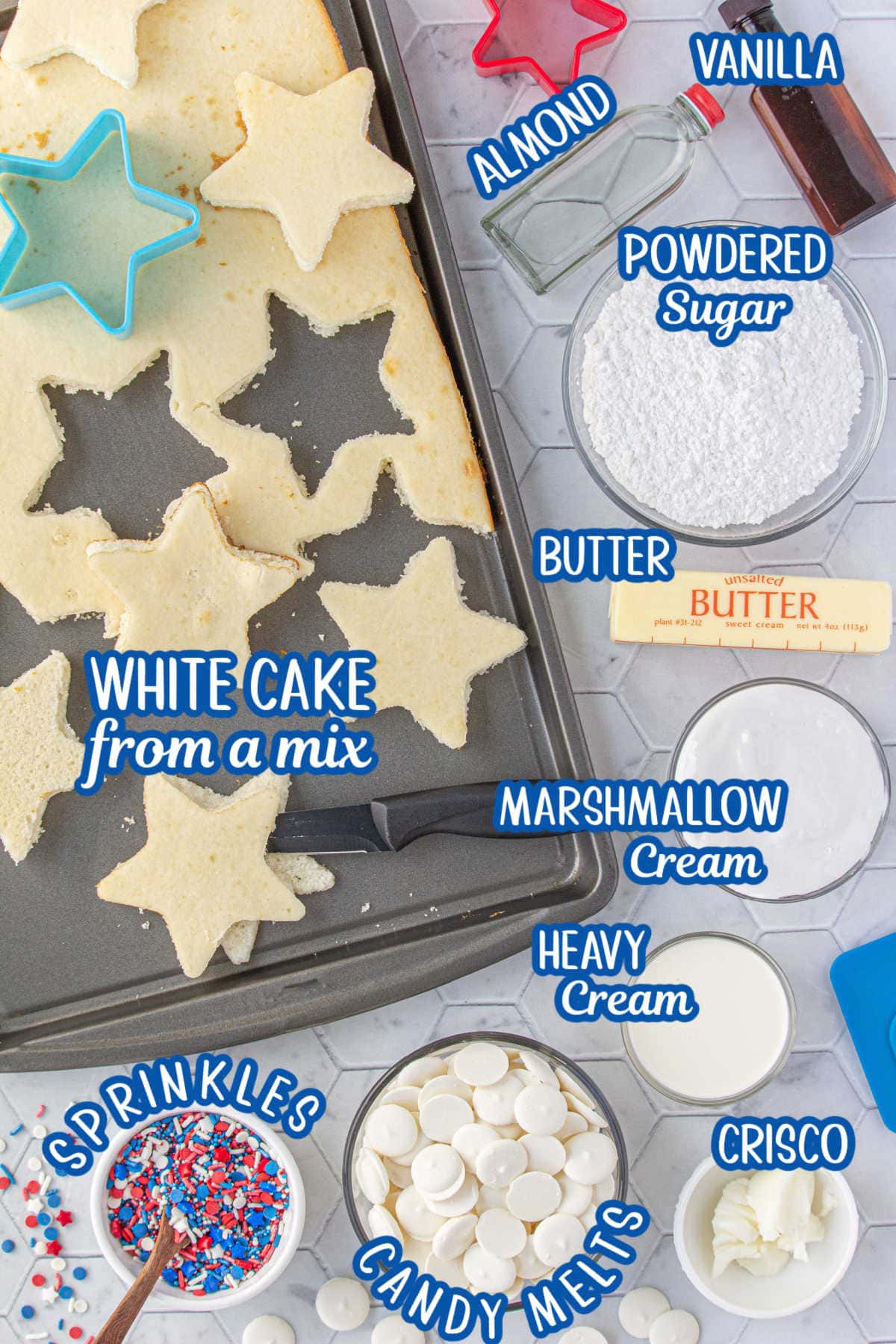 📖 Variations
Use 1 cup Marshmallow Fluff. Sometimes it's called Marshmallow Cream, depending on where you live.
Add vanilla extract to the vanilla cake batter to amp up the flavor.
Flavor the zebra cakes with other types of extracts. Lemon, almond, and orange taste yummy!
You can also use different cake mixes for different flavors.
Cut the little cakes into any desired shape with fun cookie cutters! One word of caution: generic, rough shapes look better. Choose circles, stars, or squares instead of detailed animal or letter cutters.
Amp up the flavor by spreading a thin layer of jam between the cakes.
Copycat zebra cakes have an identifying chocolate drizzle, but you can skip the dark chocolate stripes if you want. Use colorful sprinkles for holidays and birthdays, or tint white chocolate candy melts any color!
The easiest way to make the white chocolate glaze is with melting wafers, but you can use white chocolate chips or vanilla almond bark.
🔪 Instructions
This is an overview of the instructions. Full instructions are in the green recipe card at the bottom of the page.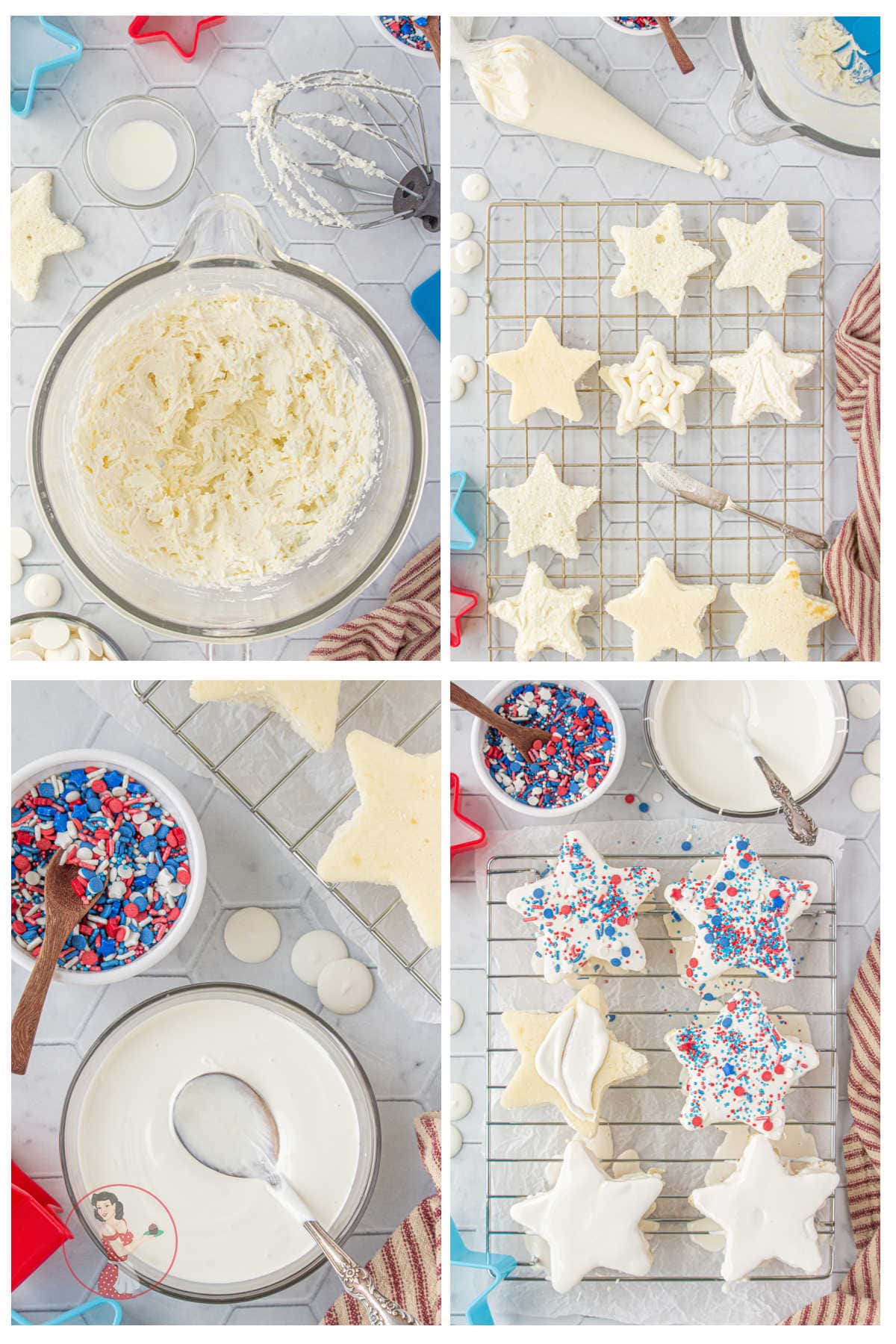 Mix the filling ingredients until smooth.
Cut the cake shapes in half horizontally. Add filling, then gently press the top half down onto the filling.
Melt the white candy wafers and spoon over each cake, covering it completely.
Add sprinkles while the coating is still melty.
🥫 How to store leftovers
This homemade zebra cakes recipe doesn't have all of the preservatives that store-bought Little Debbie cakes do, so their shelf-life isn't quite as long.
Store the snack cakes in an airtight container at room temperature for about three days. Keep 'em away from any heat or sunlight.
For longer storage, place the cakes into a freezer-safe container, separated by layers of wax paper or parchment paper. In the freezer, zebra cakes will keep for three months.
Simply thaw at room temperature for a few hours before enjoying.
💭 Things to know
Expert Tip: Place the layered zebra cakes onto a wire rack. Then, pour the glaze over the cakes for a smoother, more even coating. Just be sure to lay some plastic or foil under the rack to catch the excess chocolate!
I used a white cake mix but you can use any of your favorite cake recipes. A moist, dense is best (like a pound cake.) Sponges that are too airy or crumbly won't cut well.
Be sure to spray the high sided cookie sheet or jelly roll pan with nonstick cooking spray.
Line the pan with parchment paper and let it hang over the side. You'll be able to simply lift the cake out to make cutting the shapes easier.
Make sure you use a cookie cutter with wide sides and no top so it doesn't tear the cake.
Push the cookie cutter straight down, don't twist.
Watch the cake closely while it's baking, and check for doneness sooner rather than later. Thinner cakes can go from done to dry in a jiffy.
Keep the cakes flat on the kitchen counter to cut them into even slices. I like to place my palm on top of each piece and hold the knife parallel to the counter all the way through—like slicing a bagel. Be careful!
Freezing the cake pieces makes cutting easier, helps the glaze set up quickly, and prevents them from sliding around as you cover them.
For an ultra-smooth cream filling, sift the powdered sugar before mixing it in—especially if it's an older bag.
You can turn this zebra cake recipe into a larger, layered cake. Bake the batter in round cake pans, and use the marshmallow cream in between each.
👩‍🍳 FAQs
What type of cake pan is best for zebra cakes?
For this recipe, a 12x18x1-inch pan is best—these are often called jelly roll pans, but you can use a rimmed baking sheet, too. You'll end up with the perfect size for zebra cakes, with minimal cutting and fuss.
I don't want to use sprinkles—how do I make stripes?
Simply melt down some chocolate chips or bark in the microwave or a double boiler until smooth. Transfer the melted bark/chocolate to a small Ziplock or piping bag. Snip off the corner and drizzle the fudge stripes over each cake!
Can I make chocolate zebra cakes?
Sure thing. You can use chocolate cake batter, strawberry batter, or pretty much any flavor you want! However, you'll still need to bake the cakes in a jelly roll pan, and you want to choose a cake that's tight and dense, rather than a super airy, delicate one.
How do I know when a cake is finished baking?
Insert a toothpick into the center to check. Any wet batter is a sign it needs to bake longer. You can also gently press the cake with your finger—if the cake bounces back quickly, it's most likely finished!
Can I make this gluten free?
Yes. I haven't tried but you should be able to use a gluten-free cake mix. Marshmallow Fluff is gluten-free, too. Be sure to check the labels on the rest of your ingredients.
📚 Related recipes
📞 The last word
I love snack cakes - probably a little (ok, a lot) too much. I have to be careful about having them in the house because I can't leave them alone.
Sure, it's great to be able to buy them at the store. However, I love the fact that I can cut these in shapes and decorate for any holiday or occasion.
Sometimes I put ice cream in the center instead of the filling recipe. Just freeze before icing them.
Keep them frozen until you serve them. YUM.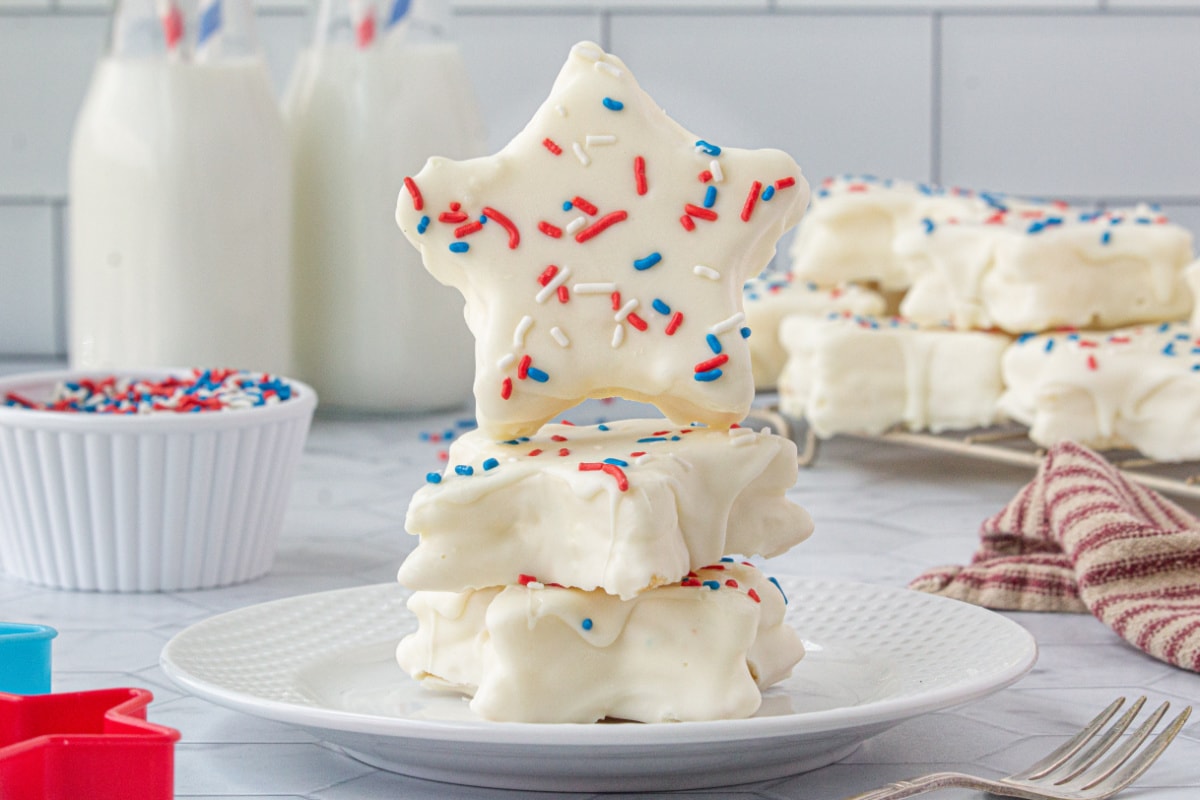 You might want to send a few extra of these pretty, little cakes in the kids' lunches. They're going to have a couple of jealous friends if you don't.
If you click on the number of servings in the recipe card you can adjust the measurements up or down for the exact number of servings you need. Don't forget that you can click on "add to collection" to save it to your own, private recipe box!
If you love this recipe please give it 5 stars! ⭐️⭐️⭐️⭐️⭐️
📖 Recipe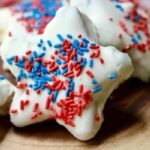 Copycat Little Debbie Zebra Cake Recipe
Print
Pin Recipe
Save
Saved!
These copycat Little Debbie Zebra Cakes are easy to make for any occasion. White cake with a sweet, marshmallow filling is covered with white chocolate and decorated however you wish. They freeze well and are great for back to school!
As an Amazon Associate I earn from qualifying purchases.
Ingredients
1

white cake,

baked according to instructions in a 12x18x1 inch jelly roll pan
Marshmallow Filling
½

cup

butter

,

room temperature

1

cup

marshmallow cream

1

teaspoon

vanilla

¼

teaspoon

almond extract

1-½

cups

confectioner's sugar

,

more as needed

1

tablespoon

heavy cream

,

more as needed
White Chocolate Glaze
16

ounces

white chocolate

,

I used candy melts

2

tablespoons

white vegetable shortening
I earn a commission from Instacart from qualifying purchases.
Instructions
Cake
Let the cake cool completely

Carefully cut in desired shapes.

Slice cake shapes in half horizontally with a sharp, serrated knife.
Marshmallow Filling
Add the marshmallow and butter to a bowl of a mixer.

Beat on high until well blended.

Switch to low and beat in the vanilla and confectioner's sugar.

Switch to high and, with the mixer running, add enough cream to get a fluffy texture.

Beat on high for a minute or two or until light and fluffy.
Assembly
Spread an even layer of filling on the cut side of half of the cakes.

Top with the other half and press down gently.

Freeze for about 30 minutes.
Glaze
Melt the white chocolate and shortening together in the microwave in 1 minute increments. Stir often.

When the glaze is smooth and runny remove the cakes from the freezer.

Spoon the glaze evenly over the top of a cake and smooth with a knife, letting it run down and cover the sides.

Place in the refrigerator to harden and set.
Notes
Storage
Store for 3-4 days at room temperature. If you live in a hot climate and your kitchen temperature goes about 80F you may need to keep them refrigerated. 
You can freeze these for up to 3 months. 
Tips
Use a sharp cutter and push straight down to make the shapes
Make sure the cutter is a pretty basic shape - a giraffe shape is probably not a good idea
A cake with a texture closer to pound cake works best
Use a sharp, serrated bread knife held horizontally to split the cakes
Add sprinkles to the batter
Use other flavorings in the cake batter - almond, for example
If you place the filled homemade snack cakes on a rack and pour the melted chocolate over it the glaze will be smoother and cover better
Use a thin layer of raspberry jelly underneath the marshmallow filling
Melt some chocolate and drizzle it across the white glaze while it's still wet for the true zebra cake recipe and look
Let these homemade snack cakes dry completely before storing
For longer storage put them in the freezer layered between sheets of waxed paper
You'll find more helpful tips and variations in the body of the post.
Nutrition Facts
Calories:
381
kcal
|
Carbohydrates:
53
g
|
Protein:
3
g
|
Fat:
17
g
|
Saturated Fat:
10
g
|
Cholesterol:
22
mg
|
Sodium:
300
mg
|
Potassium:
101
mg
|
Sugar:
38
g
|
Vitamin A:
200
IU
|
Vitamin C:
0.2
mg
|
Calcium:
129
mg
|
Iron:
0.7
mg
Nutrition information is estimated as a courtesy. If using for medical purposes, please verify information using your own nutritional calculator. Percent Daily Values are based on a 2000 calorie diet.
Sign up for the emails and never miss another recipe!!
We'll never share your email or send you spam. Pinkie swear.
First published July 3, 2017. Last updated July 2, 2023 for better images, more tips, and editorial improvements.
✍🏻 A note from Marye...
I know y'all don't always like the stories bloggers tell so when I have one I try to put it at the very bottom so you can read or skip as you like.
July 2017
So my almost 17 year old son took one bite of these and said, Dang! These are like Zebra Cakes on steroids.
There ya go. If you were wondering whether or not they were good you've got your answer right there.
I made them for the 4th of July. You can make them in any shape with any color sprinkles you want.
Easter eggs, hearts, Christmas trees, pumpkins...
The problem I've had in the past was that the cake was too light and tender to split easily. I always ended up with tons of broken pieces.
These will freeze well, too.
I'm planning on making several batches to have in the freezer for back to school lunches. Y'all know that's just right around the corner, right?
Dang, I've already gotten emails from the kids' school reminding me about buying school uniforms.
Lord, those things are expensive!
You know, I understand a dress code. I do.
I grew up in a time when girls finally got permission to wear pants to school at some point when I was in 5th or 6th grade.
There were more regulations about hair length, skirt length, where the waist of the pants should hit, and how your makeup was done than Walgreen's got pills.
We did have a little freedom in what we wore, though and our parents had a little freedom in how much they spent.
Now there are uniforms in most of the public, charter, and private schools in my area. The uniforms run me about $400 per kid per year.
This year I only have to buy for two kids which has me happy and sad at the same time because they are the last two in school.
There's no real way to save money on the uniforms - sure you "may" be able to find some second hand but mostly you're going to pay out of pocket.
And it isn't cheap.