Copycat Twinkie Cupcakes are as good (or better!) than the original. Tender, buttery spongecake is filled with a light and fluffy marshmallow whip and topped with marshmallow buttercream.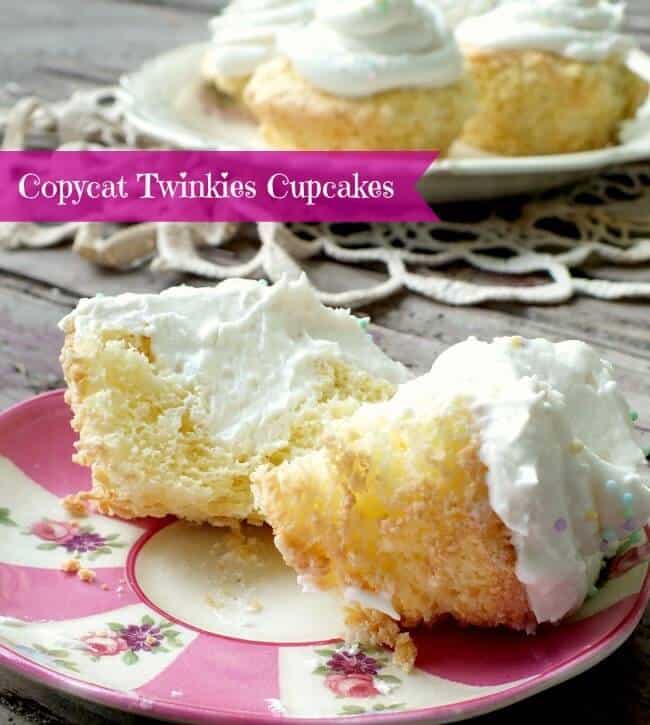 Hostess Twinkies were good. I had a love hate relationship with them, to be honest. On the one hand I hated the chemical sugary ick but on the other — well dang, who doesn't like that unique flavor and texture?
And texture is what is throwing off all the copycat recipes for Twinkie cupcakes that I have tried. Here's the deal, you can get the flavor  (or close to it) but if you don't have the texture you don't have a Twinkie, in my opinion. You just can't used a boxed cake mix and expect to get what you are looking for if you are a perfectionist like me… and you are or you wouldn't be bothering with Restless Chipotle, right?

The Restless Chipotle Channel
Twinkies are made out of sponge cakes, or they were. (a moment of silence, please). The sponge cake gave a light, airy, almost bouncy texture that was the perfect foil to the creamy filling. When you use a butter cake you can come close to the flavor but the tender crumb just isn't quite right. Homemade sponge cakes are a thing of the past — people seem to be afraid to make them. Don't be. They do take a few extra steps but they aren't difficult steps and I know you can do it.
I promise you can do it.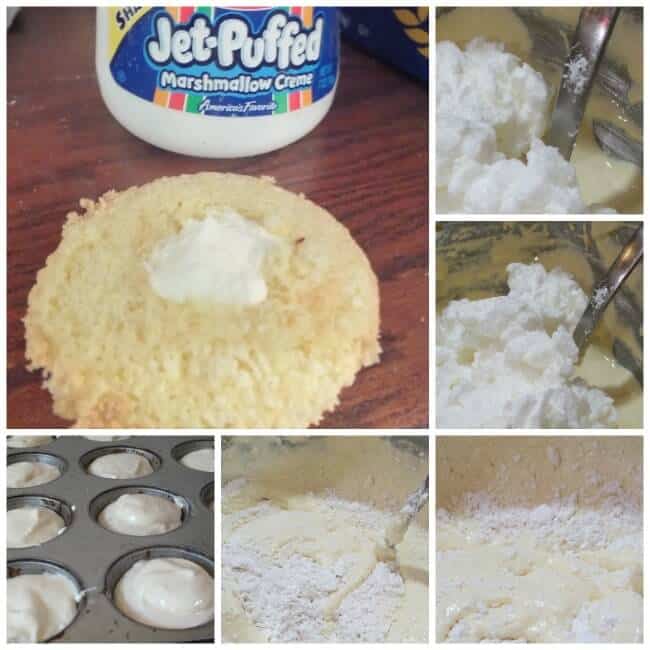 Once you learn how to make the sponge cake you can get what is called a canoe pan and make Twinkies exactly like Hostess's if you want to. You may not want to, these copycat twinkie cupcakes are just that good.
The filling is creamy and yummy and there is marshmallow buttercream on the top. This was actually a little over the top for us. Even the kids took off some of the buttercream before eating it. If I decide to make them again with frosting I am just going to put  thin layer on top. These are really rich. Still, the downy folds of butter cream look nice, don't they?
When you have mastered this copycat twinkie cupcakes recipe (umm, like the very first time you make it, it's that easy) then you will be able to make all kinds of luscious sponge cakes with ease. Everyone will be very impressed and you'll be the only one that knows how really easy it is to do.
I am always looking for unique cupcake flavors and these fall into that category.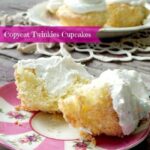 Print Recipe
Clickable Table of Contents
hide
Copycat Twinkie Cupcakes
These will definitely handle your craving for Twinkies! Lightly sweetened sponge cake with the delicate taste of vanilla and almond is filled with an airy marshmallow vanilla filling and topped with mounds of fluffy buttercream.
Ingredients
Cake
5

eggs

, separated

1/2

teaspoon

cream of tartar

1

cup

sugar

(1/4 cup plus 3/4 cup, divided use)

1 1/2

teaspoons

vanilla

1/4

teaspoon

almond extract

1

cup

cake flour

Pinch of salt
Filling
7

ounce

jar of mashmallow fluff

(about half a cup)

1/2

cup

unsalted butter

, softened

1/3 - 1/2

cup

sifted confectioner's sugar

1/2

teaspoon

of vanilla extract
You May Need…
Disclaimer: The following is an affiliate link. If you click and buy I will get a small percentage of your sale. It won't change the cost to you.
Here is the canoe pan I was talking about…  you know, just in case you want to make the real thing sometime.

Wilton 2105-3646 Non-Stick 12-Cavity Delectovals Cake Pan