This classic white cupcakes recipe is simply the best. The cake is moist, fluffy, and tender all at the same time and the flavor is a traditional combination of almond and vanilla - plus I've got a tip that will give your cake so much flavor people will be begging to know how you do it.
Looking for more? Here are more than 65 cupcake recipes for gourmet, easy, unique, and classic favors.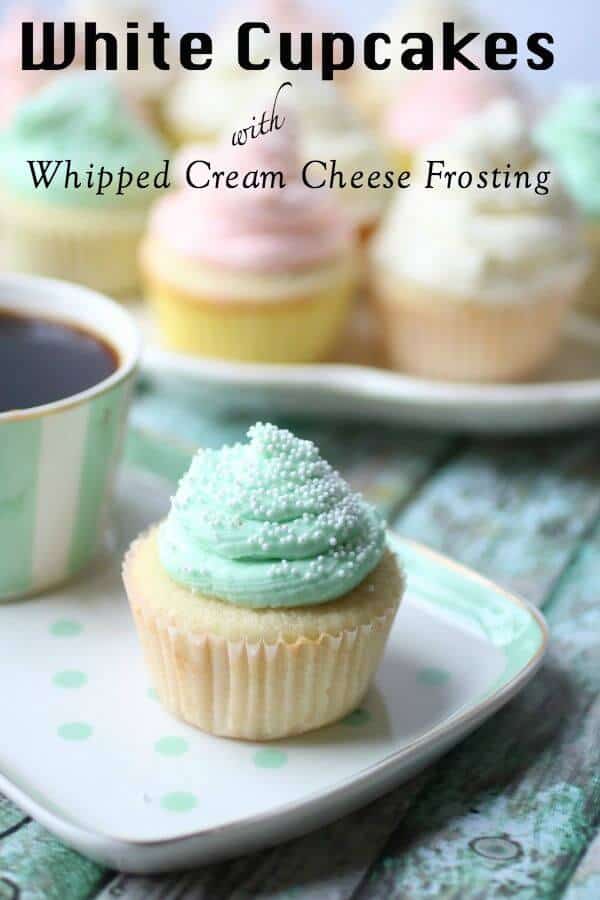 Jump to:
These classic cupcakes are topped with a creamy-rich, whipped cream cheese icing that has the consistency of Swiss buttercream but is SO much easier! These sweet little white cupcakes are exactly right for birthdays, weddings, baby showers, Mother's Day - or any occasion when a homemade cupcake is appropriate... (every dang day!)
For this recipe you'll need: all-purpose flour, baking powder, salt, unsalted butter, sugar, sour cream, almond extract, vanilla-butternut flavoring, egg whites, milk, cream cheese, heavy whipping cream, Confectioner's sugar, white chocolate instant pudding powder
White cake for special occasions
White cake makes everything seem like a special occasion - and these cupcakes are no exception. I used to think that white cake was difficult to make and so it was the one cake mix I bought for years. Once I found this recipe I realized that not only was white cake just as easy to make as any other cake but homemade white cake is WAY more delicious than a mix!
I'm planning on making this white cupcakes recipe as an easy Easter dessert and, like I did here, tinting the frosting in pastels. We generally try to do a big family dinner after church on Easter Sunday and not much else now that the kids (and grandkids that live here) are beyond the Easter Bunny stage. It's a much more casual affair than it used to be, for sure!
By the way? You'll find even more recipes for cupcakes in my 50 Best Cupcake Recipes post. Chocolate #6 is simply amazing!
Easter traditions
When I was little Easter meant a new dress with a starched petticoat so it stood out like an upside down cupcake liner. There'd be a new pair of shiny patent leather shoes, ruffly socks, a hat, and white gloves. I can't tell you how many years of pictures there are that attest to that exact mode of dress on Easter Sunday!
When my kids were small I dressed them up, too. Nowadays, though, things seem to be getting increasingly casual with people wearing jeans and shorts to church - even on Easter.
I haven't decided how I feel about that (even though it's none of my business). I guess I'm kind of sad that so many social graces have been lost over the years.
I can't prove that wearing gloves to church on Easter would make our society less crazy or that lingering around the dinner table after a big family meal would solve so many of our problems but I don't think it would hurt. Adults and kids alike want to know they belong somewhere, to someone, and home is a predictable place. I think having traditions like Sunday dinner helps that happen.
And... this white cupcake recipe should be a tradition, too.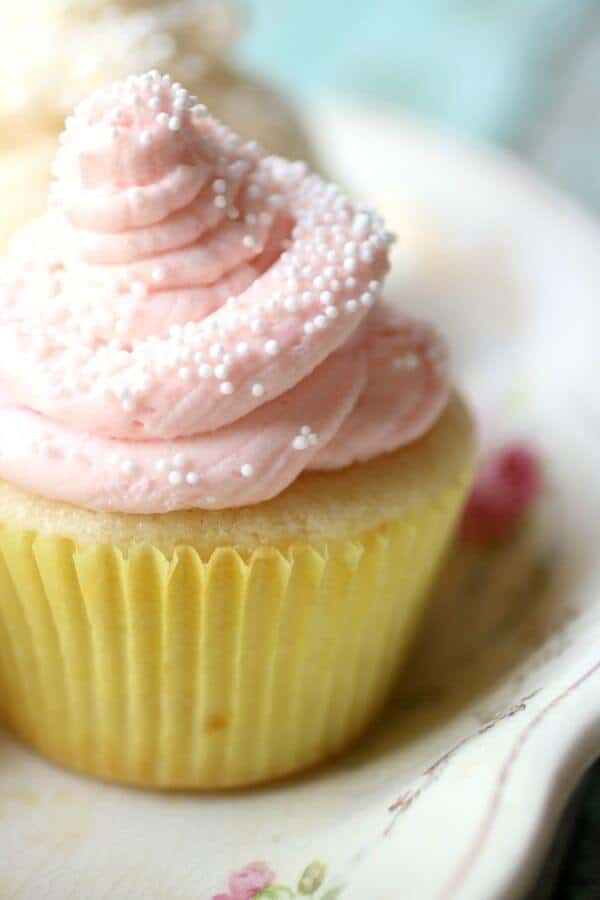 FAQs
Here are some of the most frequently asked questions about homemade cupcakes.
Can this recipe be made sugar free or gluten free (or...)
I always recommend that the recipes on Restless Chipotle be made as they are written - at least the first time. After that you can tweak to fit your own needs. I've never tried to make these gluten free or sugar free so I can't really comment on whether or not substitutions will work. My best advice is to give it a try and see what happens.
Can I substitute yogurt for the sour cream?
Yes and no. If you substitute a whole milk Greek yogurt for the sour cream then it should be fine. You cannot substitute a low fat or nonfat yogurt for the sour cream in this recipe because they have stabilizers and will break down and become watery. Trust me - go with the sour cream.
Do you have to use unsalted butter?
The reason most recipes call for unsalted butter is that you can then control the amount of salt in the finished cupcake. If you use salted butter you don't really know how much salt is in there. Saying that, I often use salted butter and adjust the salt in the recipe accordingly. Some brands of butter are saltier than other brands so always taste!
Can this recipe be made as a cake?
It sure can! If you want a 2-layer 8-inch cake you'll need to double the recipe. Bake it at 375F for 20 to 25 minutes, or until a toothpick inserted in the center comes out clean. I also have a recipe for a homemade white cake mix that's fantastic!
Storage
If you're not going to eat them the same day that you make them just freeze them. Cupcakes will store at room temperature for a day or two but they are at their best when eaten or frozen the day they are made.
You can freeze these for up to three months. Just bake them and place them in layers in a freezer container with waxes paper between each layer of cupcakes. Don't frost them before freezing.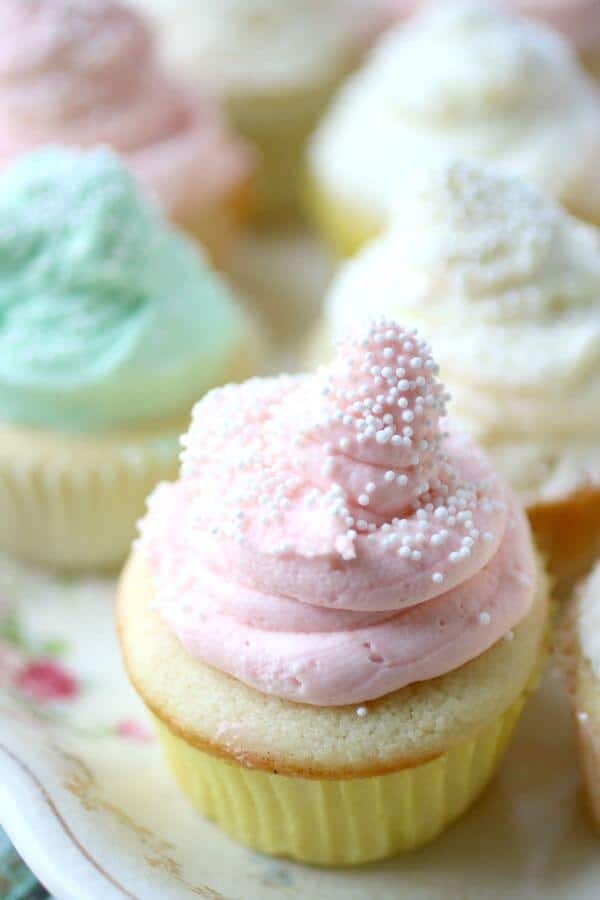 Variations
If you want that traditional wedding cake flavor you'll want to stick with what I've done with a mixture of almond and vanilla but if you are adventurous you can use any clear flavoring you'd like.
Coconut flavoring is really good!
Vanilla-butternut flavoring adds a flavor to these cupcakes that everyone loves but no one can quite put their finger on!
Almond works well but use just about ¼ teaspoon because it's strong.
Rosewater - in the days before vanilla was a thing (ie: a very long time ago) people used to flavor desserts with rosewater
Orange water - this also gives them a delicate, old fashioned flavor.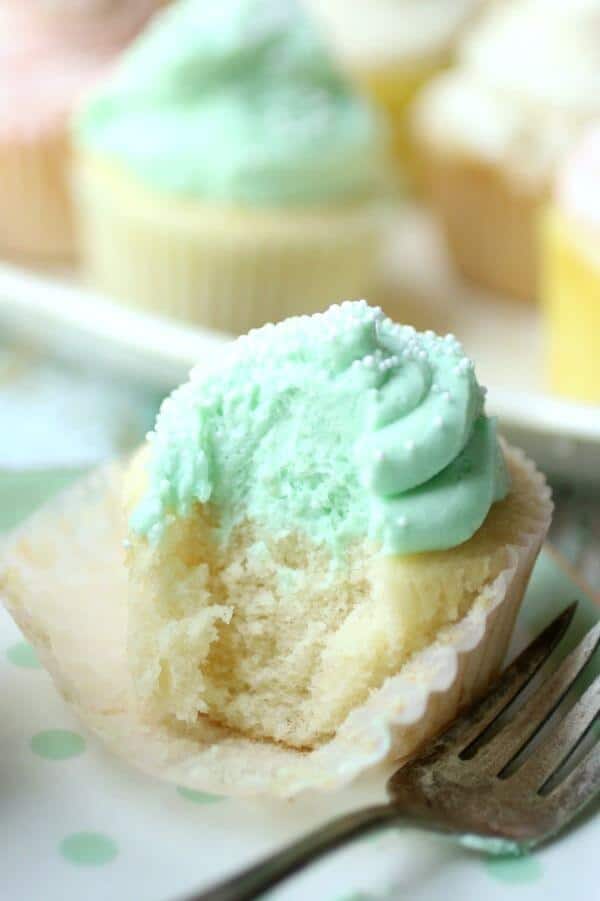 Tips
Here are some tips for creating perfect cupcakes from this white cupcake recipe!
Use the highest quality ingredients you can afford. It makes a difference in the taste - especially in a white cupcakes recipe because there are no strong flavors to offset butter that's slightly off or an artificial vanilla flavoring.
Make sure your ingredients are at room temperature before beginning. This is important!
Be sure to cream the butter and sugar long enough - 3 to 4 minutes!
Mix gently! Cupcakes are made fluffy by air bubbles. If you mix them too long you'll break all the bubbles and your cupcakes will be tough. Always mix on low speed just until your batter is blended and then if you need to mix a little more do it by hand.
Don't overbake!! If no wet batter is on a toothpick when you check them they're done -- even if a few crumbs cling to the toothpick.
Use a scoop to fill the cupcake liners so that they are all the same size. The measurement is about a scant ¼-cup of batter for each cupcake.
Bake in the center of your oven.
If your cupcakes rise unevenly one of 3 things has happened - uneven heat, too hot of an oven, or your oven isn't level. You can try turning your pans during baking to keep them baking evenly, get an oven thermometer to check that the temperature is correct, and if you live in an old house like I do you'll just want to get used to uneven cupcakes since there is NOTHING that's level in an old house.
Let cool completely before frosting.
Food Network has more great baking tips, too.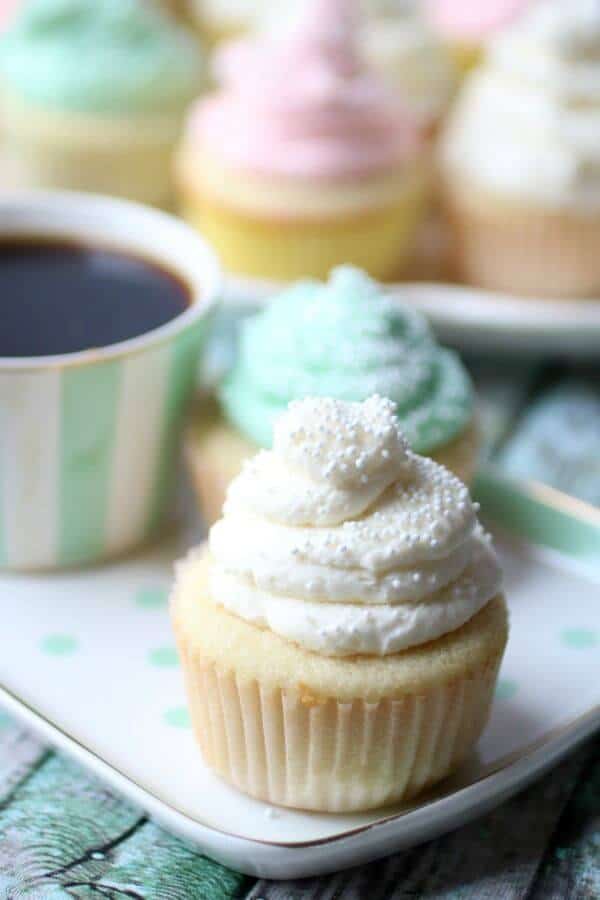 Related recipes
Equipment
The following are affiliate links. We are a participant in the Amazon Services LLC Associates Program, an affiliate advertising program designed to provide a means for us to earn fees by linking to Amazon.com and affiliated sites.
What's new? Check out my Restless Chipotle & Co. Store on Amazon where you'll find all kinds of nostalgic goodness! Thanks so much for being a part of Restless Chipotle!
Thanks so much for being a part of Restless Chipotle!
This cupcake scoop is perfection. The plunger actually scraps out any batter on the scoop and gets it all into the cupcake pans!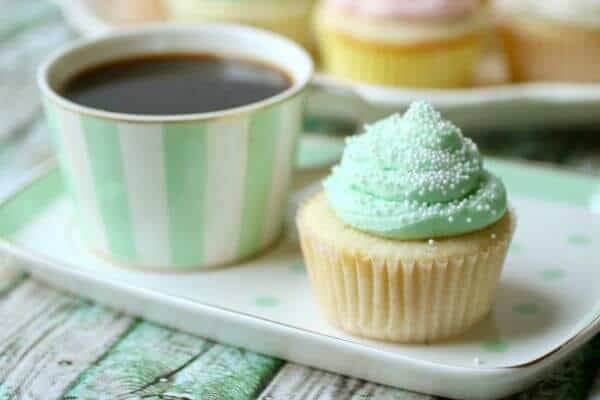 These homemade white cupcakes are SO good! Another favorite of mine, that would be SO amazing for Mother's Day, is this Rose Gold Velvet cupcake recipe with spice and rose flavors.
If you click on the number of servings in the recipe card you can adjust the measurements up or down for the exact number of servings you need. Don't forget that you can click on "add to collection" to save it to your own, private recipe box!
If you love this recipe please give it a 5 star rating. ⭐️⭐️⭐️⭐️⭐️
📖 Recipe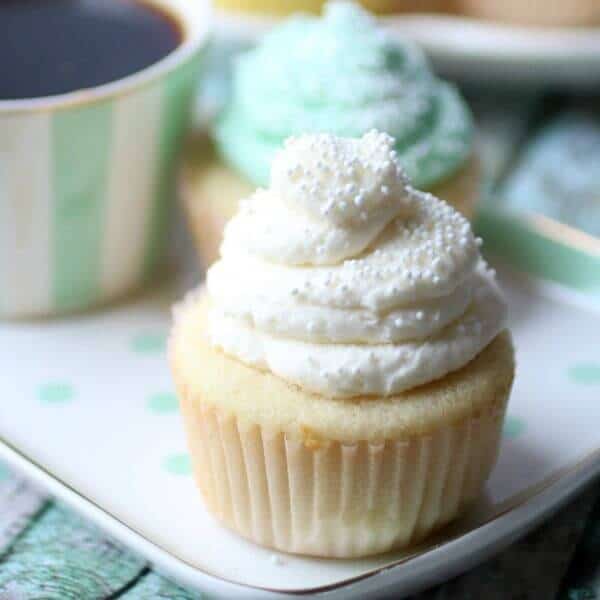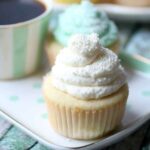 White Cupcakes Recipe
Print
Add to Collection
Go to Collections
Easy white cupcakes flavored with almond and vanilla are moist and tender. They'll taste great with any icing but try this whipped cream cheese icing - it's an amazing combination!
As an Amazon Associate I earn from qualifying purchases.
Ingredients
White Cupcakes
1 ¼

cups

flour,

, all-purpose

2

teaspoons

baking powder

¼

teaspoon

salt

⅓

cup

unsalted butter

,

,room temperature

1

cup

sugar

⅓

cup

sour cream

,

, do not use low fat

1 ½

teaspoon

almond extract

1

teaspoon

vanilla - butternut flavoring,

, or vanilla

3

egg whites

,

, room temperature

½

cup

milk
Whipped Cream Cheese Frosting
8

ounces

cream cheese

,

, room temperature - do not use low fat or fat free

1

pint

heavy whipping cream

1 ¼

cups

Confectioner's sugar

1

tablespoon

instant pudding powder

,

white chocolate or vanilla

1

teaspoon

almond extract
Instructions
White Cupcakes
Preheat the oven to 350F.

Line muffin cups with cupcake liners.

Combine the flour, baking powder, and salt in a bowl - set aside.

Cream the butter and sugar together until fluffy, about 4 minutes.

Add the sour cream, almond extract, and vanilla-butternut flavoring.

Mix until combined.

Add the egg whites and beat well, scraping down the bowl often.

Add the flour mixture to the egg white mixture in 3 batches, alternating with the milk.

Beat on low speed for a minute, scraping down the sides to ensure all the ingredients are incorporated into the batter.

Fill the cupcake liners ⅔ of the way up.

Bake for 20 minutes, or until a toothpick inserted in the center comes out clean with a few crumbs clinging to it.

Remove the cupcakes from the oven and let cool 5 minutes before removing from the pan.

Cool completely before frosting.
Whipped Cream Cheese Frosting
Beat the cream cheese, and Confectioner's sugar until fluffy.

Add the cream, pudding mix, and almond extract.

Beat until it thickens and stiff peaks form.
Notes
Cupcakes may be frozen for up to 3 months unfrosted. Any leftover frosted cupcakes or frosting should be kept in the refrigerator.
Nutrition Facts
Calories:
437
kcal
|
Carbohydrates:
43
g
|
Protein:
4
g
|
Fat:
27
g
|
Saturated Fat:
16
g
|
Cholesterol:
92
mg
|
Sodium:
165
mg
|
Potassium:
171
mg
|
Sugar:
31
g
|
Vitamin A:
1045
IU
|
Vitamin C:
0.2
mg
|
Calcium:
95
mg
|
Iron:
0.7
mg
Sign up for the emails and never miss another recipe!!
We'll never share your email or send you spam. Pinkie swear.
First Published: February 21,2018... Last Updated: April 14, 2019 to remove broken links.