Hot Chocolate Cupcakes are topped with a cinnamon flavored Mexican hot cocoa frosting and a smidge of fluffy, toasted marshmallow buttercream so that you'll get that rich hot chocolate flavor in each decadent bite. You'll find even more recipes in this 50 best cupcakes recipes round up.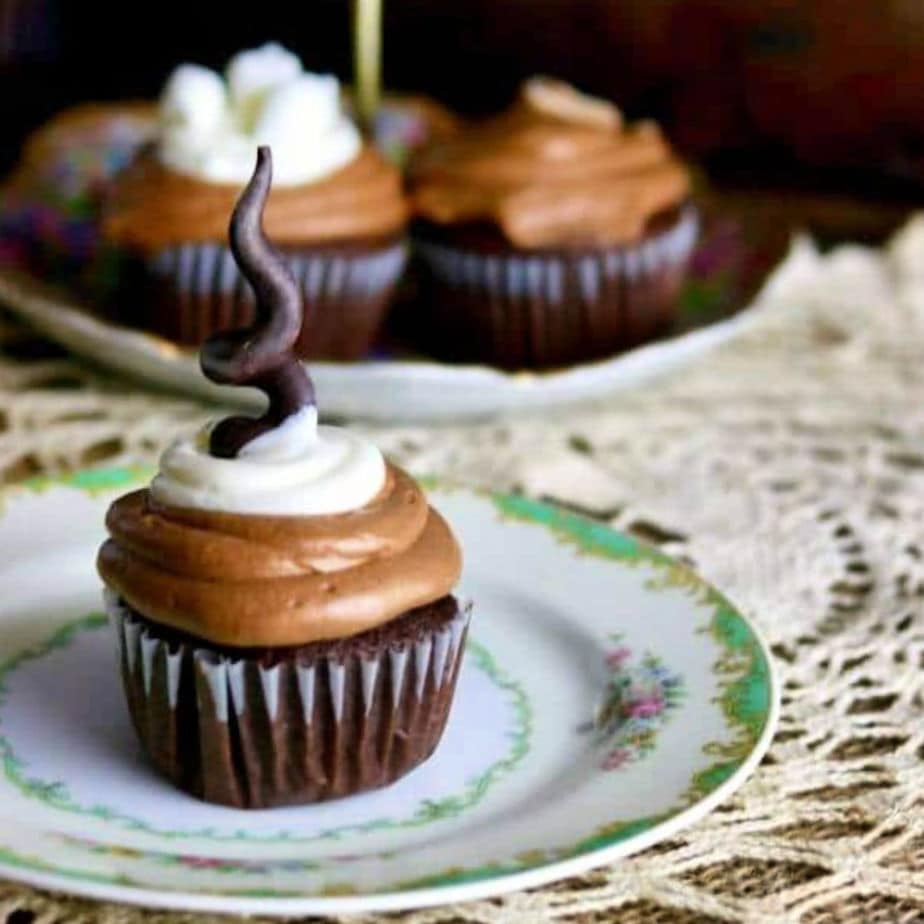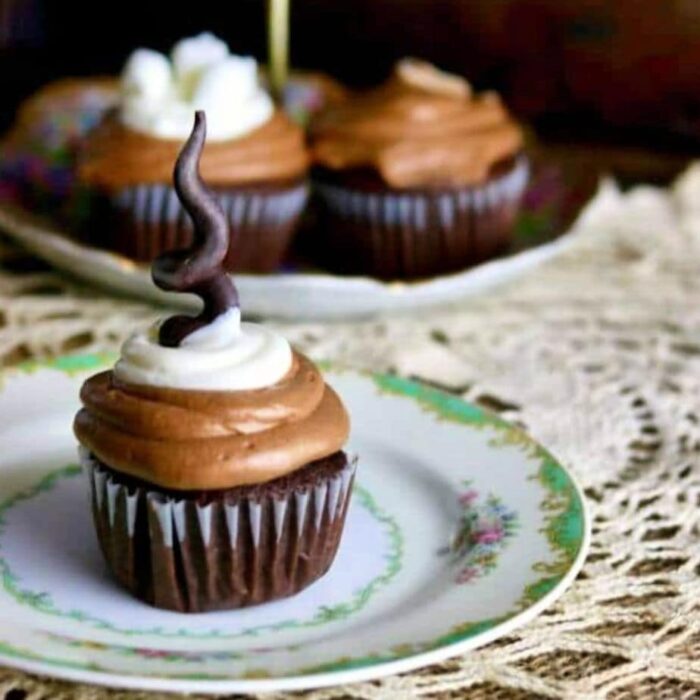 Ingredients
Butter
Sugar
Mexican chocolate disks for hot chocolate (link in recipe)
Eggs
Oil
Vanilla
Buttermilk
All-purpose flour
Salt
Baking soda
Baking powder
Cocoa powder, the darker the better
Espresso
Confectioner's sugar
Heavy cream
Hot chocolate mix
Chocolate instant pudding mix
Marshmallow creme
Almond extract
Notes
If you don't have espresso just use a strong, black coffee.
You can use the same amount (3.2) of milk, semi-sweet, or dark chocolate if you can't find Mexican chocolate.
These will keep at room temperature for a couple of days as long as you keep them covered.
The cupcakes freeze well, unfrosted, for up to 3 months
More Cupcake Recipes
Is there anyone, really, that doesn't love a good cupcake?
Rose Gold Velvet Cupcakes with Rose Buttercream
Light and fluffy, warm rose gold pink, and a warm autumn spice flavor with a hint of white chocolate and rose - these rose gold cupcakes are deliciously unique in every way. Perfect for special occasions - wedding showers, baby showers, teas, and New Years Eve.
Check out this recipe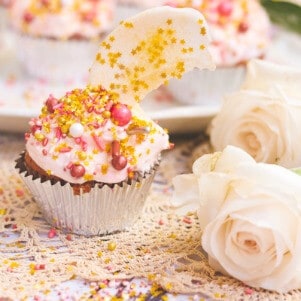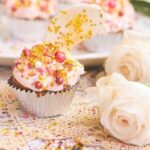 Chocolate Cherry Cupcakes
These chocolate cherry cupcakes start with rich, moist chocolate cupcakes. Then they're topped with maraschino frosting. Like a chocolate covered cherry in cupcake form!
Check out this recipe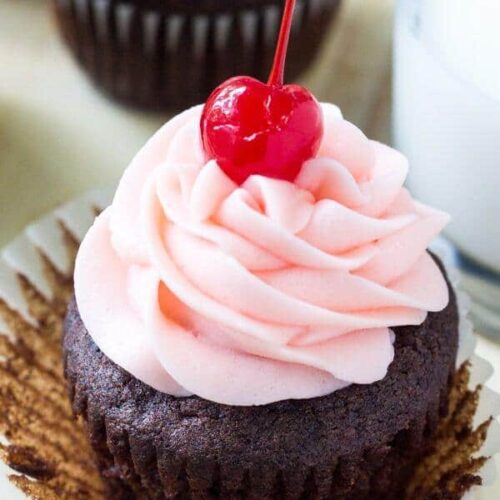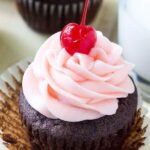 French Vanilla Cupcakes
If you love vanilla these are packed full of deep, exotic vanilla flavor. They make a great basic recipe to use as a jumping off place for all kinds of twists and turns.
Check out this recipe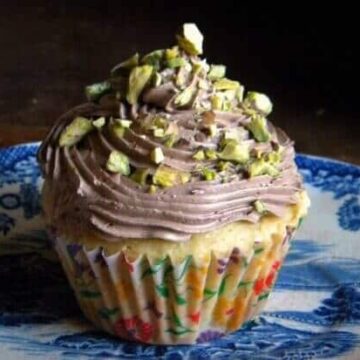 What Is Mexican Chocolate?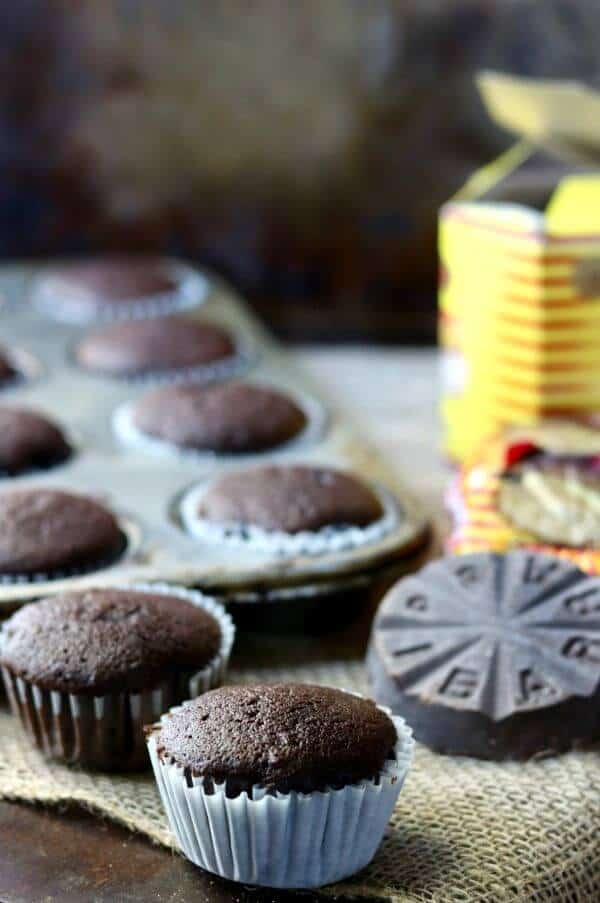 Mexican chocolate is different than other kinds of chocolate. It's gritty, for one thing, and has cinnamon and spices added. It comes in a round disc and you break off a couple of wedges and melt it in your milk for hot chocolate. If you really want to warm up, and you're over 21, you add a couple of gluggs of tequila!
SO good.
These Mexican Hot Chocolate Cupcakes taste like my favorite hot chocolate. They won't warm you up but they ARE a great way to end a meal.
That Moment When You NEED Hot Chocolate (Cupcakes or Cup)
Ok... so we don't get a lot of winter in Texas, I'll admit, but when the barb wire between the North Pole and Dallas City Limits blows down it gets bone shatteringly cold. There's something about going from 70 degrees one day to 15 degrees the next day that will jar you to the center of your soul.
Seriously. One time when I was around 14 I decided to go visit a friend that lived down the hill from where I lived. It was Christmas break but a gorgeous 75 degree afternoon so I strolled down the street barefoot and in cut-off shorts and a t-shirt. We retreated to her room to hide from her pesky brothers and listened to Partridge Family, Bobby Sherman, and Three Dog Night albums. Back then you stacked your vinyl records up on the record player and as one finished the next one dropped so that you had uninterrupted listening pleasure.
We were lounging on the thick, pink shag carpet on her bedroom floor and painting our nails while talking about ... well you know. Those things 14 year old girls talk about. I didn't notice that the sky had darkened until she jumped up and flipped on her bedroom light.
As she did she caught sight of what was going on outside her window and she turned to me with a look of horror. "It's sleeting," she whispered hoarsely.
And it was.
I walked up that hill barefoot, without a coat, and with most of my skin exposed to a brisk wind that whipped my hair around my face and made my legs go numb in seconds. I was never SO glad to get home in my life!
When it's that kind of cold my favorite drink is a frothy Mexican hot chocolate.
You May Need...
The following are affiliate links. We are a participant in the Amazon Services LLC Associates Program, an affiliate advertising program designed to provide a means for us to earn fees by linking to Amazon.com and affiliated sites.
What's new? Check out my Restless Chipotle & Co. Store on Amazon where you'll find all kinds of nostalgic goodness! Thanks so much for being a part of Restless Chipotle!
Mexican chocolate is available in grocery stores here in Texas but you may need to find a Mexican or Latin American market where you are. OR you can do it the easy way and order from Amazon. Ibarra is my favorite brand but there are several. I used these cute, squiggly Davis Cocktail Sticks for garnish. They are made of Ecuador single bean origin chocolate and I just love how they look. They're great to serve with an after dinner espresso, too!
Mexican Hot Chocolate Cupcakes Recipe
Warm and cozy flavors make these Hot Chocolate Cupcakes especially nice during the cold weather months. They're unique and a little exotic - and who doesn't need a little more exotic in their lives?
This cupcake recipe is so much fun to make with the kids because even the littlest guys can add the garnish to the top!
If you're looking for a light wedding cake type cupcake check out my white cupcake recipe.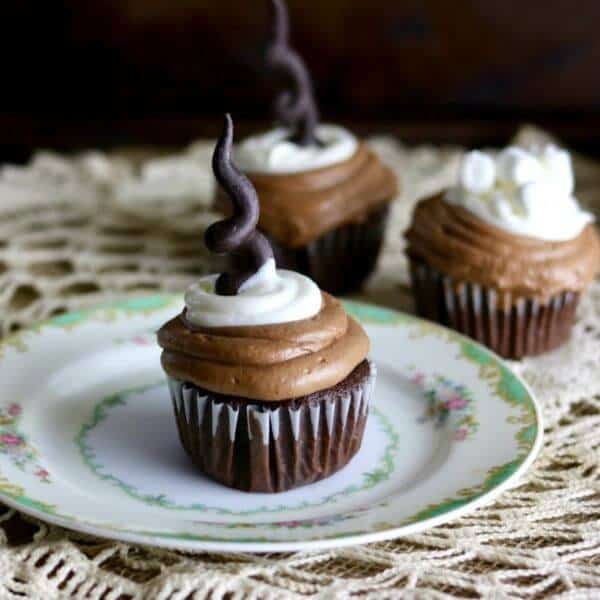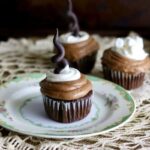 Mexican Hot Chocolate Cupcakes
Print
Add to Collection
Go to Collections
These unique Mexican Hot Chocolate Cupcakes are made with Mexican chocolate which adds the unique flavors of cinnamon and spice.
As an Amazon Associate I earn from qualifying purchases.
Ingredients
Instructions
Mexican Hot Chocolate Cupcakes
Preheat oven to 350F.

Mix the flour, salt, baking soda, baking powder, and cocoa - set aside.

Whisk the oil, buttermilk, and vanilla together - set aside.

Heat the chocolate in the microwave until it is very soft - it won't get runny because of how Mexican chocolate it made.

In the bowl of a stand mixer beat the butter and sugar until well combined.

Beat the chocolate into the butter mixture.

Add the eggs and egg yolks, one at a time until well blended.

Add the the oil mixture.

With the mixer on low add the dry ingredients until just combined.

Blend in the espresso.

Fill cupcake liners ⅔ full.

Bake for 20 minutes or until a toothpick inserted in the center comes out clean.

Let cupcakes rest in the cupcake tins for a minute or two before removing them to a cooling rack.

Frost when completely cool.
Hot Chocolate Frosting
Heat the cream just under a boil in the microwave.

Add the Mexican chocolate and stir until thick and creamy - no lumps remain. It will be a little grainy because of the Mexican chocolate - it's ok.

Stir in the hot chocolate mix and set aside.

In the bowl of your mixer cream the butter.

With mixer on low beat in half the Confectioner's sugar until crumbly.

Add the remaining Confectioner's sugar and pudding mix.

Beat until well mixed.

With mixer running slowly pour in the cream mixture.

Blend well and then turn the mixer up to medium high and whip until light and fluffy.
Marshmallow Frosting
Whip together the butter and half the Confectioner's sugar.

When crumbly add the almond extract.

Slowly beat in the remaining Confectioner's sugar.

Whip for 1 minute.

Beat in the marshmallow creme
Assembly
Swirl the hot chocolate frosting on the cupcake.

Top with a swirl of the marshmallow frosting.
Notes
If you don't have espresso just use a strong, black coffee.
You can use the same amount (3.2) of milk, semi-sweet, or dark chocolate if you can't find Mexican chocolate.
These will keep at room temperature for a couple of days as long as you keep them covered.
The cupcakes freeze well, unfrosted, for up to 3 months
Nutrition Facts
Calories:
653
kcal
|
Carbohydrates:
94
g
|
Protein:
3
g
|
Fat:
32
g
|
Saturated Fat:
20
g
|
Cholesterol:
105
mg
|
Sodium:
174
mg
|
Potassium:
147
mg
|
Fiber:
2
g
|
Sugar:
79
g
|
Vitamin A:
695
IU
|
Calcium:
39
mg
|
Iron:
2.1
mg
Sign up for the emails and never miss another recipe!!
We'll never share your email or send you spam. Pinkie swear.