This from scratch marble cupcakes recipe is moist and full of flavor and, because they are cupcakes, they're ready in less than 45 minutes. A fluffy almond flavored cake is swirled with dark chocolate cake so you get your favorite flavors in each bite. Then it's slathered with a creamy dark chocolate frosting, drizzled with sticky-sweet marshmallow topping, and topped with a bright red Maraschino cherry.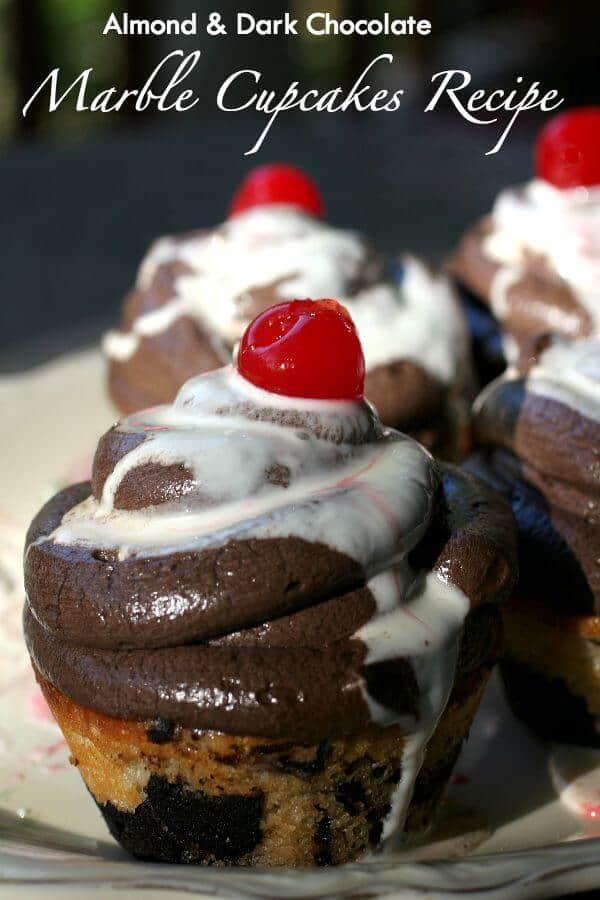 Everything melts in the Texas heat. It was over 100F when I was out on the porch taking these pictures.
I have always liked marble cake. Part of it is that I can never decide on one flavor but the other part of it is that marble cake is the first real cake I made when I was about 8 or 9. My best friend's mom helped him and me make it for my mother's birthday. Mom didn't ever make herself a cake and I can't really remember my dad ever getting her one, either. In fact I don't really remember celebrating her birthday at all when I was little. By the time I was an adult I made sure she had a party every single year and a cake for every party.
So, marble cake holds special memories for me. Whenever I make it I am swept right back to that day.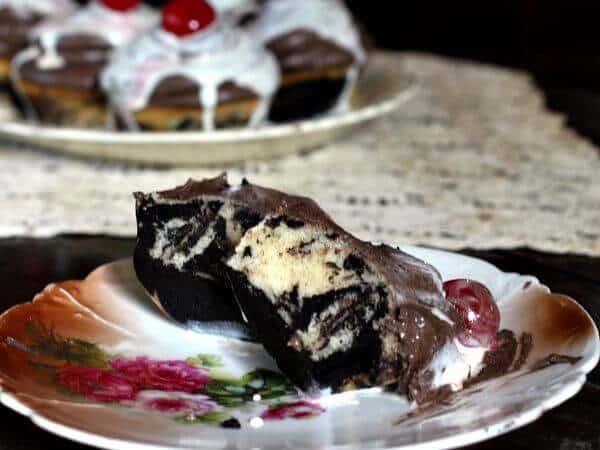 This marble cupcakes recipe is a little different because I've made it with almond flavoring instead of just vanilla. I like almond and chocolate together and this just works. You can use any frosting you like -- I've chosen chocolate with a marshmallow drizzle to emulate the colors in the cupcakes.
The following is an affiliate link. If you click through and buy something I get a small commission which helps me keep the blog up and running. Thank you so much for your support of Restless Chipotle.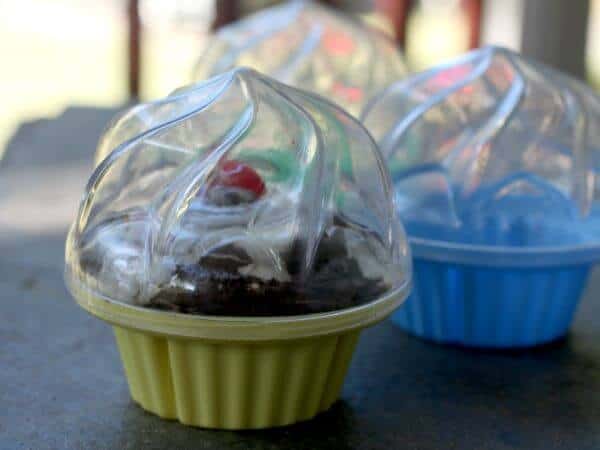 A few weeks ago I found Fox Run Cupcake containers that I loved. I bought several! They are perfect for the kids to put in their lunch boxes to take to school. The tops fit tightly and are tall enough that they aren't likely to squish the frosting... plus the tops are clear so everyone can see the treat your kiddo is getting. I am pretty sure I am going to be using these A LOT!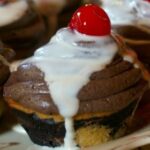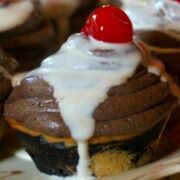 Marble Cupcakes Recipe
Print
Save
Go to Collections
Moist, tender cupcakes marbled with dark chocolate and almond then covered with chocolate frosting (or the frosting you like best), swirled with marshmallow topping, and topped with a bright red cherry. They're irresistible.
As an Amazon Associate I earn from qualifying purchases.
Ingredients
Garnish
⅓

cup

Marshmallow ice cream topping

12

Maraschino cherries
I earn a commission from Instacart from qualifying purchases.
Instructions
Preheat the oven to 350F.

Put cupcake liners in 12 cupcake pans and set aside.

Mix the flour, baking powder, baking soda, and salt.

Set aside.

Melt the butter but do not brown.

Add the sugar to the bowl of a mixer.

Pour in the butter and mix on high until well blended.

Add the egg, buttermilk, ¾ cup of milk, and vanilla.

Mix on slow speed until well blended -- do not over mix.

Transfer ¾ cup of the batter to a bowl.

Mix the cocoa powder and 1 tablespoon of milk in to the ¾ cup of batter until well combined.

Add the almond extract to the remaining white batter.

Blend well.

Spoon some of the chocolate batter into each liner.

Spoon some of the almond batter on top.

Repeat until the batter is gone.

Using a butter knife (I like to use a chopstick) swirl the batter lightly.

Bake for 20 minutes or until top springs back lightly when touched.

Cool completely.
Frosting
Add the confectioner's and the cocoa to a bowl.

Cut the butter into squares and add it to the confectioner's mixture with the mixer running on low.

Blend until the mixture is crumbly.

Add the cream and vanilla and beat on high until fluffy. Add more cream if necessary.
Assembly
Frost the cupcakes with the frosting.

Spoon a little of the marshmallow topping over the top.

Add a cherry.

Serve.
Sign up for the emails and never miss another recipe!!
We'll never share your email or send you spam. Pinkie swear.
If you liked this marble cupcakes recipe you may also like...
KitKat Cupcakes Chocolate Moosey
Dr Pepper Cupcakes Baked By an Introvert