This classic chocolate Texas Sheet Cake recipe results in a dense, thin cake that's almost like a brownie but not quite. It's the original version, made with buttermilk, so that the moist cake is so fudgy and sweet it'll scare away any chocolate cravings that are lurking around. Loads of pecans are stirred into the shiny chocolate icing – it's almost like a candy bar! Quick and easy. This post has been updated from the November 2014 version to improve your experience here on Restless Chipotle.
For this recipe you'll need: all-purpose flour, cocoa, sugar, baking soda, salt, butter, water, eggs, buttermilk, vanilla, Confectioner's sugar, pecans, a high sided cookie sheet or Jelly roll pan.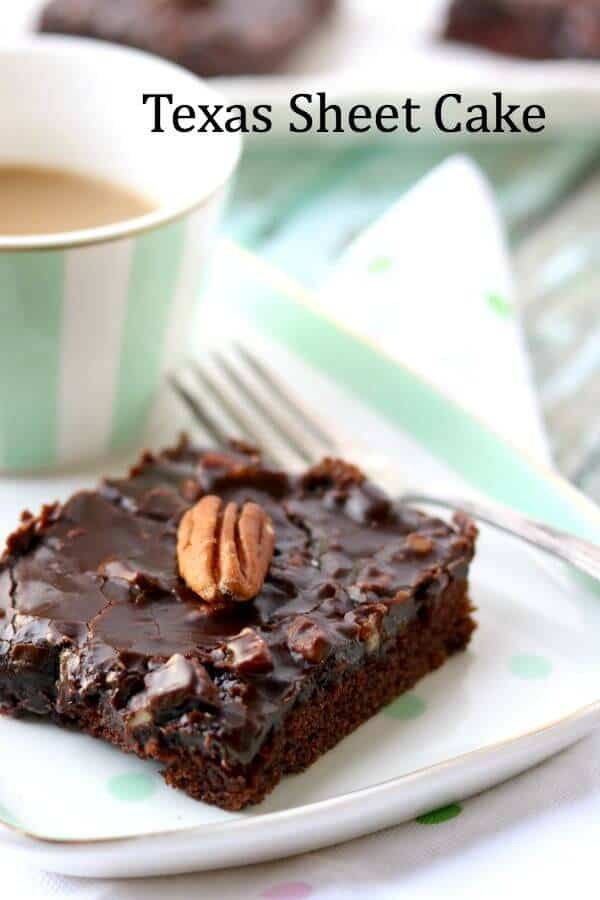 Texas Sheet Cake. Is it a cake? A brownie? And why the cult-like following?
If you have ever visited Texas and spent at least an hour in a local home you have probably experienced the phenomena of sheet cake. A thick, rich, chocolaty cake with a frosting that is ..well is it a glaze or is it a frosting?
No matter. It is good and every Texan over the age of six months knows it. It is quick to make; you can be shooing flies off off the finished cake within about forty five minutes. And that first bite? Rich, moist, chocolate, delicious…. your mouth will think you've died and gone to Wonka's Chocolate Factory.
It's different from an old fashioned chocolate sheet cake in several ways. First of all, most sheet cakes are baked in a 13×9-inch pan so the cake is about twice as thick as a Texas Sheet Cake. The cake tends to be a fluffier – like a layer cake without the layers… which it is.
My Texas Sheet Cake recipe, and most of the authentic ones that I've been around, call for baking in a jelly roll pan or a cookie sheet with high sides. You get a thinner, denser cake. The other difference is that the frosting is somewhat runny and is poured over the cake rather than spread on. The pecans should be mixed right in so that they are enrobed in the chocolate goo.
As it cools, the frosting solidifies to a thin, fudgy glaze that is more like candy than frosting. It's what makes Texas Sheet Cake authentic – I don't know about all these recipes that call for buttercream.
Just say "nah".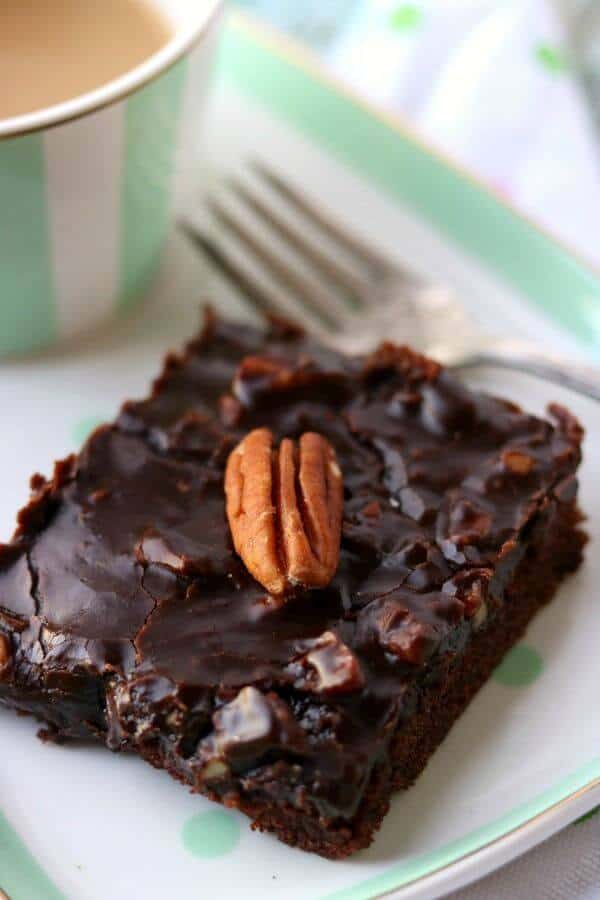 Texas Tips for Texas Sheet Cake
The only people I have ever met that have NOT liked this cake are those unique individuals that don't like chocolate (bless their hearts) and those individuals that did not follow protocol or that used a non-Texas approved recipe. And, as everyone knows, you don't mess with Texas.
There are some don'ts to this cake:
Don't use anything but pecans. No, walnuts will not substitute. Macadamias either. Don't even think about hazelnuts or Brazil nuts.
Don't use a 13×9 inch pan…the texture will be wrong.
Don't experiment with flavor. Sometimes things should just be left alone. This is one of those things.
Don't cool the cake. Be sure the cake is still quite warm when you put the frosting on.
Don't drink sweet tea within three hours of eating this cake. The sugar jolt will have you zipping around like the Roadrunner. Beep Beep.
And here are some things you gotta do. Like my husband, the Aggie, says, "It's just tradition, that's why."
Have cold milk or hot coffee at the ready.
Share with someone. This cake is friendly. Take some to a neighbor or a co-worker.
Basically you can make this Texas Sheet Cake recipe with a couple of Lone-Star-Approved variations:
Add chopped Heath bars to the frosting
Substitute hot coffee for the water in the recipe
Subsitute Dr. Pepper for the water in the recipe.
Add a teaspoon of cinnamon and/or chipotle to the cake batter
Well, honestly… there is one change I made to the original recipe. I browned the butter. Browned butter gives a rich, toffee flavor that is hard to describe and adds and amazing complexity and richness to this cake.
O.k.. You probably have everything on hand. You know what that means? You are about forty five minutes away from the best cake of your life…. if you hurry.
You May Need…
The following are affiliate links. We are a participant in the Amazon Services LLC Associates Program, an affiliate advertising program designed to provide a means for us to earn fees by linking to Amazon.com and affiliated sites.
Thanks so much for being a part of Restless Chipotle!
These are the exact cookie sheets I use to make these cakes. You can use a jelly roll pan but the cake comes out a little thicker – and I like mine to be on the thin side – baked it's about an inch thick. The main thing is that the baking sheets have to be heavy gauge stainless and not thin aluminum or something.

Authentic Texas Sheet Cake Recipe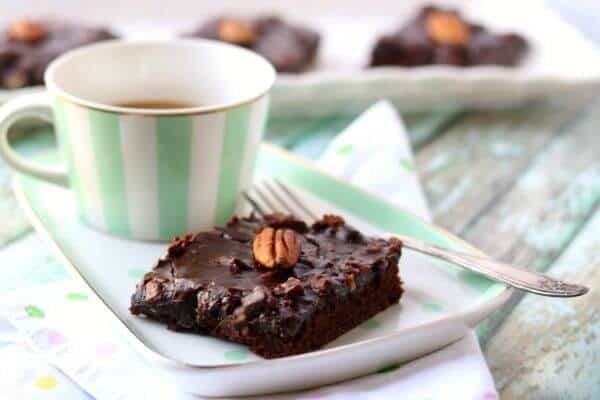 This super-duper, authentic, BEST -EVER Texas Sheet Cake Recipe is made with buttermilk. You'll find that pretty much all the vintage Texas recipes for baked goods call for sour milk or buttermilk. I think it's because it's hot in Texas and milk went bad pretty dang quick. Buttermilk makes cakes and such tender and moist.
If you love this cake be sure to give it 5 stars!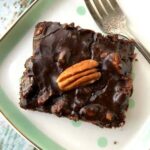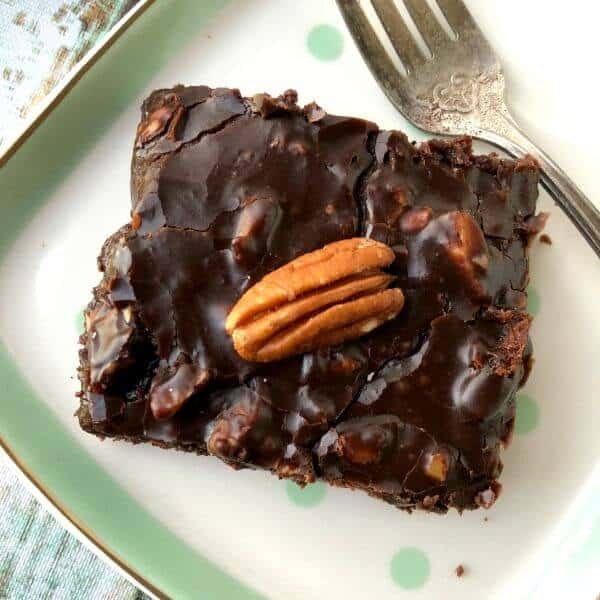 Texas Chocolate Sheet Cake
Print
Add to Collection
Go to Collections
Classic Texas sheet cake.Moist cake with a rich, deep chocolate flavor. Pour on the dense frosting studded with toasted pecans while the cake is still hot and you have a real party Texas style. Quick, easy, and delicious no matter where you live!
As an Amazon Associate I earn from qualifying purchases.
Ingredients
Cake
2

cups

all-purpose flour

2

cups

sugar

1

teaspoon

baking soda

1/4

teaspoon

salt

1

cup

butter

1

cup

water

1/3

cup

unsweetened cocoa powder,

, I prefer Hershey's Special Dark Cocoa for this)

2

eggs

1/2

cup

buttermilk

1

teaspoon

vanilla
Texas Sheet Cake Frosting
Instructions
Cake
Preheat oven to 350F.

Grease a jelly roll pan and set aside.

Melt the butter until it is a golden brown in a heavy pan. Do not let it burn.

Add the water and the cocoa and stir until smooth.

Bring to a boil, stirring.

Remove from heat.

Mix flour, sugar, baking soda, and salt in a bowl.

Beat in eggs, vanilla, and buttermilk.

Stir in cocoa mixture and stir until smooth.

Spoon into jellyroll pan, smoothing out evenly.

Bake for 20 minutes or until a toothpick inserted in center comes out clean.

Remove from oven.
Texas Sheet Cake Frosting
About 5 minutes before the cake is ready to come out of the oven melt the butter in saucepan until golden brown.

Add the milk and the cocoa.

Bring the mixture to a boil, stirring smooth.

Remove from heat and add the Confectioner's sugar, pecans and vanilla.

Mix quickly and spoon over the warm cake.
Notes
Try substituting Dr. Pepper, coffee, coke, or earl grey tea for the water in this Texas Sheet Cake
Nutrition
Calories:
227
kcal
|
Carbohydrates:
30
g
|
Protein:
2
g
|
Fat:
11
g
|
Saturated Fat:
5
g
|
Cholesterol:
30
mg
|
Sodium:
124
mg
|
Potassium:
62
mg
|
Fiber:
1
g
|
Sugar:
23
g
|
Vitamin A:
260
IU
|
Vitamin C:
0.1
mg
|
Calcium:
16
mg
|
Iron:
0.7
mg
Sign up for the emails and never miss another recipe!!
We'll never share your email or send you spam. Pinkie swear.
If you like this Texas Sheet Cake recipe you might also like…
From left to right: Southern Coconut Cake, Dark Chocolate Layer Cake with Irish Cream Frosting, Burnt Sugar Layer Cake with Peanut Butter Mousse
Still looking? Here are some recipes from a couple of my favorite blogs:
White Sheet Cake Life in the Lofthouse
Texas Turtle Sheet Cake About a Mom
This recipe is included in Meal Plan Monday.