I love this Chocolate Shadow Cake recipe with the creamy, whipped chile chocolate filling. Three layers of dark chocolate cake are separated by a rich chile chocolate filling that holds up for days. More of the filling covers the sides of the cake and then the top is smoothed with a shiny, dark chocolate ganache that dribbles down the sides of this luscious homemade cake.
For this recipe you'll need: cocoa, all purpose flour, baking powder, baking soda, salt, milk, sugar, brown sugar, coconut oil, vanilla, instant fudge pudding mix (4 serving size), chipotle or ancho chile powder, heavy cream, bittersweet chocolate chips

Who can resist a good chocolate cake? Not me, or anyone else around here for that matter! One of the prettiest cakes that shows up several times in my old cookbooks is the Shadow Cake. It's usually a chocolate or vanilla cake with white frosting that has a drizzle of melted chocolate around the edge of the cake that drips down the sides to create the "shadow". Since the Shadow Cake itself is a different flavor in each of 3 recipes that I have I assume that the flavor doesn't matter and it's the chocolate around the top that gives the cake its unique name.
Fair enough. I can work with that. Except that I wanted chocolate frosting on my Chocolate Shadow Cake so I had to make sure it was light enough to make the shadow part stand out. Actually, making the frosting light enough was the very least of my problems.
The three youngest kids went up to their father's for a week this past month and it was the first time ever they had been up there for any length of time and without older siblings so I was very nervous about the whole thing. They had mixed feelings about it which didn't help me at all.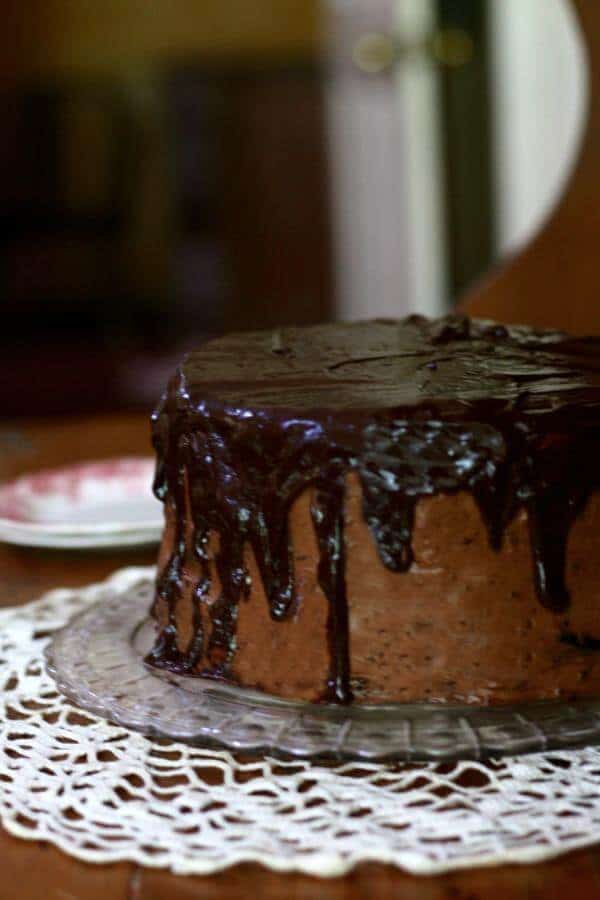 A week before they were to leave I fell down the stairs -- 15 stairs to be exact. I was carrying one of the Yorkies at the time and you'll be happy to know that I held her up safely through the whole ordeal. She was unhurt but I was laying at the bottom of the stairs in the most pain I've felt with a few exceptions (gall bladder and giving birth). My 20 year old was the only one home and she was in the shower with her music on full blast.
I was absolutely sure my ankle was broken. When she finally heard me yelling for her she quickly got dressed and tried to help me up. There was no way that was happening.
"I think I need to go to the ER. Bring me my makeup real quick."
Yes, y'all. I was in intense pain and despite my daughter's rolling eyes I pushed my back against the cupboard and applied a quick coat of foundation, blush, and lipstick. My daughter was able to stop rolling her eyes long enough text her brother who is in the Navy and tell him that his weird mother was apply makeup for a trip to the ER.
I couldn't get to the car. In fact I couldn't get more than two or three hops across the kitchen before the throbbing in my foot made me grit my teeth and sit down. My daughter called my son-in-law who came to the rescue. He let me know he intended to carry me to the truck and I told him in no uncertain terms that I was not being carried. In fact I was still telling him that while he was carrying me to the truck. It was not a break but I messed my ankle up enough that my doctor told me it could be 4 to 6 months before it's normal.
That week was spent in bed reading cookbooks with my foot propped on a pillow.
By the time the kids left at the end of the week I was able to hobble down the stairs to tell them bye and give hugs AND I had the idea for the Chocolate Shadow Cake. I figured that I was feeling well enough that I'd keep my mind off things by getting some extra cleaning and baking done.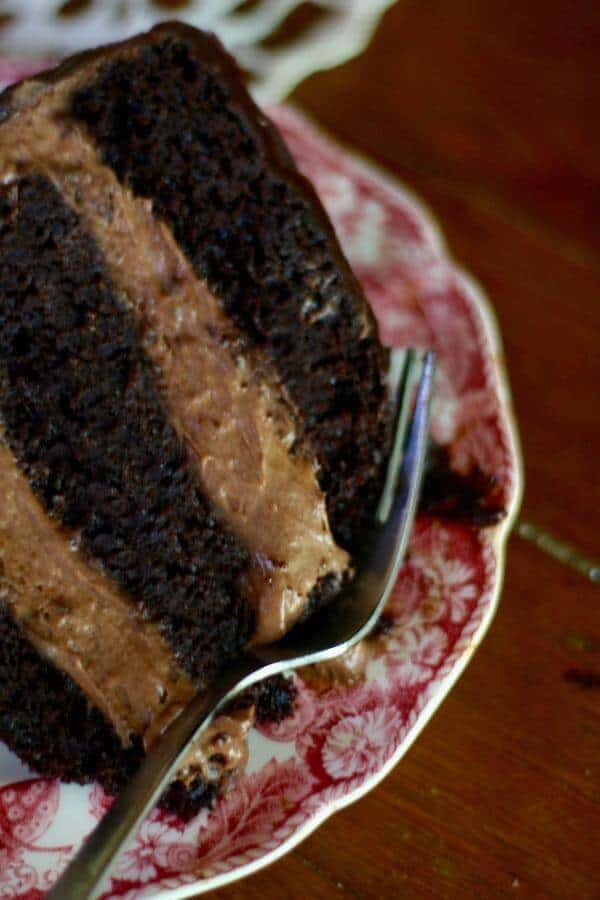 The day after the kids left I woke up with a 102F fever and a deep, painful cough... I spent the week the kids were gone in bed with my foot propped up and Nyquil near by. They got back on Sunday and it was close enough to Nick's and Kyrie's birthdays that we had a party. It was my first day out of bed in two weeks and despite feeling light headed and shaky I managed to make two cakes, this Chocolate Shadow Cake and a lemon white chocolate one that I'll be sharing soon.
Moral of this story? If you are the type that pushes yourself too hard and too long you may find that circumstances force you to take that rest whether you want to or not. My goal is to learn this lesson before age 60.
I don't know if it was the fact that I still wasn't feeling well or what but I had one problem after another with the Chocolate Shadow Cake. First one cake overflowed and dripped on the cake beneath it so that it collapsed in the middle then one layer kind of broke apart when I was getting it out of the pan. I considered not sharing this recipe because I couldn't get the images I wanted but the cake was SO phenomenal that I decided to share it and tell you how to overcome those kinds of obstacles in your own kitchen.
Plus, I think it's good for food writers to be honest enough to let y'all know that we have problems withe perfection, too. It's just we usually know how to get around it. Every one of the following problems happened with this cake.
If a cake layer breaks use it as the bottom layer in a two layer cake or the middle layer in a three layer cake. Push the pieces back together as best you can and just keep going.
If one cake layer is slightly bigger around than another fill and stack the layers. Run 4 straws down through the layers to hold them in place then carefully, holding a knife vertically, trim around the cake to make it all even.
If it sinks in the middle turn that layer upside down and use extra filling to support it. It's usually best if you use it as the top layer.
The following are affiliate links. If you click through and buy something I will get a small commission used for keeping the blog up and running smoothly. Thank you for being a part of Restless Chipotle!
I use a combination of chiles when I grind my own peppers, usually ancho, chipotle, guijillo, and pequin. You can buy a variety of dried peppers on Amazon but if you are just going to get one I'd suggest the guijillo - it has the flavor profile of a spicy raisin. 🙂 As I found out, high sided - high quality cake pans are a must. These Wilton pans are being delivered today so I don't have to worry about my cake overflowing ever again!
Here's that Chocolate Shadow Cake recipe! Be sure to use an 8x2-inch or 8x3-inch round pan!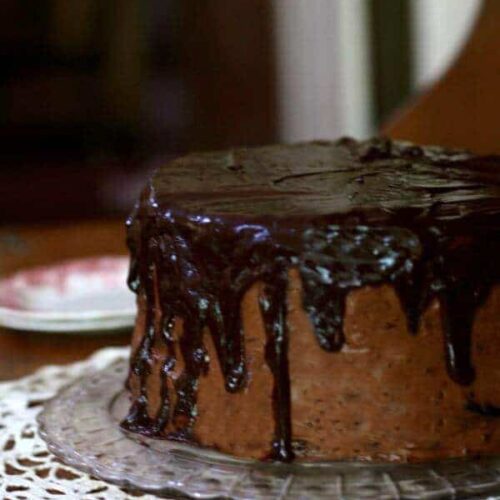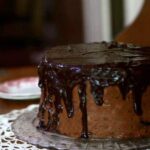 Chocolate Shadow Cake
Print
Save
Go to Collections
A dark chocolate cake is filled with a creamy, light whipped chile chocolate filling that has enough zip to make your lips tingle. Then warm, rich ganache is smoothed over the top and allowed to drip down the sides.
As an Amazon Associate I earn from qualifying purchases.
Ingredients
Cake
2

cups

sugar

1

cup

brown sugar

2 ⅓

cups

flour

1

cup

dark cocoa powder

2

teaspoons

baking powder

2

teaspoons

baking soda

½

teaspoon

kosher salt

1 ½

cup

whole milk

3

eggs

¾

cup

coconut oil

1 ½

teaspoons

vanilla

1 ½

cups

strong coffee

,

boiling hot
Chile Chocolate Filling
1

quart

heavy cream

1 4-

serving packages chocolate fudge instant pudding mix

½

cup

melted bittersweet chocolate

,

melted

2

teaspoons

freshly ground chipotle pepper

4

tablespoons

powdered sugar
Chocolate Ganache for Shadow
1

cup

bittersweet chocolate chips

1

cup

heavy cream
Instructions
Preheat the oven to 350F.

Prepare 3 high sided 8-inch round cake pans by greasing and dusting with flour.

In a large mixer bowl whisk together the sugar, brown sugar, flour, cocoa, baking powder, baking soda, and salt.

With mixer on low add the milk, eggs, oil, and vanilla.

Beat for 2 minutes on medium speed.

Add the hot coffee and blend in.

The mixture will be thin - like heavy cream.

Pour evenly into the prepared pans (about 2 cups/16 oz per pan).

Bake for 30 to 35 minutes, or until a toothpick inserted in the center comes out clean.

Cool in the pan for 10 minutes, turn out and cool completely before continuing with the cake.
Chile Chocolate Whipped Filling
Add the cream, pudding mix, chocolate, chipotle, and powdered sugar to the bowl of a mixer.

Whip until light and fluffy.

Spread thickly between the cake layers and over the sides. Leave the top plain.
Ganache
Heat the cream until bubbles form around the edges.

Remove from heat.

Add the chocolate chips and allow to stand for 3 minutes or so.

Stir until smooth.

Pour the ganache over the top of the cake, smoothing with a spatula and letting it run down the sides.

For best results keep refrigerated. Remove from the refrigerator 10 minutes before serving
Sign up for the emails and never miss another recipe!!
We'll never share your email or send you spam. Pinkie swear.