This easy bacon cheeseburger macaroni skillet dinner goes together in less than 30 minutes so it's a great weeknight meal that the whole family will love. Similar to the boxed "Helper" dinners, this homemade cheeseburger casserole is quick comfort food in every bite.
For this recipe you'll need: shell pasta, butter, milk, eggs, flour, dry mustard powder, cheese, ground beef, onion, bacon, pickles optional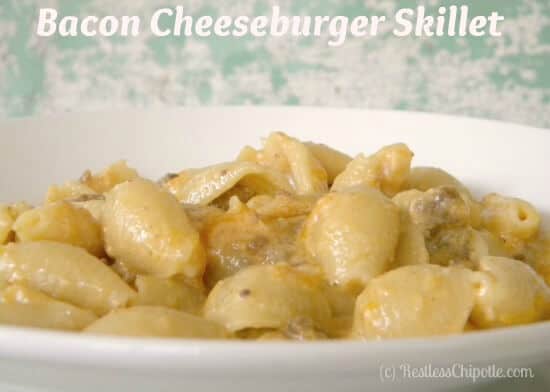 Cheeseburger Macaroni Recipe Backstory
For some unknown reason my children like... actually like... convenience foods. My son, Chris, used to tell me that when he grew up he was going to eat nothing but Wonder Bread and NEVER eat my icky homemade bread again.
EVER.
Can I just say now that he is 27, in Japan, and in the Air Force he eats my icky homemade bread every chance he gets. And, just to give hope to all of your frustrated moms out there - he cooks for himself and creates very healthy meals from fresh produce, lean proteins, and the occasional bag of Sour Patch Kids.
Take courage.
Anyway. One of my teenagers disdains the food I make in favor of heading out in the middle of the night to buy Spaghetti-Os, Ramen, and such. This child loves the food that I am sure is on the primary menu in Hell. You will not be surprised to learn that I have tried desperately to recreate these foods that the child demands - but in a more healthful manner. Really, skillet meals are pretty easy whether you get them from a box or put the ingredients together yourself. Cost-wise it is a little less, I think and time-wise? Maybe five extra minutes. So why in the world are ya buying the box?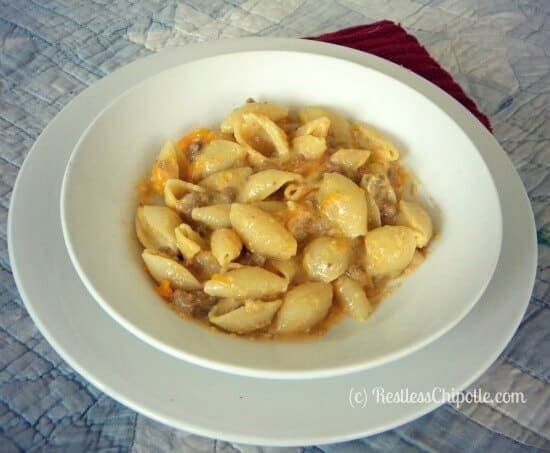 Skillet Dinner Variations
There are plenty of ways to change up this versatile macaroni skillet! Here are some of my favorites:
Use Pepper Jack cheese and cooked chicken breast that's been diced
Left over cubed ham and Swiss cheese
Cooked Italian sausage, sautéed peppers, and mozzarella
Diced chiles, cooked ground beef, Ranch style beans with sauce, Mexican cheese blend
I bet you can see why it's one of my favorites  - you can use almost any combination of pastas, meats, and cheeses in this easy weeknight dinner recipe!
Special diets? I love this gluten free pasta skillet from Taste of Home!
You May Need...
The following are affiliate links. We are a participant in the Amazon Services LLC Associates Program, an affiliate advertising program designed to provide a means for us to earn fees by linking to Amazon.com and affiliated sites.
Thanks so much for being a part of Restless Chipotle!
One of the most used items in my Restless Chipotle Kitchen is my  Lodge Cast Iron Skillet!! It's perfect for this dish!

More Easy Dinner Ideas from Restless Chipotle
I don't know about you but I need a constant supply of quick dinner ideas! We're living life in the fast lane with 2 kids in college and 2 in high school. Here are some of my favorites from right here on the blog -
Bacon Cheeseburger Macaroni Dinner
This Bacon Cheeseburger Skillet Dinner is fast - you can put it together in less than 30 minutes. It is kid friendly. It is relatively inexpensive. AND, best of all? It doesn't have a billion ingredients that you can't pronounce. If you love this recipe please give it 5 stars.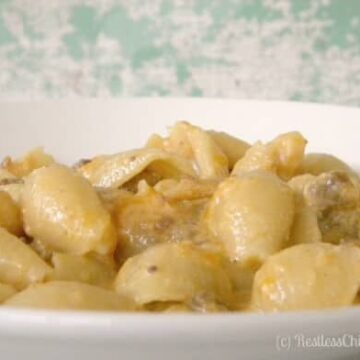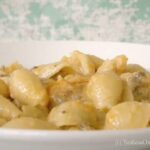 Bacon Cheeseburger Skillet Dinner Recipe
Print
Save
Go to Collections
Creamy, cheesy Bacon Cheeseburger Macaroni wihout the weird additives. Although the calorie count is higher than the commercial brands the serving size is about twice as much, so keep that in mind. These are approximately 2 cup servings.
As an Amazon Associate I earn from qualifying purchases.
Ingredients
1

lb

uncooked shell pasta

½

cup

(one stick) unsalted butter

¾

cup

milk

,

(more if needed for preferred consistency)

2

eggs

3

tablespoons

flour

1

lb

shredded cheddar cheese

1

teaspoon

dry mustard powder

1 ½

pound

ground beef

½

cup

chopped onion

,

, optional

6

bacon strips

,

, diced

¼

cup

pickles

,

, chopped - optional
Instructions
Cook pasta in salted, boiling water until tender but not mushy.

While the pasta cooks, cook the bacon and onions together until the bacon is crisp and the onion is tender.

Remove from pan and set aside.

Pour off all but about 2 tablespoons of grease from the pan.

Add the hamburger, sprinkle with salt and pepper and cook it thoroughly.

Add the bacon and onions back to the pan, along with the butter.

Stir until butter is melted and sprinkle with the flour.

Cook for 2 minutes, stirring.

Stir in the well-drained pasta.

Whisk the eggs and mustard into the milk and pour over the meat mixture.

Add the grated cheese.

Cook, stirring constantly until thickened and well blended - about 3 minutes.
Notes
Freezes well for up to 6 months
Nutrition Facts
Calories:
858
kcal
|
Carbohydrates:
47
g
|
Protein:
40
g
|
Fat:
55
g
|
Saturated Fat:
28
g
|
Cholesterol:
163
mg
|
Sodium:
684
mg
|
Potassium:
501
mg
|
Fiber:
2
g
|
Sugar:
3
g
|
Vitamin A:
970
IU
|
Vitamin C:
0.7
mg
|
Calcium:
469
mg
|
Iron:
3
mg
Sign up for the emails and never miss another recipe!!
We'll never share your email or send you spam. Pinkie swear.