This Alfredo chicken lasagna recipe is rich and creamy with a homemade Alfredo sauce and pieces of tender, grilled chicken throughout. It's simple to prepare but the flavors really shine. Serve with a crisp salad and some garlic bread for a unique twist on everyone's favorite meal.
Lasagna happens to be one of my favorite dishes. It is hard to resist those steamy, gooey layers of tender pasta, tangy-sweet-tomato-y sauce, and rich, mild cheese. When made with fresh pasta (which I showed you how to make yesterday) it is out of this world.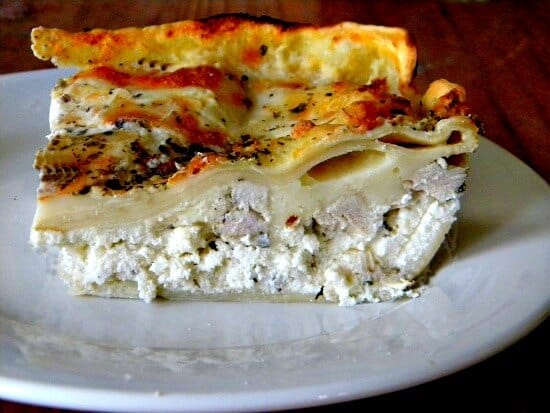 When we had goats I made my own ricotta and once in awhile even the mozzarella – but that was a few years ago. The point is that the more fresh ingredients you toss in there the better it is going to be. Fresh basil, fresh pasta, a good quality ricotta cheese… well that is the foundation for a perfect dinner.
But. Even the best recipe can get boring which is why this Alfredo chicken lasagna is a terribly important recipe to have.
I love Alfredo sauce. It is rich and cheesy – and totally different from the usual tomato based sauces served with pasta. If all you have ever had is the stuff out of a can then you really don't know what Alfredo sauce tastes like. Well, you are about to find out.
It is a simple to make, cream based sauce that goes together almost as quickly as you can get a jar open. The ingredients are not exotic – you probably have most of them in the house.
Since you are (I hope) going to try making your own pasta with the homemade pasta recipe I posted yesterday go ahead and make the Alfredo, too. You won't believe the difference. Commercial sauces are usually much too salty and bland. I am not sure how they achieve that salty blandness but they do! I figure they have specially talented tasters that own stock in salt mines somewhere.
Really.
In any case there is a difference, and don't just take my word for it. Make the sauce one evening, after dinner when you are cleaning the kitchen. Make the pasta the next day and store it in the fridge.
Then all you have to do is put everything together and bake it on the day you want to serve the Alfredo chicken lasagna. You can also make it all on one day – even if you are really slow it won't take you more than a couple of hours.
The flavor of this dish is dependent on the freshness and delicacy of the ingredients as well as the seasoning on the chicken. I like grilled chicken for this recipe but you can brown it in a frying pan in a little olive oil and finish it in the oven if you don't want to grill. Just be sure to use salt and pepper, and maybe some oregano, basil, and thyme.
Americans have gotten used to food that is over-salted and under-seasoned… and that is sad. Learn to use a variety of herbs and spices rather than so much salt. It may be a little unfamiliar at first but you develop new taste buds about every thirty days so it won't take long before you learn to enjoy how food really tastes.
Saying that, honestly there's not a flavor learning curve on this Alfredo chicken lasagna. The first bite is heaven on fork!
End sermon. For now.
Alfredo Chicken Lasagna Recipe
This easy recipe can be made ahead of time and kept in the fridge for up to 2 days before baking. If the sauce isn't thick enough for your tastes simply add a little more cheese.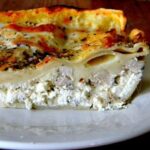 Alfredo Chicken Lasagna
Print
Add to Collection
Go to Collections
Rich Alfredo sauce and grilled chicken stand in for the traditional meat and tomatoes in this delicious lasagna variation.
As an Amazon Associate I earn from qualifying purchases.
Ingredients
1

pound

boneless skinless chicken breast

,

grilled and cut into bite-size pieces

1

cup

sliced fresh mushrooms

,

optional

1/2

cup

chopped onion

2

clove

garlic

,

minced

1

tablespoon

olive oil

Alfredo sauce

,

recipe below

1

pound

ricotta cheese

,

whole milk if possible.

1/2

cup

shredded Parmesan cheese

,

divided use

1 1/2

cups

shredded mozzarella

,

divided use

1

egg

,

lightly beaten

1

tablespoon

fresh chopped basil leaves

1/2

teaspoon

Italian seasoning

9

lasagna noodles

,

cooked and drained
Alfredo Sauce
1/2

cup

unsalted butter

1/2

cup

heavy cream

1/2

cup

Parmesan cheese

,

shredded (not the kind in the can)

1/4

teaspoon

garlic powder

Pinch

ground nutmeg
Instructions
In a large skillet, saute the mushrooms, garlic, and onion in oil until the onion is transparent.

Gradually stir in Alfredo sauce.

Bring to a simmer.

Reduce heat; simmer, uncovered, for 5 minutes or until thickened.

In a small bowl, combine the ricotta cheese, 1/4 cup Parmesan cheese, egg, and herbs.

Add a few spoonfuls of the Alfredo mixture to the bottom of a lasagna pan.

Put 3 lasagna noodles over the top.

Spread 1/2 of the cheese mixture over the top of the lasagna noodles.

Sprinkle the chicken over that.

Spoon about 1/3 of Alfredo that's left over the top.

Sprinkle on 1/2 cup of the Mozzarella over the top.

Add 3 more lasagna noodles and repeat the layers.

Add the last lasagna noodles to the top.

Spread with the remaining Alfredo.

Sprinkle with the reserved Parmesan and the remaining Mozzarella.

Cover with aluminum foil and bake at 350F for 30 minutes.

Uncover and bake for about 10 - 15 more minutes, or until bubbly.

Remove from oven.

Allow to rest for 10 minutes before cutting.
Alfredo Sauce
Melt the butter slowly in a saucepan. Don't let it boil up or the sauce will not set up right.

Whisk in the cream and simmer for about 3 minutes.

Add the garlic and the nutmeg.

Remove from heat and stir in the grated Parmesan.Continue to stir until the sauce is smooth and all of the Parmesan is melted.
Notes
You can add baby spinach leaves to this. Just sprinkle the raw leaves over the sauce on each layer except the top. They will cook as the lasagna bakes.
Nutrition
Calories:
384
kcal
|
Carbohydrates:
18
g
|
Protein:
22
g
|
Fat:
24
g
|
Saturated Fat:
14
g
|
Cholesterol:
107
mg
|
Sodium:
308
mg
|
Potassium:
292
mg
|
Sugar:
1
g
|
Vitamin A:
750
IU
|
Vitamin C:
1.2
mg
|
Calcium:
268
mg
|
Iron:
0.8
mg
Sign up for the emails and never miss another recipe!!
We'll never share your email or send you spam. Pinkie swear.