When produce is at its peak and days are scorching hot this easy side dish will delight your tastebuds and keep you cool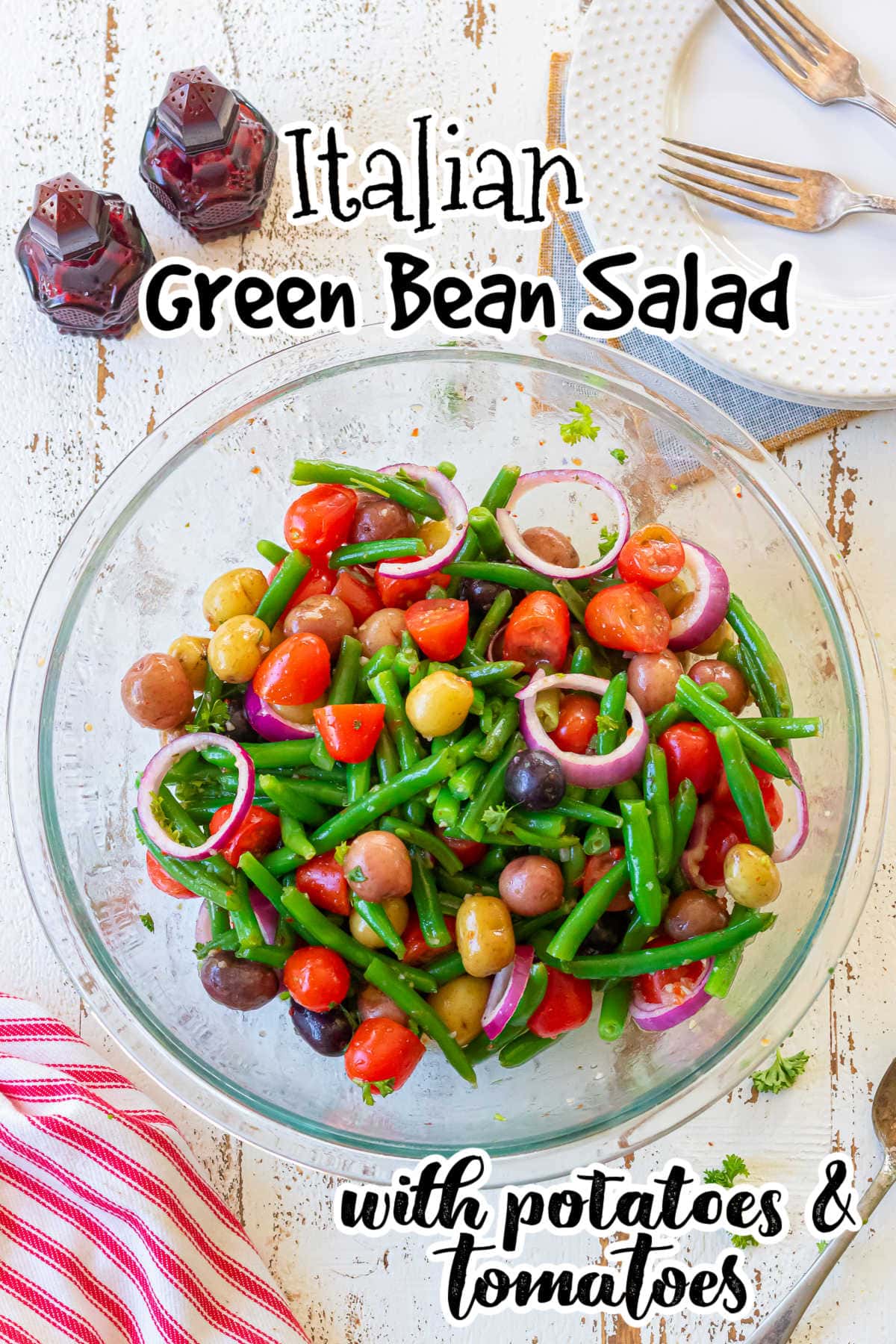 Jump to:
❤️ Why you'll love it
Cold salad is refreshing during hot summer months
A family-favorite way to enjoy fresh farmer's market vegetables
The perfect side dish only needs a handful of inexpensive ingredients—six to be exact!
This Italian green bean salad recipe comes together in just a few minutes, combining simple, fresh ingredients into something that "wows" a crowd!
Plus, with no dairy, the classic side dish can sit at room temperature for a while—making it great for family gatherings or parties that'll take place during the hottest days of summer!
🧾 Ingredients
This is an overview of the ingredients. You'll find the full measurements and instructions in the green recipe card (printable) at the bottom of the page.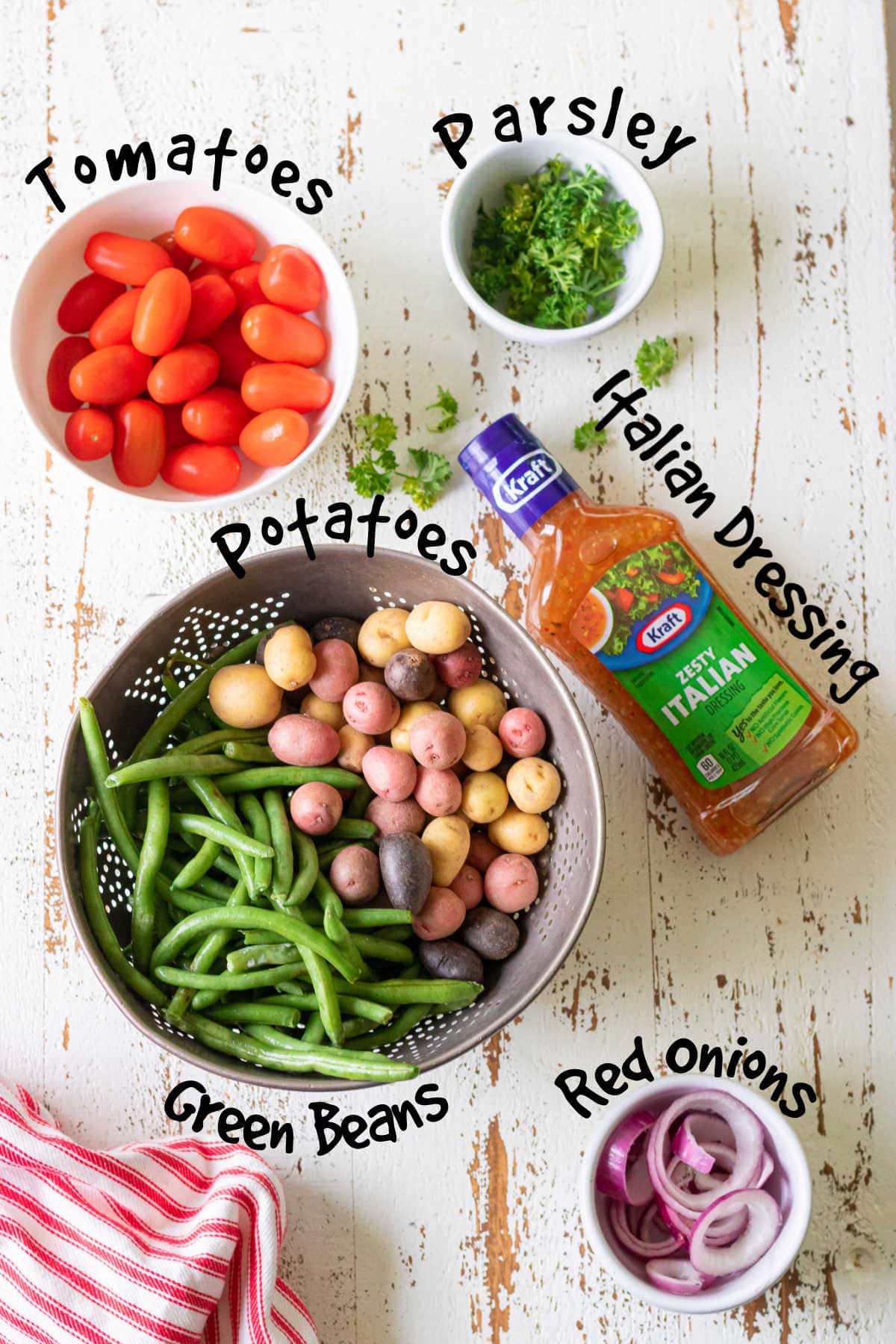 🔪 Instructions
This is an overview of the instructions. Full instructions are in the green recipe card at the bottom of the page.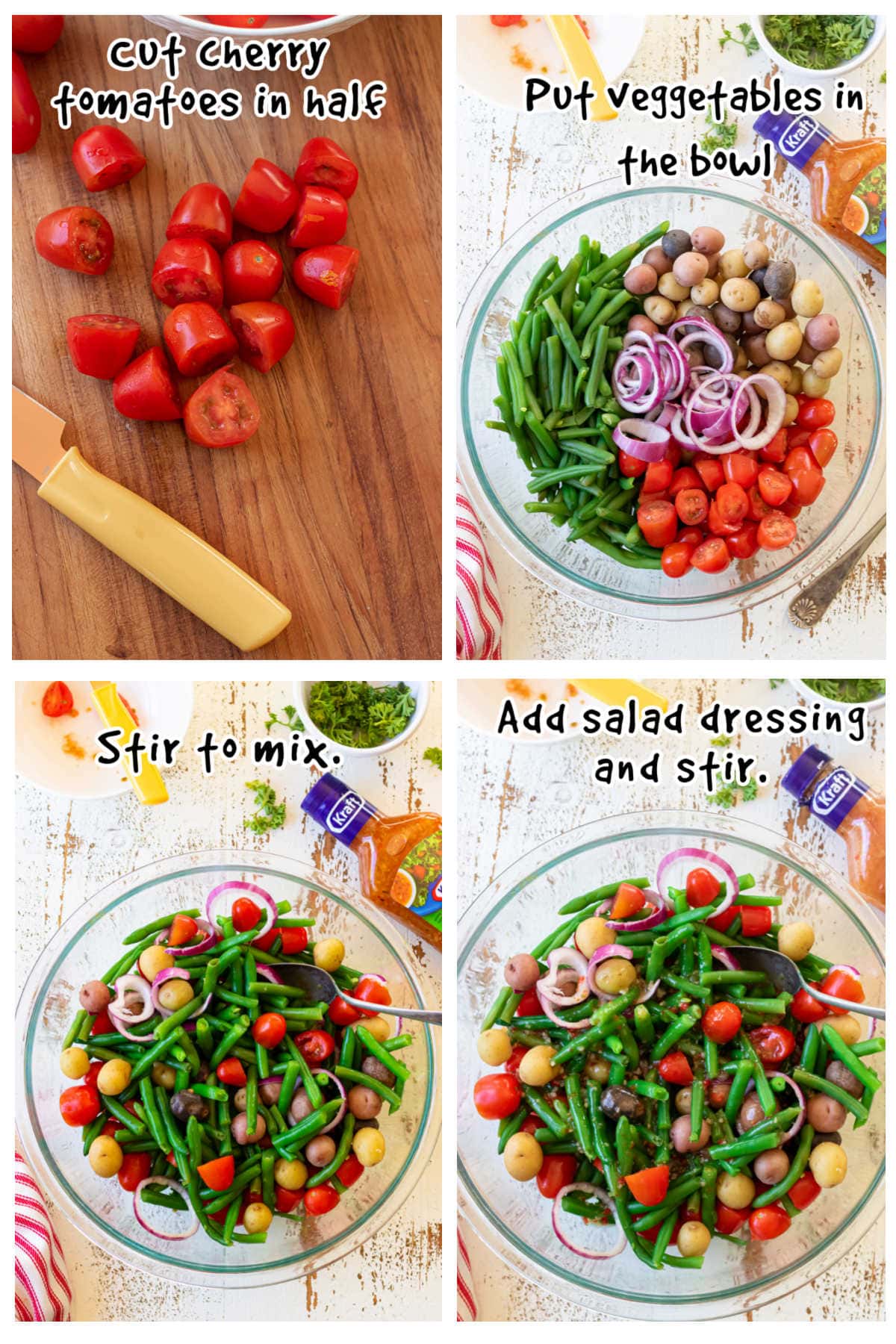 Cook green beans until they are crisp-tender (al dente). Cook the potatoes until the are fork tender but not mushy. Cut the cherry tomatoes in half.
Add the green beans, potatoes, tomatoes, and onions to a large bowl.
Mix gently.
Add the dressing and chopped parsley. Cover with plastic wrap and chill for several hours or overnight. Serve with a sprinkle of coarse sea salt, cracked black pepper, and some chopped fresh herbs (basil, oregano, etc).
🥫 Storage
The best part about this easy green bean salad is that it lasts for four to five days in the fridge. Not only does the vinaigrette dressing add tons of flavor, but it preserves the veggies really well.
Just put the leftovers in an airtight container and you've got a fresh salad to enjoy all week! You can also just cover the serving bowl with plastic wrap if you make the salad ahead of time.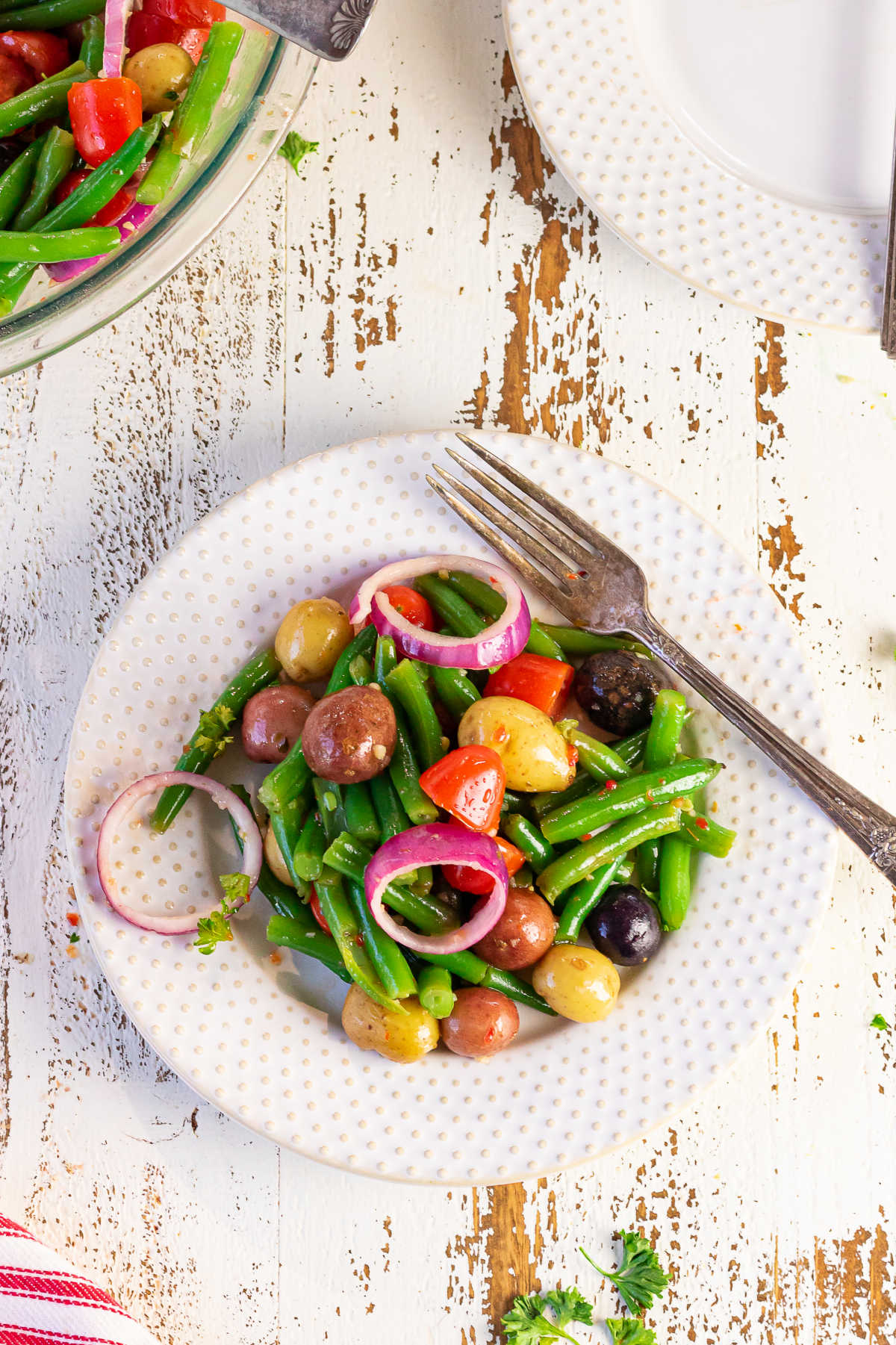 📖 Variations
This Italian green bean recipe is super easy to throw together, and there are plenty of ways to switch it up if you need to. Here are some ideas:
Turn this simple side dish into a main course by adding leftover grilled or rotisserie chicken—it makes a great lunch!
Add some bacon or pepperoni for flavor, just because. Who doesn't love bacon?
Stir in marinated Mozzarella cheese balls, cheese cubes, or feta. Alternatively, shave parmesan over top.
Classic Italian recipes always include Kalamata olives—feel free to add some if you enjoy their briny, Mediterranean flavor!
If you don't have a red onion, use a few chopped shallots instead.
Fresh bell pepper to use up? Throw in some diced red peppers.
Make a simple homemade vinaigrette using olive oil, Italian seasoning, and either red wine vinegar, white vinegar, balsamic vinegar (for balsamic vinaigrette), or even a few tablespoons of lemon juice
If you have extra time, roast some garlic cloves, squeeze them into the salad or slice thinly, and combine well into the green bean potato salad.
Red pepper flakes, oregano, chopped basil leaves, or other fresh herbs are great additions for extra flavor.
Sprinkle the salad with crisp croutons just before serving, and drizzle with Italian-infused extra virgin olive oil—you'll feel like you're in Italy!
💭 Things to know
Expert Tip: Use the freshest of fresh green beans for maximum flavor. They should be free of any wrinkles or dark spots. Fresh beans will snap when you fold them, rather than bending limply.
Plunge the drained beans into cold water after boiling them to help preserve their bright, vibrant green color. It'll also stop the cooking process and keep the green beans crisp.
To make the cold water bath, I like to fill a bowl with ice water and then nestle the strainer right inside it.
However, after dipping the green beans into the ice bath, make sure to dry them off well before continuing with the salad.
If you don't have time to snap the beans yourself, you can save time by purchasing the prewashed, pre-trimmed green beans. Find them in the fresh produce section of your grocery store.
Feel free to chop the green beans into bite-sized lengths so that they're easier to eat.
Don't try to swap in ordinary, canned green beans—they just aren't as good. Fresh beans are best, especially if they're picked from your own garden!
Fresh, ripe tomatoes feel firm and heavy. If they've started to get soft or wrinkly, leave 'em at the store!
For the most flavorful salad, let it chill for a few hours. This allows all the yummy flavors to soak in and sing together like a symphony!
👩‍🍳 FAQs
Can I freeze Italian green bean salad?
No, ma'am! I know it's tempting to save such a delicious side dish in the freezer, but trust me—just eat it fresh.
Is this salad vegan?
Yup! Not only is it a healthy side dish for everyone to enjoy, but your vegan friends will especially love it. However, just make sure that your brand of Italian dressing doesn't include any cheese. Sometimes they'll add parmesan, and that, of course, is not vegan-approved!
Are grape tomatoes and cherry tomatoes the same?
They are basically the same, but tomato experts will argue otherwise. Grape tomatoes tend to be more oblong shaped, and a little tougher than the sweeter cherry tomatoes. However, just like most produce, flavor varies from batch to batch. Grape and cherry tomatoes can almost always be used interchangably.
Can I use other green bean varieties?
Sure thing! String beans, wax beans, Italian flat beans, and even Haricot verts will taste just as good in the cold green bean salad.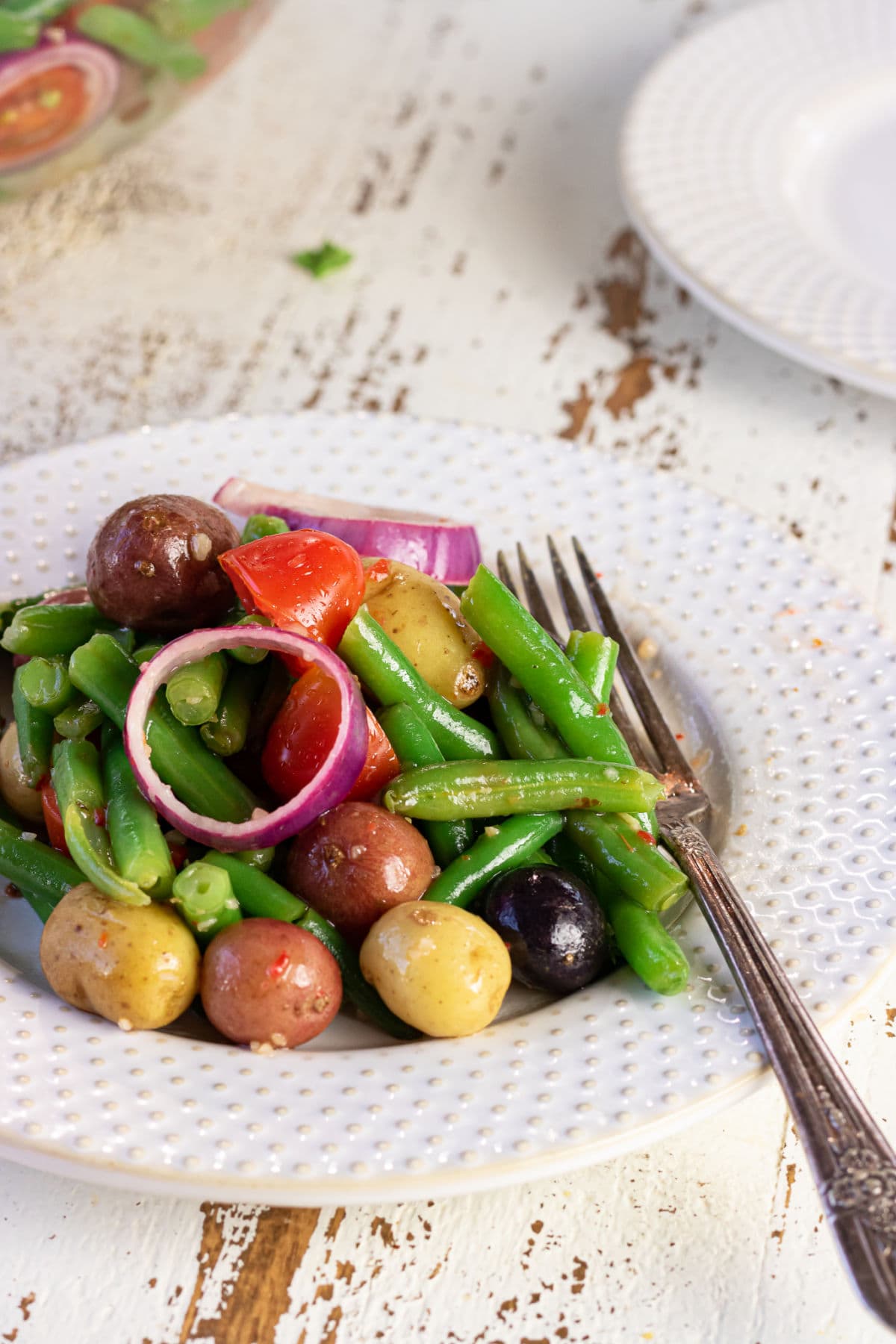 📚 Related recipes
Great for holiday meals when you can't get fresh produce, these stovetop or slow cooker Greens Beans and Potatoes (with Bacon!) are comfort-food central.
With nuts, dried fruit, onions, and bacon, this Broccoli Cauliflower Salad recipe is a cook-out favorite that you can now have any time you want it!
Classic Green Bean Casserole takes just five minutes to prep and tastes just how you remember it as a kid! Though this time, you can eat as much as you want—and no one can stop you!
🍽️ Serve with...
📞 The last word
I really love this easy side dish for summer because the fresh veggies are so full of flavor! It's a welcome change for the mayo heavy potato salad that's so popular this time of year.
Another bonus is that since there's no creamy dressing you don't have to worry quite so much about keeping it chilled at picnics, cookouts, and potlucks.
If you click on the number of servings in the recipe card you can adjust the measurements up or down for the exact number of servings you need. Don't forget that you can click on "add to collection" to save it to your own, private recipe box!
If you love this recipe please give it 5 stars! ⭐️⭐️⭐️⭐️⭐️
📖 Recipe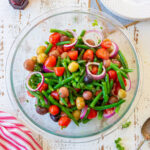 Green Bean Salad Recipe
Print
Pin Recipe
Save
Saved!
This marinated green bean salad recipe is perfect for summer potlucks, cookouts, and picnics! Just six ingredients means it takes minutes to put together so you can have more time to enjoy all the summer fun.
As an Amazon Associate I earn from qualifying purchases.
Ingredients
1 ½

pounds

green beans

,

washed and trimmed

10

ounces

cherry tomatoes

1

pound

new potatoes

,

any tiny thin skinned potato is fine

1

cup

red onion

,

sliced in rings

1 ½

cups

Italian dressing

,

I used Kraft Zesty Italian

¼

cup

chopped parsley

,

or fresh basil
I earn a commission from Instacart from qualifying purchases.
Instructions
Wash and trim the green beans and snap in half, or cut with a sharp knife.

Wash the potatoes and tomatoes.

Slice the tomatoes in half.

Bring a big pot of salted water to a boil over medium-high heat.

Add the prepared string beans.

Turn the heat down to low, cover, and simmer until al dente (crisp-tender) about 6 minutes. The time depends on the size of the green beans, too - keep an eye on them and check often for doneness.

Quickly plunge the beans into ice water. This will stop the cooking and help them to stay bright green.

Let stand for about 3 minutes then drain in the colander.

Bring salted water to a boil in a large saucepan.

Add the potatoes and cook until fork tender. Do not overcook - you don't want them to be mushy. This should take about 10 minutes, depending on the size of the potatoes.

Add the green beans, potatoes, tomatoes, onions, and parsley or basil to a large bowl.

Mix gently to combine. This is easiest if you use your hands.

Pour the Italian dressing over the top and mix with a big wooden spoon.

Cover with plastic wrap and refrigerate for at least 2 hours if possible.

Just before serving stir the salad up and taste it. Add more dressing if needed.

Sprinkle with some coarse sea salt and cracked black pepper if desired.
Notes
Storage:
Cover with plastic wrap or put in an airtight container and store in the refrigerator for up to 5 days.
Do not freeze.
Tips
Adding the drained beans to ice water right after cooking them will make them a beautiful bright green. Be sure to strain them out of the ice water and pat dry before continuing with the salad.
Save time by purchasing the prewashed, pretrimmed green beans in the produce section.
Sort through the green beans before cooking and throw away any that are limp or "bendy". They should snap in half when you bend them.
This is SO much better when it has chilled for a couple of hours but you can eat it right away.
Be sure to read the whole post for more tips and variations.
You'll find more helpful tips and variations in the body of the post.
Nutrition Facts
Calories:
190
kcal
|
Carbohydrates:
24
g
|
Protein:
3
g
|
Fat:
10
g
|
Saturated Fat:
1
g
|
Trans Fat:
1
g
|
Sodium:
451
mg
|
Potassium:
562
mg
|
Fiber:
4
g
|
Sugar:
10
g
|
Vitamin A:
778
IU
|
Vitamin C:
31
mg
|
Calcium:
52
mg
|
Iron:
2
mg
Nutrition information is estimated as a courtesy. If using for medical purposes, please verify information using your own nutritional calculator. Percent Daily Values are based on a 2000 calorie diet.
Sign up for the emails and never miss another recipe!!
We'll never share your email or send you spam. Pinkie swear.
First published May 28, 2021. Last updated August 15, 2022 for editorial content.