Grilling season is upon us and with it comes vats of homemade macaroni salad. Make yours stand out from the crowd with this Texas style bbq macaroni salad that's full of spicy barbecue flavor and hearty enough for a vegetarian main dish. I've created this recipe in partnership with Stubbs BBQ and Activate.
For this recipe you'll need: macaroni, mayonnaise, Stubbs Original BBQ sauce, Stubbs Spicy BBQ sauce, cider vinegar, green bell pepper, yellow bell pepper, orange bell pepper, celery, onion, cumin, smoked paprika, sugar, corn kernels (frozen or canned), cooked black beans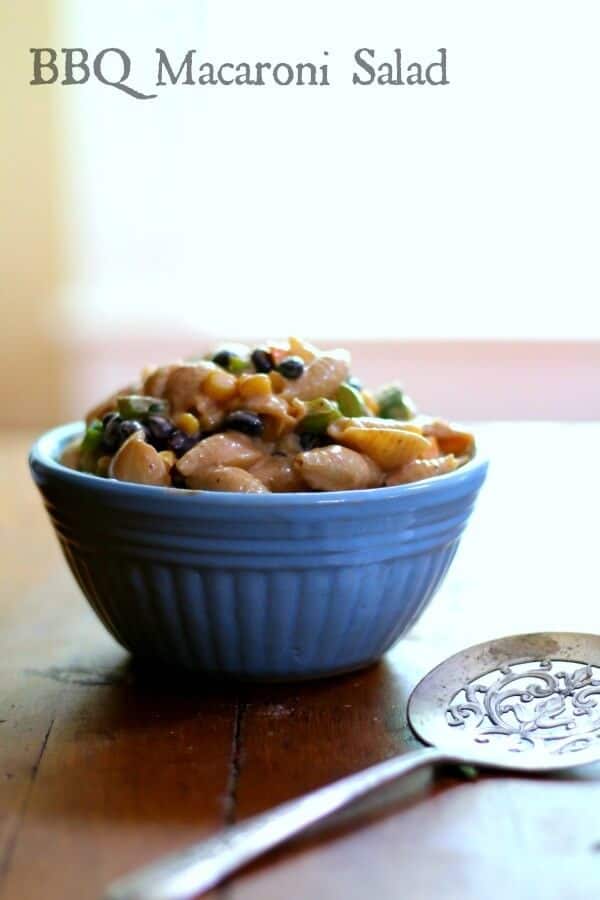 Jump to:
When He Grills...
I don't know about you but I love the days that my husband grills. Not only is the food full of that outdoorsy grilled flavor but it means that I have some extra time to spend on Pinterest (score!).
It's during this time of year that friends and family congregate in my big kitchen or out on the deck to laugh, talk, and just have a good time. There's just nothing like it -- memories are made that will last forever.
Pool Parties and Grilling Circa 1965
When I was growing up my parents were big into grilling and pool parties. I know I've told y'all before. We had a pool with a deck around it that my dad and his friends had built. I remember when it was time to fill up the pool a firetruck came and used the hose to fill it from the fire hydrant because we were friends with someone high up in the fire department. Talk about a memory!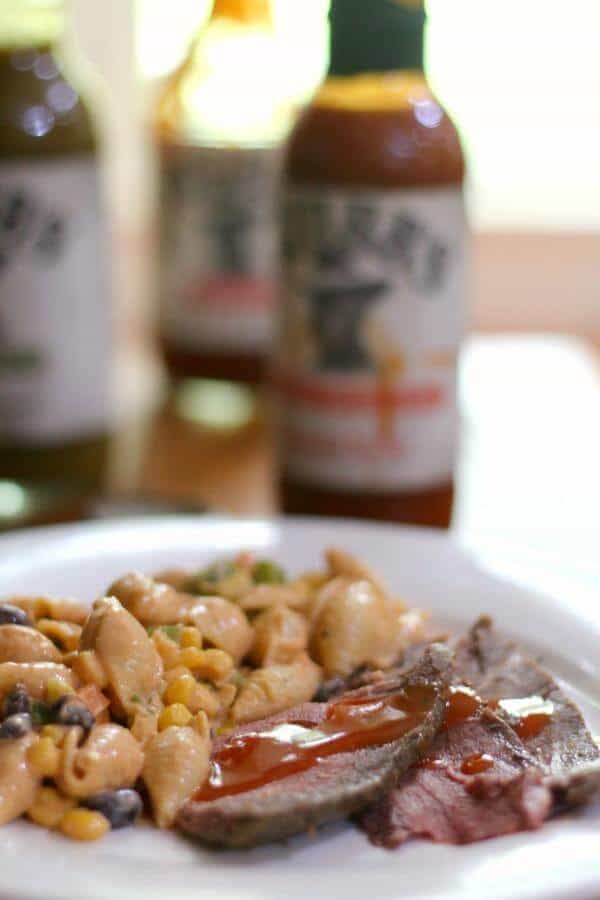 Well, it was the 1960s and weekend parties were a given. Beer would be iced, the grill would be fired up and my mom would make her famous homemade macaroni salad. It was magical.
Making Summer Memories
I don't know if I am making those kinds of magical memories for my kids but I try. I want them to remember their childhoods filled with laughter and the love of family.
I've spent years recreating my mom's macaroni salad but I can never get it quite right. It's yummy but not like I remember it. This year I decided that I was going to try to go rogue and make a bbq macaroni salad that she wouldn't have thought of.
I took her recipe, added some things and subtracted others, and came up with this spicy, creamy bbq macaroni salad that tastes just like Texas in the summer. Smoky, sweet, spicy, tangy goodness wrapped up in one of the most beloved summer dishes ever.
You've got to try it.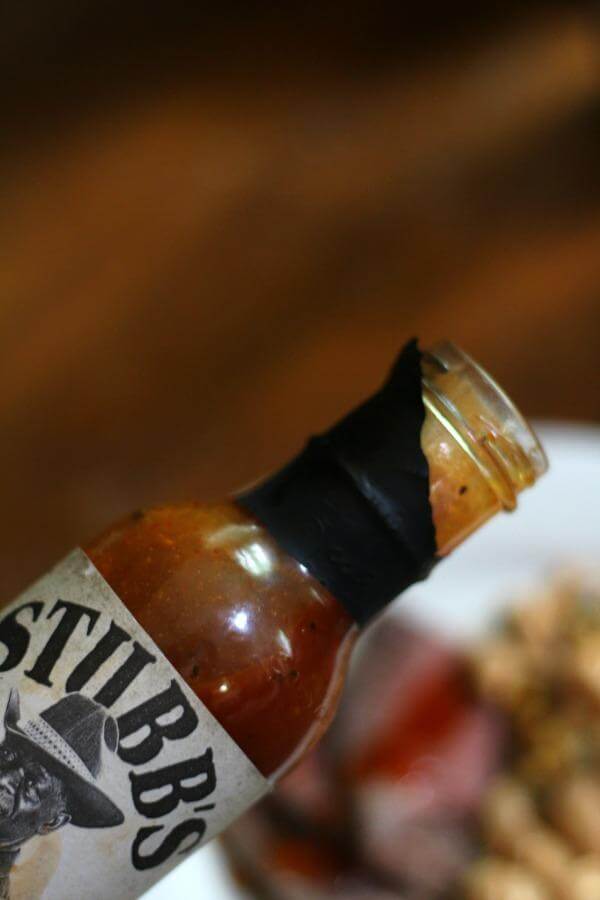 Stubbs BBQ Sauce
Sometimes I make my own barbecue sauce but more often I pick up Stubbs BBQ sauce because not only is it quicker, it is seriously good and I know that they are as committed to high quality ingredients as I am -- you can tell by the flavor.
You know there's a saying that you don't get a silk purse out of a sow's ear and it's certainly true with food. The flavor that you end up with is only as good as the quality you put into it. You're not going to want to hit up farmers' market for the freshest vegetables ever and then toss something on them that isn't just as yummy, are you?
Stubbs makes great flavor & real ingredients for those who know their away around the kitchen or the grill. Because as we all know, great food = the real good life! In fact, their 2016 focus is: Real ingredients. Real goodness.
I didn't think so.
They've got several flavors and I love all of them. Stubbs Original BBQ Sauce, Spicy BBQ Sauce, Green Chile Anytime Sauce (try that over your nachos, y'all), and Texas Sriracha Anytime Sauce were the four that they sent me but I've used most of the others in the past and I haven't found one dud in the bunch.
BBQ Macaroni Salad Tips
Now, let's talk about the bbq macaroni salad.
My mom taught me that in order to really make a good homemade macaroni salad you have to kind of overcook the pasta. Now, I hate overcooked pasta as much as anyone but after a lot of trial and error I had to admit she was right.
The slightly over cooked pasta soaks up more of the flavors in the dressing and just tastes better.
Cook the pasta until it is tender, don't stop at a la dente. Trust me.
Once that pasta is cooked and drained you are going to add the crunchy vegetables, the corn, and the black beans.
The dressing is pretty spicy but you can adjust it by the ratio of Spicy BBQ Sauce and Original BBQ Sauce that you use. And, like most pasta salads, this is best if you make it the day before. Taste before serving and if the macaroni soaked up too much dressing just stir in a little more BBQ sauce.
It's just that easy.
This Texas Style bbq macaroni salad is going to be the star of your summer parties. For more recipes and ideas follow Stubbs BBQ on Pinterest, Facebook, Twitter, and Instagram. And... if you don't already follow me on Pinterest I'd love for you to connect!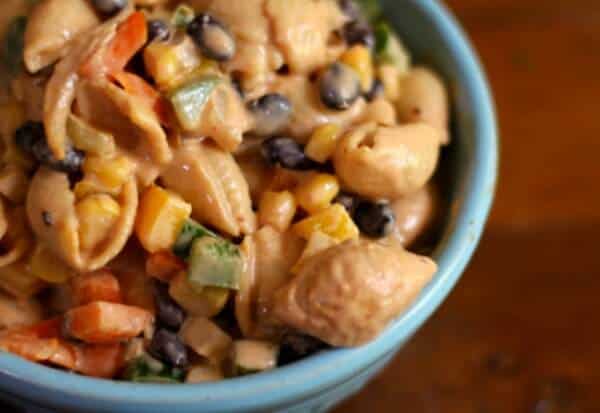 If you're looking for something a little different check out this classic pea, cheese, and bacon salad!
Easy BBQ Macaroni Salad Recipe
I could eat this macaroni salad all day every day! It just gets better and better. Give it a try at your next cookout and see if it doesn't disappear fast!
If you love this recipe please give it 5 stars!
📖 Recipe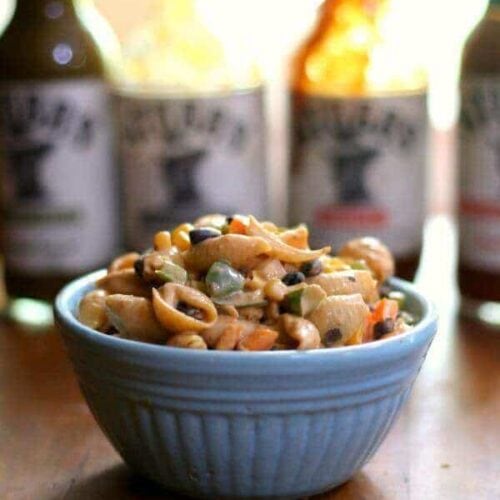 Texas Style Macaroni Salad
Print
Add to Collection
Go to Collections
Tender macaroni is mixed with corn, black beans, onions, and peppers then covered with a tangy, spicy BBQ based dressing.
As an Amazon Associate I earn from qualifying purchases.
Ingredients
16

ounces

macaroni

1

cup

mayonnaise

½

cup

Stubbs Original Barbeque Sauce

¾

cup

Stubbs Spicy Barbecue Sauce

1 ½

teaspoons

cider vinegar

½

teaspoon

cumin

¼

teaspoon

smoked paprika

¼

cup

sugar

2

cups

corn

2

cups

black beans

,

cooked -canned is fine

¾

cup

onion

,

diced

½

cup

green bell pepper

,

diced

½

cup

yellow bell pepper

,

diced

½

cup

orange bell pepper

,

diced

½

cup

celery

,

diced

¼

cup

poblano pepper

,

optional, roasted and diced
Instructions
Cook the macaroni in salted water until tender.

Drain and set aside.

Mix the mayonnaise, both BBQ sauces, vinegar, cumin, smoked paprika, and sugar.

Set aside.

If you happen to be grilling add the corn kernels to a mesh grill roasting pan and grill until some of the kernels start to brown. If you're not, don't worry about it.

Drain the corn and beans if they are canned.

Add the corn, black beans, onion, bell peppers, celery, and poblano if you're using it, to the macaroni in a large bowl.

Spoon the mayonnaise mixture over the top.

Gently stir and fold until the mayonnaise mixture covers everything.

Cover and chill overnight for the best flavor.
Nutrition Facts
Calories:
489
kcal
|
Carbohydrates:
71
g
|
Protein:
11
g
|
Fat:
18
g
|
Saturated Fat:
3
g
|
Cholesterol:
9
mg
|
Sodium:
518
mg
|
Potassium:
460
mg
|
Fiber:
6
g
|
Sugar:
21
g
|
Vitamin A:
510
IU
|
Vitamin C:
35.1
mg
|
Calcium:
37
mg
|
Iron:
1.9
mg
Sign up for the emails and never miss another recipe!!
We'll never share your email or send you spam. Pinkie swear.
If you liked this BBQ Macaroni Salad recipe you might also like...
My Mom's Classic Macaroni Salad
The post is brought to you by Activate by Bloglovin and its advertiser. All opinions are mine alone.