Homemade pickled jalapenos (cowboy candy) are sweet and spicy. They add a kick to burgers, salads, and snacks! SO easy! They should have a spot in your refrigerator at all times!
I'll warn you now—don't get distracted while munching on this tangy treat. Otherwise, you'll eat the entire jar in one sitting!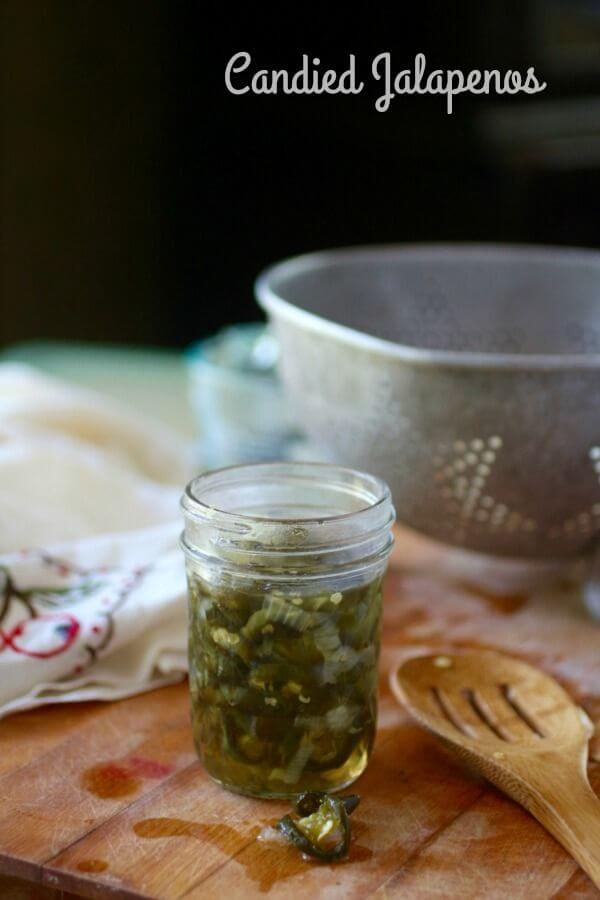 Table of Contents
❤️ Why you'll love it
An addictively perfect combination of spicy and sweet flavor
Jars of cowboy candy made an awesome gift for good friends
The perfect topping for salads, burgers, hot dogs, brats, chili, and more
These candied jalapeños are seriously good, and really easy to make, too.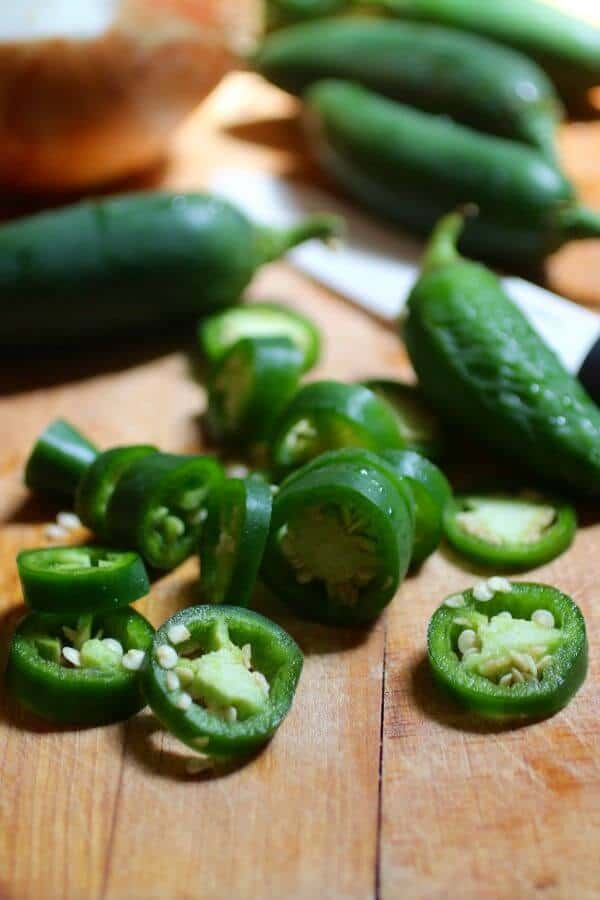 🥫 Storage
A batch of cowboy candy will keep in the refrigerator for a few months. In our house, though, it never makes it that long—and you can bet yours won't either.
Take my advice and make a few mason jars full all at once. Nestle the spicy pepper jars onto a shelf in your refrigerator where they can get cozy with all the other spicy condiments. (Just don't be surprised when everyone reaches for the candied jalapenos, first!)
You can also freeze cowboy candy for up to 3 months if you don't have a ton of refrigerator space. Just be sure to put it in a freezer-safe container, like plastic Tupperware.
To Can, Or Not To Can?
Some cowboy candy recipes instruct you to use a canning method so that you can store the jars at room temperature in a cool, dark place. I find that the recipe method below is the tastiest and easiest way to make candied jalapenos.
However, if you'd like to, use sterile canning jars and a water bath to seal your cowboy candy. Before doing so, read this information on processing times by the National Center for Home Food Preservation to make sure you seal and preserve the jars properly.
📖 Variations
Instead of (or in addition to) the onion, you can use sliced sweet red peppers—a great way to make Christmas-themed cowboy candy! It adds a nice flavor and color component, too.
Feel free to use your favorite variety of onion. White, red, sweet—it really doesn't matter!
If you forgot to pick up some apple cider vinegar, you can substitute another type in its place. Try to use a fruitier variety though, like white wine or champagne vinegar to maintain the subtly sweet undertones in flavor.
💭 Things to know
Expert Tip: The true heat of peppers comes from the oil on the white pith (or membrane). The oil rubs off onto the seeds, too. So, for extra spicy jalapenos, leave the pith and the seeds in the mixture. The end result will feel like your mouth is on fire, but in the good way we love, of course.
For milder peppers, discard the pith and seeds before adding the sliced jalapeños to the boiling syrup.
When picking your peppers, choose firm, fresh jalapenos that don't have any bruising or soft spots. They should look shiny and feel plump!
You can use fresh jalapeño peppers from your own garden or the grocery store. Just don't use peppers from a jar or can!
Don't try to swap the white sugar for an alternate sweetener—it just doesn't work the same way!
Always use gloves when cutting up hot peppers, especially if you have sensitive skin! The oil doesn't wash off super well so jalapenos can sometimes cause a slow, painful burn to develop.
Friendly reminder not to touch your eyes, nose, or mouth with jalapeno oil on your hands!
And, just in case there was any doubt: wash your hands before using the bathroom if you've been cutting hot peppers. Just trust me here!
Be careful when working with the syrup mixture! Not only is it a hot liquid, but it's a sticky hot liquid, so the burn will hurt extra!
Make sure to use a candy thermometer, since they have a hotter range than some kitchen meat thermometers.
Save the leftover syrup for cocktails and sauces. It's essentially a spicy simple syrup that makes amazing jalapeno margaritas!
👩‍🍳 FAQs
Why does this candied jalapeno recipe include vinegar and onion?
Good question! Some recipes just use peppers, sugar, and water, but I think the flavor is too flat that way. The vinegar and onion add a contrast of flavors that prevents the candied peppers from being overly sweet. This way, you get a perfectly sweet, tangy, and spicy combination.
What do you eat cowboy candy with?
Hard question, because it has so many answers! I want to say, "everything," but here are a few of my favorites:

Burgers, hot dogs, chicken, sandwiches, tacos, nachos, potato salad, macaroni salad, and green leaf salads. Cowboy candy is also delicious with cream cheese and crackers, or chopped up and added to a cheese ball or Velveeta queso dip.
Do I have to use the tequila?
Nope, you don't! It adds a nice, complementary flavor to jalapeno recipes, and the actual alcohol content mostly cooks off, but feel free to swap it for an equal amount of water if you'd like.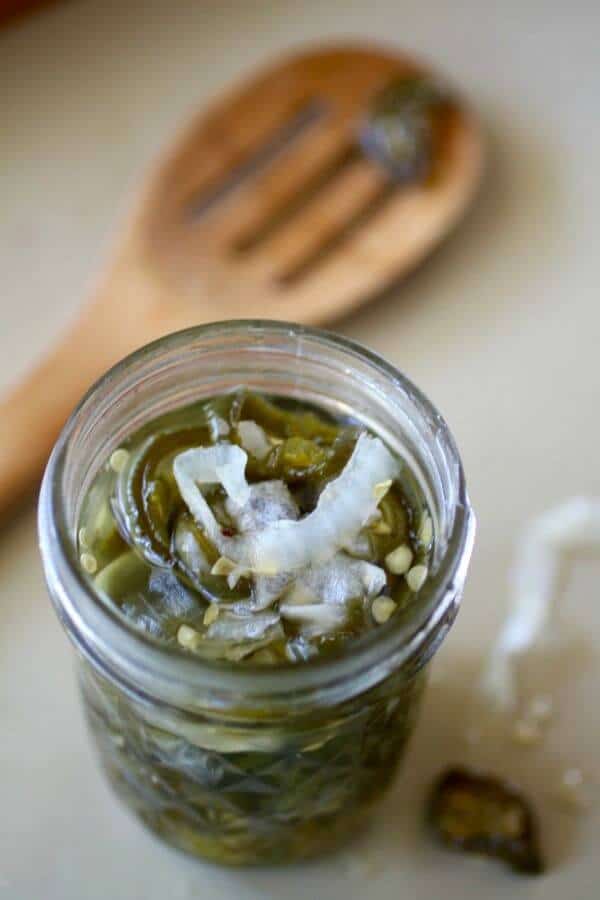 📚 Related recipes
🍽️ Serve with...
📞 The last word
If you click on the number of servings in the recipe card you can adjust the measurements up or down for the exact number of servings you need. Don't forget that you can click on "add to collection" to save it to your own, private recipe box!
If you love this recipe please give it 5 stars! ⭐️⭐️⭐️⭐️⭐️
📖 Recipe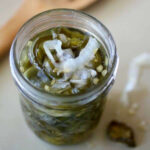 Candied Jalapeno Peppers (Cowboy Candy)
Print
Pin Recipe
Save
Saved!
Homemade pickled jalapenos (cowboy candy) are sweet and spicy. They add a kick to burgers, salads, and snacks! SO easy! They should have a spot in your refrigerator at all times!
Ingredients
8

ounces

jalapenos

,

fresh

¼

cup

onion

,

about 5 thin rings

2

cups

granulated sugar

1

cup

cider vinegar

¼

cup

tequila

,

optional - I used 1800 Gold Reposado
I earn a commission from Instacart from qualifying purchases.
Instructions
Cut the stems off the jalapenos, remove seeds (for milder jalapenos), and slice.

Cut the onion rings in half or fourths depending on the size.

Set aside.

Add the sugar and vinegar to a heavy saucepan.

Bring to a rolling

boil

, stirring constantly until the sugar is dissolved.

Turn the heat down and

simmer

the mixture for 5 to 10 minutes, or until it reduced by about half.

Continue to

simmer

until the temperature reaches about 225F or the syrup thickens when dropped on a cold plate.

Carefully add the tequila, jalapenos, and onion.

Simmer

for about 5 minutes, stirring once in awhile to make sure the syrup isn't scorching. If it seems too thick add a tablespoon or two of water.

Remove the pan from the heat.

With a slotted spoon add the jalapenos to a clean jar.

Carefully ladle in the syrup to cover the jalapenos.

Store tightly covered in the refrigerator for at least 24 hours before using.
Notes
Storage:
Store in the refrigerator for up to a month or freeze for up to 3 months.
Tips:
Sliced sweet red peppers may be added in place of the onion. Or use both.
Wear food safe gloves to protect your hands!
Choose fresh, firm jalapenos with no bruising or soft spots.
Although some people can theirs I prefer to make them and keep them in the refrigerator. If you want to can them be sure to read this info on processing times by the National Center for Home Food Preservation.
Some recipes use just the peppers, sugar, and water. I don't care for those because the flavor is too flat. The vinegar and onion add a nice contrast of flavors that keeps them from being weirdly sweet.
I add onions because I like the color contrast, for Christmas I'll add slices of the small red sweet peppers. That adds both a taste and a color contrast.
You can control the spicy heat to some extent by removing the seeds and membrane before you begin for milder peppers. Leave the seeds in and it's going to be infused with the fires from hell. It's your call.
Save any leftover syrup to use in cocktails and sauces. Ok. Mostly cocktails. 🙂 I love a good pineapple margarita made with a splash of this syrup. I also like it on biscuits but that's another story.
Use gloves! I don't use gloves when I'm working with hot peppers but don't do as I do, do as I say and wear gloves. This is especially important if you have sensitive skin.
Don't rub your nose or eyes, and for goodness sake don't go to the bathroom without washing your hands really well beforehand -- and after, of course. Trust me on this.
You'll find more helpful tips and variations in the body of the post.
Nutrition Facts
Serving:
2
teaspoons
|
Calories:
57
kcal
|
Carbohydrates:
13
g
|
Protein:
1
g
|
Fat:
1
g
|
Saturated Fat:
1
g
|
Sodium:
1
mg
|
Potassium:
25
mg
|
Fiber:
1
g
|
Sugar:
13
g
|
Vitamin A:
76
IU
|
Vitamin C:
8
mg
|
Calcium:
1
mg
|
Iron:
1
mg
Nutrition information is estimated as a courtesy. If using for medical purposes, please verify information using your own nutritional calculator. Percent Daily Values are based on a 2000 calorie diet.
Sign up for the emails and never miss another recipe!!
We'll never share your email or send you spam. Pinkie swear.
First published September 22, 2016. Last updated September 3, 2022 for editorial improvements.