Sweet, tangy, crispy, and spicy, these candied jalapenos are easy to make at home. They're perfect in sandwiches, on cream cheese, and just about anything else you'd like to add them to. No need to can them, they'll stay good tightly covered in the refrigerator for an indefinite period of time. Indefinite because they've never lasted very long here.
For this recipe you'll need: fresh jalapenos, onions, cider vinegar, sugar, and tequila. An instant read thermometer is nice to have.

If you are in a hurry click here to go straight to the candied jalapenos recipe.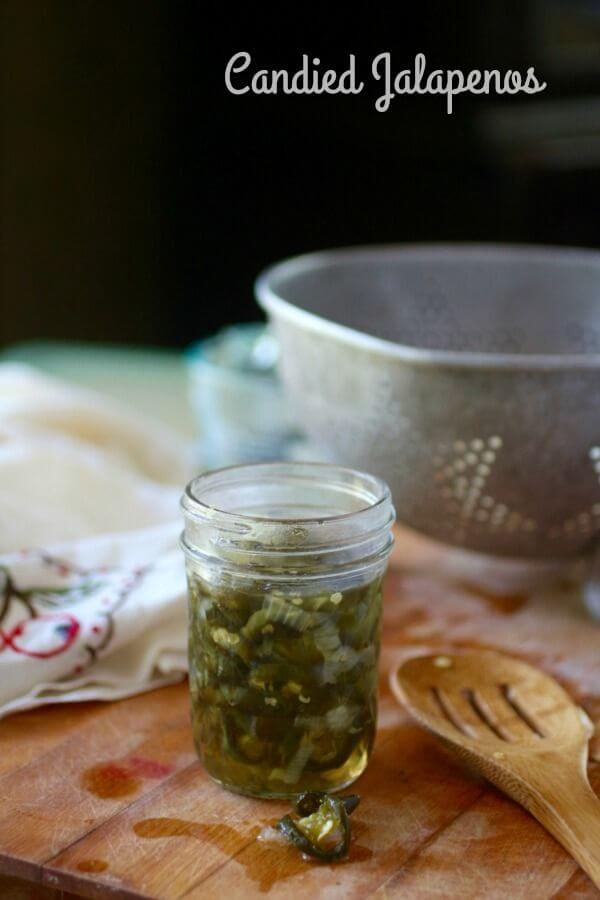 Candied jalapenos, cowboy candy, or whatever you call them are an absolute necessity that you didn't know you needed. They add a kick of flavor to so many different foods that you'll probably be making them often. They are fantastic Christmas gifts, too.
If that isn't enough reason to make them then consider this – I'll be posting a recipe soon and these are one of the ingredients. You don't want to mess up an awesome recipe with inferior candied jalapenos, right?

The Restless Chipotle Channel
I developed this recipe because the commercial candied jalapenos just never taste right to me and the other recipes that I've tried just weren't what I was looking for. After a couple of (thousand) experiments I ended up with a crunchy, crispy, sweet, tangy candied jalapeno with a ton of flavor. The secret?
Tequila.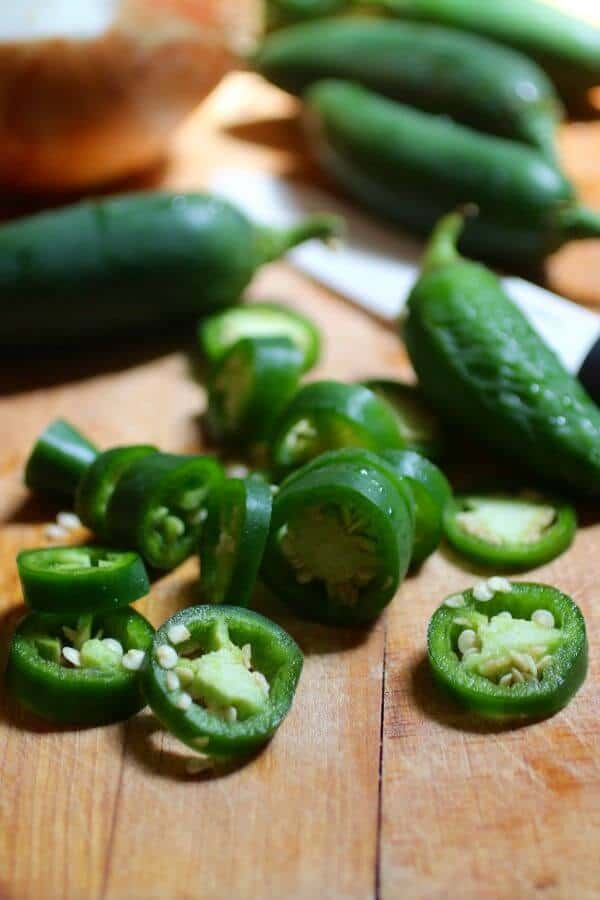 I don't know why but it adds something to the flavor. The alcohol is pretty much cooked off, and these jalapenos don't taste like tequila. They taste like the best cowboy candy you've ever had. I add onions because I like the color contrast, for Christmas I'll add slices of the small red sweet peppers. That adds both a taste and a color contrast.
You can control the spicy heat to some extent by either removing the seeds and membrane before you begin for milder peppers. Leave the seeds in and it's going to be infused with the fires from hell. Save any leftover syrup to use in cocktails and sauces. Ok. Mostly cocktails. 🙂
I don't use gloves when I'm working with jalapenos but don't do as I do, do as I say and wear gloves. This is especially important if you have sensitive skin. Don't rub your nose or eyes, and for goodness sake don't go to the bathroom without washing your hands really well beforehand.
Trust me on this.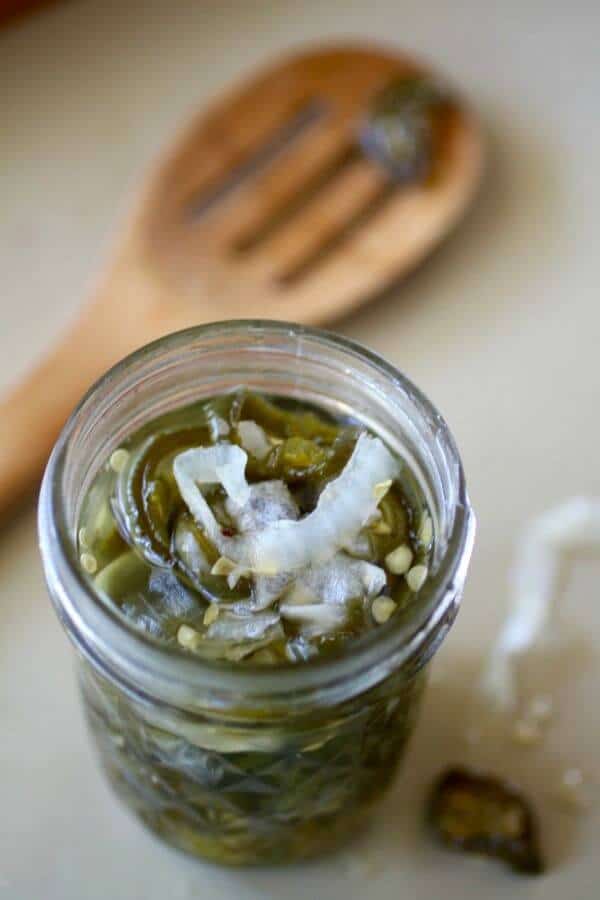 You may need
The following are affiliate links. We are a participant in the Amazon Services LLC Associates Program, an affiliate advertising program designed to provide a means for us to earn fees by linking to Amazon.com and affiliated sites.
Thanks so much for being a part of Restless Chipotle!
I like canning jars for storage of foods like this. The 8-ounce jelly jars are just right for giving as gifts or storing in the fridge. Food safe disposable gloves are exactly what you need to keep from burning your hands when working with hot peppers like jalapenos.
Homemade Candied Jalapenos Recipe
Here's the candied jalapenos recipe. What's your favorite way to eat candied jalapenos? Leave a comment below and let me know!
Print Recipe
Candied Jalapenos: Best Recipe Ever
Spicy, sweet, tangy, and perfect on everything from sandwiches to appetizers, these homemade candied jalapenos should have a spot in your refrigerator!
Ingredients
8

ounces

fresh jalapenos

About 5 thin rings of a fresh onion

2

cups

sugar

1

cup

cider vinegar

1/4

cup

tequila

,

used 1800 Gold Reposado
Instructions
Cut the stems off the jalapenos, remove seeds (for milder jalapenos), and slice.

Cut the onion rings in half or fourths depending on the size.

Set aside.

Add the sugar and vinegar to a heavy saucepan.

Bring to a rolling boil, stirring constantly until the sugar is dissolved.

Turn the heat down and simmer the mixture for 5 to 10 minutes, or until it reduced by about half.

Continue to simmer until the temperature reaches about 225F or the syrup thickens when dropped on a cold plate.

Carefully add the tequila, jalapenos, and onion.

Simmer for about 5 minutes, stirring once in awhile to make sure the syrup isn't scorching. If it seems too thick add a tablespoon or two of water.

Remove the pan from the heat.

With a slotted spoon add the jalapenos to a clean jar.

Carefully ladle in the syrup to cover the jalapenos.

Store tightly covered in the refrigerator for at least 24 hours before using.
Notes
sliced sweet red peppers may be added in place of the onion.
If you liked these candied jalapenos you may also like these Restless Chipotle favorites…
From left to right: Fig and Chipotle Jam, Onion and Bacon Jam, Plum and Lychee Chutney – Click on the image to see the recipe.
Here are some similar recipes from a couple of my favorite bloggers.
Refrigerator Dill Pickles Self Proclaimed Foodie
Spicy Pickled Pineapple Running to the Kitchen
Part of these roundups
Meal Plan Monday #73