Easy honey garlic meatballs recipe is baked with a sweet-tangy-spicy sauce that forms a sticky glaze. Surprisingly quick to make for a busy weeknight meal and it works as well for family dinners as it does for appetizers. Oven and Crockpot recipe instructions included.
Give this meatball stroganoff a try next!
First Published: December 11, 2017... Last Updated: March 5, 2020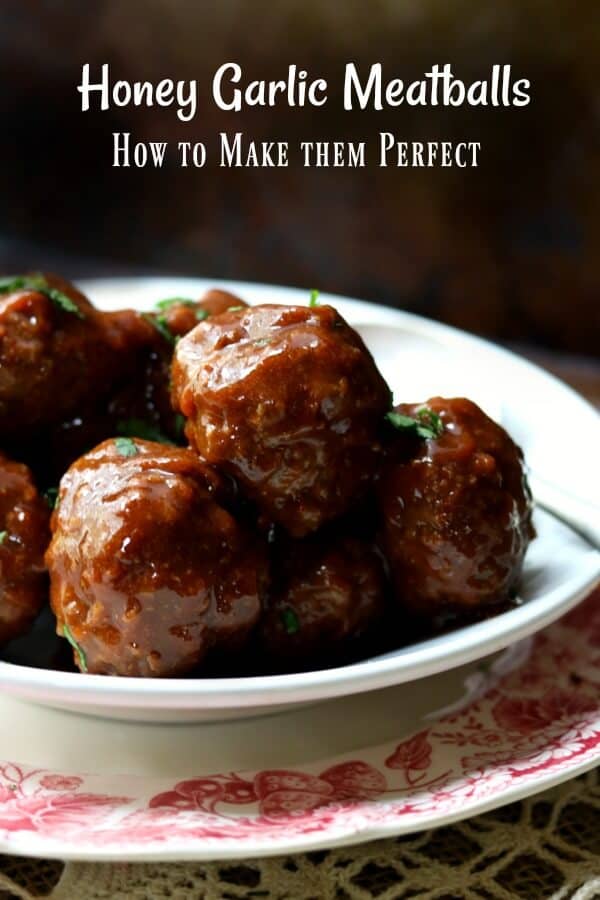 Jump to:
Ingredients
Ingredients for this recipe: 93/7 ground beef (93% lean to 7% fat), fresh breadcrumbs, onion, salt, pepper, eggs, catsup, honey or brown sugar, soy sauce, garlic, jalapeno (optional)
Although I usually associate meatballs with spaghetti I find myself making this honey garlic meatball recipe more often.
The flavor absolutely does an Irish jig over your tastebuds. The sauce creates a thick glaze on the meatballs that really enhances the beefy flavors. I like to add a little finely chopped jalapeno to give it that zing that I love so much but you can leave it out if you want to.
My Mom's Recipe Was Legendary
For much of my life meatballs were our Christmas Eve dinner. Mom made her meatball recipe in one of those newfangled electric frying pans with a crockery insert. It is avocado green and I say "is" because I still have it and use it once in awhile.
Anyway, those little spheres of ground beef would simmer away and the house would fill with a sweet-tangy smell that always made my tummy gurgle appreciatively. She'd serve them with buttered rice, a salad, and Christmas cookies for dessert.
When I grew up and moved out we started having all holidays at my house with me doing the cooking - Mom preferred to garden or clean or do about anything rather than cook. Still, Christmas Eve was always at her house and it always included meatballs.
Make-ahead
I like to make them ahead of time in a big batch, leaving the sauce off, and keep them in the freezer. My meatball recipe has so much more flavor and fewer weird ingredients than the commercial ones.
You could use the frozen meatballs from the store if you wanted to, though.
Tips
When I make meatballs I undercook them slightly. Here's why...
If I am going to freeze them for heating up later I'll cook them to an interior temperature of 150F before flash freezing. This way, when the meatballs are being warmed up they finish cooking and don't overcook.
If I am cooking them to eat immediately I cook them to 155F and let them sit on the counter for 5 minutes or so while I finish dinner prep.
During that time the temperature continues to rise until it's at a perfect 160F and the meatballs are not tough or overcooked. In this recipe, the meatballs are going to simmer a few minutes in the sauce so they'll finish cooking then.
Tips
Although some people feel that fattier meats yield a more tender meatball (80/20) I prefer leaner meats. Try both and see which you like better.
Some people mix ground meats - beef, pork, veal, lamb. I prefer just beef.
As a general rule 1 teaspoon of salt per pound of meat is about right.
Keep your ingredients icy cold when mixing and forming the meatballs.
Gently mix with your hands. It just works better.
Rub a little olive oil on your hands to keep the meatball mixture from sticking.
Cook a little of your mixture before forming the meatballs and taste it for seasoning. Add more salt as needed.
Don't pack them together like snowballs. Gently form the meatball so that it's as loose as possible without falling apart.
This easy meatball recipe is great for appetizers - just make them smaller.
Undercook slightly and let them stand for 5 minutes or so before serving.
Make a big batch and flash freeze them when they are almost cooked. Once frozen move them to freezer containers. You'll have meatballs anytime you want them for a fraction of the cost of the commercial kind -and without the weird stuff.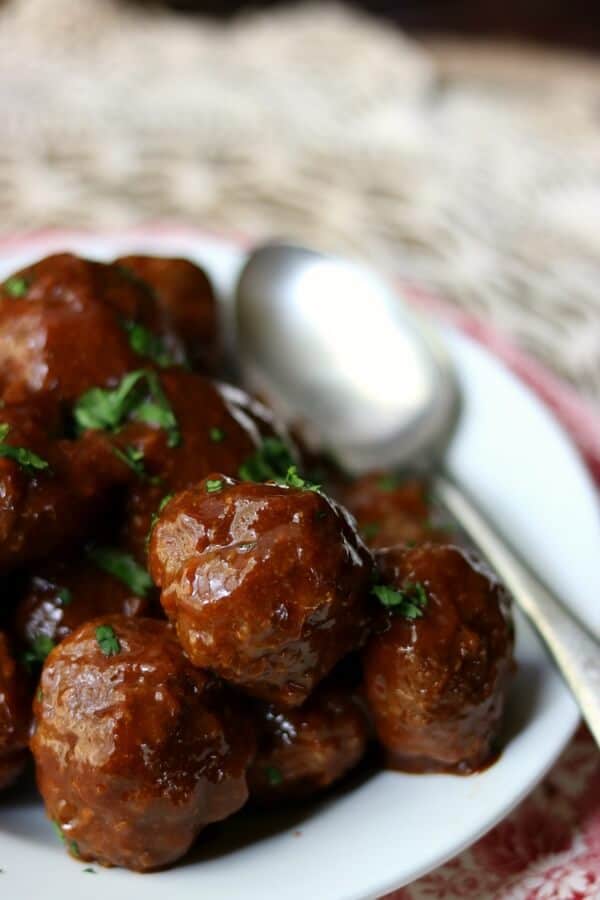 Related recipes
I don't know about you but I need a collection of quick weeknight dinners for those days. You know what I'm talking about. Man does not live by easy meatball recipes, alone - am I right?
Here are some of my favorite busy night dinners. I think you'll love them, too.
Slow cooker instructions
I realize that some of y'all will want to make these honey garlic meatballs in the slow cooker. It can be done but the one thing I don't like about it is that the sauce can break and get a little watery. I'd suggest making an extra batch of sauce to have on hand just in case that happens.
It's also very important, if you're going to use a slow cooker, to use the leanest beef possible. You don't want fat floating around on top of the sauce!
To make this easy meatball recipe even easier in your crockpot make the sauce as instructed in the recipe and place half of it in the bottom of the slow cooker. Add your uncooked meatballs and then add the rest of the sauce on top. Cover and cook on low about 4 to 6 hours.
Equipment
The following are affiliate links. We are a participant in the Amazon Services LLC Associates Program, an affiliate advertising program designed to provide a means for us to earn fees by linking to Amazon.com and affiliated sites.
What's new? Check out my Restless Chipotle & Co. Store on Amazon where you'll find all kinds of nostalgic goodness! Thanks so much for being a part of Restless Chipotle!
Thanks so much for being a part of Restless Chipotle!
This meatball maker comes in two sizes - one for dinner size meatballs and one for appetizer meatballs. It helps to keep the meatballs uniform in size - which means you won't have any over or under baked meatballs!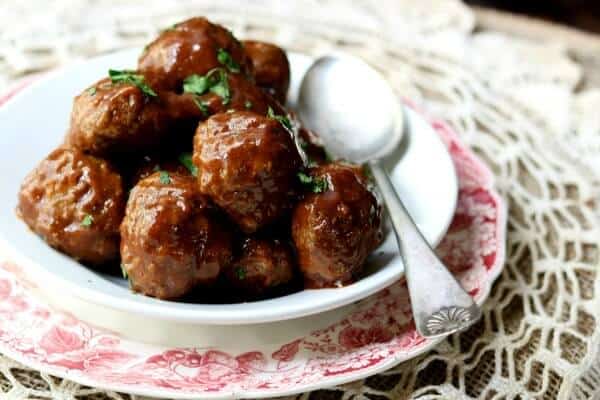 This easy meatball recipe is a keeper!
I use it often when I have to take a meal to someone at church or a potluck of some sort. Everyone loves them and asks for the recipe.
Make them smaller for appetizers - I like to stick them on cocktail skewers with a candied jalapeno on top.
If you like this recipe please consider giving it a five star rating.
📖 Recipe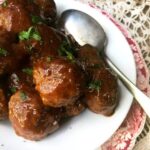 Honey Garlic Meatballs
Print
Add to Collection
Go to Collections
Tangy-sweet glaze with just a touch of heat from optional jalapeños covers tender meatballs. SO easy to make and they are great for family dinners or appetizers, depending on how big you make them. Beginner recipe
As an Amazon Associate I earn from qualifying purchases.
Ingredients
Meatballs
2

eggs

¾

cup

milk

1

cup

bread crumbs

½

cup

onion

,

, finely chopped or grated

2

teaspoons

salt

½

teaspoon

pepper

2

pounds

ground beef

,

, or a mix of ground meat such as pork, lamb, veal, etc
Honey Garlic Glaze
2

tablespoons

garlic

,

minced

1

tablespoon

butter

¾

cup

ketchup

½

cup

honey

3

tablespoons

soy sauce

1

jalapeno

,

optional
Instructions
Meatballs
In a large bowl, combine eggs and milk.

Add the bread crumbs, onion and salt.

Mix the beef in with your hands until it is completely mixed in.

Gently shape into balls - larger for dinner servings 1-inch or so for appetizer servings.

Place in a parchment lined baking sheet with sides.

Bake, uncovered, at 400° for 12 minutes or until meat registers 155F on an insta-read thermometer.

Remove from the oven and set aside.
Honey Garlic Glaze
In a heavy skillet, saute garlic and jalapeno in butter over medium heat until tender - do not let the garlic get brown.

Stir in the ketchup, honey and soy sauce.

Bring to a boil.

Simmer for about 5 minutes, stirring occasionally.

Add the meatballs to the sauce.

Carefully stir to evenly coat.

Simmer for 10 minutes more.
Notes
If you're picky about onions grate them rather than finely chopping to ensure they get cooked through. This recipe makes about 24 appetizer servings or 6 dinner size servings depending on the size of the meatballs. Nutritional info is for the dinner sized servings.
Nutrition Facts
Calories:
646
kcal
|
Carbohydrates:
48
g
|
Protein:
32
g
|
Fat:
35
g
|
Saturated Fat:
14
g
|
Cholesterol:
169
mg
|
Sodium:
1835
mg
|
Potassium:
662
mg
|
Fiber:
1
g
|
Sugar:
33
g
|
Vitamin A:
365
IU
|
Vitamin C:
5.9
mg
|
Calcium:
119
mg
|
Iron:
4.6
mg
Sign up for the emails and never miss another recipe!!
We'll never share your email or send you spam. Pinkie swear.