No need to pre-cook when you use this easy crockpot meatballs recipe! By using lean ground beef and your slow cooker you only have to make the mixture, form the meatballs, and drop them in you slow cooker. These will NOT fall apart! Your life just got SO much easier. These Italian seasoned meatballs are perfect for meatballs sandwiches or spaghetti – any dish where you'd like to use meatballs.
For this recipe you'll need: at least 90% lean ground beef, 93% or 98% is actually better, fresh bread crumbs, Parmesan cheese (the kind in the big, green container – not fresh) Kosher salt, freshly ground black pepper, dried oregano, Italian seasoning, crushed red pepper, garlic powder, onion powder, marinara sauce – homemade or store bought, sourdough hoagie rolls, cheese
Jump to Recipe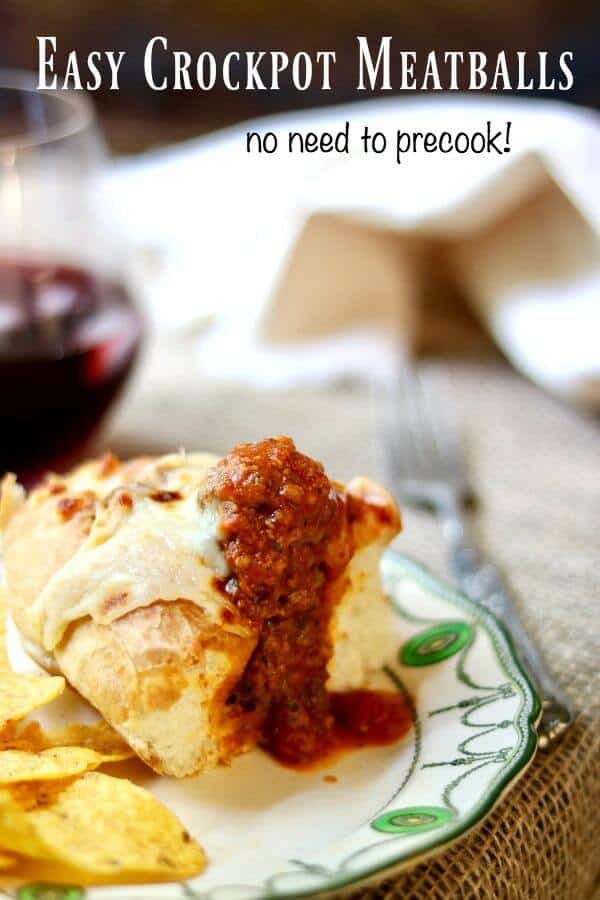 There's no way I want to cook in the summertime.
I mean, when it's 110F outside and the oven is not getting switched on – no way, no how, no time. I've developed my very own intense ability to produce heat in the last year and I don't need help, thank you very much.
We've really had a super cool spring – weird considering the warm winter – so I may not get to the omi-gawd-im-not-heating-the-kitchen-up-eat-a-dang-sandwich point as early as I usually do. In fact, today it's rather chilly for me.
I do love a slow cooker, crock pot, magical kitchen appliance — whatever you want to call it. I mean, you throw raw stuff in there in the morning and at night? BOOM, you have a meal. And it works great for most things but I haven't liked meatballs in the slow cooker much.
Well, until now.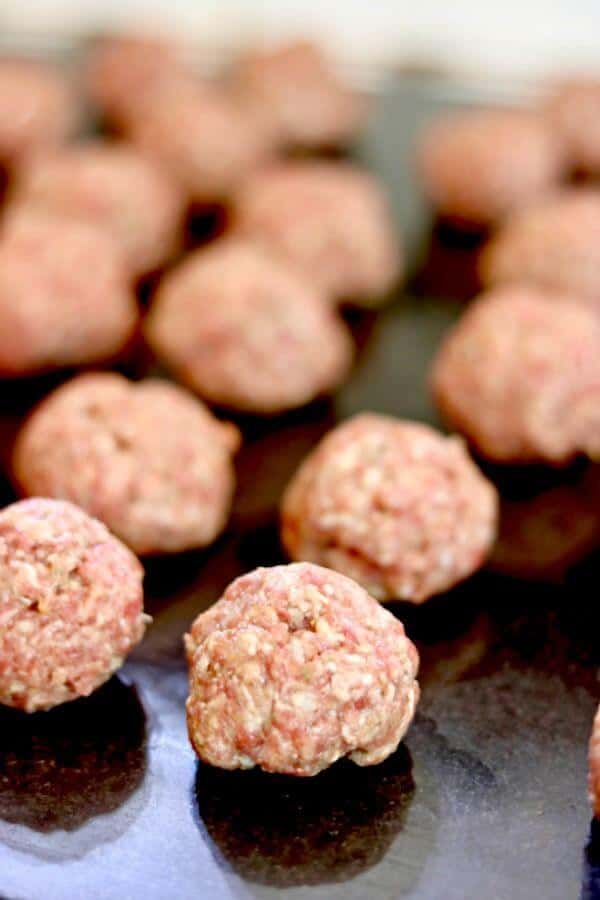 If you put the meatballs in uncooked they'd fall apart but if you put them in cooked they'd just get dry. What's a mom to do? Well this mom decided to figure out how to make it work.
It's the balance of ingredients and the amount of sauce that you cook them in. I came up with these easy crockpot meatballs that are tender, juicy, and don't fall apart. They work in everything but I especially like them in meatball sandwiches with a thick layer of melty, gooey cheese on top. The combination of sourdough bread with a crispy, flaky crust and those buttery tender meatballs oozing in marinara that's soaking into the bread, and then the melty-gooey-stringy-when-you-bite-into-it cheese on the top?
It's decadent. Luxurious. Oh so delicious!
You can make a huge batch of the meat mixture and form it into balls then flash freeze them and put them in a freezer container or bag. You don't even really need to thaw them – just dump the amount that you need into the sauce and slow cook for 8 to 10 hours. If they aren't frozen 4 to 6 hours is about right. Just poke one of them with an instaread thermometer and make sure they're 165F in the center.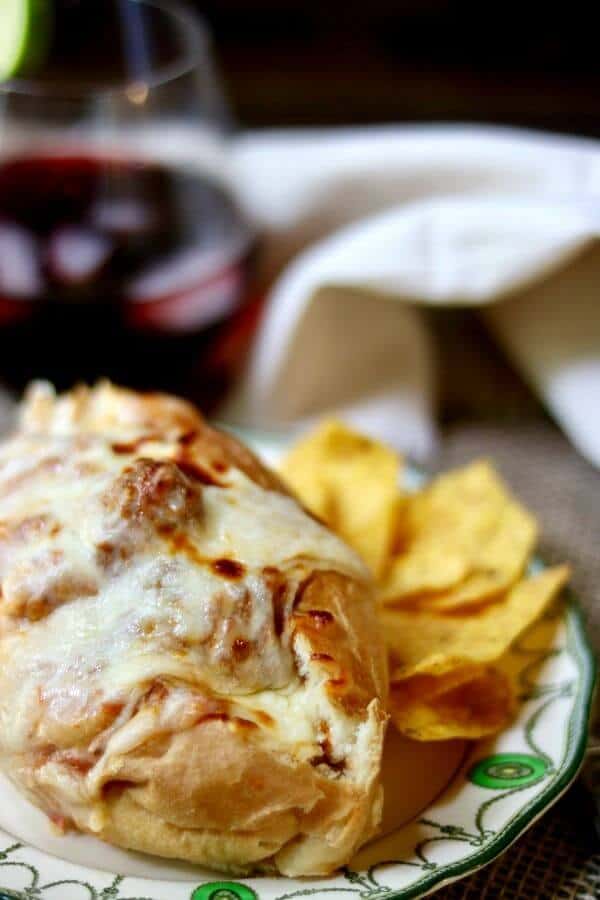 Tips for Easy Crockpot Meatballs
Cook on low never on high. The meatballs are likely to fall apart on high.
Use a VERY lean ground beef. If there's a secret to making these that's it. The more fat that's in the beef the more fat will be in your sauce and the meatballs will be more likely to fall apart. Plus a thick layer of grease at the top of your sauce is kind of gross.
Don't add onion or vegetables to these. Too much moisture. Use onion powder and garlic powder.
Don't add too much sauce – you can always add more before serving.
For sandwiches be sure to heat the bread up to get the crust nice and crispy.
This quick homemade baguette makes great hoagie rolls!
No need to precook these easy crockpot meatballs! They don't fall apart! Perfect for summer meals.
Click To Tweet
You May Need
The following are affiliate links. We are a participant in the Amazon Services LLC Associates Program, an affiliate advertising program designed to provide a means for us to earn fees by linking to Amazon.com and affiliated sites.!
If you need a slow cooker this is a great one and at the time I write this (May 2017) it's on sale for about half price!

Easy Slow Cooker Meatballs Recipe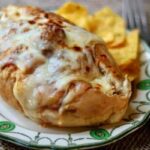 Easy Crockpot Meatballs
Print
Add to Collection
Go to Collections
Tender, buttery meatballs slow cooked in marinara are perfect for meatball sandwiches or spaghetti.
Total Time
6
hours
5
minutes
As an Amazon Associate I earn from qualifying purchases.
Ingredients
1 1/2

pounds

ground beef

,

, 90% lean 98% lean is better

3/4

cup

breadcrumbs

,

, fresh

1/2

cup

parmesan cheese

,

, grated (the kind on the shelf, not fresh)

1 -1/2

teaspoons

garlic

,

, dried

1

teaspoon

onion powder

1/2

teaspoon

crushed red pepper

1/2

teaspoon

salt

1/4

teaspoon

ground black pepper

1

egg

,

, beaten

2

cups

marinara

,

, or favorite pasta sauce
Instructions
Mix all of the ingredients except the marinara together in a large bowl with your hands to be sure the seasonings are evenly distributed.

Form into 16 to 24 meatballs.

You may stop and freeze at this point.

When ready to cook add the marinara to a slow cooker.

Add the meatballs and spoon some of the marinara over the top.

Cook on low 4 to 6 hours (if thawed) or 6 to 8 hours (if frozen)

Add to heated sourdough hoagie rolls and top with Mozzarella or Provolone.

Broil for a minute or three, or until the cheese melts and bubbles.
Nutrition
Calories:
304
kcal
|
Carbohydrates:
11
g
|
Protein:
19
g
|
Fat:
19
g
|
Saturated Fat:
7
g
|
Cholesterol:
85
mg
|
Sodium:
707
mg
|
Potassium:
465
mg
|
Fiber:
1
g
|
Sugar:
3
g
|
Vitamin A:
7.6
%
|
Vitamin C:
5.2
%
|
Calcium:
11.9
%
|
Iron:
16.2
%
Tried this recipe?
Tag me!! @Marye_RestlessChipotle
If you liked these easy meatballs in a crockpot you may also like…
From left to right: slow cooker white chicken chili, pozole verde, shredded pork tacos with mango salsa
HERE ARE SOME SIMILAR RECIPES FROM A COUPLE OF MY FAVORITE BLOGGERS.
Crockpot Grape Jelly and BBQ Meatballs I Heart Naptime
Fiesta Ranch Chicken Chef in Training
This recipe is part of Meal Plan Monday #95 – head over there and check out the great recipes!
Let's Keep in Touch!