Homemade baguette is quick and easy with just 5 ingredients – and you can have it on the table in under 30 minutes! Crusty French bread recipe cuts out the pesky wait time. Never made it before? I've got you covered with tips (like how to get that crispy crust!) and easy instructions.
If you've never worked with yeast dough before I suggest reading my complete guide to working with yeast doughs before you start this recipe. It has a ton of information that will make you an experienced baker in no time!
First Published: September 2013… Last Updated: May 16, 2019
For this recipe you'll need: active dry yeast, sugar, salt, all-purpose flour, cornmeal, water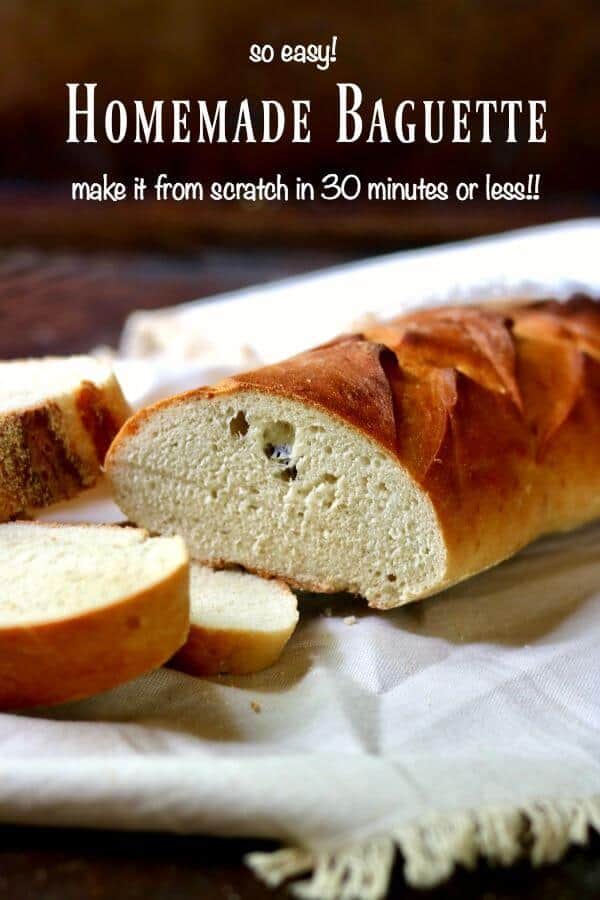 Easy Baguette Recipe? You're Kidding.
What's a plate of spaghetti and meatballs without a loaf of crispy French bread – the crust crumbling on the table with each bite? There's nothing like a homemade baguette to make any meal special but if you're anything like me you usually can't squeeze in the time to do.
Or, also me – you forget about it until you're putting the pasta in the boiling water…
Well now you can! These easy baguettes are totally finished in less than an hour. In fact, once you've made them once or twice you'll be able to toss them together and bake them in about 30 minutes!
I am not lying. Homemade, from scratch (non of that semi-homemade stuff) baguettes that you can make start to finish in about 30 minutes.
My 30 Minute Homemade Baguette Experience
I was short on fillers for dinner and decided to make garlic bread. There was just one problem — no baguette.
You know what dinner filler is, right?. It's the cheap stuff you use to fill up teenagers after they have consumed everything else in the neighborhood on the table. For my family that means bread, rolls, biscuits, muffins, and anything else that will keep my boys from eyeing the dogs hungrily.
I started getting out the ingredients as my husband pulled out of the driveway to go pick the kids up from school. That's usually about a 40 minute adventure. Thank you crazy lady in the pick-up line.
Believe it or not I pulled out the ingredients and by the time the kids burst through the door the finished homemade baguette was cooling on the counter and the house smelled great. Actually baguettes were cooling on the counter and the house smelled amazing.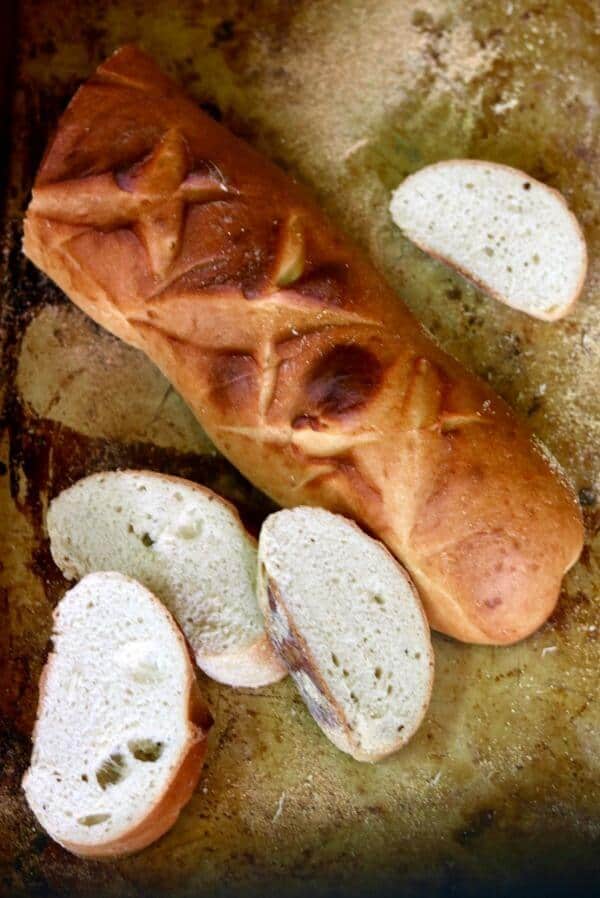 What Is a Baguette Anyway?
Most of us in the United States eat the soft loaves of bread like this buttermilk bread. Different cultures have developed different types of bread with unique shapes and textures.
So, a French baguette is a long, rounded loaf of bread that has a chewy crumb and a crispy crust.
Traditionally they are about 2-inches in diameter and 2 feet long. The most authentic baguettes contain only flour, yeast, water, and salt.
It's a basic loaf of bread that is perfect for SO many things!
More Great Homemade Bread Recipes
There's nothing like a warm, homemade loaf of bread! Here are some of my favorite recipes.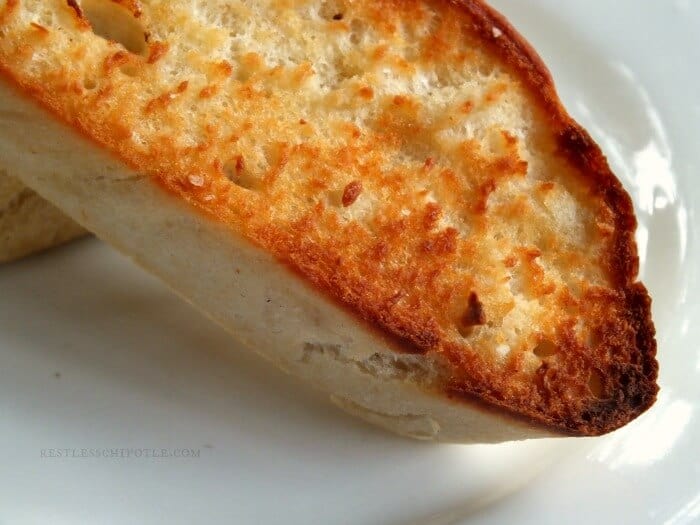 Tips for Making Homemade French Bread
French bread isn't hard to make at all. Here are some tips for success with this simple baguette recipe!
Use fresh ingredients – the best you can afford. When the ingredient list is simple like this one you need good ingredients.
If you consistently have trouble getting the yeast to work try using bottled spring water – there may be something in your water that's not harmful to you but the yeast doesn't like.
Throwing the water on the floor of a hot oven creates a ton of steam – this gives the bread its classic texture. Be careful though, you don't want steam burns!
Kosher salt is used in this recipe.
When you score the top use a very sharp knife and cut it on a 45 degree angle. This helps it to rise properly.
What to Do with a Baguette
French bread style pizza – just cut the loaf in half longways and add toppings to the cut sides of each half. Bake at 375F until the cheese melts and bubbles
Croutons – don't throw away stale bread! Cut into cubes and toss in melted butter to coat then bake at 350F for 15 minutes
Use for hoagies and other sandwiches
Panzanella is an Italian salad made with a generous amount of cubed baguette
French toast
Appetizers like bruschetta
Breadcrumbs
Bread pudding
Homemade Baguette FAQs
How do you make soft baguettes?
Cover the baguettes with a towel as they are cooling and skip the step where you add steam to the oven.
How do you roll a homemade baguette?
Start with your hands in the middle of the loaf and gradually move them to the outer edge of the baguette as you roll back and forth. Use the palms of your hand to gently roll the dough into a long, thick rope – it's kind of like rolling play-do.
How do you soften a stale baguette?
Wrap it in a damp towel and place it on a baking sheet. Add it to a 375F oven for 10 minutes.
Can you freeze fresh baguettes?
Yes you can! I like to slice them and put a square of parchment paper between each slice then wrap the whole loaf tightly. I seal mine in my vacuum sealer but don't let it remove all the air – you'll want to watch carefully. You can freeze for up to 3 months.
Can you freeze unbaked baguettes?
Yes – but this recipe is so quick and easy there's no need to. If you are going to freeze it shape it and freeze immediately. When you want to bake it you'll need to thaw it overnight in the refrigerator and then let it rise a little before baking as directed. Again, this is so quick and easy that you could be finished with the whole thing and have the kitchen cleaned up in the time it took you to do this.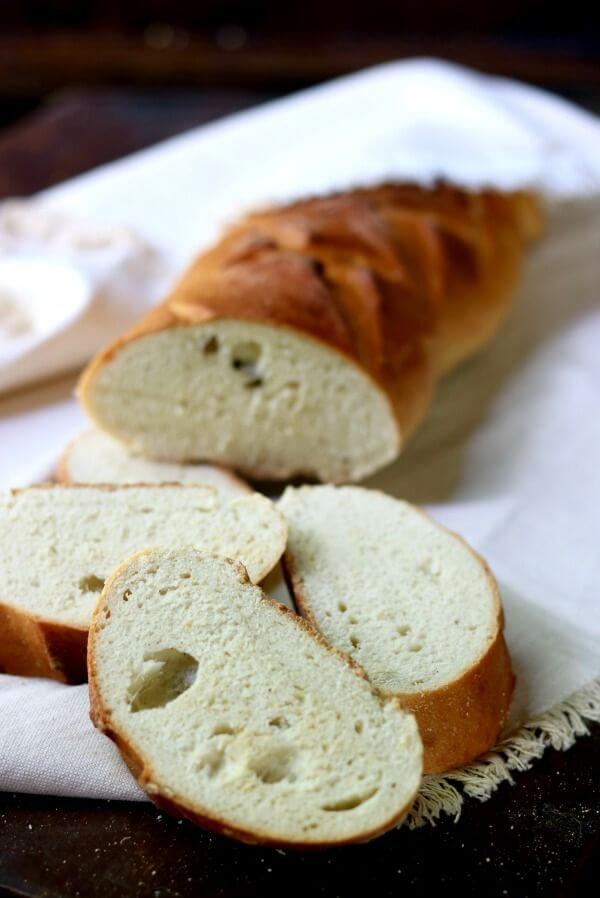 You May Need
The following are affiliate links. We are a participant in the Amazon Services LLC Associates Program, an affiliate advertising program designed to provide a means for us to earn fees by linking to Amazon.com and affiliated sites.
What's new? Check out my Restless Chipotle & Co. Store on Amazon where you'll find all kinds of nostalgic goodness! Thanks so much for being a part of Restless Chipotle!
Yeast can be expensive if you make a lot of bread. I like buying Red Star yeast in bulk on Amazon. It lasts a long time if you refrigerate it and I love the quality of Red Star (they did not pay me to say that!) Baking the dough on coarse ground cornmeal gives the crust a more authentic texture and flavor, in my opinion.
30 Minute Homemade Baguette Recipe
You'll love this simple baguette recipe! It just takes 30 minutes – the inside is chewy, the crust is crispy, and people will wonder how in the world you manage to do all that you do. It'll be our secret.
If you happen to live in a high altitude you'll want to read this information on how to adjust for high altitude baking.
If you love this recipe please give it 5 stars!
Quick and Easy Homemade Baguette
Print
Add to Collection
Go to Collections
Chewy, crusty baguettes that you can make in under 45 minutes. Perfect for sandwiches, garlic bread, or sopping up pasta sauce.
As an Amazon Associate I earn from qualifying purchases.
Ingredients
2

cups

water

,

110F, comfortably warm

1

packet

active dry yeast

2

tablespoons

sugar

1 1/2

teaspoons

salt

3

cups

all-purpose flour

,

may need more but dough should be sticky

coarse cornmeal for dusting the pan
Instructions
Start preheating the oven to 425F before you even take the ingredients out of the pantry.

Put the 110F water, yeast, and sugar in the bowl of your mixer.

Mix briefly, just until blended.

Set in a warm place for 10 minutes.

After ten minutes stir in the salt and 1 cup of the flour.

Using the dough hook mix on medium speed for about 2 minutes.

Add the rest of the flour, 1/2 cup at a time until you have a soft dough.

Knead for about 5 minutes until the dough is no longer sticky and dough is elastic.

Form the dough into 2 or 3 long loaves on a heavy cookie sheet dusted with coarse cornmeal.

Use a sharp knife to score (slice shallow gashes) in the top of the bread.

Allow the loaves to rise for ten minutes in a warm place if there is time. If not – just go straight to the next step.

Fill a 1 cup measure with ice and cold water

Put the loaves into the preheated oven and toss the ice on the oven floor.

Close the door quickly and don't open it until you are ready to take the bread out of the oven, 15 to 20 minutes later.

Cool slightly before cutting.
Notes
Making this bread into 2 loaves makes it more like a thicker Italian loaf. If you want a thinner, crunchier loaf then divide the dough into 3 or 4 parts.
Nutrition
Calories:
61
kcal
|
Carbohydrates:
13
g
|
Protein:
2
g
|
Fat:
1
g
|
Saturated Fat:
1
g
|
Sodium:
147
mg
|
Potassium:
17
mg
|
Fiber:
1
g
|
Sugar:
1
g
|
Calcium:
3
mg
|
Iron:
0.7
mg
Sign up for the emails and never miss another recipe!!
We'll never share your email or send you spam. Pinkie swear.