This easy, crusty, homemade baguette has just 5 ingredients and you can make it in under 30 minutes! The house will smell like a French bakery – totally amazing. This recipe and some images have been updated from the original published in September 2013.
For this recipe you'll need: active dry yeast, sugar, salt, all purpose flour, cornmeal, water
Jump to Recipe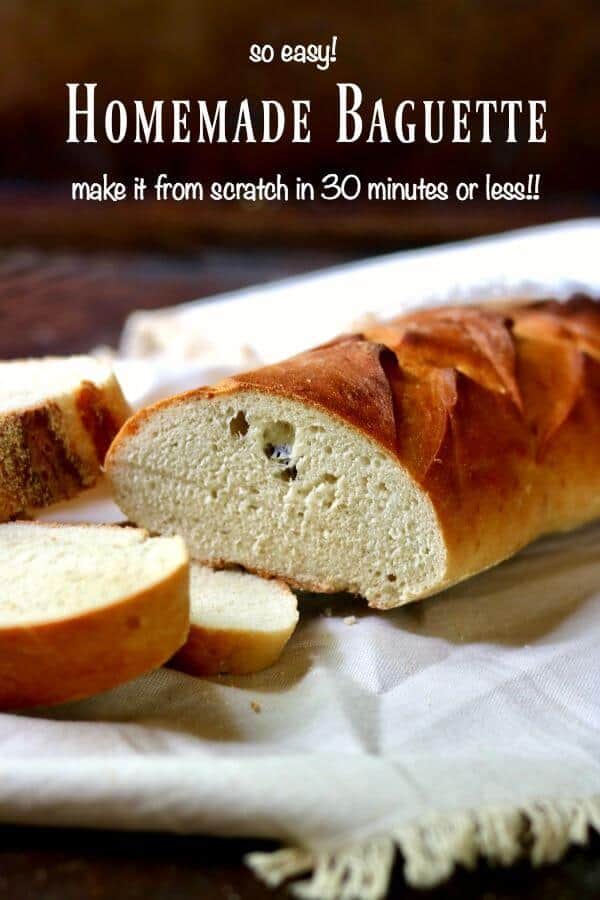 The Restless Chipotle Channel
There's nothing like a homemade baguette to make any meal special but if you're anything like me you just can't squeeze in the time to do it in your busy day.
Well now you can! These easy baguettes are finished in less than an hour and once you've made them once or twice you'll be able to toss them together and bake them in about 30 minutes! I am not lying. Homemade, from scratch (non of that semi-homemade stuff) baguettes that you can make start to finish in about 30 minutes.
I didn't believe it but I was short on fillers for dinner and decided to make garlic bread. There was just one problem — no baguette. You know what dinner filler is. It's the cheap stuff you use to fill up teenagers after they have consumed everything else on the table. For my family that means bread, rolls, biscuits, muffins, and anything else that will keep my boys from eyeing the dogs hungrily.
Anyway, I did a search and found this recipe on Babble. I was skeptical but decided to give it a try. I started getting out the ingredients as my husband pulled out of the driveway to go pick the kids up from school. That's usually about a 40 minute adventure.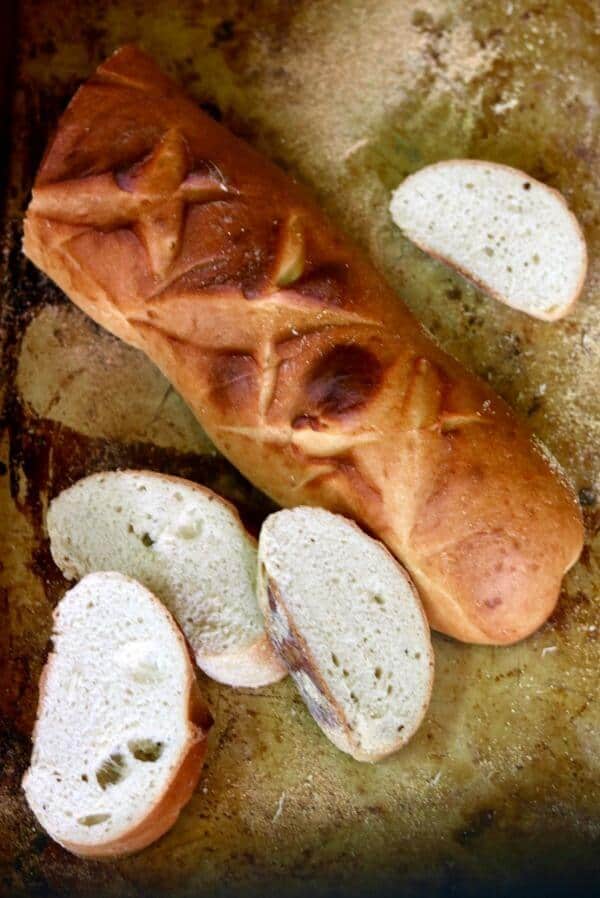 Let's Talk Adventure
You know what I mean when I say adventure, right?
The kids are all enrolled in a small, charter school in the next town over. Our public school system in this town is so bad that the state took it over a few years ago because of misappropriation of funds. It is awful but private school is just not an option. Well, we have charter schools — schools that are sort of a hybrid between private and public that are free to attend and they don't really have an inclusive district. Even though the school is small picking up kids is an exercise in patience and self control. It's ridiculous.
None of this was an issue when I was homeschooling.
Anyway, I pulled out the ingredients and by the time the kids burst through the door the finished homemade baguette was cooling on the counter and the house smelled great. Actually, two of them were cooling on the counter and the house smelled amazing.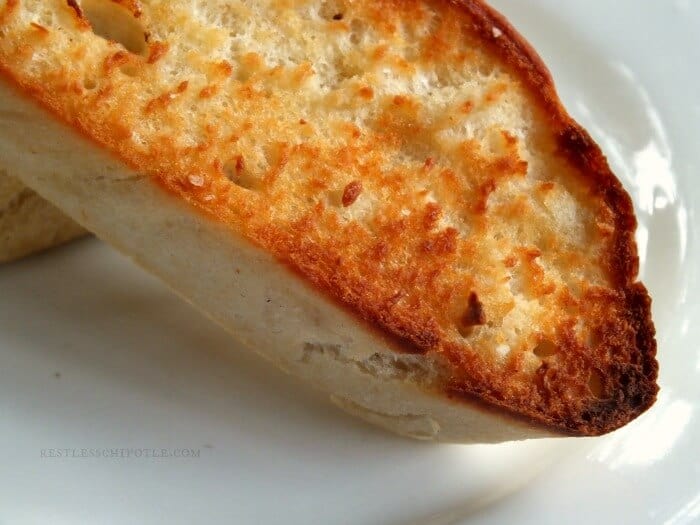 On Babble the instructions tell you to dump a bowl of ice in the bottom of the oven when you put the homemade baguette bread in. I tried that but I honestly didn't see a difference between using ice and dumping water on the bottom. Both creates steam and that helps the bread to rise in the oven and develop the crust. Try it both ways to see if you think there is a difference.
What Is a Baguette Anyway?
Most of us in the United States eat the soft loaves of bread like this buttermilk bread. Different cultures have developed different types of bread with unique shapes and textures.
So, a baguette is a long, rounded loaf of bread that has a chewy crumb and a crispy crust. Traditionally they are about 2-inches in diameter and 2 feet long. The most authentic baguettes contain only flour, yeast, water, and salt.
It's a basic loaf that is perfect for SO many things!
What to Do with a Baguette
French bread style pizza – just cut the loaf in half longways and add toppings to the cut sides of each half. Bake at 375F until the cheese melts and bubbles
Croutons – don't throw away stale bread! Cut into cubes and toss in melted butter to coat then bake at 350F for 15 minutes
Use for hoagies and other sandwiches
Panzanella is an Italian salad made with a generous amount of cubed baguette
French toast
Appetizers like bruschetta
Breadcrumbs
Bread pudding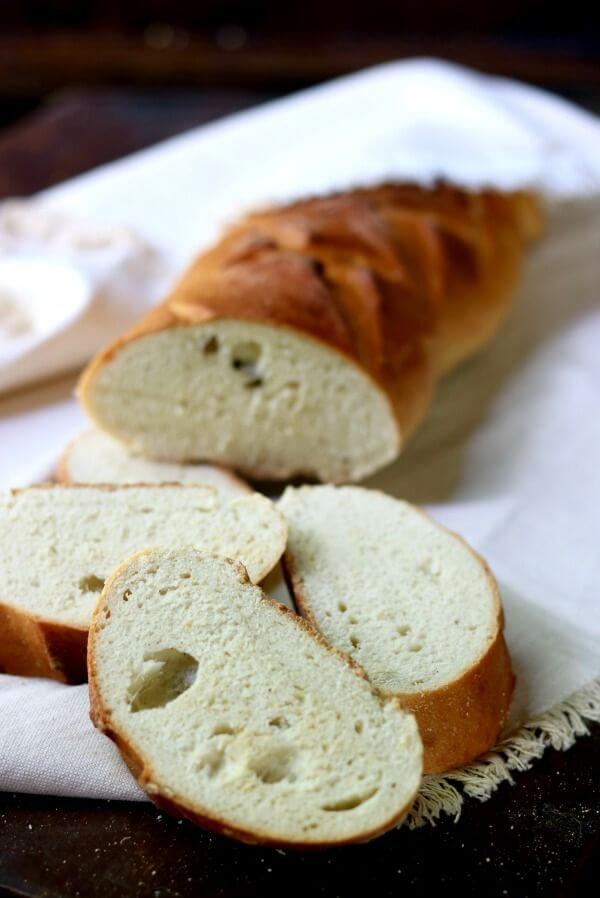 You May Need
The following contains affiliate links. If you click through and buy then I get a small commission which doesn't affect your cost. This money is used to keep Restless Chipotle up and running smoothly. Thank you so much for being a part of Restless Chipotle!
Yeast can be expensive if you make a lot of bread. I like buying Red Star yeast in bulk on Amazon. It lasts a long time if you refrigerate it and I love the quality of Red Star (they did not pay me to say that!) Baking the dough on coarse ground cornmeal gives the crust a more authentic texture and flavor, in my opinion.
30 Minute Homemade Baguette Recipe
Print Recipe
Homemade Baguettes in Under an Hour
Chewy baguettes that you can make in under 45 minutes. Perfect for sandwiches, garlic bread, or sopping up pasta sauce.
Ingredients
2

cups

warm water

1

packet yeast

2

tablespoons

sugar

1 1/2

teaspoon

salt

3-4

cups

all purpose flour

coarse cornmeal for dusting the pan
Instructions
Start preheating the oven to 425F before you even take the ingredients out of the pantry.

Put the water, yeast, and sugar in the bowl of your mixer.

Mix briefly, just until blended.

Set in a warm place for ten minutes.

After ten minutes stir in the salt and 1 cup of the flour.

Using the dough hook mix on medium speed for about two minutes.

Add the rest of the flour, one half a cup at a time until you have a soft dough.

Knead for about five minutes until the dough is no longer sticky and dough is elastic.

Form the dough into two, long loaves on a heavy cookie sheet dusted with coarse cornmeal.

Allow the loaves to rise for ten minutes in a warm place if there is time. If not - just go straight to the next step.

Fill a two cup measure with cold water or a bowl with 3 cups of ice.

Put the loaves into the preheated oven and toss the water or ice on the oven floor.

Close the door quickly and don't open it until you are ready to take the bread out of the oven, 15 to 20 minutes later.

Cool slightly before cutting.
Notes
Making this bread into two loaves makes it more like an Italian loaf. If you want a thinner, crunchier loaf then divide the dough into four parts.
Nutrition
Calories:
63
kcal
|
Carbohydrates:
12
g
|
Protein:
1
g
|
Sodium:
2
mg
|
Potassium:
16
mg
|
Sugar:
1
g
|
Vitamin A:
0.2
%
|
Calcium:
0.2
%
|
Iron:
4
%
If you liked this quick and easy homemade baguette recipe you may also like…
From left to right: Buttermilk Honey Whole Wheat Bread, Honey Oatmeal Bread, Old Fashioned Molasses Whole Wheat Bread – Click on the image to see the recipe.