This spicy sopapilla recipe is super easy, especially if you have an electric deep fryer. The pastry is tender and pillowy with perfect hollows in the center to hold honey or chocolate sauce.
There is nothing I like more than dessert unless it is an easy dessert. As long as you have an electric deep fryer these are easy, quick, and delicious. Basically Sopapillas are squares of pastry dough that are rolled and deep fried. As they fry they puff up with air like a pillow. The centers become hollow - they have to be hollow because that, my friends, is where the honey drizzle goes when you eat them.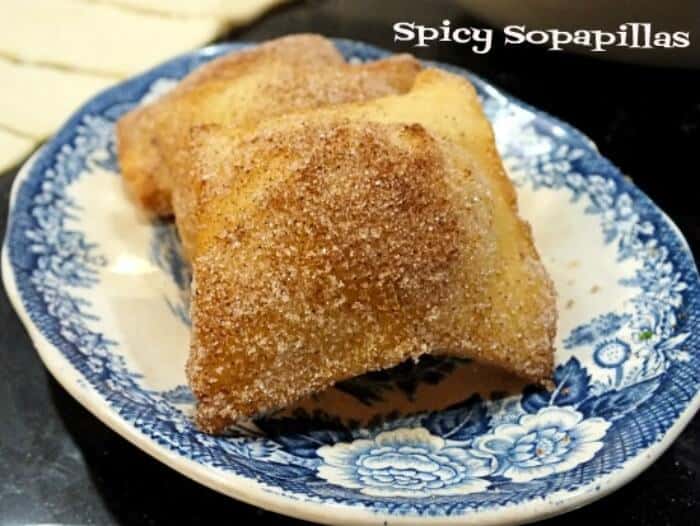 There's a couple of schools of thought on them. I like them rolled in cinnamon and sugar - my daughter likes them plain. Either way, they make a great snack, or the perfect way to end a Southwestern dinner. You can make them in large squares or small - it's sort of up to you.
Do not, under any circumstances, try to save these sopapillas for later. Make only as many as you will eat in an hour or so. As they cool and stand they will lose the crispness and end up being soggy and greasy.
Ick.
When the sopapillas come out of the fryer you'll want to drain them quickly on paper towels and then roll them in the cinnamon mixture. Once you get this recipe down you can throw them together in just a few minutes. If you haven't done much deep frying because you are a bit afraid of it take a deep breath and give these a try. Get an electric deep fryer. .With one of those you can be sure that the oil is the right temperature and it is so much easier than frying on top of the stove.
If you are not allergic to peanuts please, please, please use peanut oil. It is more expensive than the other types but it is the best that I have found. It is light, flavorless, and leaves the outsides crispy.
Ready to give this sopapilla recipe a try? Sure you are!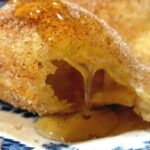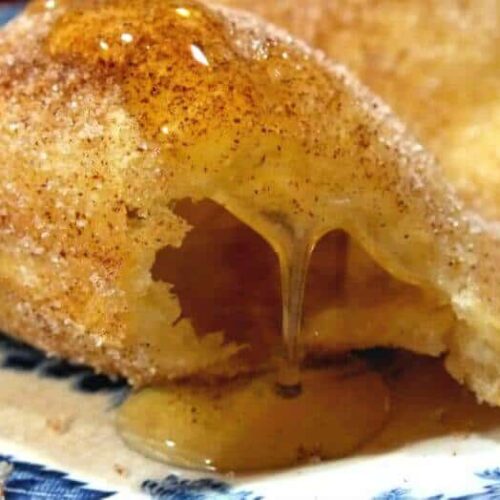 Spicy Sopapillas
Print
Save
Go to Collections
Sopapillas are a light, pillowy pastry that is deep fried. As they fry they puff and become hollow in the centers. They can be rolled in cinnamon sugar or left plain. You take a bite to open them up and then drizzle honey right down inside... oh so good! Serve them while they are hot. Difficulty level: 6/10
As an Amazon Associate I earn from qualifying purchases.
Ingredients
Sopapillas
Cinnamon Sugar Mixture
¼

cup

white sugar

1 ½

tablespoon

cinnamon

½ -1

teaspoon

ground ancho chile,

optional - adds a little heat
I earn a commission from Instacart from qualifying purchases.
Instructions
Sopapillas
Mix the dry ingredients in a large bowl.

Cut in the butter until the mixture looks like coarse crumbs.

Stir in the water until the dough is smooth.

Let stand for 20 minutes.

Roll out on a floured board to about ¼ inch thick.

Cut into squares.

Heat oil in deep-fryer to 375 degrees F.

Add a few of the dough squares to the hot oil - do not over crowd.

Fry until golden brown on both sides, pushing the dough under the oil occasionally.

Drain on paper towels, then roll in cinnamon sugar mixture.
Cinnamon Sugar Mixture
Mix the ingredients and gently roll the hot sopapillas in the mixture.
Nutrition Facts
Calories:
102
kcal
|
Carbohydrates:
18
g
|
Protein:
2
g
|
Fat:
2
g
|
Saturated Fat:
1
g
|
Cholesterol:
5
mg
|
Sodium:
206
mg
|
Potassium:
24
mg
|
Fiber:
1
g
|
Sugar:
2
g
|
Vitamin A:
59
IU
|
Calcium:
9
mg
|
Iron:
1
mg
Sign up for the emails and never miss another recipe!!
We'll never share your email or send you spam. Pinkie swear.
If you liked this Spicy Sopapilla recipe, you may also like...
Mexican Hot Chocolate Cobbler Restless Chipotle
Pinterest Image