This old fashioned banana pudding recipe is homemade from scratch – none of that boxed pudding mix stuff, thank you very much! Lots of bananas, rich and creamy homemade pudding, and a serious amount of 'Nilla Wafers make this a family favorite dessert for a reason!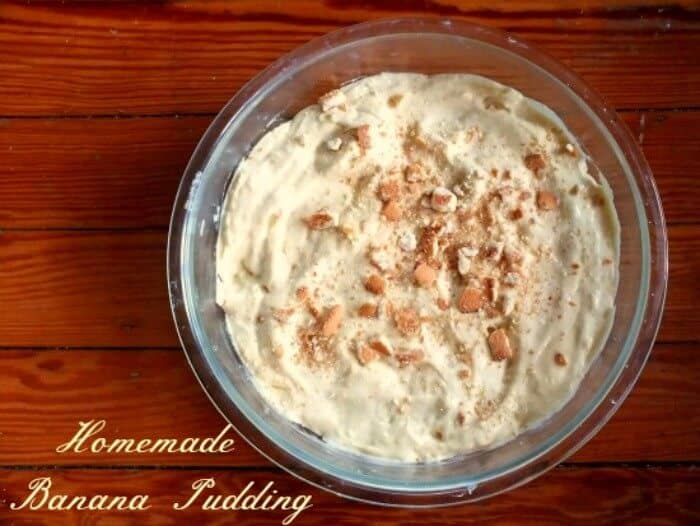 Banana pudding finds its way to nearly every Texas table around just about any holiday. As long as a glazed ham, some hot out of the oven rolls, and a creamy rich banana pudding are on the table it doesn't much matter what else fills it out.
Some people (and I hate to say it but even some Texas people) use boxed, artificially flavored banana or vanilla instant pudding in this classic treat. These people need to be smacked across the hand with a whisk for contributing to the demise of good food. There is no reason not to make it from scratch, especially if you use a microwave. The flavor is clearer, more intense, and the texture is way better.
Way, way, way better.
An old fashioned secret to really rich puddings is evaporated milk. I have tried half and half, heavy cream, whole milk, and combinations of those ingredients and nothing makes a pudding creamier than evaporated milk. You can substitute 3 cups of milk if you want to – but I am telling you the evaporated milk works best.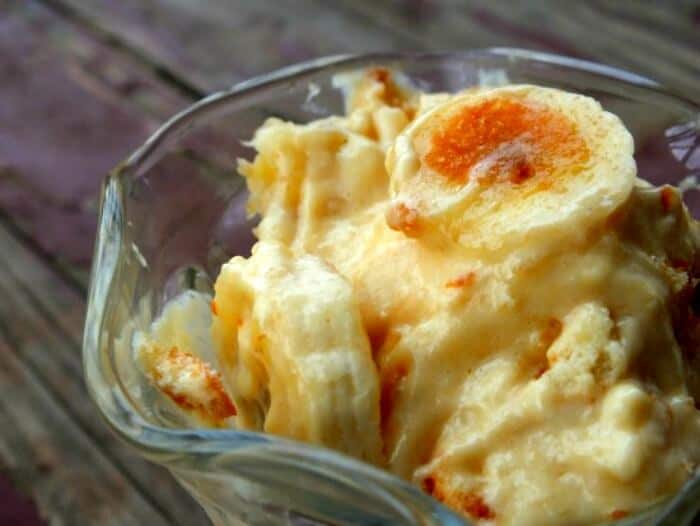 I use 'Nilla wafers, really ripe bananas, and a classic custard for my homemade banana pudding but I add a twist that makes it light and fluffy, too. Banana pudding my way is a layered dessert more than just a pudding. 'Nilla wafers are placed in a layer at the bottom of a bowl, then the banana is sliced over the top. You then add a thick layer of pudding and repeat the layers about three times, or until the pudding is gone. Just make sure you are finishing with the pudding.
So, what's my twist? I whip the egg whites up into a stiff, sweetened meringue and then carefully fold it into the cooled custard right before putting it all together. You end up with a lighter mouth feel with all the flavor and deliciousness of the pudding. Kinda likee a mousse. Try it that way once and if you don't like it just use the meringue as a topping next time instead of folding it in.
You can certainly serve it just as soon as you are finished with the layering but if you make it a day ahead the cookies soak up all of the flavor. We like it both ways – and I like it served room temperature or slightly warm from cooking while my husband prefers it ice cold.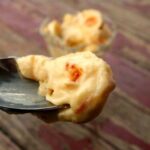 Old Fashioned Homemade Banana Pudding Recipe
Print
Add to Collection
Go to Collections
Old fashioned, homemade banana pudding recipes are hard to improve on. Creamy vanilla custard, sweet bananas, and crunchy vanilla wafers are layered to make a home-style, comforting dessert. In this version I add stiffly beaten egg whites to the custard to give it a bit more lightness.
As an Amazon Associate I earn from qualifying purchases.
Ingredients
3/4

cup

sugar

2

tablespoons

cornstarch

1

tablespoon

flour

2 14-

oz

cans evaporated milk

4

egg yolks

,

, room temperature and whisked smooth

1 1/2

teaspoons

vanilla extract

6

tablespoons

unsalted butter

,

, cut in chunks

1/4

teaspoon

cream of tartar

1/4

cup

sugar

4

egg whites

,

, room temperature

4

medium

,

, ripe bananas, sliced

1

(12-ounce box) vanilla wafers
Instructions
Mix together sugar, flour, and cornstarch.

Slowly add milk, whisking until well blended.

Microwave on high for about nine minutes until the mixture thickens, whisking every few minutes.

Add a little of the hot mixture to the egg yolks, whisking constantly.

Add the yolks back into the pudding, whisking constantly to keep the eggs from curdling.

Put back into the microwave and cook for 2 more minutes, whisking a couple of times.

Remove from heat and add the butter. Whisk until it is mixed well.

Stir in the vanilla.

Cool.

Meanwhile, mix the cream of tartar and egg whites in the bowl of a mixer. Beat until soft peaks form.

Slowly add the sugar while beating and beat until they are glossy and thick.

Add 1/3 of the egg whites into the pudding and fold in gently.

Add the remaining egg whites and fold in thoroughly until the two mixtures are completely mixed.

Starting with the pudding, add a layer to the bottom of the serving dish.

Top with vanilla wafers.

Top with sliced banana.

Add more pudding and repeat the layers, ending with the pudding.

Sprinkle the top with cookie crumbs before serving.

I like to sprinkle sugar on banana slices and caramelize them with a torch to add to the top before serving, too.
Sign up for the emails and never miss another recipe!!
We'll never share your email or send you spam. Pinkie swear.
If you liked this Old Fashioned Homemade Banana Pudding Recipe you may also like…
Nutter Butter Banana Pudding Restless Chipotle
Banana Pudding with Bourbon Restless Chipotle
Paula Deen's Banana Pudding Lick the Bowl Good
Banana Pudding Cupcakes Baker Chick
Banana Pudding Pinterest Image