One of my favorite sandwiches when I was little was peanut butter, Marshmallow Fluff, and banana on toast. Even then I liked to have contrast in the food I ate — sweet, salty, crunchy, rich, creamy, sticky... you name it. I took that sandwich for lunch every single day.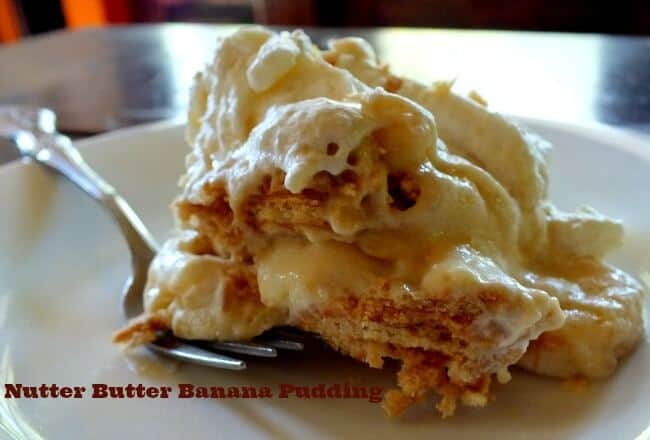 I never ever got tired of it. Back then there wasn't such a thing as unhealthy food. You just ate what your mom gave you and no dessert until you had eaten dinner, including the vegetables and glass of milk. No one asked what you wanted to drink — the choice was always milk or water. When you got to be a teenager you could choose sweet tea as well. No one asked what you wanted to eat, either. You got a hunk of meat, some corn or potatoes, some cooked vegetable like broccoli, and salad. A plate with several slices of Wonderbread was on the table, along with butter, and hot sauce. At my house there might be dessert but it wasn't likely because Mom was not an enthusiastic cook.
I can't tell you the first time I had banana pudding because I don't remember. I imagine it was well into my teens since it wasn't something on my mother's normal menu. I don't know but it became something on my menu for sure.
How many ways can you make a banana pudding?
The other day we were in the store and saw a display of Oreos and Nutter Butters. Marc says it was his idea and I say it was mine but whichever one thought of it is brilliant. (Me).
Banana pudding with Nutter Butters instead of 'Nilla Wafers. .
Yum.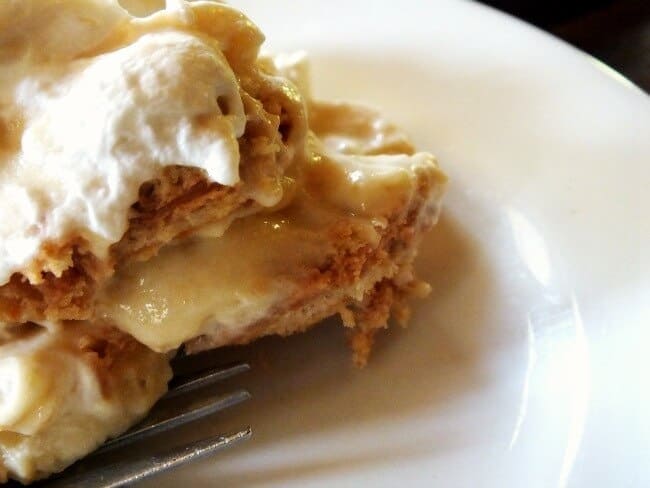 The banana pudding I make is rich and creamy but not extremely dense because I like to make the custard with egg yolks and then whip and fold the egg whites into the cooled custard to lighten it. It is an extra step but one that I think works well. 'Nutter Butters are laid down in the bottom of a casserole dish then covered with sliced bananas, then the custard. The layers are repeated and then a burnt marshmallow flavored whipped cream is drifted on the top. The flavors are those that I loved as a child and as quickly as this stuff disappeared I am guessing my family loves it now.
If you can't find the syrup locally you can get it on Amazon. There is an affiliate link in the recipe. Thanks for helping to support Restless Chipotle.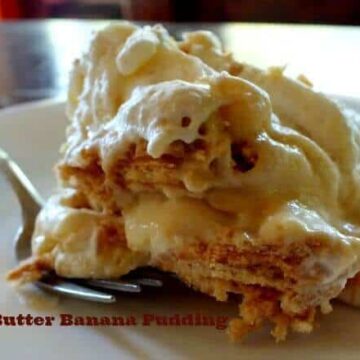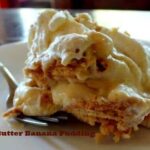 Nutter Butter Banana Pudding Recipe
Print
Add to Collection
Go to Collections
Unique banana pudding recipe from scratch that has all the flavors of you favorite fluffer nutter... banana, marshmallow, and peanut butter! This is a unique recipe that mixes gourmet and comfort food perfectly.
As an Amazon Associate I earn from qualifying purchases.
Ingredients
¾

cup

sugar

2

tablespoons

cornstarch

1

tablespoon

flour

2 14-

oz

cans evaporated milk

4

egg yolks

,

, room temperature and whisked smooth

1 ½

teaspoons

vanilla extract

6

tablespoons

unsalted butter

,

, cut in chunks

¼

teaspoon

cream of tartar

¼

cup

sugar

4

egg whites

,

, room temperature

4

medium

,

, ripe bananas, sliced

24

Nutter Butter Cookies

,

(or so)

½

cup

whipping cream

2 - 4

tablespoons

of sugar

1

tablespoon

toasted marshmallow syrup or 1 ½ teaspoons of vanilla
Instructions
Mix together sugar, flour, and cornstarch.

Slowly add milk, whisking until well blended.

Microwave on high for about nine minutes until the mixture thickens, whisking every few minutes.

Add a little of the hot mixture to the egg yolks, whisking constantly.

Add the yolks back into the pudding, whisking constantly to keep the eggs from curdling.

Put back into the microwave and cook for 2 more minutes, whisking a couple of times.

Remove from heat and add the butter. Whisk until it is mixed well.

Stir in the vanilla.

Cover with a piece of buttered waxed paper.

Cool.

Meanwhile, mix the cream of tartar and egg whites in the bowl of a mixer. Beat until soft peaks form.

Slowly add the ¼ cup sugar while beating and beat until the whites are glossy and thick.

Add ⅓ of the egg whites into the pudding and fold in gently.

Add the remaining egg whites and fold in thoroughly until the two mixtures are completely mixed.

Starting with the pudding, add a very thin layer to the bottom of the serving dish.

Top with Nutter Butters

Top with sliced banana.

Add a layer of pudding and repeat the layers, ending with the pudding.

Cover and chill.
Whipped Cream
Beat the cream and the syrup until the mixture starts to thicken.

Slowly add sugar, beating constantly until soft peaks form.

Taste and adjust flavor.
To serve
Cover the pudding with the whipped cream.

Sprinkle with crumbled cookies.
Sign up for the emails and never miss another recipe!!
We'll never share your email or send you spam. Pinkie swear.
If you liked Nutter Butter Banana Pudding Recipe from Scratch, you may also like...
Old Fashioned Southern Style Banana Pudding Restless Chipotle
Banana Bread Pudding with Jack Daniels Caramel Sauce Restless Chipotle
Ultimate Banana Pudding Life with the Crust Cut Off
Banana Pudding Layer Cake Melissa's Southern Style Kitchen