Homemade French vanilla ice cream is the most basic ice cream of all. You can add nearly anything to it.
I have to admit that vanilla ice cream has never been my favorite. It didn't satisfy me the way that chocolate did - it was bland, boring, and more or less an empty canvas. You know, the stuff you had to have to hold the hot fudge. My dad used to say vanilla was like kissing your sister. It wasn't something I chose over chocolate chocolate chip, you know? Then I decided to play with the flavor — Just how intense can you make vanilla?
Well, guess what? You can make it pretty intense.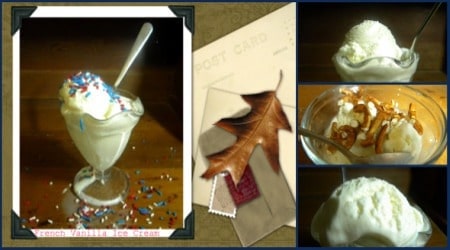 I started with French vanilla and went from there. My very favorite vanilla ice cream had always been Breyer's Vanilla Bean so I knew I was going to want vanilla bean in there. I had also learned, from making my own vanilla extract, that bourbon intensifies vanilla flavor. Many people make their vanilla with vodka but I prefer a really high quality bourbon. I also used vanilla sugar but you don't have to if you don't have any on hand.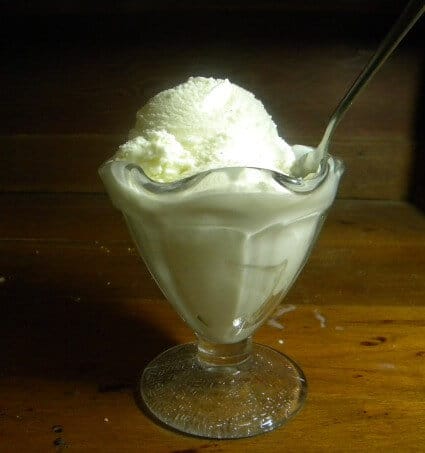 So, what did I end up with? Triple French Vanilla ice cream. Homemade French Vanilla Ice Cream, y'all. I am focusing on the word homemade because so much of the homemade ice cream I've had has been sort of grainy and icky. This is not. Not at all! Sensual, seductive, intense...almost chocolate in character...think of expensive ivory silk (peace silk, of course) and the way that it feels on a hot day when you slide on that luxurious silk robe after a fragrant bath.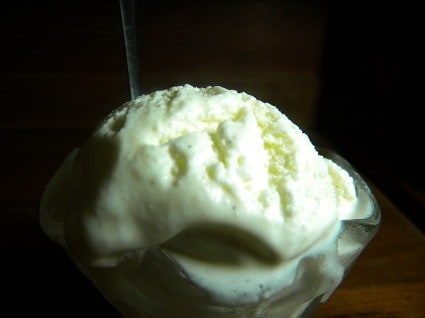 I really encourage you to make it plain the first time to see how you like it, how you might want to adjust the flavor, and what the texture is like. After that? Go crazy. Add anything you want to it.
Ripe peaches
Strawberries
Blackberries
Bananas
Nuts
White chocolate chips
Chocolate chips
Your favorite candy
Or...my personal favorite, (dirty-little-secret ) pretzels.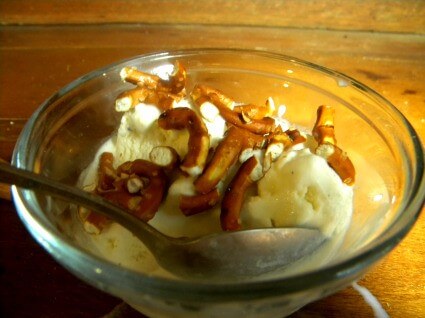 This is the basic ice cream base for most other ice creams I make. It is a high fat, premium type ice cream, intensely rich with a great mouth feel. If you happen to have trouble with fats, or if you prefer less fat, you can switch the half and half for whole milk. Don't do it unless you have to because it will totally change the texture and, since fat carries flavor, the flavor will be less intense.
Add fruit, nuts, and other items at the end of the freezing time. This will keep the ingredients spread out randomly rather than having them all float to the top or sink to the bottom. All homemade ice cream should be made the day before you want to serve it. It "ripens" in the freezer overnight and the texture changes, the flavor mellows, and it won't melt so quickly in the bowl.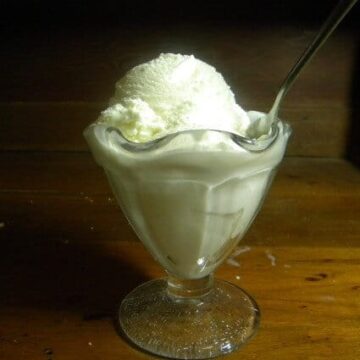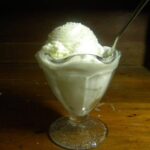 Triple French Vanilla Ice Cream
Print
Save
Go to Collections
Vanilla ice cream like you've never had it before - so much vanilla that it's almost a new flavor. Cream and half and half mean that this is rich, dense, and creamy - better than your favorite premium ice cream. Make it exactly like the recipe once then experiment by folding in chocolate chips, fruit, or whatever you like.
As an Amazon Associate I earn from qualifying purchases.
Ingredients
3

cups

half and half

3

cups

heavy cream

1 ¼

cups

granulated sugar or vanilla sugar

2 3-

inch

vanilla beans

,

, split

1 ½

teaspoons

pure Vanilla extract

1

teaspoon

natural French Vanilla flavoring

1

tablespoon

bourbon

,

(optional)

⅛

teaspoon

salt
Instructions
Heat the sugar, salt, vanilla beans, bourbon, and half and half in a heavy saucepan until it is very hot and bubbles form around the edge. Do not let it boil.

Remove from heat, cover, and allow to cool completely.

Longer is better. Overnight will yield the most vanilla flavor.

Remove the vanilla beans.

Scrape the seeds and pulp back into the cream mixture, discard the shell or use it to make vanilla sugar.

Beat the heavy cream until soft peaks form.

Add vanilla extract and French vanilla flavoring.

Fold into half and half mixture carefully.

Freeze according to manufacturer's directions.
Nutrition Facts
Calories:
279
kcal
|
Carbohydrates:
19
g
|
Protein:
2
g
|
Fat:
21
g
|
Saturated Fat:
13
g
|
Cholesterol:
77
mg
|
Sodium:
53
mg
|
Potassium:
92
mg
|
Sugar:
15
g
|
Vitamin A:
815
IU
|
Vitamin C:
0.7
mg
|
Calcium:
77
mg
|
Iron:
0.1
mg
Sign up for the emails and never miss another recipe!!
We'll never share your email or send you spam. Pinkie swear.