This old fashioned chocolate mayonnaise cake recipe is adapted from the original that was on the back of the Hellman's Mayonnaise jar back in the early half of the 1900s. It's incredible fudgy flavor and super moist texture have made it a favorite for generations. Make it and find out why. Not quite what you're looking for? Here's a classic vanilla layer cake. This post has been updated from the original – dated July 2010.
For this recipe you'll need: bittersweet chocolate, dark cocoa, strong coffee, all-purpose flour, baking soda, baking powder, salt, sugar, brown sugar, mayonnaise (not salad dressing), eggs, vanilla, confectioner's sugar, sour cream, dark chocolate, white corn syrup,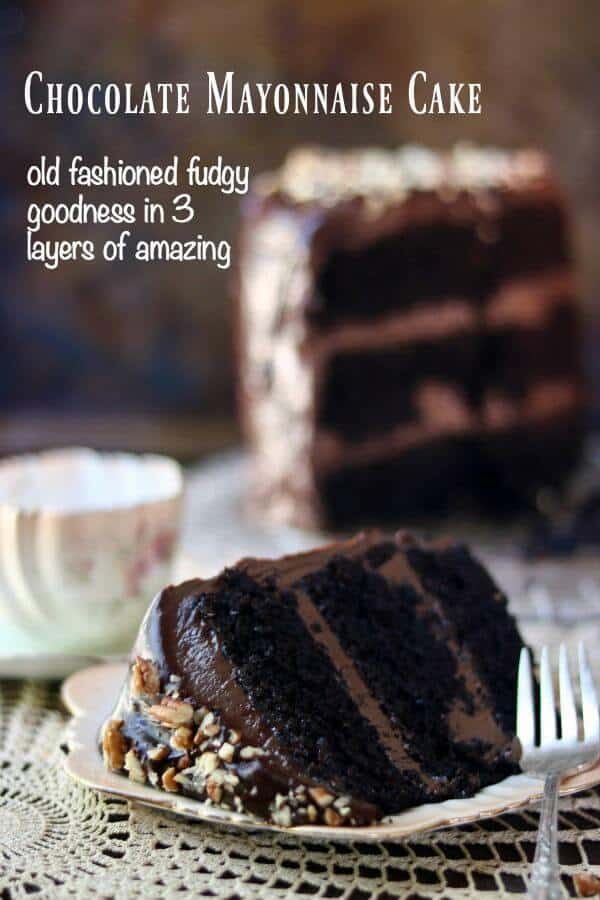 May 8, 2017
Today would have been my dad's 100th birthday. That fact was what controlled the decision about updating this chocolate mayonnaise cake recipe – his favorite cake. My father was not the best husband to my mother, he was not the nicest person to other people. Many people despised him. Many people were afraid of him. He was, in many ways, the real life Don Draper. He pulled himself up from an impoverished childhood to become a sought after corporate businessman.
Most importantly, he loved me beyond all reason, beyond all imaginings, beyond anyone else…we were simpatico. I was his sun and moon and stars and he was my hero. I rode on his shoulders, I danced on his feet, he taught me to play poker, to swim, and to mix a perfect extra dry martini. Eventually he taught me to drink like a man while holding my liquor like a lady. He taught me to defend myself physically, intellectually, mentally, and emotionally. He told me I was beautiful and that he believed in me every single day of my life and while he was alive I almost believed it.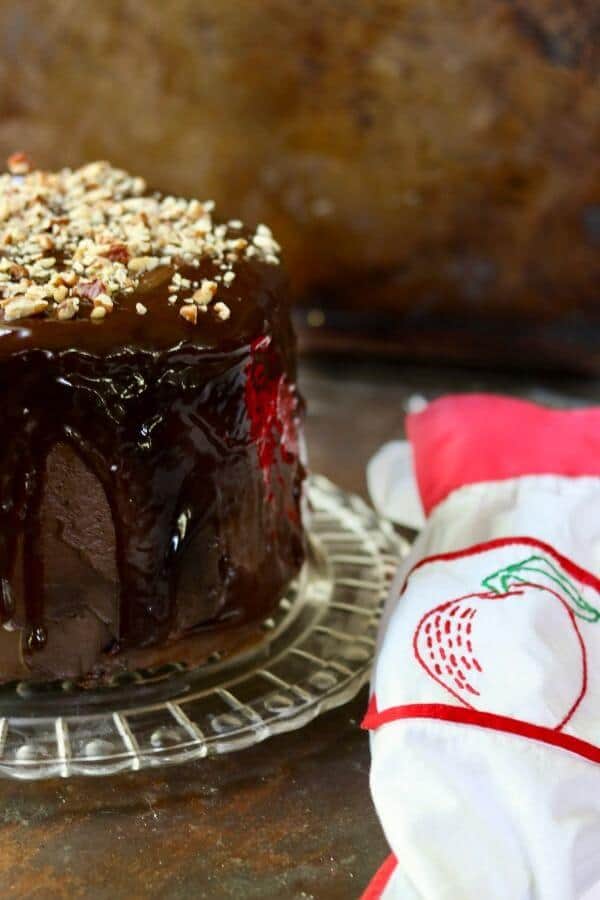 He died before I published my first book, wrote my first blog post, or collected my first royalty payment. I wish he was on the earth to share those accomplishments with me, I wish I could talk to him about things just one more time. Yet, his voice is as much in my head as my mother's and often nullifies her unending criticism with one simple sentence – "You can do this standing on your head – you may not be perfect but you're close enough for me."
I dedicate this recipe, this updated post, and this day to my dad. Enjoy.
July 5, 2010
I couldn't find a definite answer to my question about the origins of Chocolate Mayonnaise cake but most people believe that Hellman's came up with it in the early half of the 1900s.
Who knows? The fact of the matter is that mayonnaise cake is fudgey, moist, chocolate Nirvana. There is something about the mayonnaise that reacts with the rest of the ingredients to create a crumb that is unlike anything else.. You can't taste the mayo at all…and many recipes don't call for eggs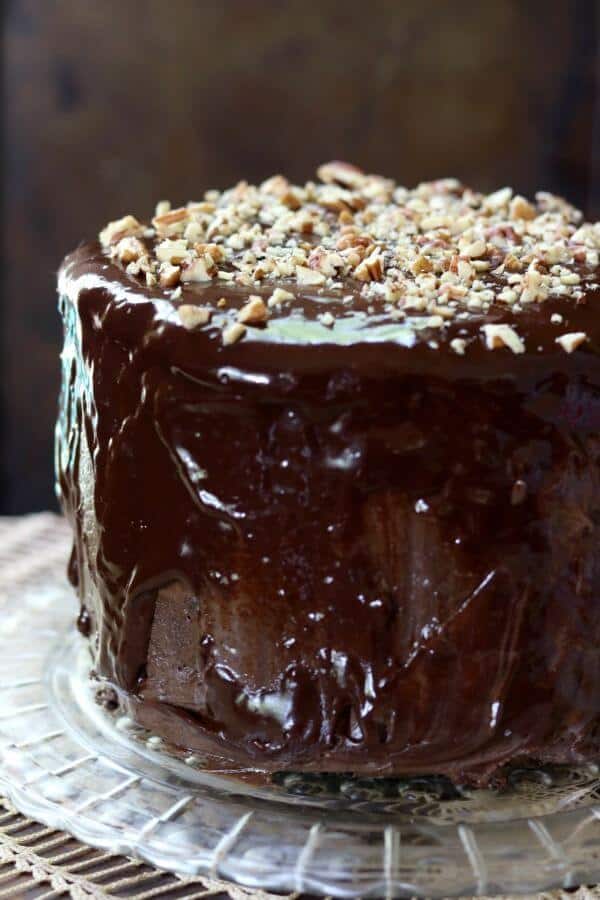 This cake will go together really quickly for you. There isn't any separating of the eggs, fancy mixing, or special techniques – just a straight forward cake. You may want to put on a retro style apron and play some Big Band music while you put this together…don't forget the heels and pearls…
I dust my cake pans for chocolate cake with cocoa. That way any cocoa that clings to the crust of the cake it the same color as the cake. Just do it the same way you do with white flour…spoon a little into a greased pan and shake it around until it covers all surfaces then dump it out.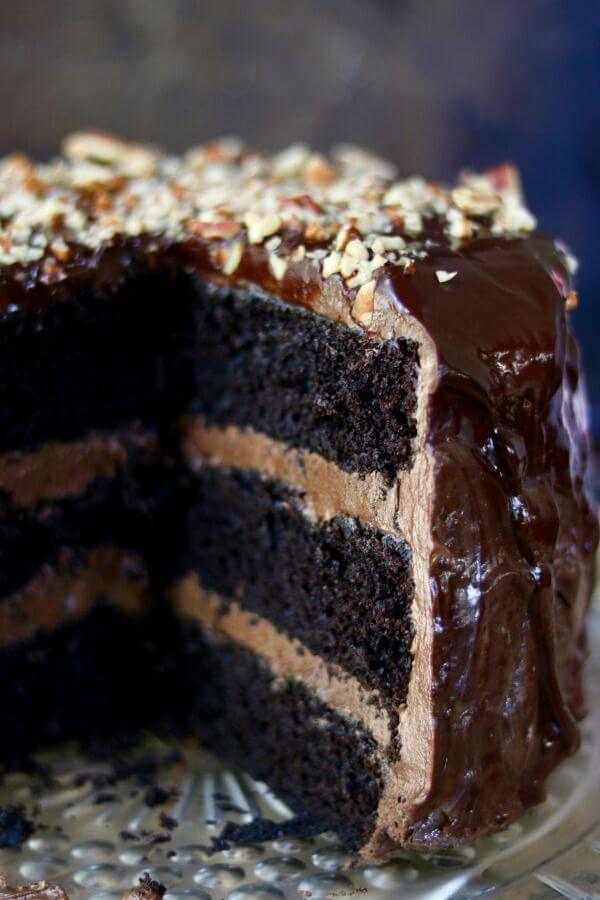 Once the layers have completely cooled brush them lightly with your hand to get the loose cocoa and any crumbs off. Put the first layer on the cake plate, spoon your frosting on and you are ready to go…. To my original cake I added a chocolate drip made with equal amounts of dark chocolate and heavy cream, heated to just a simmer and stirred smooth the poured over the chilled cake. I also added 1/2 cup of chopped pecans to the top. These additions are not reflected in the recipe or nutritional information.
The frosting recipe was adapted from Sweetopia. SO good!
YOU MIGHT NEED…
The following are affiliate links. We are a participant in the Amazon Services LLC Associates Program, an affiliate advertising program designed to provide a means for us to earn fees by linking to Amazon.com and affiliated sites.
Good cake pans are a must. I use high sided 8-inch cake pans for my cakes so if your cake pans have low sides you may need to make it 4 layers. These are my favorites, from Wilton.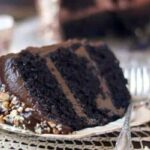 Chocolate Mayonnaise Cake
Print
Add to Collection
Go to Collections
An old fashioned layer cake that's moist and tender with deep chocolate flavor. This is great for birthdays or Sunday dinners!
Total Time
1
hour
15
minutes
As an Amazon Associate I earn from qualifying purchases.
Ingredients
Cake
4

ounces

high quality 70% Cacao Bittersweet Chocolate

,

chopped

1

cup

Cocoa,

I used Hershey's Special extra dark

1 3/4

cups

dark coffee or water

,

boiling

2 2/3

cups

all purpose flour

1 1/4

teaspoons

baking soda

1/4

teaspoon

baking powder

1

cup

sugar

1

cup

dark brown sugar

,

packed

1 1/3

cups

mayonnaise

,

(I prefer Hellman's to anything else....but do not use reduced-fat or fat-free)

2

eggs

1

egg yolk

1

teaspoon

vanilla
Fudge Frosting
2 1/4

cups

butter

,

softened

1 1/2

cups

Confectioners' sugar

3/4

cup

dark cocoa powder

,

I used Hershey's Special extra dark

1/2

cup

coffee

,

hot and double strength

1/2

cup

sour cream

1 1/2

teaspoons

vanilla

1

pinch

salt

10

ounces

dark chocolate

,

chopped and melted

1

tablespoon

white corn syrup
Instructions
Cake
Preheat oven to 350°F

Grease three 8 -inch cake pans and dust with cocoa.

Melt the chocolate in the microwave just until softened and you can stir it smooth - about 1 minute.

Combine melted chocolate and cocoa in a bowl. Whisk in boiling coffee (or water) and stir until the mixture is smooth. Set aside.

Sift the flour, baking soda, baking powder, and salt into a bowl. Set aside.

With a mixer beat the sugar and the mayonnaise until blended.

Add eggs one at a time, and finally the egg yolk.

Beat in the vanilla.

Add the flour in four additions, alternately with the chocolate mixture.

Beat well after each addition.

Divide batter evenly among the cake pans.

Bake about 30 minutes or until a cake tester comes out clean.

Cool cake for 10 minutes in pans.

Loosen cakes from sides of pans, turn out, and cool completely.
Frosting
In a bowl of stand mixer fitted with paddle attachment beat the butter on medium speed about 6 minutes or until pale and fluffy.

Sift together the confectioners' sugar and cocoa powder.

Reduce mixer speed to low.

Add the confectioners' sugar mixture, beating until well blended.

Continue beating on low and add the coffee, sour cream, vanilla, and salt.

Beat 1 minute.

Increase the speed to medium and whip for 2 minutes.

Add the melted chocolate and beat until smooth, about 2 minutes more.
Notes
Make the cake exactly like the recipe the first time you make it - don't make substitutions. After that you can adjust as you desire.
Make sure all ingredients are at room temperature before you begin.
I dust my cake pans for chocolate cake with cocoa. That way any cocoa that clings to the crust of the cake it the same color as the cake. Just do it the same way you do with white flour...spoon a little into a greased pan and shake it around until it covers all surfaces then dump it out.
If you've had a problem with cakes sticking to the pans in the past then place a round of parchment paper in the bottom of the pans and grease it then dust with cocoa. The bottom will come loose without a problem and you can just peel the parchment paper off after it's done.
Don't scoop the flour from the container when measuring. Use a spoon and spoon the flour lightly into the measuring cup. Level it off with the flat edge of a butter knife.
Don't use reduced fat, olive oil, canola oil, fat free, or other mayonnaise variation. Use the old fashioned, full fat mayo - I suggest Hellman's.
Don't overmix!
Pour the batter into the pans and bake immediately. Once the leavening is wet it starts to lose strength and your cake won't rise as well.
Don't over bake your cake.  Check it by inserting a toothpick into the center of the cake.  If the toothpick comes out clean with a few crumbs clinging to it the cake is ready..
Let chocolate mayonnaise cake layers rest in the pans about 10 minutes after removing them from the oven.
Place a couple of thin dowels or straws through the stacked cake when you are frosting the sides and top - this will keep it from sliding around. Just remove them and smooth the top before serving.
Nutrition
Calories:
1034
kcal
|
Carbohydrates:
95
g
|
Protein:
9
g
|
Fat:
71
g
|
Saturated Fat:
35
g
|
Cholesterol:
151
mg
|
Sodium:
311
mg
|
Potassium:
519
mg
|
Fiber:
8
g
|
Sugar:
60
g
|
Vitamin A:
24.3
%
|
Vitamin C:
0.1
%
|
Calcium:
9.1
%
|
Iron:
37.8
%
Tried this recipe?
Tag me!! @Marye_RestlessChipotle
If you liked this chocolate mayonnaise cake recipe you may also like…
From left to right: Southern Coconut Cake, Coca Cola Layer Cake with Salted Peanut Brittle, Burnt Sugar Layer Cake with Peanut Butter Mousse
Let's Keep in Touch!