Perfect homemade candy for holiday giving... as long as you're giving it the adults on your list!
Don't want to scroll through the page to get to the recipe? Use the table of contents to click on the section you want.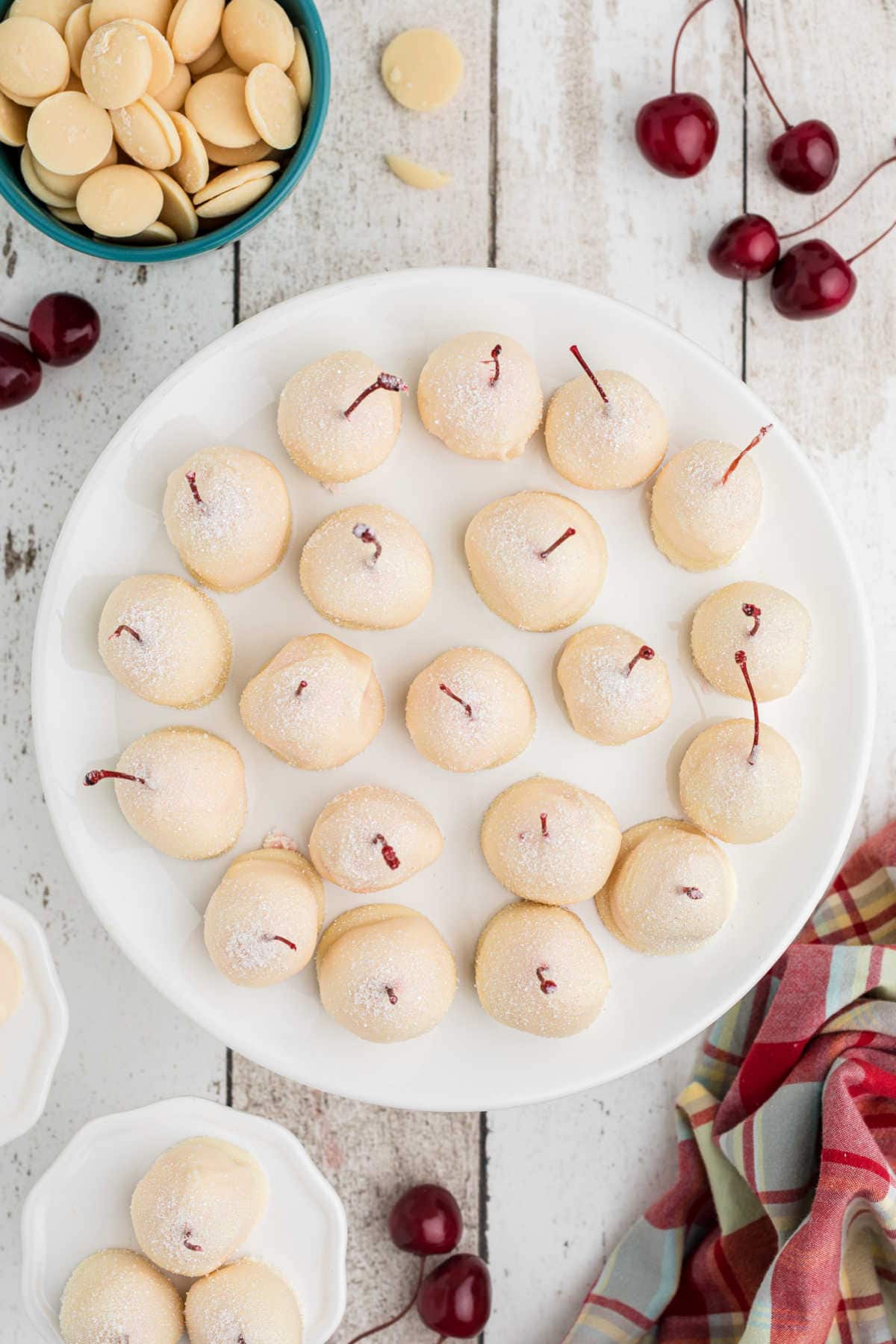 Jump to:
🗝️ Key takeaways
Not only are these "drunken cherries" a delicious snack or party dessert, people are always impressed with them as a gift!
Perfect for the holiday dessert table. A great gift during the holiday season, on Valentine's day, or any special occasion worthy of celebration—safe for shipping, too!
Need to thin out melted chocolate for dipping? Add a tiny bit of coconut oil or Crisco.
Surprise both cocktail lovers and fans of chocolate with a special treat that looks great and tastes even better.
These boozy chocolate-covered cherries are soaked in bourbon, covered in a homemade cherry powdered sugar dough, and dipped into sweet white chocolate—careful, they're addictively delicious!
🧾 Ingredients
This is an overview of the ingredients. You'll find the full measurements and instructions in the green recipe card (printable) at the bottom of the page.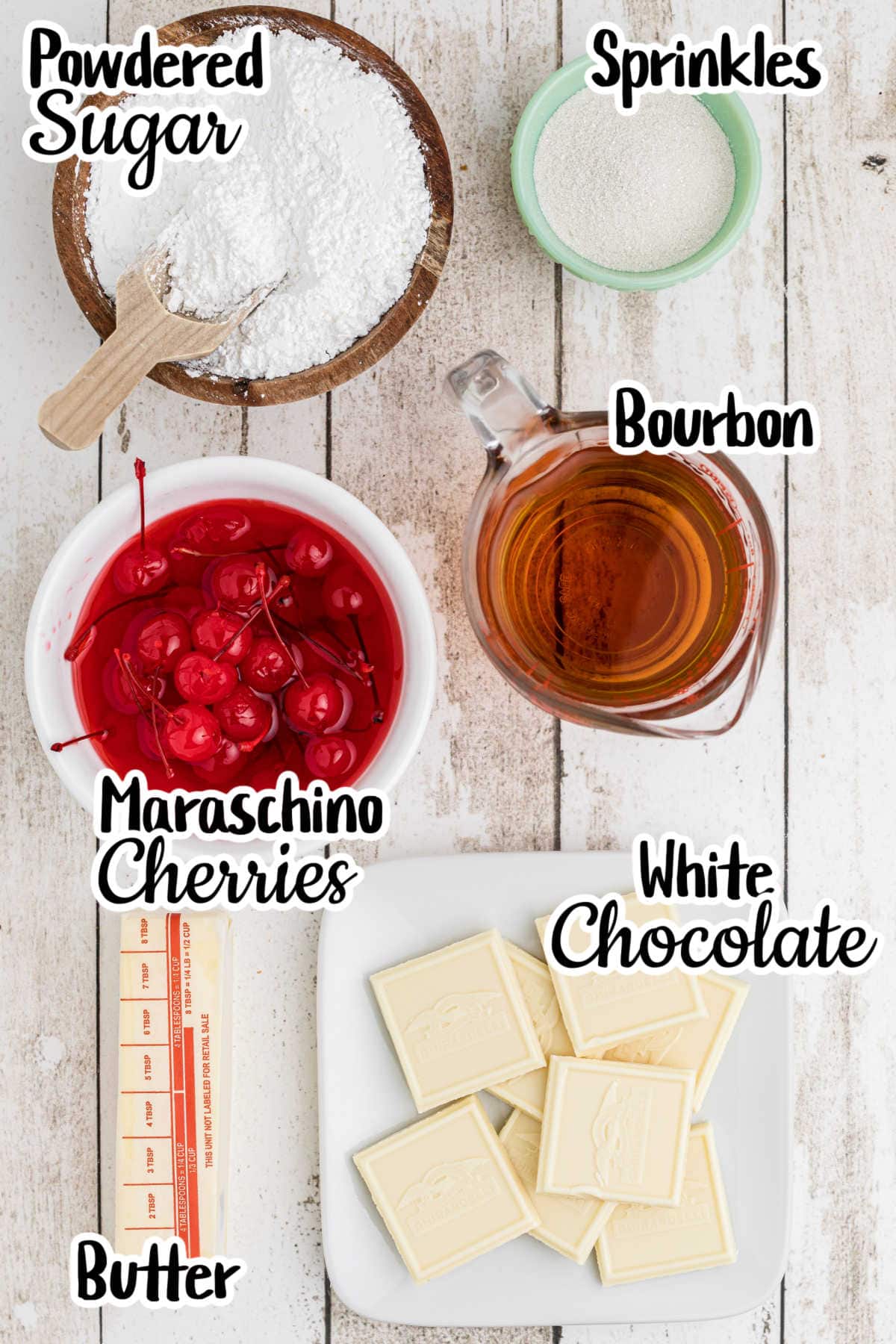 📖 Variations
Booze: Swap in Amaretto, Cinnamon Whiskey, or Brandy. Really, any type of alcohol that pairs well with cherry should work in this recipe.
Melting Wafers: Candy melts are the easiest to use, but you could also melt chocolate chips, bars, or almond bark.
Chocolate: For a fun twist, use dark chocolate or milk chocolate. Some people like the bitterness of semi-sweet chocolate, too.
Flavor: Add a few drops of oil-based almond extract to the candy melts for a different flavor. Or, use orange extract to make the boozy chocolate covered cherries taste just like an old-fashioned cocktail!
Decoration: Use your favorite sprinkles, edible glitter, colored sugar crystals, or nonpareils to decorate to your heart's content! After the cherries have set, you can drizzle more candy melt chocolate over them for a pretty, textured look—a great way to use leftover/excess chocolate!
🔪 Instructions
This is an overview of the instructions. Full instructions are in the green recipe card at the bottom of the page.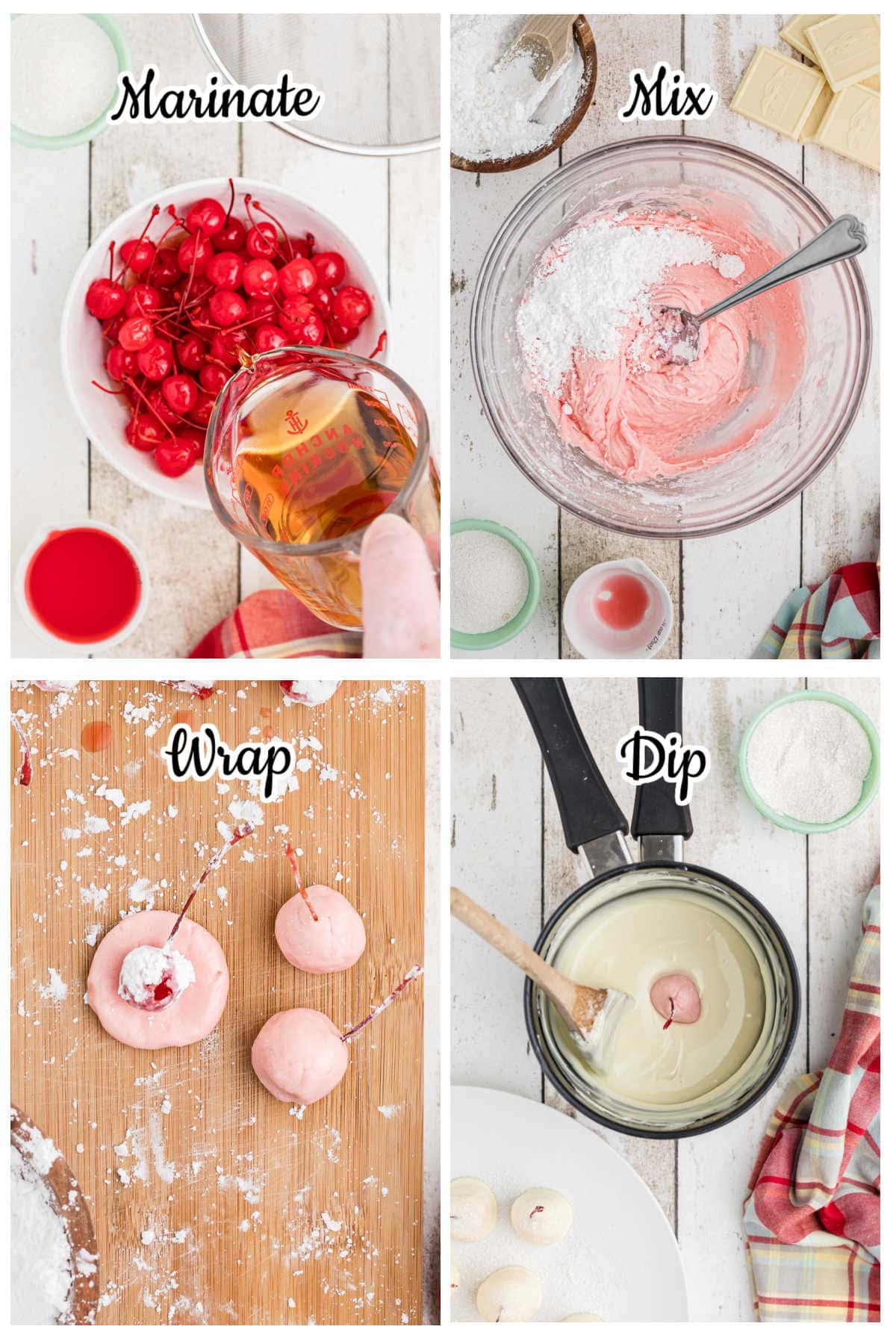 Cover cherries with bourbon and let marinate.
Mix confectioners' sugar, reserved cherry juice, and butter into a dough.
Dip cherries in powdered sugar, then wrap in the dough.
Dip each wrapped cherry into the melted chocolate.
🥫 Storage
Boozy cherries are a fun treat that you can make before Christmas time, and they'll still be just as great when New Years rolls around!
Seriously, these bourbon cherries last a while and tend to taste better after they've sat for a few days—as long as they're stored properly, that is.
Place your chocolate-covered cherries into an airtight container, like Tupperware or something similar. Be sure to add waxed paper or parchment between the layers.
They'll last at room temperature for a few weeks, but after a couple of days, I do recommend refrigerating them.
The instructions on the jar of maraschino cherries say to refrigerate after opening and they'll last for 6-12 months. The bourbon also helps increase shelf life.
So, the shelf life of these sweet candy treats is pretty long. I say "cheers" to that!
NOTE
I purposely left them at room temperature for over three weeks to see if the cherries would spoil. I knew I would be shipping them overseas.
Thanks to the bourbon and the white chocolate coating I am happy to say that they do not. If anything the bourbon mellows out a lot.
When these are first made the bourbon has a sharp alcohol flavor but as time goes on it dissipates and blends with the cherry for a milder flavor. I'd definitely make these at least a couple of days ahead of time.
They ship very well in cool weather.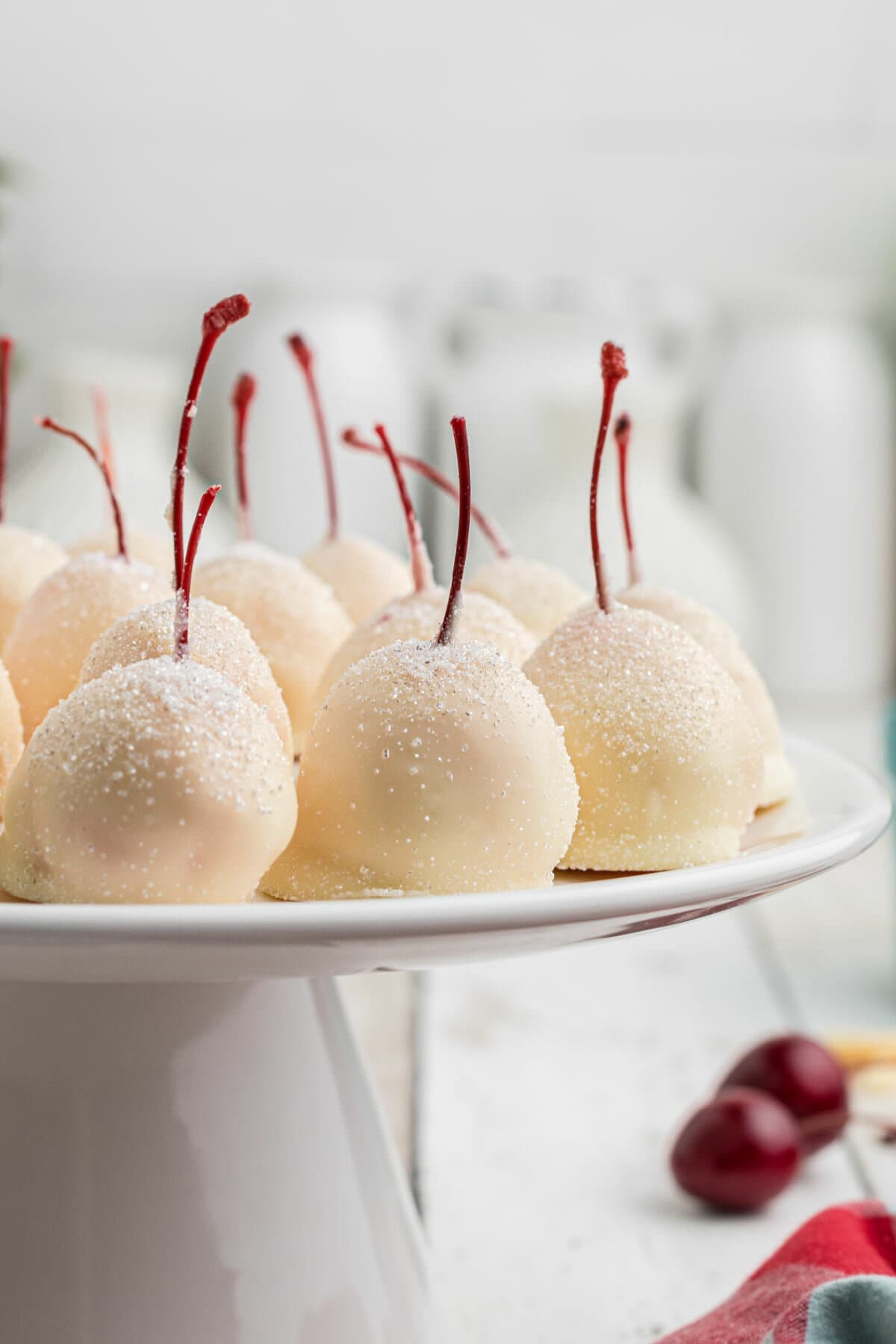 💭 Things to know
Expert Tip: In this case, "SOS" means: save our spirits! The recipe says "drain cherries" but don't throw out the bourbon. Use it in an old-fashioned or another favorite cocktail.
You can use either the microwave or a double boiler to melt the chocolate. Follow the directions on your package for the best results.
If using a double boiler, keep the water simmering over medium-low heat to avoid scalding or burning the bottom of the chocolate.
To make your own double-boiler, place a heavy-duty glass bowl or stainless steel metal one over a small or medium saucepan.
When microwaving candy melts, be sure to use a microwave-safe bowl and stir often!
The best chocolate for melting is a higher-quality chocolate bar (chopped into shards) or melting wafers.
White chocolate chips (and chocolate chips in general) are made specifically to hold their shape, so it's trickier to melt them evenly.
Parchment paper works okay if you don't have wax paper.
Make the chocolate-covered cherries a few days in advance to let the alcohol mellow out. At first, they'll have an explosion of bourbon flavor, but, as they sit, the cherry and bourbon mingle together and the alcohol takes on a bit of a milder flavor.
👩‍🍳 FAQs
Where can I find Maraschino cherries?
Often, Maraschino cherries can be found near the liquor aisle of a grocery store, since they're most often used as a cocktail garnish. Sometimes they put them on a special little stand near the ice cream since they're also used on sundaes!
Are fresh cherries okay instead of jarred?
No, I wouldn't use fresh cherries, but you could try if you plan on eating them up within a few days. However, Maraschino cherries are brined and then preserved in a corn syrup-like mixture that keeps them shelf-stable (or, fridge-stable) much longer than fresh.
Can I use luxardo cherries?
Though luxardo cherries are tasty, I don't prefer them in this boozy cherry recipe for three reasons: 1) they are already soaked more heavily in a thick syrup, 2) they're more expensive, and, 3) they don't have stems!
Can I use vodka?
I wouldn't use vodka because it's not as sweet. However, the cherry vodka mixture does sound great for your favorite vodka cocktail!
How about rum? Can I soak the cherries in it?
Rum would probably be okay if you like the flavors together. Rum-infused cherries are tasty, but they're not as traditional a pairing as bourbon and cherry are.
My chocolate is really thick; how do I thin it?
Stir in a tiny bit of oil—coconut oil works well. Be careful not to add too much, otherwise, your chocolate may not set as well.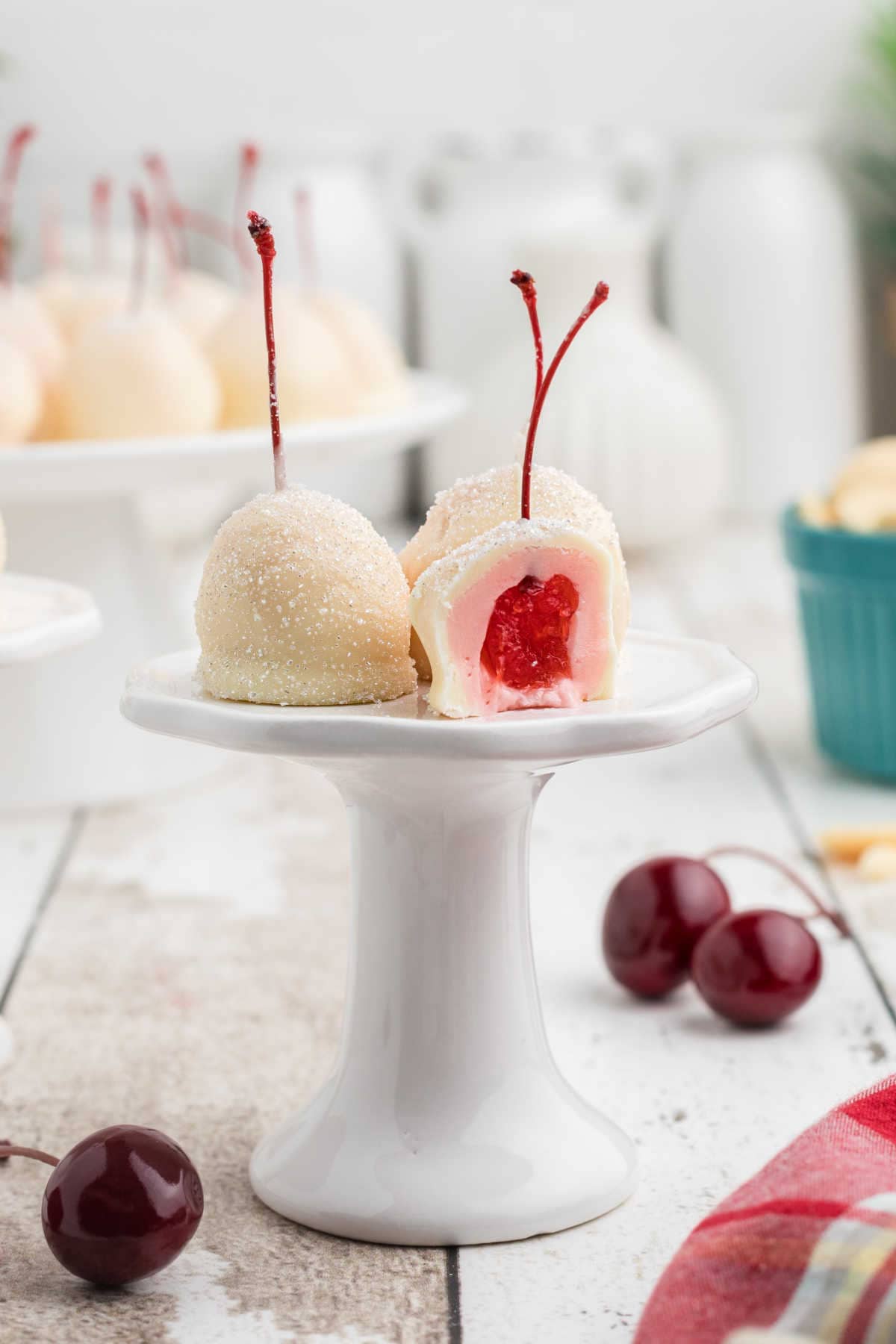 📚 Related recipes
Chewy and fudgy, with a fun "surprise" cherry center, Chocolate-Covered Cherry Cookies taste blissfully delicious. 10/10 recommend.
Quick and Easy Salted Caramels are made in the microwave, but you'd never know! They're rich, buttery, and perfectly balanced with a pinch of vanilla sea salt. Add these to your holiday candy gift boxes ASAP!
This easy Dark Chocolate Truffle recipe walks you through the steps to make scrumptious and stunning truffles—in any flavor you can imagine!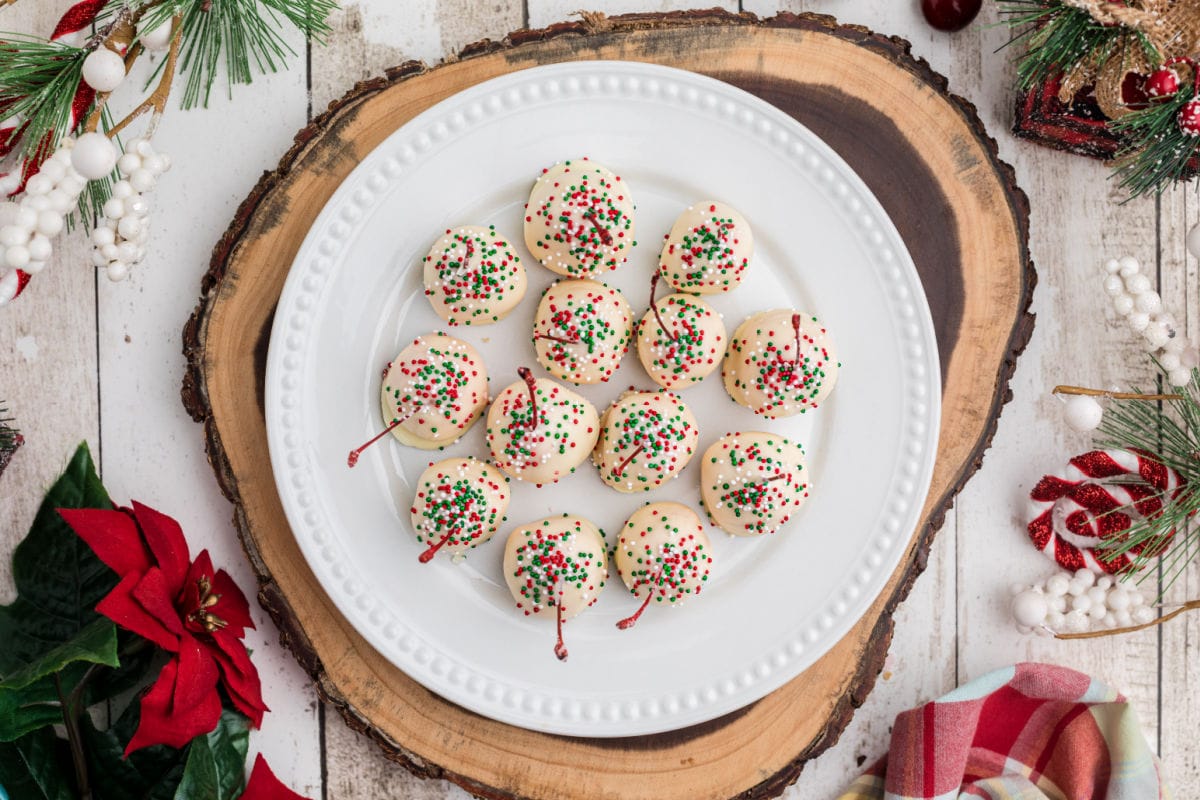 📞 The last word
If you're putting together a candy assortment you'll want to check out the rest of these homemade candy recipes.
If you click on the number of servings in the recipe card you can adjust the measurements up or down for the exact number of servings you need.
If you love this recipe please give it 5 stars! ⭐️⭐️⭐️⭐️⭐️
📖 Recipe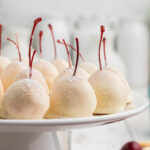 Boozy Chocolate Covered Cherries Recipe
Print
Save
Saved!
Sweet Maraschino cherries are marinated in bourbon and then covered in cherry flavored fondant and dipped in white chocolate. Totally easy and a show-stopped for holiday cookie trays!
As an Amazon Associate I earn from qualifying purchases.
Ingredients
20

ounces

Maraschino cherries

,

with stems

1

cup

bourbon

4

tablespoons

butter

,

room temperature

1

pound

white chocolate

4

cups

powdered sugar

Sprinkles

,

for decorating
I earn a commission from Instacart from qualifying purchases.
Instructions
Drain the Maraschino cherries reserving ¼ cup of the juice.

Cover the cherries with the bourbon and let them marinate for 24 to 48 hours.

Mix 3 cups of the powdered sugar with the butter, and the reserved juice.

Add enough of the final cup of powdered sugar to make a soft dough.

Knead the dough a little to get it smooth.

Cover it tightly in plastic wrap and refrigerate for 20 minutes.

Roll the powdered sugar dough in 1-inch balls.

Drain the cherries and pat dry. Roll them in the powdered sugar.

Flatten the balls and use the flattened dough to completely cover the cherry, pinching it a little around the stem.

Refrigerate the dough covered cherries for 20 minutes.

Meanwhile melt the white chocolate melts according to the directions on the back of the package. I use the microwave.

Holding the dough covered cherry by the stem dip it into the melted chocolate, allowing the excess to drip off.

Place on a baking sheet that's been covered with silpat or waxed paper.

Repeat with the remaining cherries.

Allow the chocolate to set and then dip again.

Sprinkle with edible glitter or your favorite sprinkles.

Store in an airtight container for at least 3 days before eating.
Notes
Keep them airtight and they will last for several days. I shipped them to my son in the Navy (3 weeks transit) and they were fine.
You can keep them in the refrigerator probably indefinitely. 
You could also use chocolate instead of white chocolate.
You'll find more helpful tips and variations in the body of the post.
Nutrition Facts
Serving:
1
g
|
Calories:
103
kcal
|
Carbohydrates:
16
g
|
Protein:
1
g
|
Fat:
3
g
|
Saturated Fat:
2
g
|
Cholesterol:
4
mg
|
Sodium:
14
mg
|
Potassium:
24
mg
|
Fiber:
1
g
|
Sugar:
16
g
|
Vitamin A:
30
IU
|
Vitamin C:
1
mg
|
Calcium:
20
mg
|
Iron:
1
mg
Nutrition information is estimated as a courtesy. If using for medical purposes, please verify information using your own nutritional calculator. Percent Daily Values are based on a 2000 calorie diet.
Sign up for the emails and never miss another recipe!!
We'll never share your email or send you spam. Pinkie swear.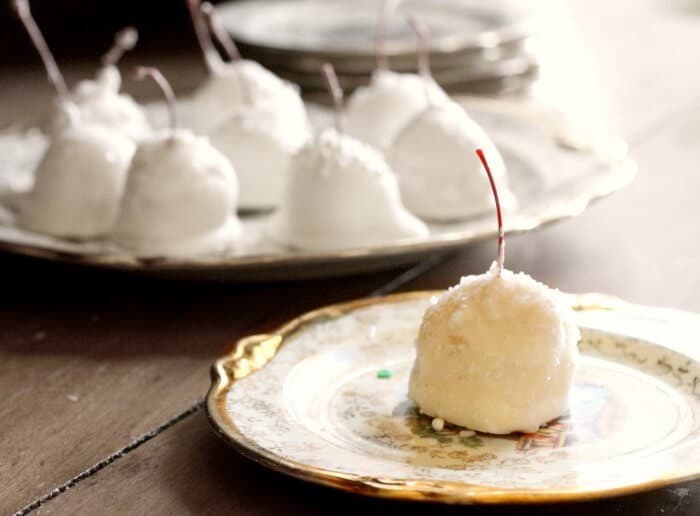 Originally published December 19, 2014. Last updated August 30, 2023 for editorial improvements.