This chocolate covered cherries recipe is my favorite for a  lot of reasons. For one, it travels well. I sent batches to all three of my military sons and even the box that took 11 days getting to Japan arrived safely and the candies were still good. When that happens I know I've got a recipe that's a keeper. These are a little different because the cherries are marinated in bourbon and then dipped in white chocolate instead of milk or dark chocolate. They are delicious and pretty. I am making this recipe as part of the Tis the Season Cookie round up. Yeah, these aren't specifically cookies but if you eat enough of them you won't notice.
I grew up in the 1960s when Christmas time meant Bing Crosby, Bubble lights, and cocktail parties – the kind where you snuck down to sit on the stairs and watch all of the adults in their fancy clothes get smashed on Old Fashioneds, Martinis, and Whisky Sours. I used to wait until the coast was clear and then swipe the cherries and olives out of the respective glasses. I am sure it wasn't healthy but I know that I always slept in quite late after a party. It wasn't until years later that I realized maraschino cherries didn't taste like bourbon and green olives didn't taste like gin.
It was, as I recall, one of life's little disappointments.
I did a non-boozy version of these for Made From Pinterest and decided to share these here. Both are very good – it just depends on if you like the idea of the bourbon in them or not. One of my sons messaged me after he got the box and said "I didn't realize the cherries had booze until I downed two of them". He was at work when he got the box (he's in the Navy).
If you like bourbon these are absolutely delicious. If you don't you might like the other recipe. They are much easier to make than they look and I think this particular chocolate covered cherries recipe looks very festive on the plate. You can use stemless cherries but I really liked how the stems look in these — plus it makes them easier to dip.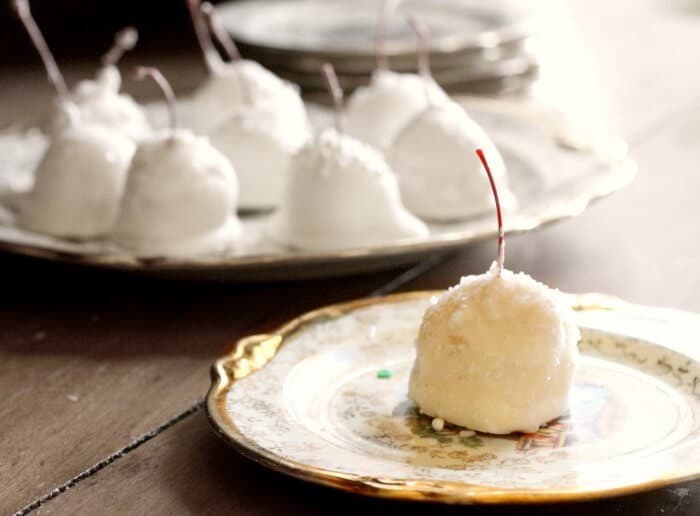 I will say that after three weeks the fondant was not the liquid goo I was hoping for even though the candy was still totally amazing. I purposely left them at room temperature for over three weeks to see if the cherries would spoil. Thanks to the bourbon and the white chocolate coating I am happy to say that they do not. If anything the bourbon mellows out a lot. When these are first made the bourbon has a sharp alcohol flavor but as time goes on it dissipates and blends with the cherry for a milder flavor. I'd definitely make these at least a couple of days ahead of time.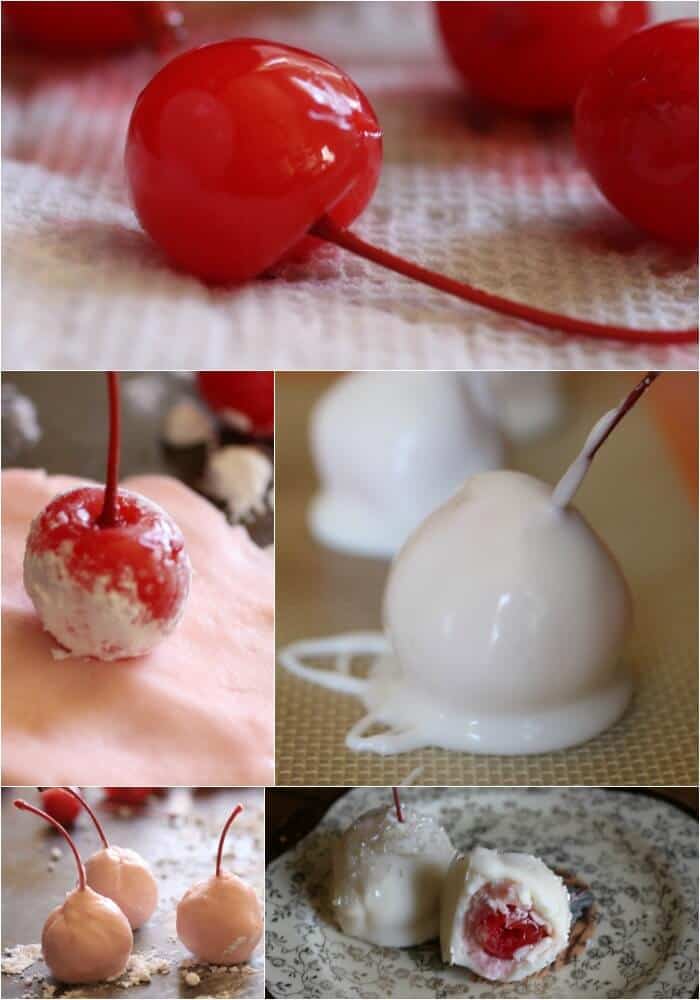 You can use Amaretto instead of the bourbon if you like. I think I am going to make them that way for Valentine's Day. For any holiday or gift giving you'll want to give these a professional look by putting them in these#4 white glassine paper candy cups
. I think they look prettier and they stay put in the container. This is an affiliate link and if you click through and buy something it does help keep the blog up and running. Thanks so much!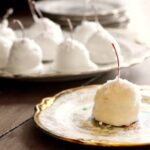 Boozy Chocolate Covered Cherries Recipe
Print
Add to Collection
Go to Collections
Sweet Maraschino cherries are marinated in bourbon and then covered in cherry flavored fondant and dipped in white chocolate. Totally easy and a show-stopped for holiday cookie trays!
Total Time
1
day
12
hours
5
minutes
As an Amazon Associate I earn from qualifying purchases.
Ingredients
20

ounce

jar Maraschino Cherries with stems

About 1 cup of good bourbon

4

tablespoons

unsalted butter at room temperature.

1

pound

white chocolate melts

4

cups

powdered sugar

Sprinkles of choice for decorating
Instructions
Drain the Maraschino Cherries reserving 1/4 cup of the juice.

Cover the cherries with the bourbon and let them marinate for 24 to 48 hours.

Mix 3 cups of the powdered sugar with the butter, and the reserved juice.

Add enough of the final cup of powdered sugar to make a soft dough.

Knead the dough a little to get it smooth.

Cover it tightly in plastic wrap and refrigerate for 20 minutes.

Roll the powdered sugar dough in 1-inch balls.

Drain the cherries and pat dry. Roll them in the powdered sugar.

Flatten the balls and use the flattened dough to completely cover the cherry, pinching it a little around the stem.

Refrigerate the dough covered cherries for 20 minutes.

Meanwhile melt the white chocolate melts according to the directions on the back of the package. I use the microwave.

Holding the dough covered cherry by the stem dip it into the melted chocolate, allowing the excess to drip off.

Place on a baking sheet that's been covered with silpat or waxed paper.

Repeat with the remaining cherries.

Allow the chocolate to set and then dip again.

Sprinkle with edible glitter or your favorite sprinkles.

Store in an airtight container for at least 3 days before eating.
Sign up for the emails and never miss another recipe!!
We'll never share your email or send you spam. Pinkie swear.
If you liked Boozy White Chocolate Covered Cherries Recipe you might also like…
Part of the Meal Plan Monday Christmas Candy Round up!