Chocolate covered cherry cookies (also called cherry bon bons) are always some of the most popular cookies on the cookie tray. In my version a dark chocolate cookie dough is spiced up with a little chipotle then a Maraschino cherry is pressed in the dough. A thick layer of ganache is spooned over the entire thing and it's baked. These chocolate cookies are a holiday favorite at my house right along with the classic peanut butter blossoms!
Just incredible, I promise.
And yeah, I was going to call them Chipotle Cherry Bon Bons but changed my mind at the last minute. :/
The thing that always freaks me out about these is that the ganache is actually baked with the cookie. It's doesn't melt and run off or burn. It forms a chocolate candy crust with gooey chocolate underneath. So you take a bite and you get hit with crispy, chewy cookie, sweet cherry, rich chocolate, and finally a slow heat from the chipotle. I like to add sprinkles for a little extra wow. AND if you happen to be taking these chocolate covered cherry cookies to an office party or other adults only event try soaking the cherries in amaretto or bourbon overnight before you make them. Just pat them dry before using.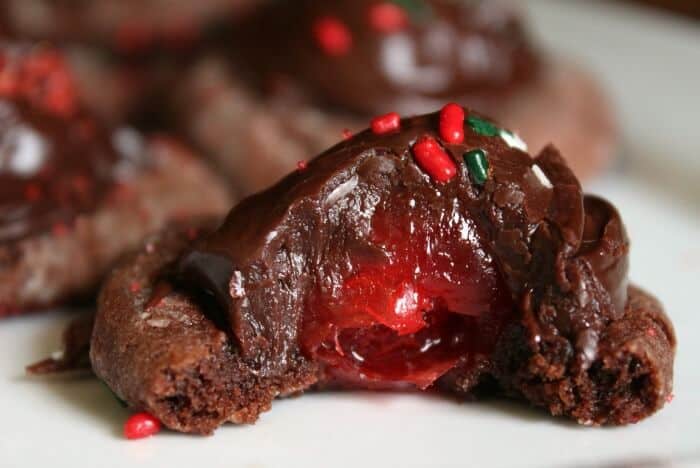 Christmas is special for a lot of reasons. Of course, for those of us who are Christian there is church and celebration of the birth of Christ and all the traditions that go along with it. Another thing that Christmas does is to hold our memories, maybe more than any other holiday. It always seems to me that Christmas is made of layers and layers of family memories.
As I bring out the ornaments each year I remember the stories they tell. There are ornaments on my tree that are over 100 years old — and there are those that were special to me when I was a child. There are those that my kids have added over the years, too. We have a tradition of buying each child an ornament every year until they move out — something that represents the year in some way.
A few days ago I packed up my oldest son's ornaments. He's been in the military for ten years but he recently married and it was time to get the ornaments to him. I will admit to wiping away a few bittersweet tears as I wrapped each of them. It's funny that he had a large number of airplane related ornaments — and he is a dedicated crew chief with the Thunderbirds now.
Another son has basketballs and art related ornaments, another has fishing related, and so it goes. Each child has unique ornaments that are meaningful to them and to me. It's a memory we share. I hope someday they are explaining to their grandchildren what each one means as they hang them on their tree. So, that is the soul of Christmas to me. Family. Love. Memories.
This is sure to be one of those recipes that makes memories — the kind you're asked to make again and again. Chocolate covered cherry cookies look (and taste) fancy but they are so super simple!
Chocolate Covered Cherry Cookies
Chocolate Cherry Bon Bons
Print
Add to Collection
Go to Collections
A chewy, crispy dark chocolate cookie spiced up with a little chipotle, cherry on top, and covered in ganache. Rich and delicious - perfect for holiday cookie trays
As an Amazon Associate I earn from qualifying purchases.
Ingredients
Cookies

1/2

cup

unsalted butter at room temperature

1

cup

sugar

1

egg

1 1/2

teaspoons

vanilla

1 1/2

cups

flour

3/4

cup

extra dark cocoa

1/4

to 1/2 teaspoon chipotle powder

,

(may omit )

1/4

teaspoon

salt

1/4

teaspoon

baking powder

1/4

teaspoon

baking soda

36

Maraschino cherries without stems

,

, drained, and patted dry (reserve juice)

Ganache

1

cup

bittersweet chocolate chips

1/2

cup

sweetened condensed milk

1 1/2

tablespoons

Amaretto or cherry juice
Instructions
Preheat the oven to 350F

In a bowl, cream together butter and sugar until fluffy.

Beat in the egg and vanilla.

Combine the flour, cocoa, chipotle, salt, baking powder, and baking soda.

Add the dry ingredients to the butter mixture and mix well.

Form the dough into 36 balls using about a heaping teaspoon of dough for each.

Roll the dough in confectioner's sugar.

Push a cherry into each one.

Cover with the ganache.

Bake for 9 to 10 minutes.

Cool completely.

Ganache

Pour the sweetened condensed milk into a small saucepan.

Stir in the chocolate chips.

Heat until the chocolate is melted.

Blend well.

Add the Amaretto or cherry juice.

Spoon on top of each cherry, covering it completely, before baking.
Sign up for the emails and never miss another recipe!!
We'll never share your email or send you spam. Pinkie swear.
Here's What I Used in This Chocolate Cherry Bon Bons Recipe…
These are the ingredients I used in this recipe. They are affiliate links – if you click through and buy it helps support the blog… thank you!
Hershey's Special Dark Cocoa
Eagle Brand Sweetened Condensed Milk
All Natural Stemless Maraschino Cherries
Included in Meal Plan Monday Christmas Cookie Edition – Check out all the cookie recipes!