A peanut butter blossoms recipe straight from your childhood, this Hershey's classic is soft and chewy just like you remember. This easy peanut butter cookie recipe goes together fast – in no time at all you'll be munching one and washing it down with cold milk. You DO wash it down with milk, right? They freeze well, too.
For this recipe you'll need: sugar, light brown sugar, butter, peanut butter, egg, vanilla, baking soda, flour, Hershey's kisses

The Restless Chipotle Channel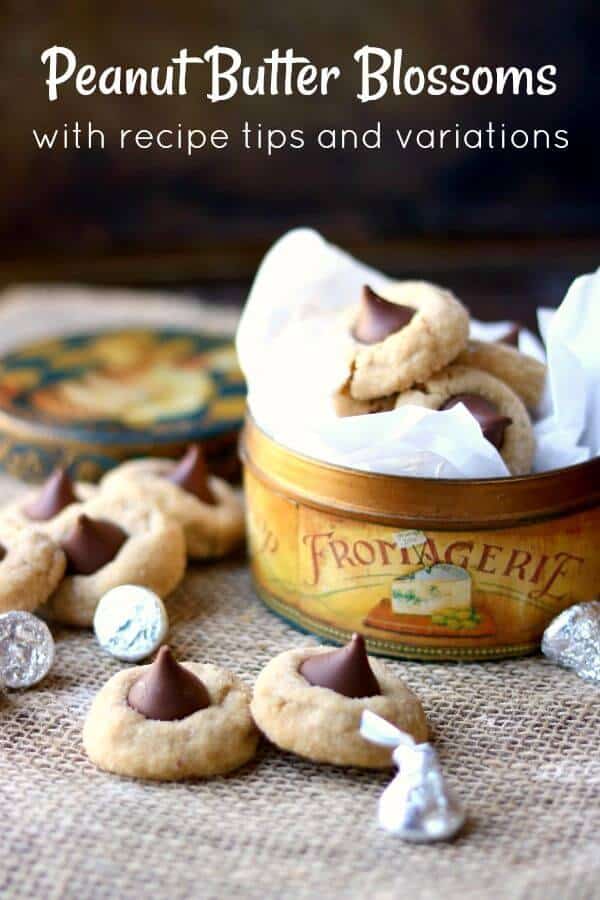 I don't know why I don't use this peanut butter blossoms recipe all year long but I don't. Most of the year, when I bake cookies, I make a classic chocolate chip cookie recipe, peanut butter cookies, or my favorite oatmeal cookies. Admittedly, I'm baking cookies a lot less than I used to.
It's funny how you go through life feeling like nothing ever changes and then, all of a sudden, you realize that you're in a completely new stage. I mean, it seemed like the season was neverending when the kids were small. All of the messes. All of the sleep deprived nights. All of the rocking, and nursing, and changing. My youngest is in her last year of Jr. High, my oldest four have moved away from home (well, one moved back in last year but still…) two are in college…
I'm feelin' it, y'all. I'm not ready for the mom stage of my life to be over. I miss making those memories with my kids – oh I know I can make memories with the grandkids and I do as much as I can but it's different.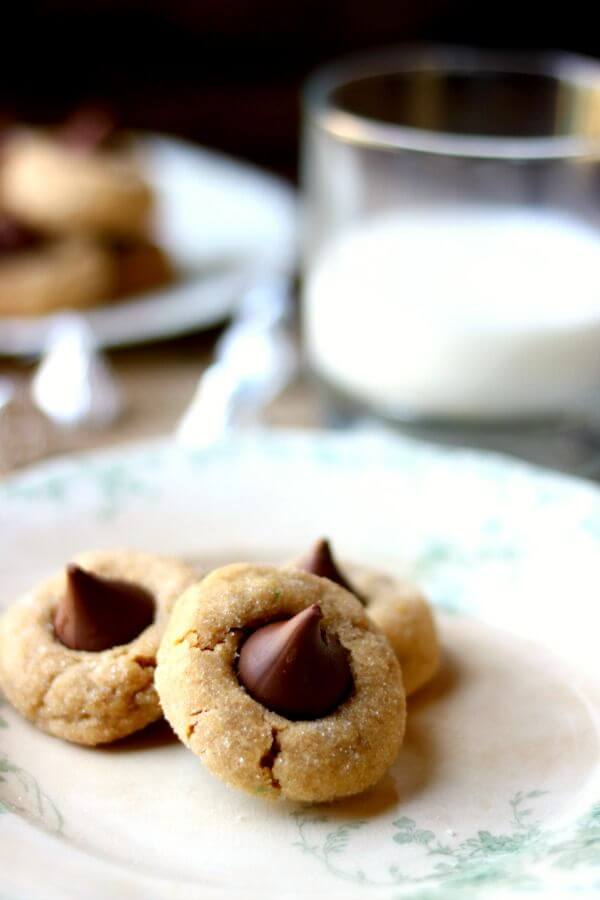 We eat out more often, just my husband and I, because everyone is at activities and it's just us. The house is quieter than it used to be and family dinners are often get your own due to schedules. When the cookie jar IS full the cookies often last long enough to get stale.
Inconceivable. I don't think that's ever happened before.
One of the things I really like about these peanut butter kiss cookies is that they freeze so well, either baked or unbaked, so I can make a full batch then have them on hand. I prefer to freeze them unbaked so that I can serve them fresh and warm, with the Hershey's Kiss melting in the center.
To Freeze Peanut Butter Blossom Cookies –
Form the dough into balls and roll in the sugar.
Place them close together on a cookie sheet.
Put the cookie sheet in the freezer until the balls of dough are completely frozen.
Take off the cookie sheet, toss in a freezer container, and return to the freezer.
When you're ready for some cookies take out as many dough balls as you need.
Put them about 2 inches apart on an ungreased cookie sheet.
Bake as directed (but they may need an extra few minutes).
Remove from the oven and add the Hershey's Kisses as directed in the recipe.
See? Easy!
They also are the perfect cookie for sending to school because they just don't crumble easily when they're jiggling around in a lunch box.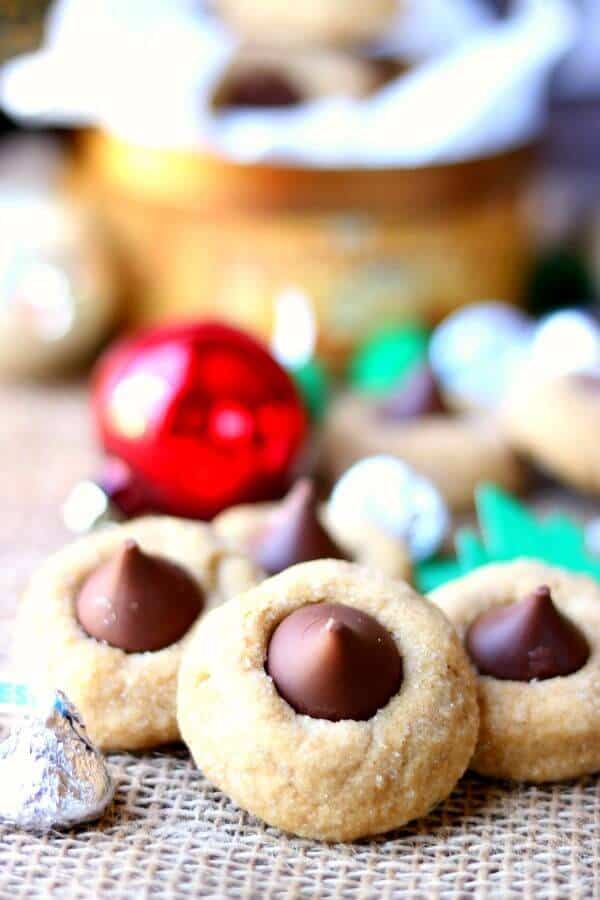 Variations on Peanut Butter Blossoms Recipe
These classic Hershey's peanut butter kiss cookies are versatile, too. By the way, do you call them peanut butter blossoms or peanut butter kiss cookies? Honestly, here they are forever known as "those peanut butter cookies with the Hershey's in the middle".
Anyway…
You can use them for any occasion that calls for cookies simply by using colored sugar to roll the peanut butter cookie dough in before baking. Here are some of my other favorite variations on the classic Hershey's peanut butter blossoms recipe-
Use Hershey's Hugs
Use almond butter in place of the peanut butter and almond extract in place of the vanilla
Use Reeses Peanut Butter Cups instead of Kisses
Roll in powdered sugar instead of granulated sugar
Use a Rolo instead of a Kiss
Use one of the filled types of kisses
Drizzle with melted chocolate or white chocolate once they're cool
My Red Velvet Peppermint Kiss cookies are probably my favorite variation
The coarser the sugar the more crunchy the outside of the cookie will be so try different types of sugar crystals like turbinado, raw sugar, etc.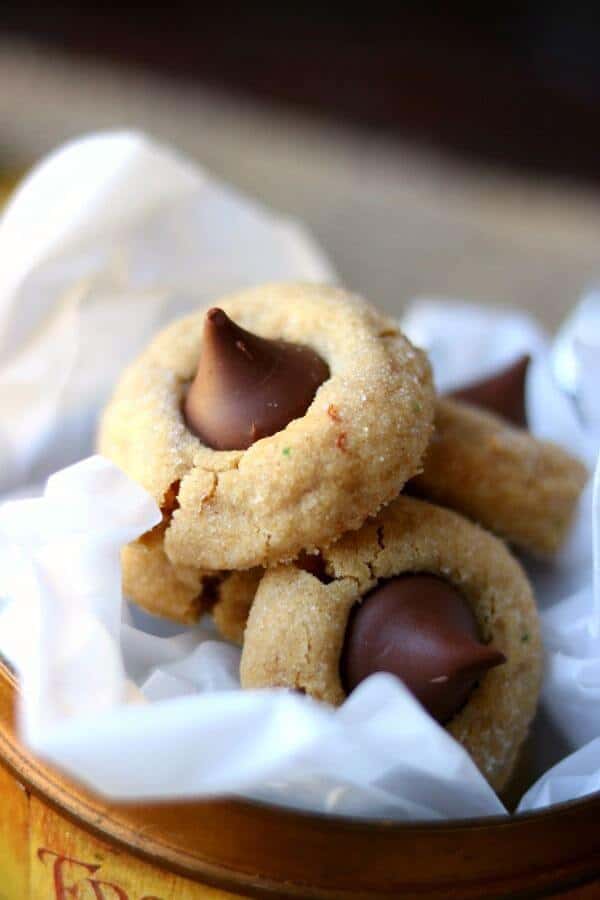 You May Need…
The following are affiliate links. We are a participant in the Amazon Services LLC Associates Program, an affiliate advertising program designed to provide a means for us to earn fees by linking to Amazon.com and affiliated sites.
Thanks so much for being a part of Restless Chipotle!
Good cookie sheets make all the difference in the texture of your cookies and whether or not the bottoms burn. I like these heavy duty cookie sheets from Calphalon. They'll last for years.

Peanut Butter Blossoms Recipe
There's more than one Peanut Butter Blossoms recipe floating around but this is my favorite. The cookies have lots of peanut butter flavor, they're chewy, and they're made with butter, not shortening. They're one of my favorite Christmas cookies recipes to make with kids because even little kids can unwrap the Kisses!
These cookies ship really well and are good for sending to loved ones away at college or in the military.
You just can't go wrong with chocolate and peanut butter together! If you like this recipe please consider leaving a 5 star rating. 🙂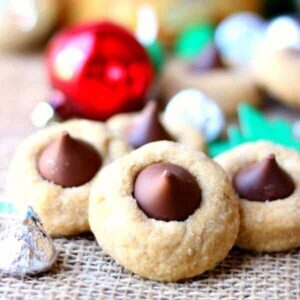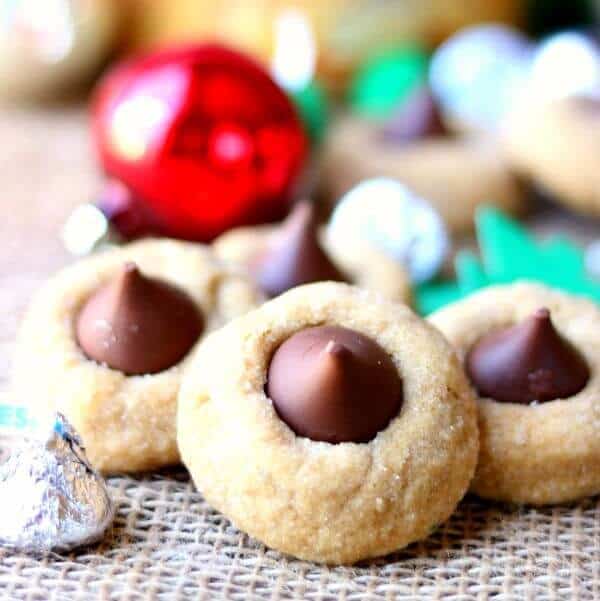 Peanut Butter Blossoms
A peanut butter blossoms recipe straight from your childhood, this Hershey's classic is soft and chewy just like you remember. This easy peanut butter cookie recipe goes together fast - in no time at all you'll be munching one and washing it down with cold milk. They freeze well, too.
Course:
Dessert - Cookies
Cuisine:
American - Vintage
Ingredients
1/2

cup

butter

,softened

1/2

cup

peanut butter

1/2

cup

sugar

1/2

cup

brown sugar

,firmly packed

1

egg

1 1/2

teaspoon

vanilla

1 3/4

cups

flour

1

teaspoon

baking soda

1/4

cup

vanilla sugar

,or plain granulated sugar

48

Hershey's Kisses

,unwrapped
Instructions
Preheat oven to 350F.

Combine the butter and peanut butter in bowl.

Add both the granulated and brown sugars and beat at medium speed until light and fluffy.

Add egg, vanilla and salt; continue beating until well blended.

Add flour and baking soda then beat at low speed, scraping bowl often, until it's completely mixed.

Shape dough into 1-inch balls.

Roll balls in 1/4 cup vanilla sugar.

Place 2 inches apart onto ungreased cookie sheets.

Bake 8-10 minutes.

Gently press 1 chocolate kiss in center of each cookie.

Let cool on cookie sheets for 5 minutes.

Place in freezer for about 10 minutes or until the chocolate hardens back up.

Remove from freezer.
Nutrition Facts
Peanut Butter Blossoms
Amount Per Serving
Calories 94
Calories from Fat 36
% Daily Value*
Total Fat 4g 6%
Cholesterol 9mg 3%
Sodium 58mg 2%
Potassium 26mg 1%
Total Carbohydrates 12g 4%
Protein 1g 2%
* Percent Daily Values are based on a 2000 calorie diet.
If you liked this peanut butter blossoms recipe you may also like…
Quadruple Chip Cookies, Molasses Peanut Butter Cookies, Old Fashioned Chewy Peanut Butter Cookies
Similar recipes from some of my favorite bloggers-
Peanut Butter Chocolate Shortbread Cookies The View from Great Island
Peanut Butter S'Mores Cookies Liv for Cake