This super easy, no-bake German Chocolate pie recipe has everything you love about German Chocolate cake without the time it takes to bake cake layers. It goes together quickly because of a buttery crumb crust and after just a few hours in the fridge it's ready to wow your family, impress your guests, or give you serious brownie points at the next church potluck.
For this recipe you'll need: crumb crust, German Sweet Chocolate, heavy cream, butter, granulated sugar, brown sugar, evaporated milk, egg, vanilla, pecans, sweetened flaked coconut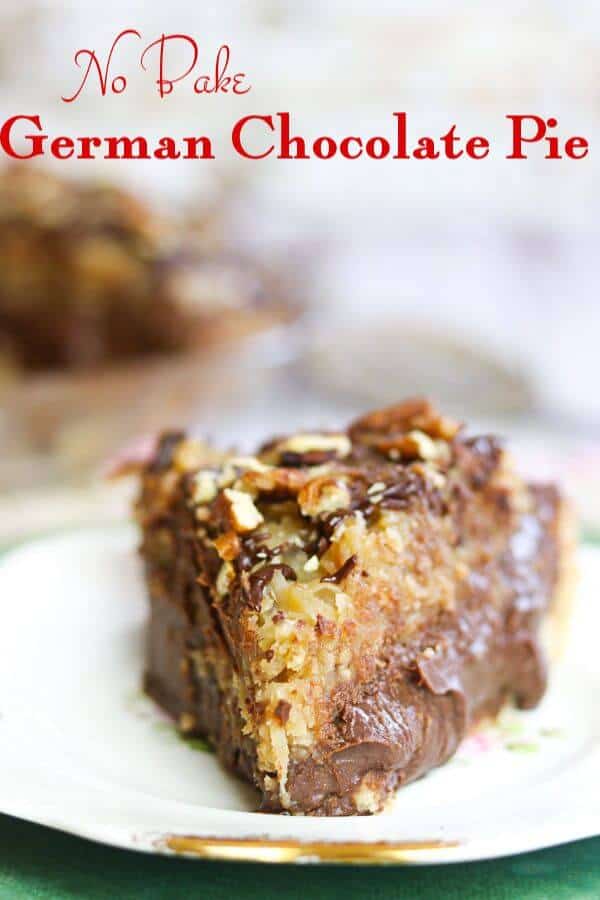 German Chocolate Pie Backstory
When I was a little girl we lived for a time in Pennsylvania, just northeast of Philadelphia.
My dad was an executive and so every day he put on a black suit and a gray tie and got in his company car to drive the 3 miles to the train station where he boarded his train to the city and read his paper, right alongside a hundred other men that looked basically the same and were doing basically the same thing.
At precisely 5:50 I would walk up the street to the corner where at precisely 6-o-clock his car would come into view. He'd stop and pick me up and we'd ride together for the five seconds it took to get to our house and park in the garage.
It was the Madmen era (the show) and life was extremely predictable – at least for me.
On the weekends we'd explore the area. Sometimes we'd go camping (Airstream trailer) or maybe just a Sunday drive in the country… but the very BEST days we'd head to Dutch Wonderland, an amusement park in the middle of Pennsylvania Dutch country.
After a day of way too much sugar, way too many rides, and way too much excitement I'd be too tired to walk to the car and rode high on my dad's shoulders – honestly it was my favorite place to be.
On the way home we would ALWAYS stop at the same restaurant. We had to stand in line, swatting flies, for what seemed like forever before it was our turn to shuffle through the screen door into the inside of what Heaven must surely be like.
We were handed plates and seated at long table, family style. Once seated we we allowed to roam the hallowed hall, a room filled with at least 10 tables of piled up food. Fluffy biscuits, fragrant breads, rolls, pies, cakes, roast beef, roast chicken, bowls filled a mile high with creamy mashed potatoes with yellow pools of melted butter…
It was crowded so the potential for me to fill my plate unseen was very high. I'd creep quietly to the pie table and try to get as many different pies on my plate before my mom saw me and ordered me back to her side with "the look".
I always put one slice of pie on my plate before any of the other delights… This German Chocolate Pie.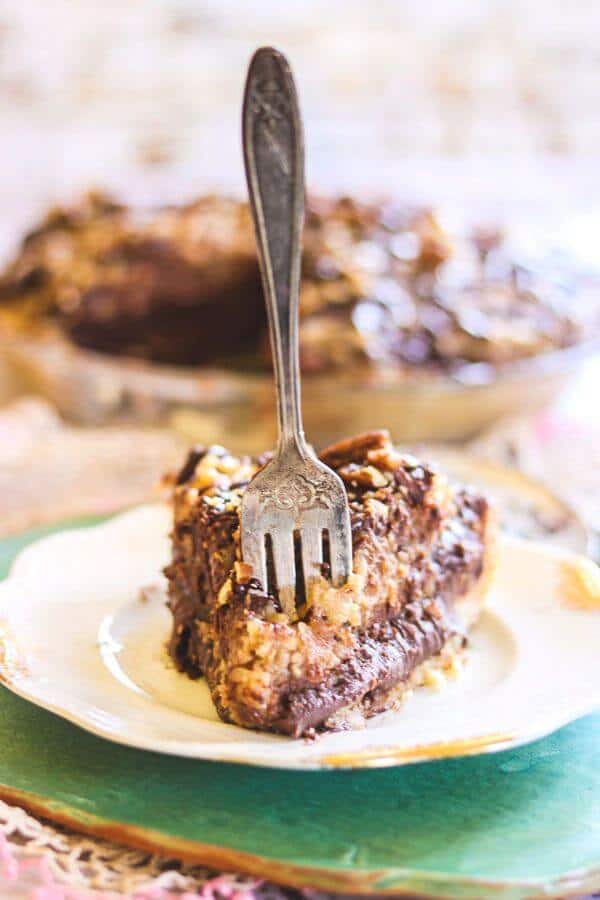 What Is German Chocolate Pie?
If you've ever eaten German chocolate cake you've got a pretty good idea of what German chocolate pie is! At its most basic it's a chocolate pie with a pecan and coconut topping or pecans and coconut stirred in to the chocolate pudding.
But when have I ever done anything basic?
The thing that I didn't like about this pie was that the pudding was too soft for the topping. It was a weird texture combination for me – and I didn't remember it being that soft, pudding like texture back in the day. So, I tried a baked chocolate custard – and that didn't make the grade. Finally I tried this extra rich chocolate ganache and, like Goldilocks, found that it was just right!
What Is German Chocolate?
German chocolate isn't chocolate from Germany. It's actually German's® Sweet Chocolate, created by Samuel German for Walter Baker & Company in 1852.
He created it with the sugar already in it to be more convenient for bakers – a cutting edge development at the time. It's sweeter than semi-sweet chocolate but also has a dark, rich flavor. If you can't find German chocolate (as we call it) in your store you can substitute dark chocolate for it.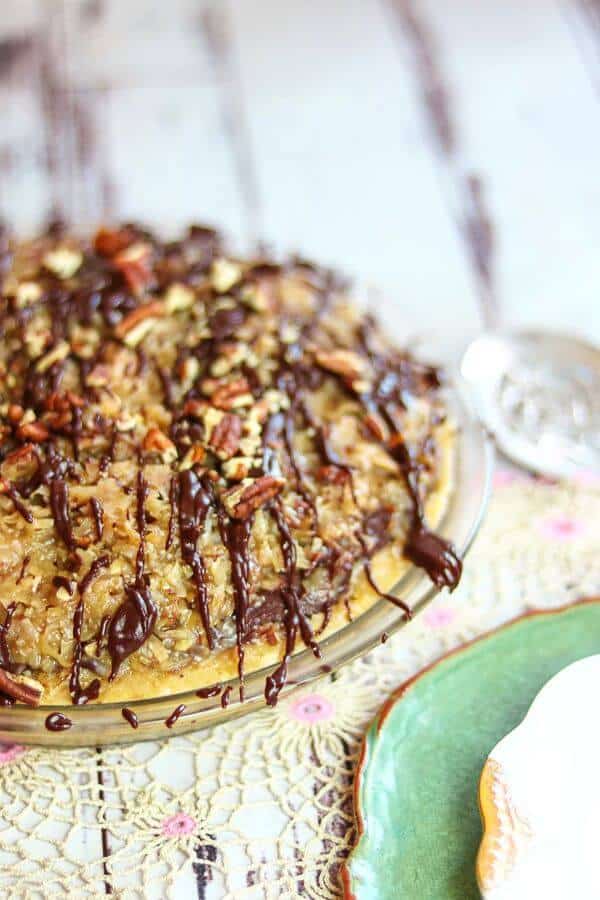 How to Toast Pecans
Toasting the pecans (and coconut) for this German Chocolate pie topping makes ALL the difference. You can skip this step if you must but… it's SO much better with them toasted!
Preheat the oven to 350F
Chop Pecans -You don't have to always chop the pecans before toasting but for this recipe it's necessary. Just chop them coarsely while the oven is preheating.
Toast Pecans – Add the pecans to a cookie sheet and place in the oven.
Stir the pecans well about halfway through. This allows all the surfaces to get toasted.
Watch the pecans carefully. When they start to get aromatic remove them from the oven. It takes about 5 minutes.
How to Toast Coconut
You'll toast coconut basically the same way but preheat the oven to 325F. Coconut will go from golden brown to crispy black in seconds to you'll need to watch it very carefully.
Chocolate Pie FAQs
Can Chocolate Pie Be Frozen?
Most chocolate pies don't freeze well but this German Chocolate Pie freezes beautifully for up to 3 months because it is made with ganache.
How Can I Make a Chocolate Pie Crust?
If you want your pie to be extra chocolaty make it in a chocolate cookie crumb crust as I have in this recipe! Crumb crusts are super easy, no-bake, and take almost no time at all to make.
How Long Does Chocolate Pie Last?
A chocolate pie will keep in the refrigerator, tightly covered, for 4 days or so.
How Do I Store Chocolate Pie?
Cover tightly and store chocolate pie in the refrigerator. This German Chocolate Pie can be frozen for up to 3 months but pudding based chocolate pies don't freeze well.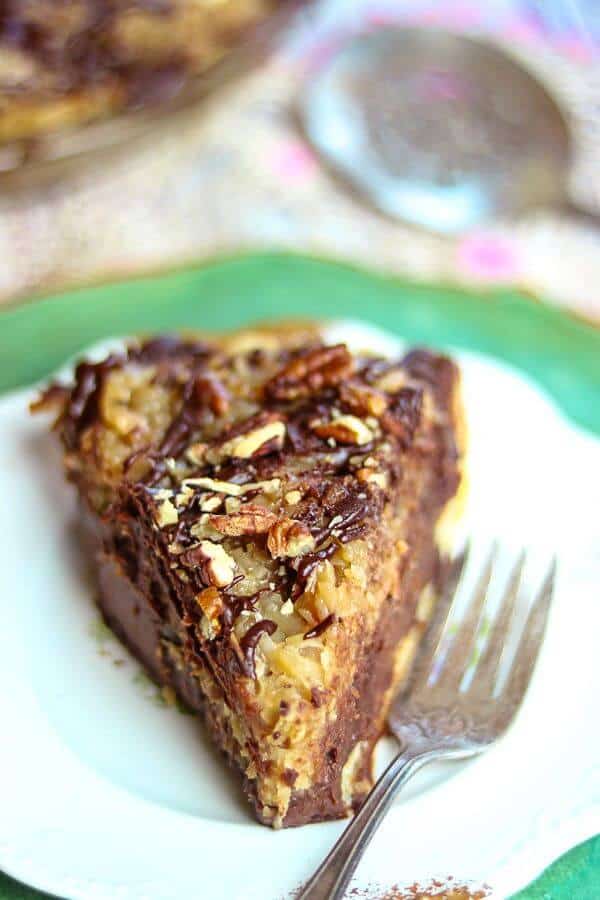 You May Need
The following are affiliate links. We are a participant in the Amazon Services LLC Associates Program, an affiliate advertising program designed to provide a means for us to earn fees by linking to Amazon.com and affiliated sites.
What's new? Check out my Restless Chipotle & Co. Store on Amazon where you'll find all kinds of nostalgic goodness! Thanks so much for being a part of Restless Chipotle!
I HATE trying to get a pie out of the oven and inadvertently breaking the edge of the crust with the hot pad. I don't like my perfect pie crusts to be crumbled and yet, nearly every time, I mess up one of the edges getting it out of the oven or even the fridge.
Well, with THESE Pyrex easy grab pie plates that doesn't happen! The edges are wide so you have plenty of room to hold the pie plate without messing up the crust. YAY!
More Great Pies!
Check out this pie recipe roundup from Kitchen Magpie!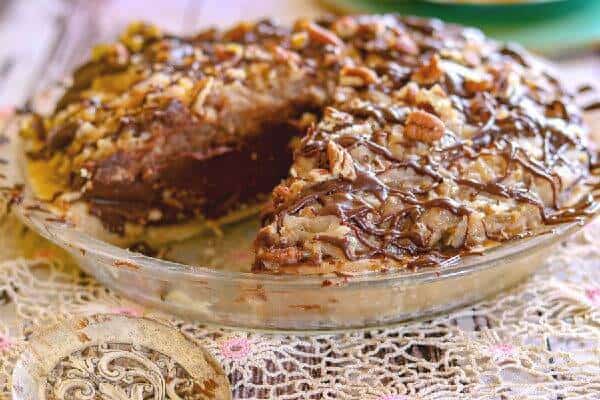 No-Bake German Chocolate Pie
This is one of those pie recipes you're going to want to put on your "A" list! So easy, so quick, and SO good. I like to have a couple of them in the freezer for "pie emergencies" like unexpected company or a neighbor who needs a little love. Give it a try and let me know what you think…
I also make it with this Oreo Crust for more chocolatey flavor!
If you love this recipe please give it 5 stars!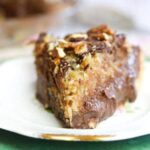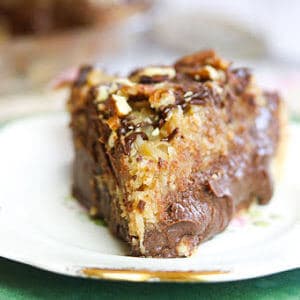 No-Bake German Chocolate Pie
Print
Add to Collection
Go to Collections
Thick, rich German chocolate ganache topped with a classic toasted coconut-pecan topping and chilled in a buttery cookie crust can be frozen for up to 3 months. It's one of my favorites for summer parties and potlucks!
Chilling Time
2
hours
30
minutes
As an Amazon Associate I earn from qualifying purchases.
Ingredients
1

Crumb crust,

, prepared – may use Restless Chipotle Oreo Crust
German Chocolate Filling
16

ounces

German's Sweet Chocolate ,

, may substitute bittersweet chocolate

2 1/4

cups

heavy cream

1/2

cup

butter

,

, room temperature, cut into pieces
Coconut Pecan Topping
2/3

cup

evaporated milk

1/4

cup

sugar

1/4

cup

brown sugar

1

egg

,

, beaten

1 1/2

cups

coconut

,

, shredded sweetened – toasted

2/3

cup

pecans

,

, chopped and toasted

1/2

teaspoon

vanilla

6

tablespoons

butter

,

, cubed
Instructions
Chocolate Ganache Filling:
Heat cream in microwave (or on top of the stove) until it is steaming hot.

Add the chocolate and stir until smooth. (If the chocolate won't melt all the way you can add it to the microwave and heat it for 20 second increments, stirring in between – just until it is melted and blends with the cream)

Add in the butter and stir until well blended.

Pour into the prepared crust, either cookie or chocolate (or even a traditional pastry that's been pre-baked!)

Cover and chill for at least 2 hours.
Coconut-Pecan Topping
Toast the coconut and pecans as directed in the post.

Set aside.

Whisk the egg in a small bowl until it's completely blended.

Set aside.

Combine the evaporated milk, sugars, and butter in a small saucepan.

Cook, stirring continually, until butter is melted and mixture comes to a boil.

Remove from heat.

Whisk a little of the hot milk mixture into the egg then add it back to the pan, whisking continually so you don't end up with scrambled eggs.

Bring to a simmer and cook for 2 minutes, stirring constantly.

Remove from heat and stir in the vanilla, coconut and pecans.

Spoon over the chilled filling .

Chill for at least 30 minutes before serving.
Notes
You can melt some extra chocolate and drizzle it on top for a nice finish.
Nutrition
Calories:
890
kcal
|
Carbohydrates:
37
g
|
Protein:
12
g
|
Fat:
87
g
|
Saturated Fat:
52
g
|
Cholesterol:
171
mg
|
Sodium:
251
mg
|
Potassium:
689
mg
|
Fiber:
11
g
|
Sugar:
17
g
|
Vitamin A:
1680
IU
|
Vitamin C:
1.3
mg
|
Calcium:
179
mg
|
Iron:
10.6
mg
Sign up for the emails and never miss another recipe!!
We'll never share your email or send you spam. Pinkie swear.
Submit Your Own Images