Millionaire Pie is an easy, no bake recipe that's creamy, sweet, tropical deliciousness in a simple crumb crust. With just 5 minutes of preparation time the hardest part is waiting for it to chill!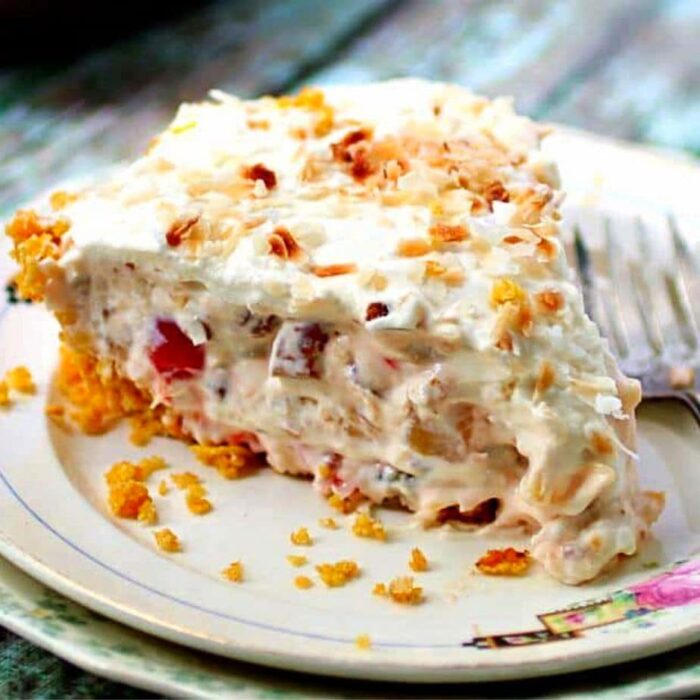 Jump to:
Shopping List
If you grew up in the 1960s in Texas you probably had a slice of Millionaire Pie at one time or another. Taste those sweet memories and make some new ones with this old fashioned favorite!
Crumb crust can be purchased or homemade. I've used Frosted Flakes, butter cookies, 'Nilla wafers, graham crackers, and pecan sandies to make the crust and they all work fine!
Whipped topping is available in the freezer section of most grocery stores or you can try my homemade version.
Crushed Pineapple is important so that the texture isn't too chunky.
Toasted pecans add crunch and that buttery pecan flavor. You can skip toasting them if you want but it's so much more tasty.
Coconut called for in this recipe is the sweetened flaked coconut. It's moist and sweet.
Maraschino cherries without stems – since you'll be chopping them. Hint: red works better than green. Trust me.
Sweetened condensed milk is the base. I use Eagle Brand but you can use what you like.
Lemon juice balances the sweetness and causes the sweetened condensed milk to thicken.
Remember Furr's Texas Millionaire Pie?
This exquisite bite of Americana is, or was, a popular dessert at Furr's Cafeterias in Texas during the 1970s and before. They may still serve it – I honestly haven't been to a Furr's in years.
I loved millionaire pie with every fiber of my tiny, sugar infused being and would happily make a meal of this if my parents were distracted.
I always thought it was called "million dollar pie" and I felt special that Dad spend that kind of money on me – until I learned to read and found it it was something like $1.59
Their recipe is just a little different than this one but once I tried it with the cherries I was absolutely in love. The Maraschino cherries add bright little pops of color throughout the pie filling. It's honestly just a Cool Whip pie with pineapple and cherries!
On the rare times my mom made it she added marshmallows and it was similar to a pie version of the fruit salad (ambrosia) we always had at the holidays.
Tips and Variations
Experience Level : Beginner
Millionaire pie is one of those beginner recipes that your 10 year old can make without much help. It's such an easy summer dessert. Here are a few tips –
I used my homemade Cool Whip in this and it worked fine.
I used Frosted Flakes pulsed in the food processor to make the no bake crumb crust but I've also used Fruit Loops, graham crackers, and Pecan Sandies.
If you'd like to have your millionaire pie without coconut just substitute marshmallows for the coconut.
Spray the inside of your plastic wrap with cooking spray before you cover the pie so that the filling doesn't stick to the wrap.
Wait to add the extra topping to the top of the pie until just before you are ready to serve.
Toasting the pecans gives them better flavor.
Substitute the pecans with macadamia nuts.
Put the pie in the freezer about 45 minutes before you want to cut it so the slices are pretty and clean.
This is a very rich pie so you could technically cut it into 10 servings.
You can make it up to 3 days ahead of time and keep it refrigerated.
Make this into bars – press the crumbs in the bottom of a 13×9 inch pan and double the filling – it makes it so easy to take to potlucks!
Some people call this pie Pina Colada pie – make an adults only version by substituting part of the pineapple juice with rum.
Garnish the top with those little cocktail umbrellas before serving – so cute!
You may also like this other vintage favorite, Strawberry Filled Angel Food Cake.
How to Make a Millionaire Pie, Step by Step
Here are easy, step by step images and instructions for putting together this iconic, no bake pie made famous in the 1950s by Furr's Cafeterias.
Or was it Wyatt's?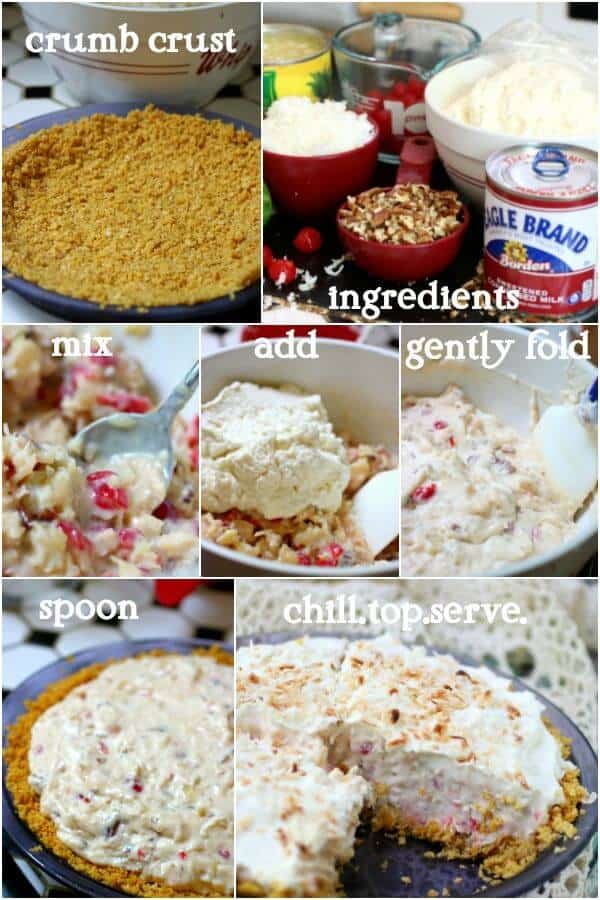 Get the crumb crust ready and put it in the freezer while you are making the pie filling.
Get the ingredients together. Toast the pecans and the coconut you'll be using for the topping.
Mix the filling ingredients except the whipped topping.
Fold in the whipped topping. Be very gentle with this part.
Continue to fold in the whipped topping until it's all blended in. It will be just a little runny.
Spoon the filling into the pie crust, cover, and refrigerate overnight.
Cover the millionaire pie with remaining topping. Sprinkle with toasted coconut.
Freeze for 40 minutes before serving to make it easier to cut.
You May Need…
The following are affiliate links. We are a participant in the Amazon Services LLC Associates Program, an affiliate advertising program designed to provide a means for us to earn fees by linking to Amazon.com and affiliated sites.
Thanks so much for being a part of Restless Chipotle!
What's new? Check out my Restless Chipotle & Co. Store on Amazon where you'll find all kinds of nostalgic goodness! Thanks so much for being a part of Restless Chipotle!
This is SO cool! This pie keeper will keep your pie fresh in the fridge without mashing down the topping!.
More No-Bake Desserts
As you might expect with me being from Texas and all, I have a ton of no bake recipes to keep our sweet tooths (teeth? tooth?) happy all summer long. Here are a few of my favorites –
Whether you call it Millionaire Pie, Pina Colada Pie, Hawaiian Pie, or something else — this old-fashioned no-bake pie recipe is absolutely the best! It's just so darn good!
Be sure to make it soon. And let me know in the comments if this is one of those recipes that was part of your childhood…
If you love this recipe please give it 5 stars.
📖 Recipe