Millionaire Pie is an easy, no bake pie recipe that is creamy, sweet, fruity deliciousness in an easy crumb crust. It takes just 5 minutes to make (see, I told you it was easy!) and everyone and their mother-in-law loves this thing. It's a creamy dessert that's jam-packed with coconut, Maraschino cherries, pineapple, and toasted pecans. It's the perfect recipe for potlucks and other summer parties because it leaves you plenty of time to enjoy the party!
For this recipe you'll need: crumb crust, homemade whipped topping, crushed pineapple, pecans, coconut, Maraschino cherries, sweetened condensed milk, lemon juice
What's Millionaire Pie?
Millionaire Pie is, or was, a popular dessert at Furr's Cafeterias in Texas during the 1970s and before. They may still serve it – I honestly haven't been to a Furr's in years. I loved this dessert with every fiber of my sugar infused being and would happily make a meal of this and their eggplant casserole, another of their recipes that I need to make.
Their recipe is just a little different than this one but once I tried it with the cherries I was absolutely in love. The Maraschino cherries add bright little pops of color throughout the pie filling. It's honestly just a Cool Whip pie with pineapple and cherries!
On the rare times my mom made it she added marshmallows and it was similar to a pie version of the fruit salad (ambrosia) we always had at the holidays. I prefer it without the marshmallows because there's something about the texture I don't like.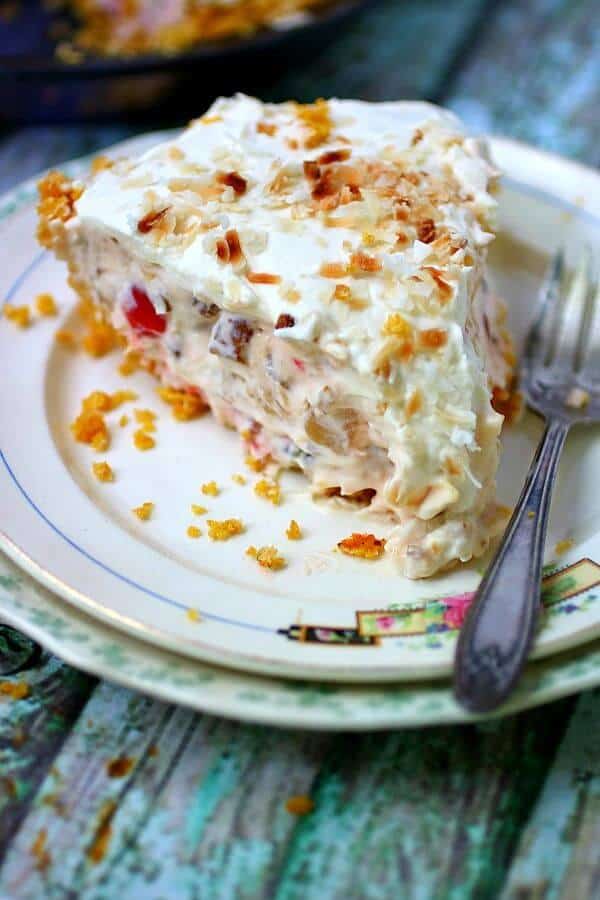 Tips for the Best Millionaire Pie Ever
Experience Level : Beginner
This is one of those beginner recipes that your 10 year old can make without much help. It's such a great summer dessert. Here are a few tips –
I used my homemade Cool Whip in this and it worked fine
I used Frosted Flakes pulsed in the food processor to make the no bake crumb crust but I've also used Fruit Loops, graham crackers, and Pecan Sandies
Substitute marshmallows for the coconut
Spray the inside of your plastic wrap with cooking spray before you cover the pie so that the filling doesn't stick to the wrap
Wait to add the extra topping to the top of the pie until just before you are ready to serve
Toasting the pecans gives them better flavor
Substitute the pecans with macadamia nuts
Put the pie in the freezer about 45 minutes before you want to cut it so the slices are pretty and clean
This is a very rich pie so you could technically cut it into 10 servings
You can make it up to 3 days ahead of time
Make this into bars – press the crumbs in the bottom of a 13×9 inch pan and double the filling – it makes it so easy to take to potlucks!
Some people call this pie Pina Colada pie – make an adults only version by substituting the pineapple juice with rum
Garnish the top with those little cocktail umbrellas before serving – so cute!
Step By Step Instructions for Millionaire Pie
Here are some easy, step by step images and instructions for putting together this super simple, no bake pie.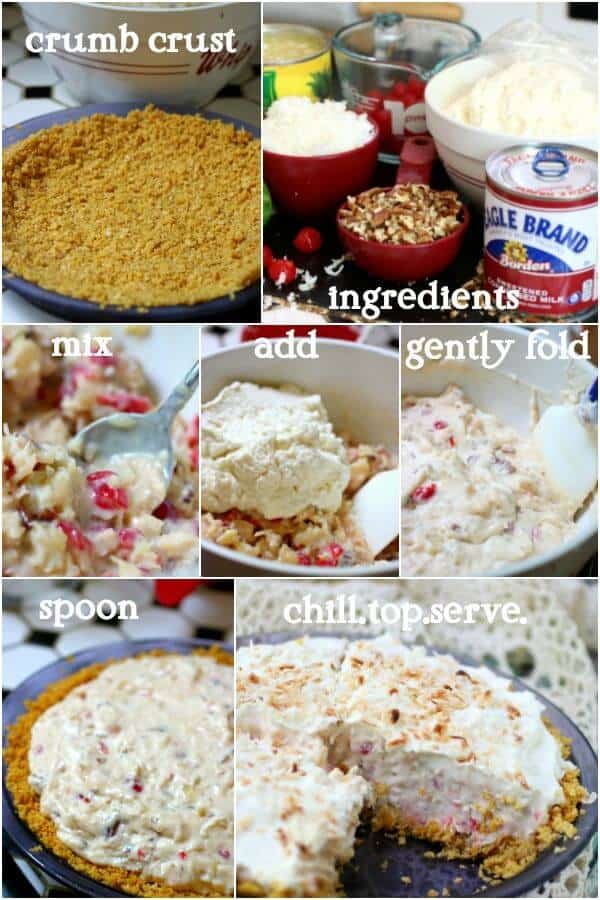 Here are the step by step images showing you how to make this easy, no bake Millionaire Pie
Step One
Get the crumb crust ready and put it in the freezer while you are making the pie filling.
Step Two
Get the ingredients together. Toast the pecans and the coconut you'll be using for the topping.
Step Three
Mix the filling ingredients except the whipped topping.
Step Four
Gently fold in the whipped topping.
Step Five
Continue to gently fold in the whipped topping until it's all blended in. It will be just a little runny.
Step Six
Spoon the filling into the pie crust, cover, and refrigerate overnight.
Step Seven
Cover with remaining topping. Sprinkle with toasted coconut. Freeze for 40 minutes before serving to make it easier to cut.
Items You May Need…
The following are affiliate links. We are a participant in the Amazon Services LLC Associates Program, an affiliate advertising program designed to provide a means for us to earn fees by linking to Amazon.com and affiliated sites.
Thanks so much for being a part of Restless Chipotle!
What's new? Check out my Restless Chipotle & Co. Store on Amazon! Thanks so much for being a part of Restless Chipotle!
This is SO cool! This pie keeper will keep your pie fresh in the fridge without mashing down the topping!.

Other No-Bake Dessert Recipes On Restless Chipotle
As you might expect with me being from Texas and all, I have a ton of no bake recipes to keep our sweet tooths (teeth? tooth?) happy all summer long. Here are a few of my favorites –
Strawberry Filled Angel Food Cake
Vintage Millionaire Pie Recipe
Whether you call it Millionaire Pie, Pina Colada Pie, Hawaiian Pie, or something else — this old-fashioned no-bake pie recipe is one to have handy! It's just so darn good!
Did your mom or grandma make this?
If you love this recipe please give it 5 stars.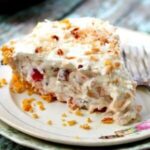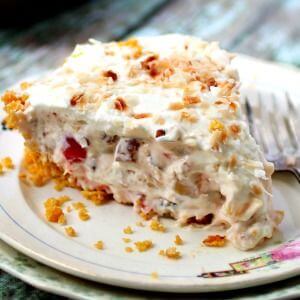 Millionaire Pie
Print
Add to Collection
Go to Collections
This easy, no bake pie is fluffy and rich. It's perfect for potlucks and holidays because you make it ahead of time! The creamy, decadent base is full of pecans, coconut, pineapple and cherries chilled in a sweet, crumb crust. Experience level: Begninner
As an Amazon Associate I earn from qualifying purchases.
Ingredients
1

prepared crumb crust,

I made a crust with Frosted Flakes cereal crumbs

1

cup

coconut

,

sweetened flaked

15.25

oz

pineapple

,

crushed – well drained and 1 tablespoon reserved

1

cup

maraschino cherries

,

drained & chopped

1/2

cup

pecans

,

toasted and chopped

14

oz

sweetened condensed milk

,

I use Eagle Brand

5

tablespoons

lemon juice

1

tablespoon

pineapple juice

2 1/2

cups

whipped topping,

divided – I used my homemade Cool Whip

1/4

cup

toasted coconut for topping
Instructions
In a large bowl, combine coconut, crushed pineapple, maraschino cherries, pecans, sweetened condensed milk, lemon juice and pineapple juice.

Mix thoroughly.

Gently fold in 1 1/2 cups whipped topping.

Spoon into crust.

Refrigerate overnight.

Before serving top with remaining whipped topping and sprinkle with toasted coconut.
Nutrition
Calories:
321
kcal
|
Carbohydrates:
43
g
|
Protein:
5
g
|
Fat:
15
g
|
Saturated Fat:
8
g
|
Cholesterol:
17
mg
|
Sodium:
83
mg
|
Potassium:
337
mg
|
Fiber:
2
g
|
Sugar:
39
g
|
Vitamin A:
180
IU
|
Vitamin C:
31.3
mg
|
Calcium:
170
mg
|
Iron:
0.7
mg
Sign up for the emails and never miss another recipe!!
We'll never share your email or send you spam. Pinkie swear.
You May Also Like These Pie Recipes…
From left to right: pecan pie, French silk pie, coconut pie – Click on the image to see the recipe.