Lemon icebox pie recipe is an easy dessert that is perfect for summer. Since you don't even have to bake the crust it goes together fast, is super easy, and tastes amazing. A thick layer of puckery lemon filling is poured into a no bake crumb crust and chilled or frozen until ready to serve.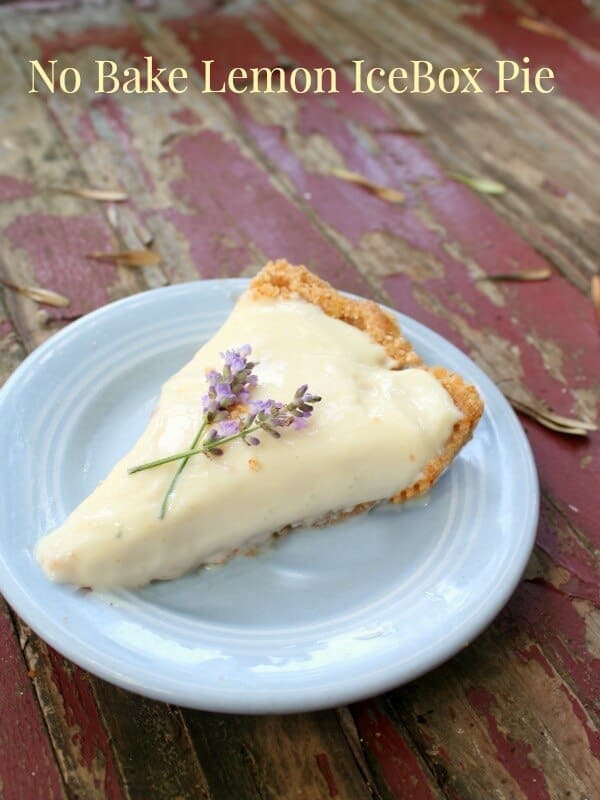 I'll admit a preference for no bake chocolate pies like this chocolate overload pie or this no bake s'mores pie. Still if you had this lemon pie and those two chocolate pies on a table and told me I could only have one there might be some tears.
OK. A lot of tears.

The Restless Chipotle Channel
One of the things that I like best about this pie is that you can serve it chilled or frozen. I personally like it better frozen. I take it out about 20 minutes before I want to serve it… less if it is a very hot day. I thaw it just until it softens a little but still has the consistency of ice cream. Lemon icebox pie is tangy and icy that way — a fact that makes it very refreshing on one of our hot Texas days. When just chilled it has a creamier, softer consistency and that's good, too. So, when you make it make a couple of them and keep them in the freezer for unexpected company or a sudden dessert craving. Covered tightly it will last 3 months or so.
Here's something cool, too. You can substitute the lemon juice with lime and have a no bake lime icebox pie. I have been wanting to experiment with other citrus but I haven't yet. Really, any citrus juice should work. Let me know if you try something besides lemon or lime.
You can serve it with a dollop of whipped cream if you like. I usually serve it plain because I think the whipped cream is just too much richness. I prefer mine either plain or with a fresh raspberry or blueberry coulis. Just whirr the fruit in the blender with a little sugar to taste and drizzle it over the pie.
I used a combination of 'Nilla wafers and pretzels in the crust for this pie. Here's my favorite no bake crumb crust recipe and a lot of my favorite variations. Another good crumb mixture for the crust is to use lemon sandwich cookies and gingersnaps in a ratio of about 3:1. It enhances the lemon flavor.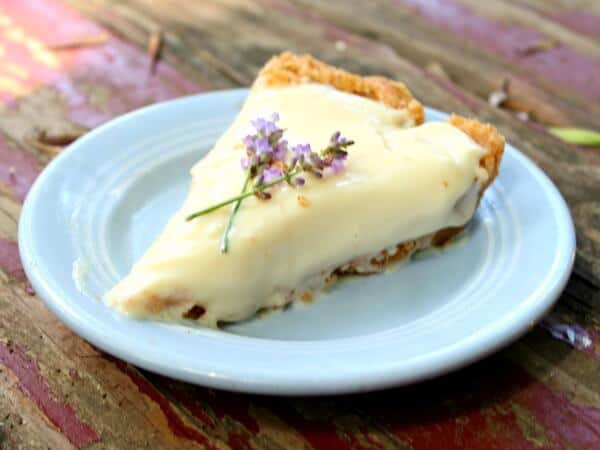 Lemon icebox pie has been served on countless tables and caused countless families to smile at dinner time. It's Southern recipe that's been around close to 100 years. I have tweaked it a TINY bit by adding vanilla. I think it calms the tartness of the lemon down a little, soothes it, and makes it more enticing. Feel free to leave it out.
Y'all know that I am not real freaky about brand names except there are some that I feel are higher in quality and produce a better finished product. You can get the brand or you can use what you like best but if you get an off brand of sweetened condensed milk I will not guarantee the recipe. I like Eagle Brand. It's been around forever and the results are always good. They didn't sponsor the post or pay me… I just like the product that they create. End of sermon.
Print Recipe
Clickable Table of Contents
hide
No Bake Lemon Icebox Pie
This easy no bake lemon icebox pie is tangy and creamy. You can serve it frozen or just chilled -- and best of all you can make several and keep them in the freezer for when you need a quick dessert.
Ingredients
1

graham cracker crust

3/4

cup

lemon juice

2

cans

Eagle Brand Sweetened Condensed Milk

1/2

teaspoon

vanilla

1

teaspoon

lemon zest
If you liked No Bake Lemon Icebox Pie you may also like…
Millionaire Pie Spend with Pennies
Strawberry Lemonade Freezer Pie The Cookie Rookie