Homemade Oreo cookie crust is so easy to make from scratch - and it's the perfect way to add pizazz to your favorite, no bake pie recipes! You need just two ingredients (plus a little extra sugar if you want) for this chocolate crumb pie crust!
For this recipe you need: Oreo sandwich cookies (any kind will do but for this recipe I used the traditional one.), butter, and sugar if you want it sweeter.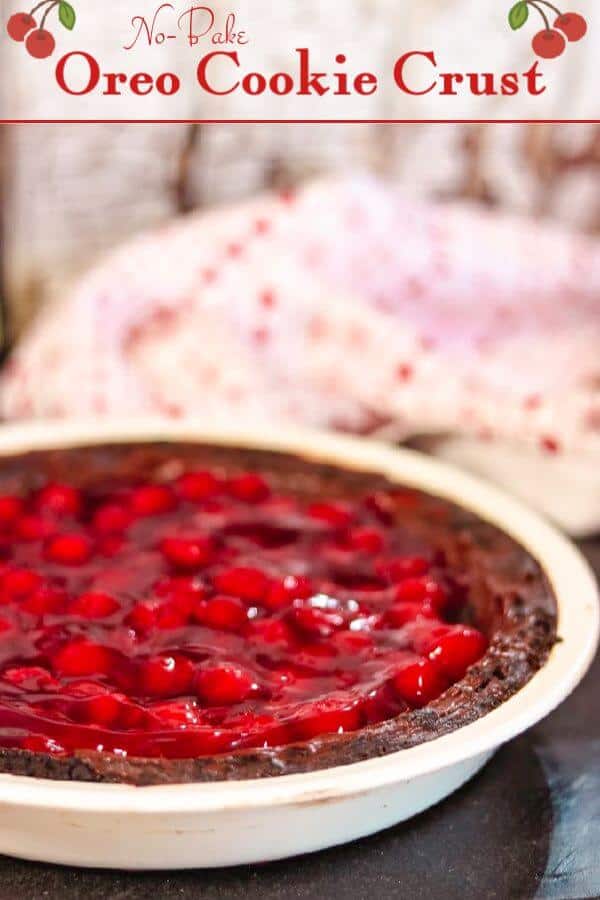 Jump to:
Oreo Cookie Crust to the Rescue
For the longest time I couldn't make a pie crust if my life depended on it. No matter how hard I tried to get the dough to behave it was crumbly, or sticky, or tough...
In fact, it took me ten years to learn to make a decent pie crust. Ten years, y'all. It was an embarrassment.
I hid my gross inability to produce a light, flaky, buttery pie crust by making lots and lots of pies with crumb crusts of all kinds. Butter cookie crumb crusts, gingersnap crumb crusts, lemon cookie crumb crusts... you name it. If I could grind it up in the blender I'd make a crust out of it... (that's a monstrous exaggeration but you know what I mean)
My favorite pies have always had some sort of chocolate in them so it was only a matter of time before I threw some Oreo cookies in the blender and created the most perfect pie I'd ever tasted.
So. Much. Chocolate.
I made peanut butter pies, chocolate cream pies, banana cream pies, cherry tarts.... just about any kind of pie you can name and all with chocolate crusts. Here's a tip though... don't use a chocolate crumb crust for rhubarb pie - trust me.
Pretty soon I was making pies for all kinds of things and people thought I was so imaginative because I was using all these luscious crumb crusts. They never suspected it was because I was inept at making regular crusts!
Oreo Crumb Crust Is Easy as...Pie
Since the Oreos have that creamy filling they are super easy to make and hold together well. Whether or not you adda little extra sugar is totally up to you - It kind of depends on how sweet you like it.
And you don't need to limit yourself to just the traditional chocolaty Oreos, either! They are ALWAYS coming out with unique, seasonal flavors and literally any Oreo cookie can be substituted for any other one in this easy no-bake pie crust!
The main tip I have for you is to break up the cookies with your hands before adding them to the blender or food processor. It's easier to turn them into crumbs this way - and you're less likely to find big cookie chunks in your pie crust.
Oreo Cookie Crust FAQs
How many Oreo cookies make 2 cups of crumbs?
It takes about 22 cookies to make one crust. A standard size package of Oreos is about 36 cookies.
How many Oreos are in a family package?
There are about 48 cookies in a family sized package.
How do you crush Oreos for crust?
The easiest way is to put them in a blender or food processor. If you don't have one of those available just put them in a plastic bag and smash with a rolling pin. It's very satisfying on a particularly frustrating day.
Can you bake a premade Oreo pie crust?
Yep, if you happen to have a premade crust lying around you can certainly bake it if you need to.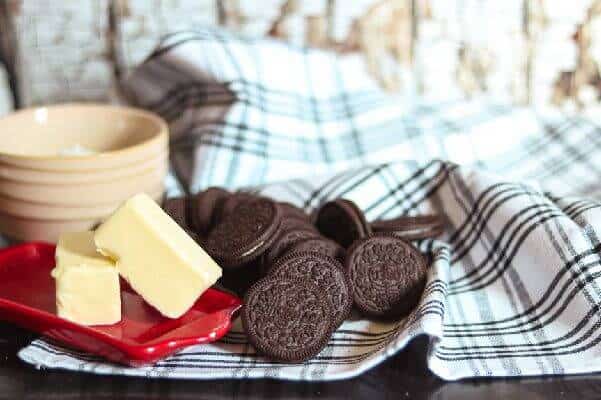 My Favorite No-Bake Pie Recipes
I love no-bake pies. Being from Texas we experience some scorching weather, especially during the summer. Baking anything is out of the question so we use a lot of no bake desserts to satisfy that legendary southern sweet tooth.
I've been eyeing this Butterfinger Pie from Plain Chicken...and thinking this crust would be amazing with it.
You May Need...
What's new? Check out my Restless Chipotle & Co. Store on Amazon where you'll find all kinds of nostalgic goodness! Thanks so much for being a part of Restless Chipotle!
The following are affiliate links. We are a participant in the Amazon Services LLC Associates Program, an affiliate advertising program designed to provide a means for us to earn fees by linking to Amazon.com and affiliated sites.
A food processor or blender is a must for making crumbs quick and easy - as well as a TON of other things. I love this Oster Pro because it's not extremely expensive AND it does BOTH!!!
If you love this recipe please give it 5 stars!
📖 Recipe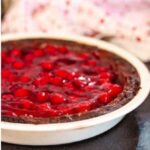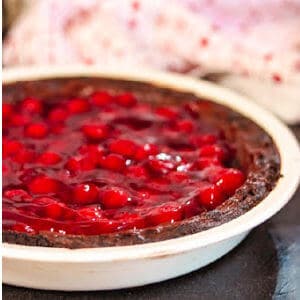 Oreo Cookie Crust
Print
Save
Saved!
Use this easy Oreo cookie crust any time you don't want to make a traditional pastry crust. Be creative! Every flavor of Oreo works perfectly! Mix and match crusts and fillings for unique, delicious no-bake pies!
As an Amazon Associate I earn from qualifying purchases.
Ingredients
2

cups

Oreo Cookie Crumbs,

, about 22 cookies

1

tablespoon

sugar

,

, optional

⅓

cup

butter

,

, about 6 tablespoons
I earn a commission from Instacart from qualifying purchases.
Instructions
Add cookies, a few at a time, to a blender or food processor to make crumbs.

Pour the crumbs in a bowl and add sugar if desired.

Pour the melted butter into the Oreo cookie crumbs, mixing with a fork until it holds together when compressed in your hand.

Add the crumbs to a 9-inch pie plate and press down firmly to create an even layer of crust on the bottom and up the sides.

Chill for 30 minutes if you have time.

Fill and use as directed in recipe.
You'll find more helpful tips and variations in the body of the post.
Nutrition Facts
Calories:
199
kcal
|
Carbohydrates:
17
g
|
Protein:
1
g
|
Fat:
13
g
|
Saturated Fat:
6
g
|
Cholesterol:
25
mg
|
Sodium:
198
mg
|
Potassium:
25
mg
|
Fiber:
0
g
|
Sugar:
5
g
|
Vitamin A:
260
IU
|
Calcium:
11
mg
|
Iron:
0.7
mg
Nutrition information is estimated as a courtesy. If using for medical purposes, please verify information using your own nutritional calculator. Percent Daily Values are based on a 2000 calorie diet.
Sign up for the emails and never miss another recipe!!
We'll never share your email or send you spam. Pinkie swear.