Shredded pork tacos with mango salsa are one of my favorite summertime meals. You can use leftover, grilled pork or slow cook a pork roast in your crockpot. Once you have that done then the rest goes together very quickly so it's great for a busy weeknight or dinner after a day at the pool. You might also want to make the mango salsa ahead of time — it will keep a week or so in the fridge.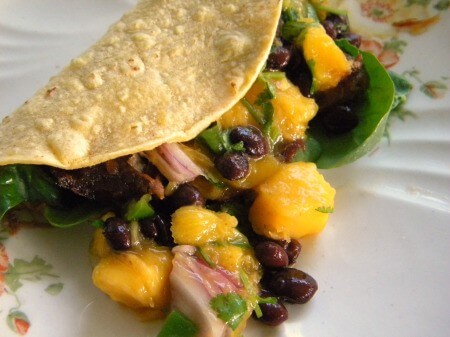 O.k..on to the Pork Tacos. This is a perfect meal for a weeknight. Just take a pork roast and rub it with your favorite rub. I like a Jamaican Jerk rub but you can use anything. Stick it in the slow cooker with maybe a half cup of beer. Cook it on low for eight hours. When it's all tender and delicious and your house smells so good your mouth starts watering when you hit the driveway... well that's time to take two forks and pull them in opposite directions across the meat to shred it. That might take a few tries to perfect your technique, by the way.
You can either use it then, refrigerate it for later, or freeze it for much later. It's your call. When you're ready to make the tacos warm the pork up slowly while the salsa is resting. The key to this salsa is really ripe mangoes. Smell them and make sure they smell mango-y. If you want to substitute ripe peaches that will work, too. Again, make sure they are RIPE... Drippy chin ripe.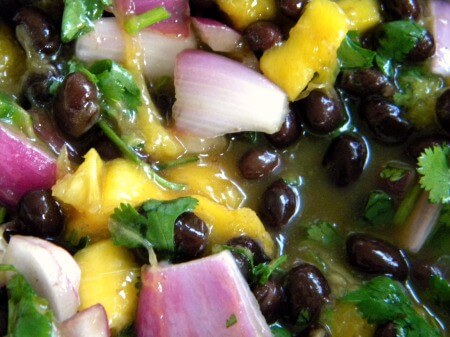 I swear to you, the mango salsa is so good I could eat it as a side dish! I like to keep my ingredients chunky — I think it's more rustic and I like the various flavors to harmonize, not blend. You can chop smaller if you prefer.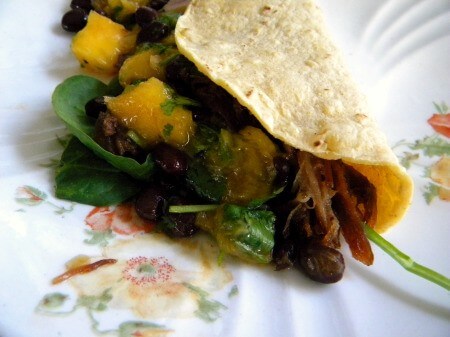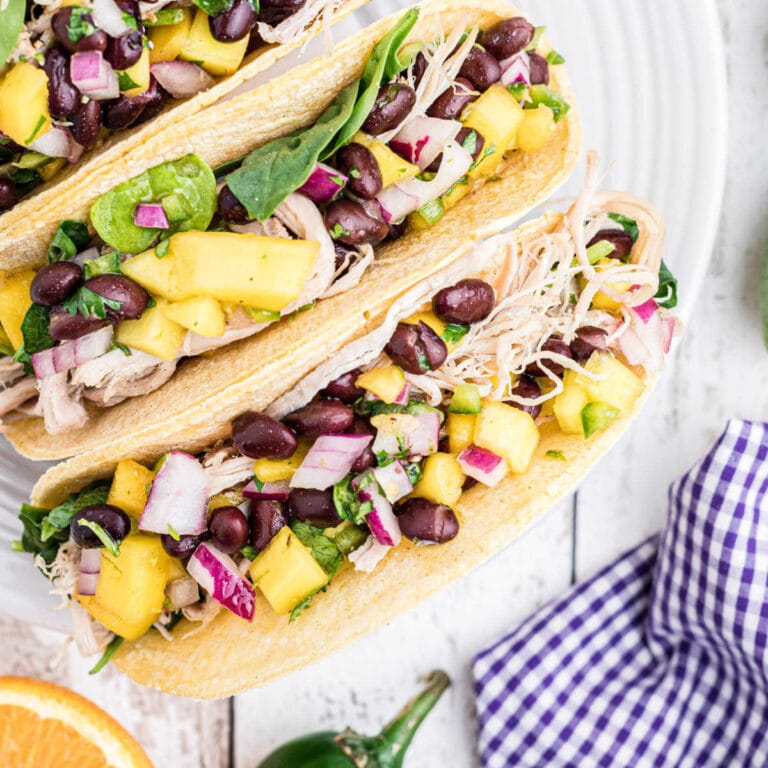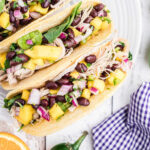 Shredded Pork Tacos with Mango Salsa
Print
Pin Recipe
Save
Go to Collections
Fresh, spicy-sweet mango salsa over pulled pork tacos is a match made in Tex-Mex heaven! Easy to make - perfect on fish tacos, chips, or chicken tacos, too. The best use of leftover pulled pork, ever!
As an Amazon Associate I earn from qualifying purchases.
Ingredients
Black Bean and Mango Salsa
2

cups

black beans

,

cooked and rinsed

2

mangoes

,

very ripe - peeled and diced

½

red onion

,

diced

1

jalapeno

,

seeded and chopped

1

tablespoon

lime zest

¼

cup

lime juice

⅛

cup

orange juice

1

tablespoon

balsamic vinegar

1

tablespoon

agave syrup

¼

cup

olive oil

⅓

cup

cilantro

,

chopped

Kosher salt and pepper to taste.
For Tacos
16

corn tortillas

,

, warmed and kept warm in a moist towel

2

pounds

pulled pork

½

pound

baby spinach leaves
Instructions
Mango Salsa
Combine all ingredients in a bowl and stir gently to combine.

Allow flavors to blend for 30 minutes.

Keep refrigerated for up to a week in a tightly covered container.
Tacos
Heat up the tortillas. I usually wrap several in a damp paper towel and microwave for a minute.

Place a few spinach leaves on a warm tortilla.

Top with ¼ cup of the pork and then a few tablespoons of the salsa.
Notes
Storage:
Store leftover mango salsa in an airtight container in the refrigerator for about ten days. It doesn't freeze well,
Cooked meat lasts for three to four days if it's stored in the refrigerator.
Whether it is pork tenderloin from the slow cooker, leftover carnitas, pork shoulder, or a Boston butt roast, you can put the meat in a Zip-top storage bag and freeze it for up to three months.
Thaw in the refrigerator and reheat in the microwave.
Tips:
Try to find extremely ripe mangoes. It should gently give if you squeeze it in your palm.
Be sure to let your mango salsa sit for at least thirty minutes before serving. This allows the flavors to blend together and create a more well-rounded taste!
Pork freezes really well. Cook a pork butt in the slow cooker and freeze it in recipe sized portions.
For a tastier bite of salsa, try to cut all of your ingredients evenly.
If you prefer a more chunky salsa, make thicker cuts, and if you like a more smooth salsa, make smaller cuts. Either way, aim for identically-sized cuts between the ingredients so you can enjoy everything in one scrumptious bite.
A soft flour tortilla will have more of a tendency to fall apart and get soggy.
Nutrition Facts
Calories:
142
kcal
|
Carbohydrates:
23
g
|
Protein:
4
g
|
Fat:
4
g
|
Saturated Fat:
1
g
|
Polyunsaturated Fat:
1
g
|
Monounsaturated Fat:
3
g
|
Sodium:
24
mg
|
Potassium:
266
mg
|
Fiber:
4
g
|
Sugar:
5
g
|
Vitamin A:
1649
IU
|
Vitamin C:
17
mg
|
Calcium:
46
mg
|
Iron:
1
mg
Sign up for the emails and never miss another recipe!!
We'll never share your email or send you spam. Pinkie swear.
 If you like Pork Tacos with Mango Salsa you may also like...
Dr Pepper Pulled Pork Sandwiches Restless Chipotle
Honeydew Salsa Restless Chipotle
Grilled Pineapple Salsa Tide and Thyme
Berry Salsa Home Is Where the Boat Is