The whole family will love this easy weeknight meal! It's a simple recipe that's full of flavor and just 10 minutes of prep time!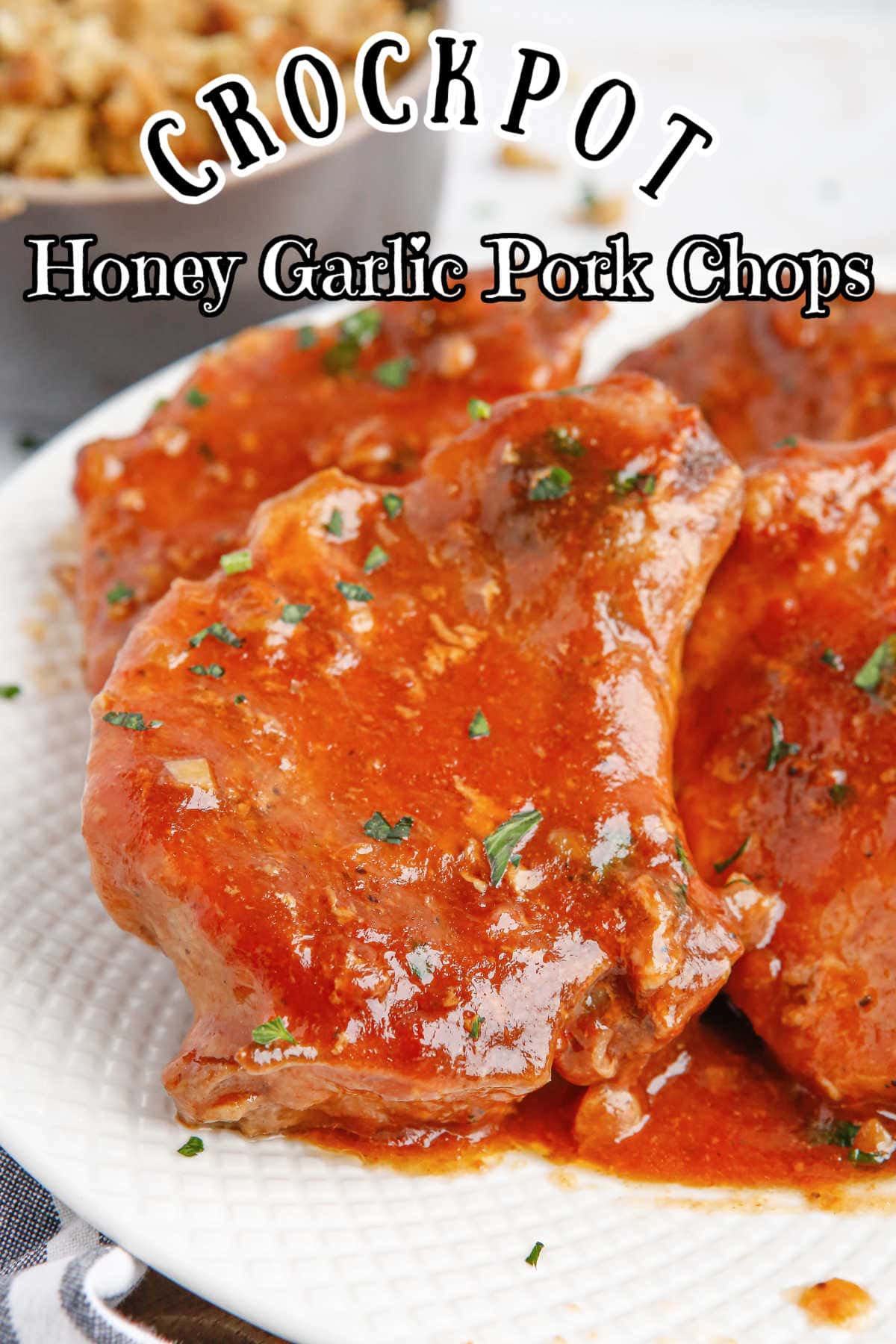 Jump to:
🗝️ Key takeaways
It's absolutely the best pork chop recipe because it's thick, juicy, and easy to make.
Although I really like slow cooker meals for those busy weeknights this recipe is perfect for Sunday dinner! It's got that touch of something special.
Searing the pork chops before adding them to the slow cooker is not necessary but it only takes a minute and it gives them more flavor.
There's not much that can beat juicy, bone-in pork chops slathered in a sweet, saucy glaze—especially when the cooking process requires such minimal effort.
These crockpot honey garlic pork chops turn any good meal into a new family favorite.
🧾 Ingredients
This is an overview of the ingredients. You'll find the full measurements and instructions in the green recipe card (printable) at the bottom of the page.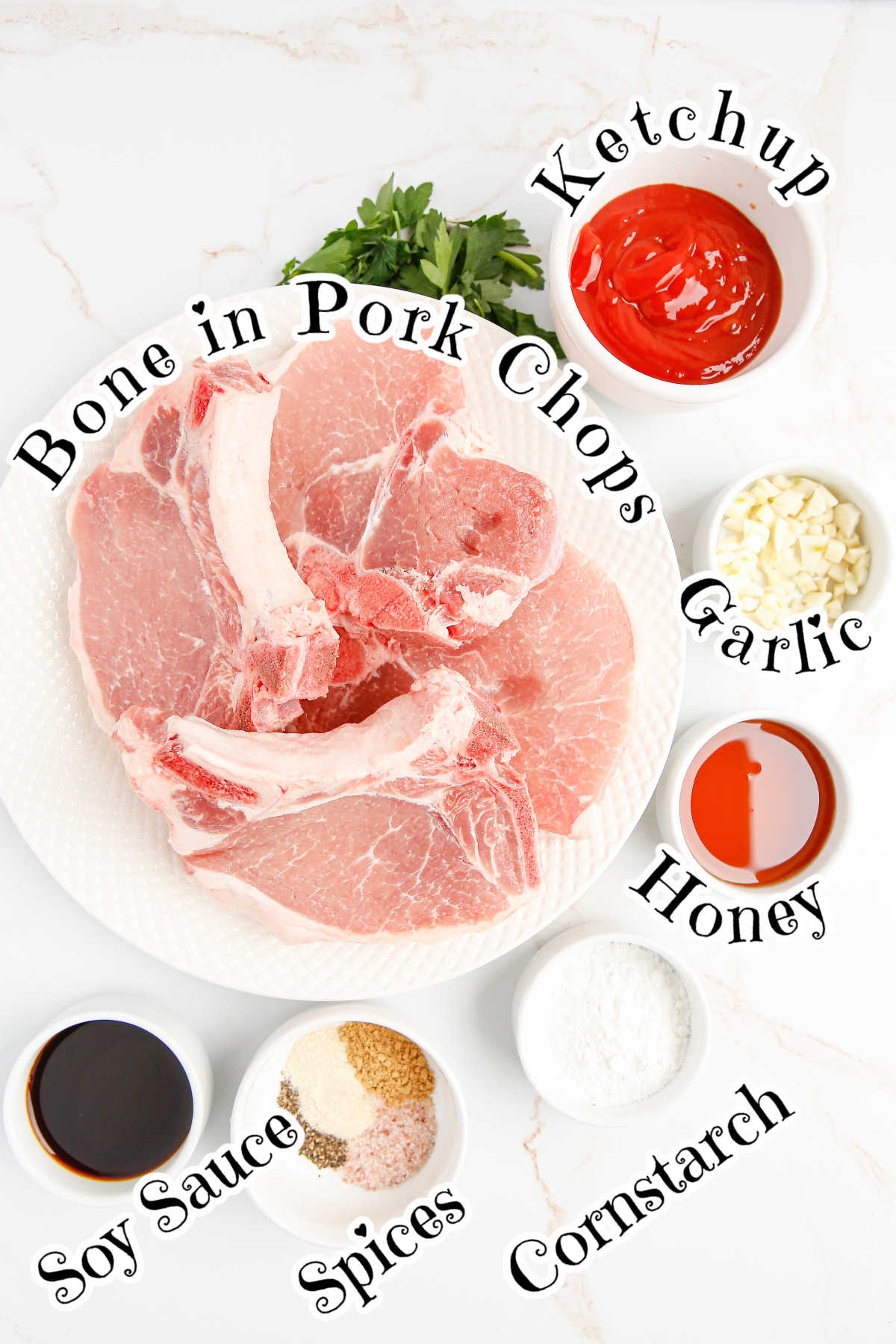 📖 Variations
From the simple ingredients it's made of to what you can serve with it, this honey garlic pork chop recipe is super versatile!
Feel free to use boneless pork chops.
Make honey garlic chicken by swapping the pork for chicken breasts or thighs.
For a healthier alternative to soy sauce, use coconut aminos.
Amp up the spice by stirring red pepper flakes or cayenne pepper into the sauce.
Sear the pork chops in hot olive oil in a large skillet (cast iron or nonstick) over medium-high heat. They only need about 1-2 minutes on each side, or until golden brown. This is a quick and delicious way to add more flavor and lock in the pork's moisture.
Fresh garlic cloves have a milder taste than pre-minced garlic. However, both add great flavor, so use whichever you prefer.
To enhance the savory combination of flavors, add some sliced onions or shallots to the crockpot.
Some similar recipes include a splash of apple cider vinegar or rice wine vinegar to make the heavenly honey garlic sauce tangier.
🔪 Instructions
This is an overview of the instructions. Full instructions are in the green recipe card at the bottom of the page.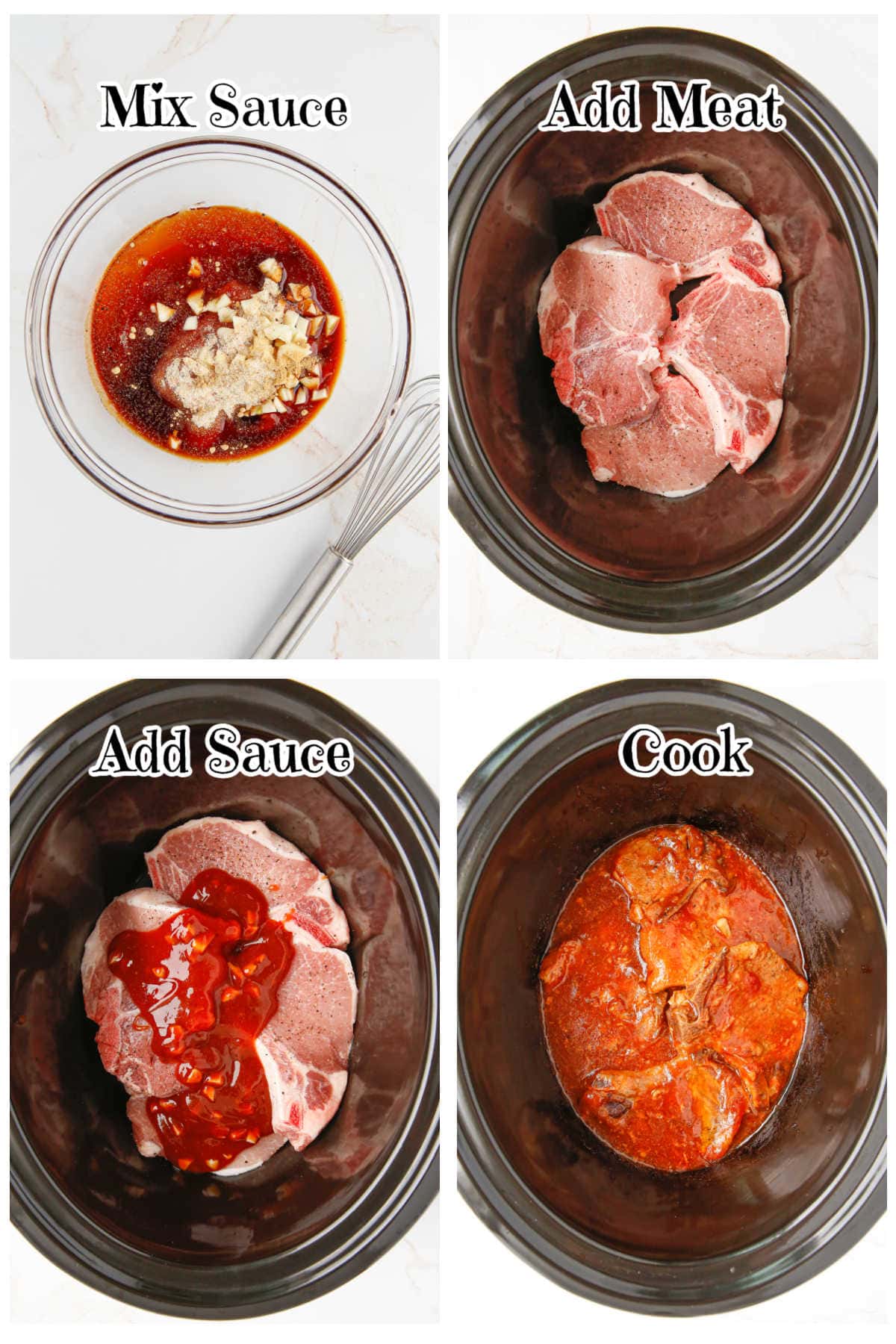 Mix the sauce ingredients together until smooth.
Add bone-in chops to the bottom of a greased slow cooker.
Pour the sauce on top.
Cook the pork until the internal temperature reaches 145 degrees F on an instant-read meat thermometer.
🥫 Storage
Keep leftover honey garlic pork chops in an airtight container in the refrigerator. They'll last for three or four days.
I don't recommend reheating leftovers in the microwave, as that method can dry out even thick pork chops. Rather, slowly reheat the leftover pork chops in a baking dish covered with aluminum foil in a 200-250℉ degree oven.
Once they're warmed to your liking, serve and enjoy your perfectly juicy pork chops!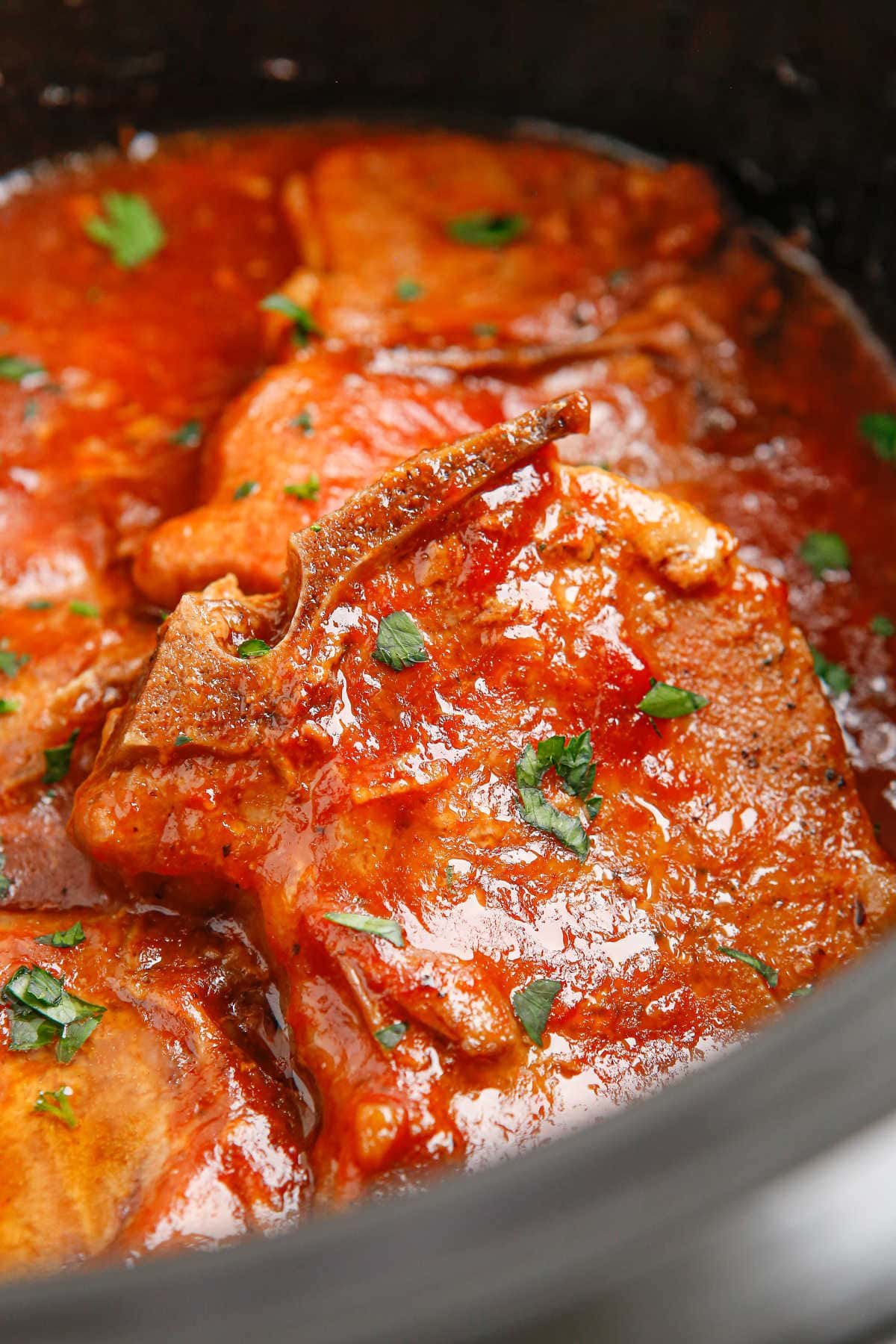 💭 Things to know
Expert Tip: To turn this delicious recipe into a super easy freezer meal, place all of the ingredients (except the cornstarch) in a freezer-safe bag. Let the meal thaw in the fridge the night before you plan to cook it. Then, dump everything in the crockpot and finish the recipe as directed! Who'd have thought this easy recipe could get even easier?
I think getting thick cut pork chops for this recipe works the best.
At the grocery store, choose pork chops that are bright pinkish-red, with light flecks of fat throughout. Avoid pork that's pale or chops that have a dark-colored bone.
Storing your raw pork in a brine for a day before cooking makes it extra tender. The best way to do so is in a shallow dish with a solution made of one-quarter cup salt for every four cups of water. So easy, and it'll create the most tender pork chops ever!
Depending on the size of your pork chops and the exact temperature of your Crockpot, cook time may vary. It's a good idea to check bone-in and boneless chops for doneness by temperature with an instant-read thermometer. They need to reach 145 degrees F.
Don't just dump the cornstarch into the hot Crockpot, or it'll clump. Though simple, the step with the water and a small bowl is important!
Let the pork chops rest on a serving plate for a few minutes before calling the family for dinner. Cutting straight into piping hot meat (without resting it) causes all of the juices to run out.
👩‍🍳 FAQs
Can I use garlic powder instead of minced garlic?
You can, but the flavor won't taste quite as good. For 6 cloves garlic, you'd only need about 1 ½ teaspoons of garlic powder. However, you can always add more if you like!
What are some quick sides for honey garlic pork chops?
Some of my favorite ways to finish this super easy meal include heat-and-serve mashed potatoes, Minute white or brown rice, or leftover stuffing. Throw a bag of frozen steamer veggies in the microwave and you've got dinner in a flash!
Can I use pork tenderloin instead of pork chops?
If you'd like to, go for it! This would make tasty honey garlic shredded pork sandwiches!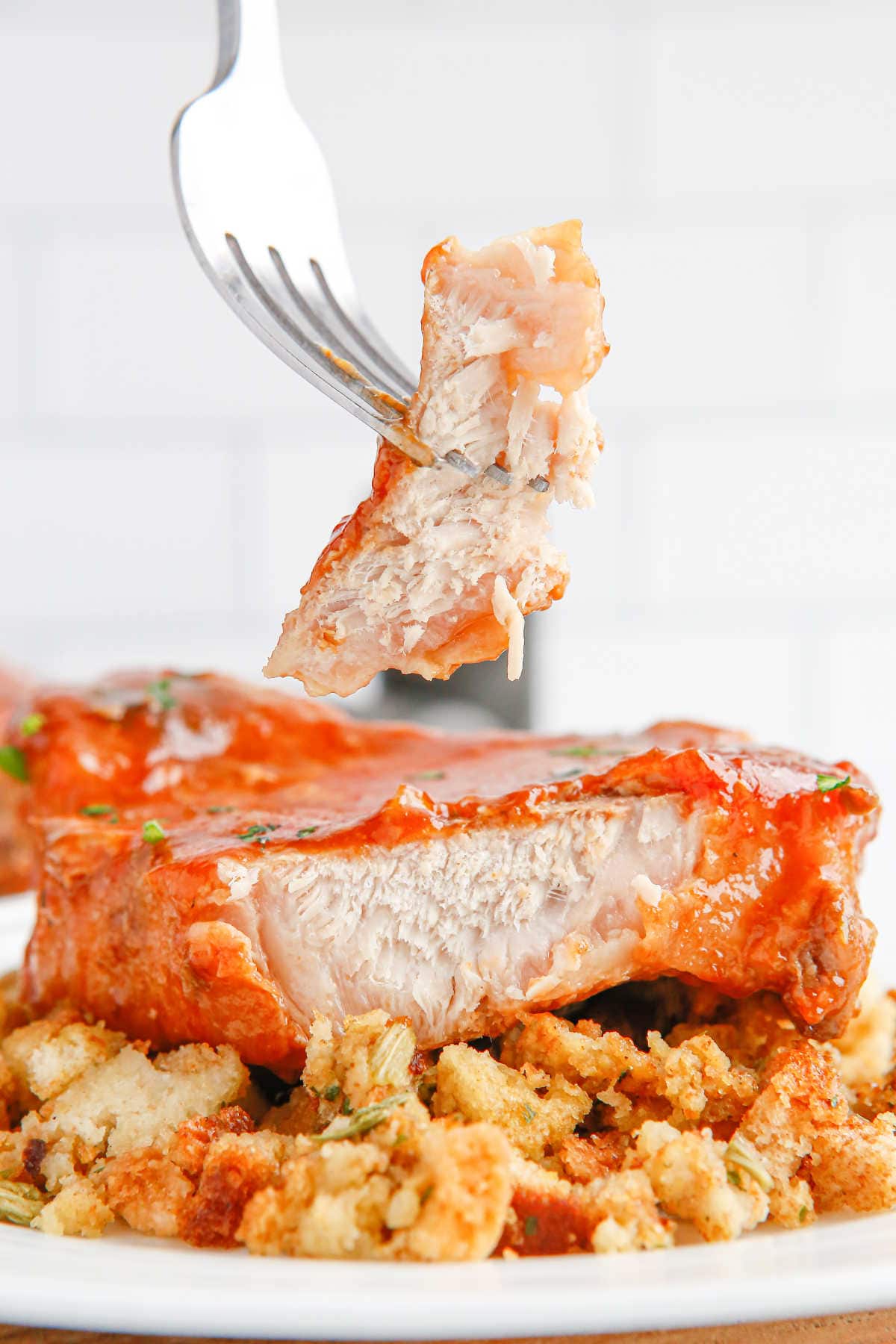 📓 Meal plans in minutes
Save time in the kitchen with this simple meal planning ap. Get a 14 day free trial!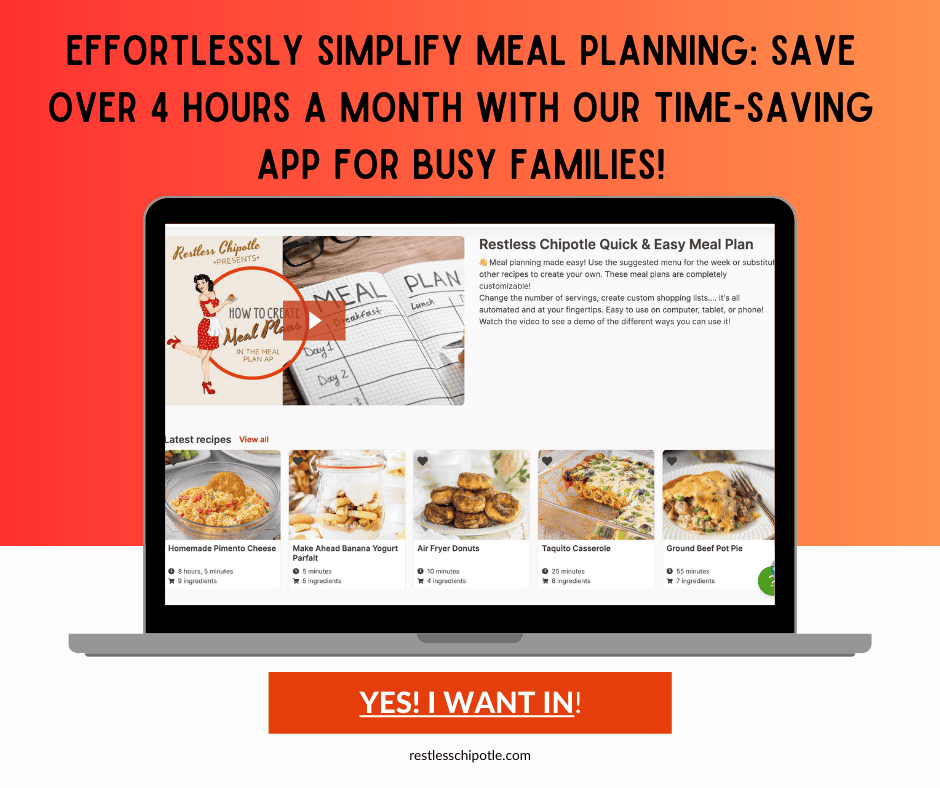 📚 Related recipes
If you're looking for easy pork chop recipes you can't go wrong with these honey garlic glazed pork chops or these old-fashioned fried pork chops in gravy. YUM!
Whether as a weeknight dinner or fun party appetizer, these sticky, sweet, and slightly spicy Honey Garlic Meatballs always hit the spot.
For another flavorful Crockpot pork recipe, try Braised Pork and Red Cabbage—with carrots, apples, and bacon, it's a hearty, full meal!
Corn-muffin-topped Pulled Pork Casserole is cheesy and full of Tex-Mex flavor. Plus, it's a great way to use up leftover shredded or chopped pork!
🍽️ Serve with...
Garlic and honey pork chops are delicious with a side of mashed potatoes. I like to add these quick, easy Southern fried apples to the table, too.
If there's time. you can't go wrong with these old-fashioned cloverleaf rolls. Then finish strong with a tangy lemon pudding bundt cake!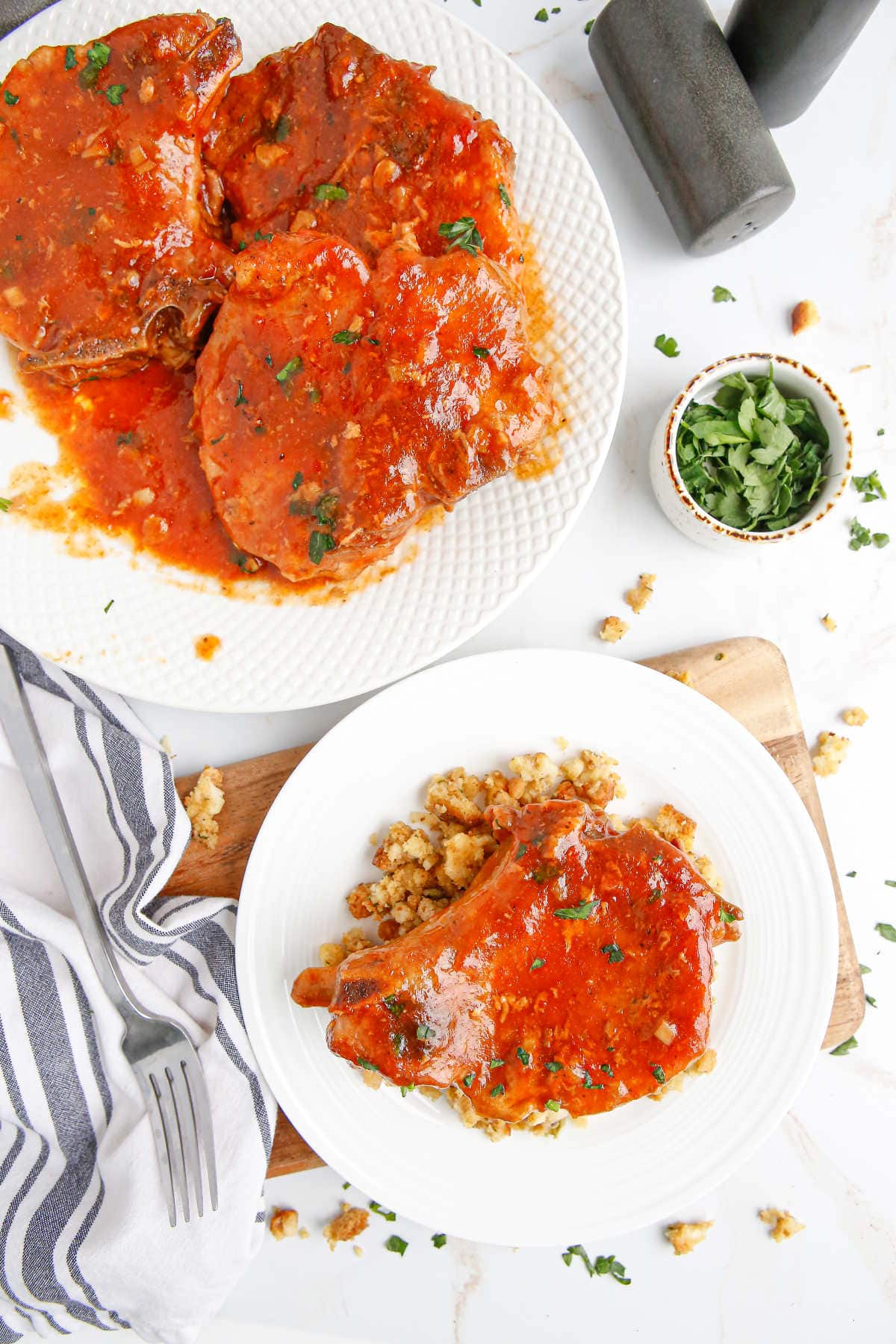 🥄 Restless Chipotle recommends
You'll love this easy crockpot dinner made with just a few simple ingredients!
The following are affiliate links. We are a participant in the Amazon Services LLC Associates Program, an affiliate advertising program designed to provide a means for us to earn fees by linking to Amazon.com and affiliated sites.
📞 The last word
If you love these sweet smoky flavors (and sticky honey garlic sauce) next time try the honey garlic meatballs or the bourbon chicken!
If you click on the number of servings in the recipe card you can adjust the measurements up or down for the exact number of servings you need.
If you love this recipe please give it 5 stars! ⭐️⭐️⭐️⭐️⭐️
📖 Recipe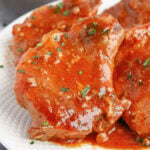 Slow Cooker Honey Garlic Pork Chops Recipe
Print
Pin Recipe
Save
Saved!
Slow cooker honey garlic pork chops are a delicious way to get a dinner on the table that everyone loves! The meat simmers all day in a sweet, saucy glaze and is ready when you are! One of the easiest recipes ever for busy weeknights!
As an Amazon Associate I earn from qualifying purchases.
Ingredients
I earn a commission from Instacart from qualifying purchases.
Instructions
Spray the slow cooker crock with nonstick cooking spray.

Place pork chops in the bottom of the slow cooker.

In a medium bowl, mix the ketchup, soy sauce, honey, garlic cloves, onion powder, ginger, and salt and pepper until well combined.

Pour the sauce mixture over the pork chops.

Cook on low for 6-8 hours or high for 4-5 hours.

Set pork chops aside on a plate, reserving the sauce in the slow cooker.

Mix the cornstarch with 2 tablespoons water in a small bowl and whisk until well combined.

Pour the mixture into the slow cooker and stir into the sauce.

Return the pork chops to the slow cooker and cook for another 15 minutes on high or until the sauce is as thick as you like it.

Garnish with parsley before serving.
To Reheat
Slowly reheat in a baking dish, covered with aluminum foil on low heat (somewhere between 200-250℉) which will help prevent them from drying out. 
Notes
Storage:
Store leftovers in an airtight container in the fridge for up to 3-4 days.
Tips:
Put everything except the cornstarch together in a freezer bag and freeze uncooked. Thaw out in the fridge the night before you're ready to serve, dump everything in the crockpot and finish the recipe as instructed! Easiest meal EVER.
To increase the overall flavor of this dish, sear pork chops first in a cast iron skillet prior to slow cooking.
In addition to the onion powder in this amazing honey garlic sauce, consider adding some freshly sliced onion to the slow cooker while the pork chops cook. The flavor of the onions will blend beautifully into the sauce, increasing the flavor of the dish! 
It's a good idea to use a meat thermometer to check the internal temperature of the pork chops. The FDA recommends an internal temperature of 145℉ for pork. 
You'll find more helpful tips and variations in the body of the post.
Nutrition Facts
Calories:
359
kcal
|
Carbohydrates:
37
g
|
Protein:
32
g
|
Fat:
9
g
|
Saturated Fat:
3
g
|
Trans Fat:
1
g
|
Cholesterol:
90
mg
|
Sodium:
1418
mg
|
Potassium:
663
mg
|
Fiber:
1
g
|
Sugar:
30
g
|
Vitamin A:
160
IU
|
Vitamin C:
2
mg
|
Calcium:
25
mg
|
Iron:
1
mg
Nutrition information is estimated as a courtesy. If using for medical purposes, please verify information using your own nutritional calculator. Percent Daily Values are based on a 2000 calorie diet.
Sign up for the emails and never miss another recipe!!
We'll never share your email or send you spam. Pinkie swear.
First published November 4, 2021. Last updated for editorial content September 1, 2023.