Braised pork and red cabbage is slow cooker comfort food. Pork is slow cooked until it is butter tender and the flavors of the spices have permeated every atom-- it's good!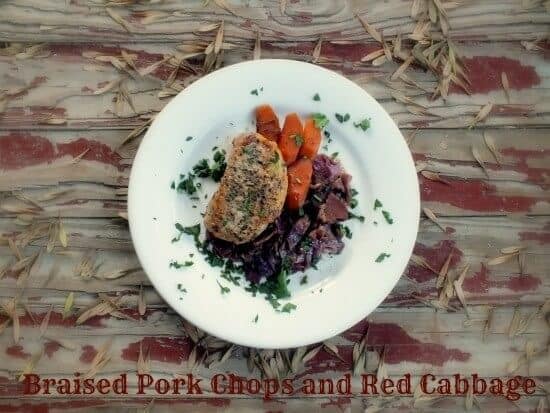 You might think that a recipe like braised pork and red cabbage isn't Texan but you'd be wrong.
The Hill Country area (and oh! how I want to move there!) was largely settled by German and Czech people. Like the state itself, Texas food has many origins and variations. 
In the 1840s thousands of German immigrants came to Texas with the idea of starting a new life in the new Republic. They had been encouraged by a letter than an earlier immigrant Friedrich Ernst had written back home several years earlier. It had been published in a German Newpaper and was instrumental in bringing Germans here. Ernst described the glories of Texas in so much detail, and with such enthusiasm that people decided it was the place to be. Who could blame them?
So they settled in the Hill Country and created towns like New Braunfels, Fredericksburg, and Luckenbache - of course there are hundreds of others I could mention.
These communities have preserved a lot of the Germanic culture and, most importantly, food. If you haven't been to this area of Texas you should go. It is one of the most gorgeous places on Earth - I tell ya I really want to move there!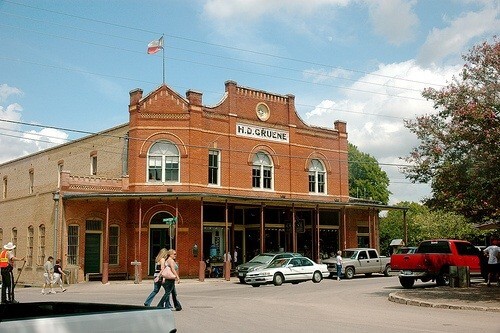 So, back to the braised pork and red cabbage. It's sort of German, sort of Alsatian, and all the way delicious.
The pork gets very tender and the cabbage gets sweet. Apples add a nice, tangy balance to the flavors and wine cuts through the richness of this dish. There's no way to explain it, you'll just have to try it.
You'll want thick center cut chops for this dish. Do get a good Bordeaux. Cheap wine doesn't do a thing for the final flavor of your recipe. The leftovers will literally be better than the original meal.
This stuff is to die for! Pork and red cabbage is not supposed to be a refined dish. Keep the vegetables in larger chunks to maintain the texture. A side of buttered red potatoes and some gingerbread to finish turns this meal into a celebration.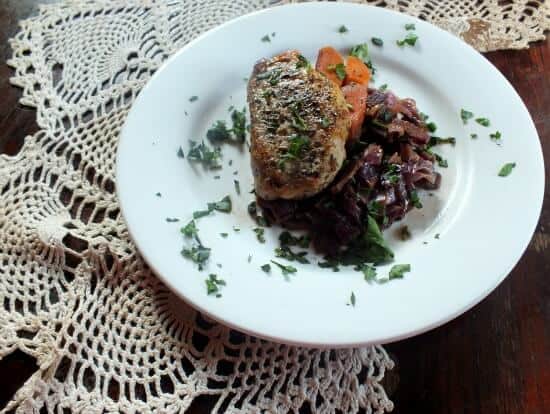 Making pork and red cabbage is only time consuming for the slow cooker - oh, and if you are wondering about how traditional the chili is in this dish? Well, this IS Texas - isn't it? Try it. If you don't like it make it again without the chili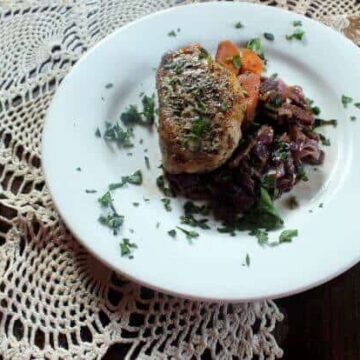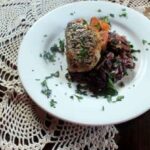 Braised Pork and Red Cabbage
Print
Save
Go to Collections
Tender, center cut pork chops and cabbage are braised in wine until they are combined into a perfect marriage of flavor.
As an Amazon Associate I earn from qualifying purchases.
Ingredients
6

boneless

,

, center cut pork chops

Salt & pepper

¼

lb

. bacon

½

cup

thickly sliced carrots

1

cup

sliced onion

3

tablespoons

of unsalted butter

About 2 pounds of red cabbage

,

, sliced

2

cups

tart applescut in chunks or slices

,

, you can leave the skin on if you like

2

cloves

garlic

1

ancho chiles,

, seeded

⅛

teaspoon

cloves

⅛

teaspoon

fresh grated nutmeg

2

bay leaves

½

teaspoon

salt

⅛

teaspoon

pepper

1

cup

red wine

1

cup

beef stock

1

tablespoon

of balsamic vinegar

¼

cup

chopped parsley for garnish
Instructions
Cut the bacon into large pieces.

Season the pork chops on both sides with generous amounts of salt and pepper

Add the butter to your pan and let it get hot but not brown.

Cook the bacon, carrots and onion in the butter oven a slow heat. You want it to be done without being brown.

Add the cabbage leaves and mix well.

Braise for about 5 minutes or so.

Heat a frying pan with a little olive oil. Be sure to let it get hot. You'll want to hear a sizzle when you put in the pork chops.

Add the pork chops leaving at least a one inch space between them so they don't steam.

Let them get good and golden brown on one side and then flip them to the other side.

Cook until golden.

Add the cabbage mixture to your crockpot.

Mix in all the other ingredients except pork.

Lay the pork chops over the top.

Cook in a slow cooker for about 6 hours.

Taste and adjust seasoning.

Sprinkle with parsley before serving.
Notes
You can add the peeled garlic cloves whole when you put the rest of the ingredients in the crockpot. They'll cook right down. Be sure to take the bay leaves out and mash the garlic before serving!
Sign up for the emails and never miss another recipe!!
We'll never share your email or send you spam. Pinkie swear.
If you liked Braised Pork and Red Cabbage you may also like...