When I was growing up once in awhile my mom got a wild hair and decided to make a big dinner. My favorite was stuffed cabbage, cabbage rolls, galumpkis, whatever you want to call them. Now, my mom was from an Irish-Scottish-French background but her best friend in high school in the 1930s was a girl named Olga.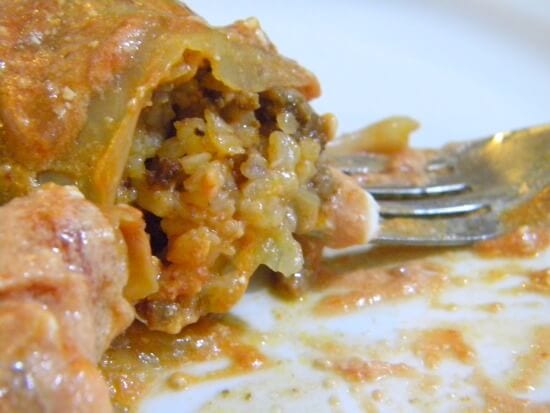 Olga was almost as much a part of my growing up as my mom was even though I never met her. I grew up hearing stories about Olga and mom, the trouble they got into. They exchanged Christmas cards every year until the year that Olga died. They were in each other's weddings. And, Olga's family was responsible for one of my favorite comfort foods – ever. In fact…several of the my kids love this stuff and so the tradition has been passed down. Thanks Olga!
The recipe used Campbell's Tomato soup. You can use tomato sauce if you like but it isn't quite the same. Although I generally don't like to use commercially prepared products this is one recipe I stick the way it was written. My mom did not put much ground beef in the recipe but this was a staple food for her through the depression and World War II. Adjust the amount of ground beef up or down to your budget and your own tastes. I have used arborio rice, brown rice, jasmine rice, white rice…. it all works well. In this case, use what you have.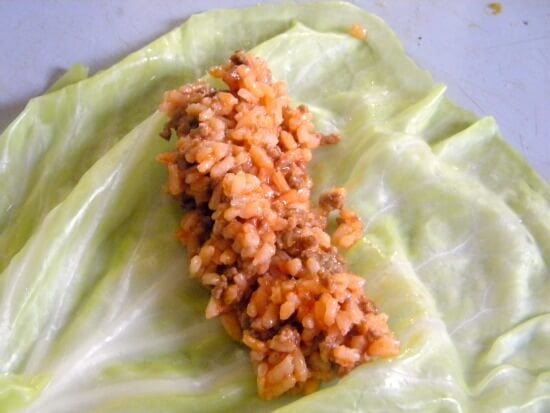 Mom used to put this in a big Dutch oven and cook in a slow oven for several hours… that is until she got her first crockpot. 🙂 This is slow cooked for about six to eight hours to reach yummy perfection. The sauce is tangy and sweet, the cabbage is delicate and tender and the rice and beef succulent. Making the rolls doesn't take that long at all and the house will smell amazing. Here are the steps in pictures with the recipe following: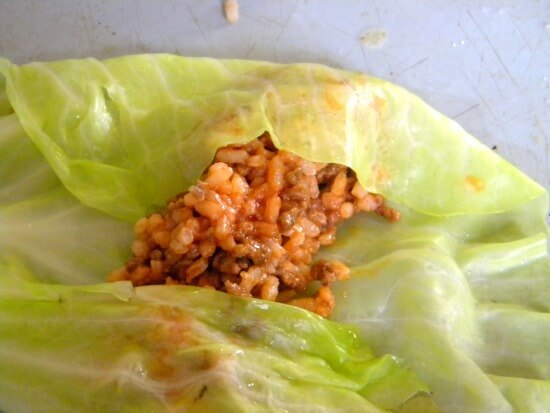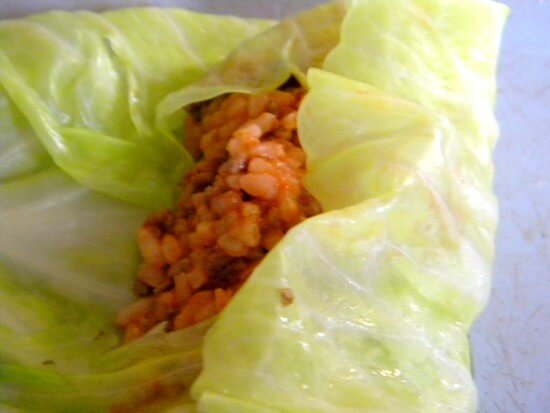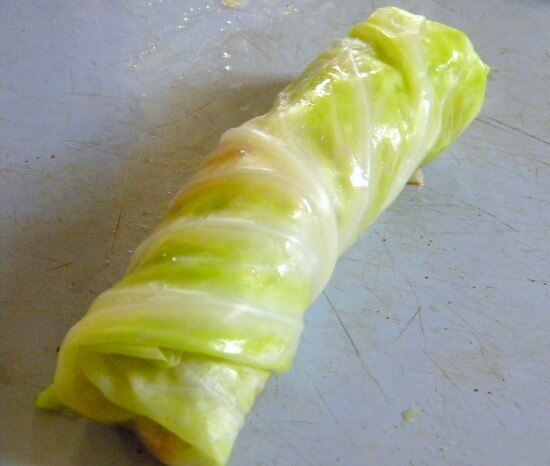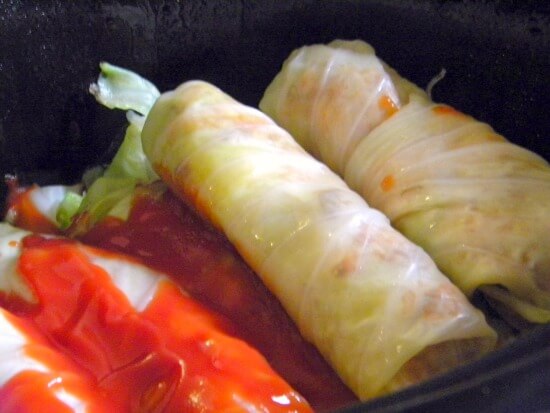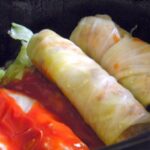 Easy Cabbage Rolls (Galumpkis)
Print
Add to Collection
Go to Collections
Delicious cabbage rolls stuffed with rice and beef, and simmered all day in a slow cooker with a tomato and sour cream sauce. You'll need a can of tomato soup for this one. It just isn't the same without it.
As an Amazon Associate I earn from qualifying purchases.
Ingredients
1

large head of cabbage with the core/heart removed

2

cups

uncooked rice

1

to 2 lbs ground beef

3

cups

organic beef broth

1

cup

water

1

onion

,

, chopped fine

1

family size can Campbells tomato soup

2

cans organic tomato sauce

1/2

teaspoon

freshly grated whole nutmeg

1

lb

Daisy sour cream (this is one of the few brands that is "pure sour cream".

Salt and pepper to taste
Instructions
Cook the rice in the beef broth and water until done.

Cook the beef and onion until done.

Place the cabbage head core side down in a pot with about 1/2 inch water. Steam, covered for 10 minutes.

Check the cabbage, the top few leaves should be very transparent and pliable. Peel them off.

Continue to steam the cabbage and peel off the outer leaves as they get done. The leaves should be VERY pliable. You may be able to use all of the leaves, although the cabbage rolls will get smaller in size.

Prepare the crock pot by spraying with cooking spray. Pour about 1/2 cup of tomato sauce on the bottom of the crock pot.

Mix the rice and ground beef. Add about 1/4 cup tomato sauce and the nutmeg and mix well.

Place a heaping spoonful of the mixture in the center of the cabbage leaf.

Fold in the ends and roll up.

Place seam side down in the crockpot.

Pour more tomato sauce over the first layer and add a second layer.

Continue until the cabbage leaves are all used up.

Pour about 1/3 cup water in the pot.

Mix the tomato soup and the sour cream and pour over the top.

Slow cook on low for 6 to 8 hours.
Sign up for the emails and never miss another recipe!!
We'll never share your email or send you spam. Pinkie swear.