This is the best slow cooker pot roast recipe ever — so easy and when you pair that tender, falling apart beef with the creamy, jalapeno cheese grits you won't need to call the family to dinner more than once. Not only does it make the whole house smell like Sunday at Gramma's — it tastes amazing.
For this recipe you'll need: well marbled beef roast (chuck or round), kosher salt, black pepper, beef stock, celery, carrot, onion, Worcestershire sauce, guijillo pepper, jalapenos, butter, heavy cream, water, grits, smoked cheddar cheese, cream cheese, garlic powder, liquid smoke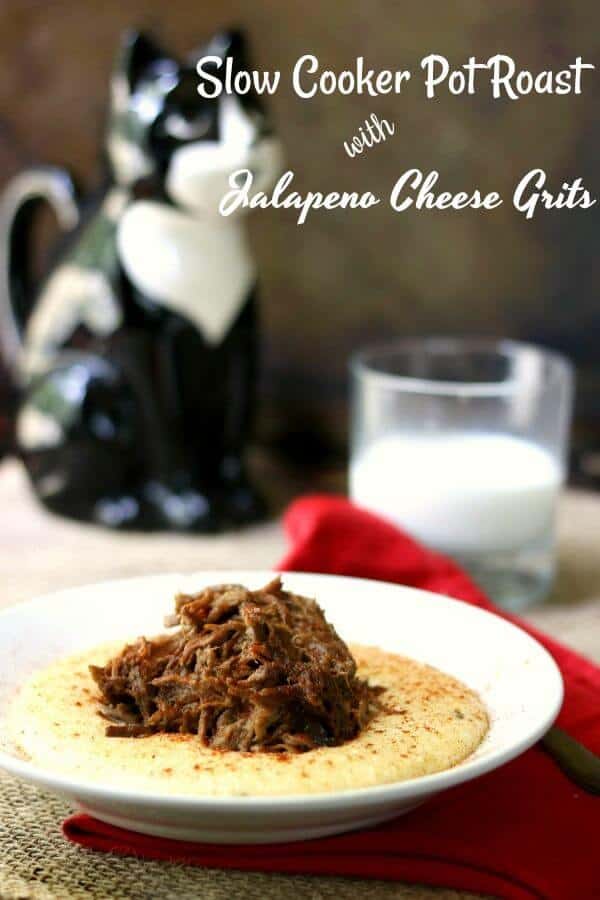 It's that time of year, my friends. Although summer is putting up a great fight here in Dallas it's been chilly at 4:45 am when my son and I leave for the gym and the highs are in the upper 70s. In fact, we have a low in the 30's forecast for later this week. That means it's time for ALL the comfort food like this easy slow cooker pot roast served on a steaming mound of jalapeno cheese grits.
This is my kind of food, right here. You throw the stuff in the crock pot, you toss a few ingredients into boiling water and… VOILA!
Dinner plus a house that smells like home. Who doesn't want that?
Tips for How to Make the Perfect Pot Roast
People will tell you a lot of things about making the perfect pot roast recipe but basically it boils down (boils down – get it?) to just two things.
The quality of the round or chuck roast
The skill you have at seasoning the meat.
How to Season a Pot Roast
Really a good pot roast only needs salt and pepper. Use 1 teaspoon Kosher salt (or 3/4 teaspoon regular salt) plus 1/2 teaspoon freshly ground pepper per pound of meat. Mix the salt and the pepper together and rub it over all sides. Then, and this is important, let it sit on the counter for about 15 minutes before continuing with the recipe.
See? Easy!
What's the Best Cut of Meat for Pot Roast?
I like to get either a chuck roast or a round roast for pot roast. Round roast is my preference, although it's a little more expensive. And by little I mean pennies per pound. I look for meat that is well marbled (lots of white flecks within the roast) but doesn't have a lot of fat on the edges. The marbling is the most important part because the fat renders during cooking and flavors the meat as well as keeps it tender.
How Long Do You Cook a Pot Roast?
Low and slow is the way to go! Cook a pot roast in a slow cooker for at least 8 hours – and I often cook for 10. In the oven or on top of the stove shoot for about 1 hour per pound.
How Do You Make a Pot Roast Tender? What's the Secret?
That's super easy. You look for a well marbled piece of beef and you cook it in just a little liquid for a long time at a slow temperature. About an hour before serving you'll cut it or shred it (I prefer shred) and let it simmer in that cooking liquid.
I FINALLY know the secret to perfect, tender pot roast - so simple!
Click To Tweet
What to Do with Leftover Pot Roast?
So what can you do with the leftovers?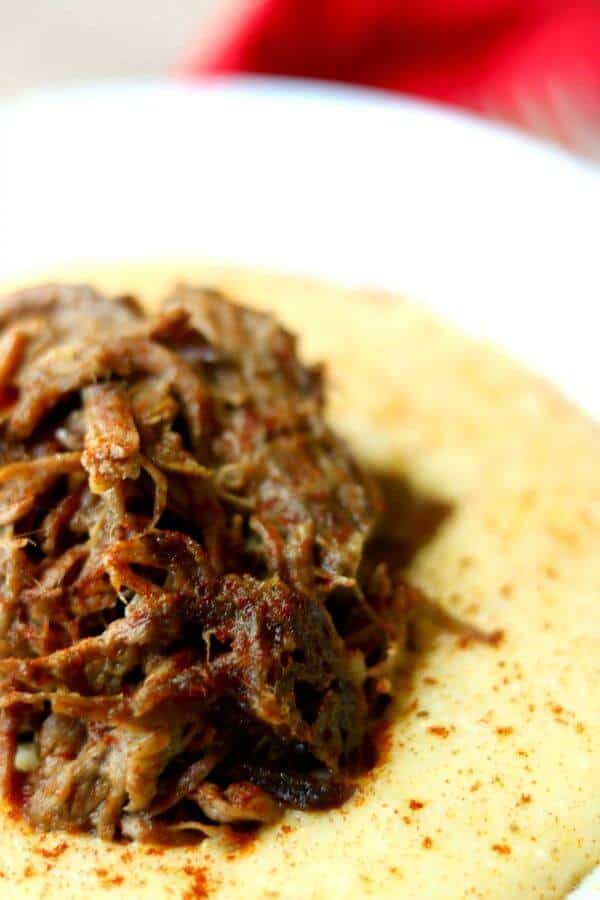 A Quick Word about Smoky Jalapeno Cheese Grits
So, I know someone is going to ask if they HAVE to serve the cheese grits with this because they HATE grits. Technically no, you don't have to. You can serve it over mashed potatoes or whatever BUT please try it with the grits – even a few spoonfuls of grits on the side – at least once?
These cheese grits are creamy and cheesy perfection… just a little smoky with a tiny jalapeno burn. They hold the gravy from the pot roast and when you take a bite … OMG Heaven! Seriously, you'l be saying y'all and sippin' sweet tea before you know it. And if all the grits you've ever had are from Cracker Barrel you hush now. Those aren't grits. I'm not sure what they are but grits they are not.
YOU MAY NEED
The following are affiliate links. We are a participant in the Amazon Services LLC Associates Program, an affiliate advertising program designed to provide a means for us to earn fees by linking to Amazon.com and affiliated sites.
Thanks so much for being a part of Restless Chipotle!
I love my slow cooker – I've had it for several years and it makes my life SO much easier. But… when I get a new one I'm getting this one that can be programmed with my smart phone! Guajillo chiles remind me of spicy raisins. They have a rich, fruity flavor with a relatively mild heat.

Recipe for Easy Slow Cooker Pot Roast and Jalapeno Cheese Grits
This is SO easy and so delicious you'll be making it all winter long!
Love it? Be sure to give it a star rating and let everyone know. Follow me on Facebook and Pinterest for more great recipes!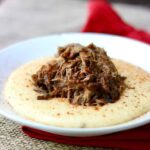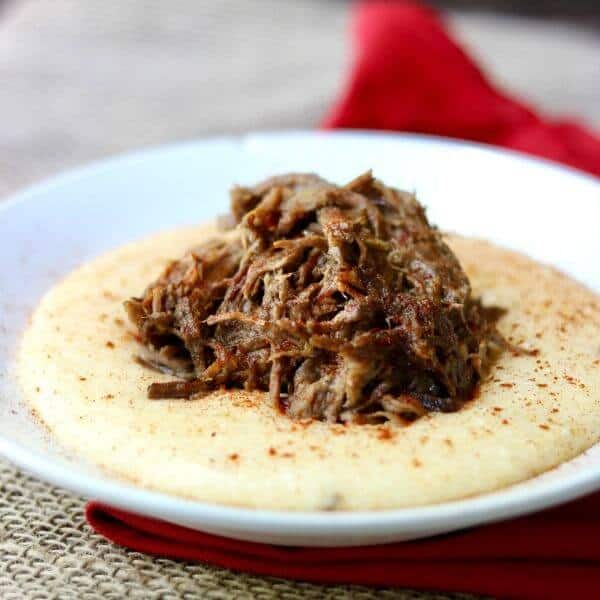 Pot Roast and Jalapeno Cheese Grits
Print
Add to Collection
Go to Collections
This is the best slow cooker pot roast recipe ever -- so easy and when you pair that tender, falling apart beef with the creamy, jalapeno cheese grits you won't need to call the family to dinner more than once. Not only does it make the whole house smell like Sunday at Gramma's; it tastes amazing.
Total Time
10
hours
15
minutes
As an Amazon Associate I earn from qualifying purchases.
Ingredients
Slow Cooker Pot Roast
4

pounds

chuck roast

,

, well marbled

2

teaspoons

kosher salt

1

teaspoon

black pepper

1

cup

beef stock

3

celery stalks

,

, leave whole

1

carrot

,

, leave whole

1

onion

,

large, cut in quarters

1

tablespoon

Worcestershire sauce

1

guijillo pepper

,

, optional
Jalapeno Cheese Grits
3

jalapenos

,

, seeded and chopped

3

tablespoons

butter

,

, divided use

1

cup

heavy cream

7

cups

water

1

teaspoon

Kosher salt

2

cups

grits

,

, uncooked

2 1/2

cups

smoked cheddar cheese

,

, grated

4

ounces

cream cheese

,

, cubed

Pinch

garlic powder

1/2

teaspoon

liquid smoke

,

, optional

Smoked Paprika

,

, garnish
Instructions
Slow Cooker Pot Roast
Mix the salt and pepper together and rub it over the surface of the meat.

Let stand 15 minutes if possible.

Place the meat in the slow cooker, carefully add the remaining ingredients, and set the heat to low.

Cook for 9 to 10 hours - about an hour before serving shred the meat so that it can simmer in its juices.

Remove carrot, onion, celery, and guijillo pepper

Remove the meat to a serving plate.

Pour about 1 cup of the cooking liquid into a pan on medium heat and whisk in 1 tablespoon of cornstarch.

Add the shredded meat to the pan and gently stir to cover it in the gravy.

Serve the meat over the grits.
Creamy Jalapeno Cheese Grits
Melt 1 tablespoon of the butter in a heavy saucepan.

Saute the jalapenos until soft then remove to a plate.

Add the water, the cream, the salt, and the rest of the butter.

Bring to a boil and slowly whisk in the grits.

Cook according to instructions on the package whisking to keep out lumps.

When grits are thick and tender add the cream cheese and smoked cheddar.

Taste, add the liquid smoke if desired, and adjust seasoning.

Spoon into a shallow bowl and top with the pot roast.

Sprinkle on a little smoked paprika as garnish.
Nutrition
Calories:
891
kcal
|
Carbohydrates:
34
g
|
Protein:
57
g
|
Fat:
58
g
|
Saturated Fat:
31
g
|
Cholesterol:
261
mg
|
Sodium:
1461
mg
|
Potassium:
968
mg
|
Sugar:
1
g
|
Vitamin A:
1280
IU
|
Vitamin C:
6.7
mg
|
Calcium:
339
mg
|
Iron:
5.6
mg
Sign up for the emails and never miss another recipe!!
We'll never share your email or send you spam. Pinkie swear.
If you liked this slow cooker pot roast recipe you may also like…
From left to right: Slow cooker Italian beef sandwiches, Slow cooker meatball sandwiches, Slow cooker shredded pork tacos with mango salsa
Included in Meal Plan Monday – Check it out!