This slow cooked beef ragu simmers in your slow cooker for 12 hours until the sauce coaxes every bit of flavor from the ingredients. The meat disintegrates into tender shreds that coat every surface of the rigatoni pasta. Everyone will think you have an Italian grandmother tucked away in the kitchen slaving over a hot stove.
For this recipe you'll need: chuck roast, olive oil, kosher salt, cracked black pepper, garlic, onion, carrots, celery, sweet red wine, stewed tomatoes, bay leaves, basil, oregano
If you are in a hurry click here to go straight to the recipe.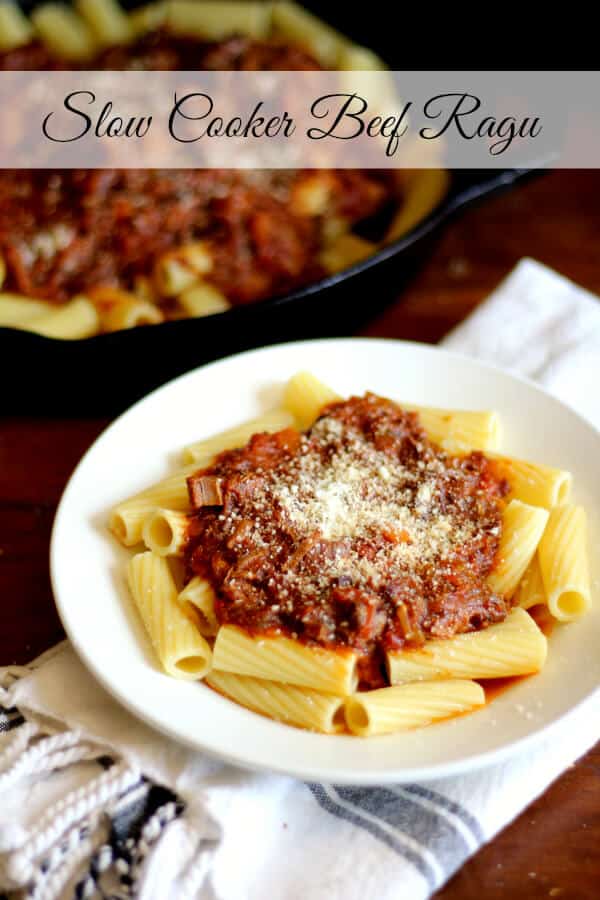 So there is a rumor floating around that I am part Italian. It may or may not be true as I was adopted by my maternal grandparents almost immediately after my birth. I didn't know I was adopted until I was 36 and I can tell you it turned my world upside down. There was a shift in my reality that has taken years to find my balance for. Anyway, as far as I know my birth mother never told anyone many of the details other than the one who donated part of my DNA was Italian. Although there is nothing to prove that claim I can say that I love Italian food with a passion -- so who knows?
Family is an odd thing. You'd think it was static but the truth is that family shifts and stretches, shrinks and wiggles to wrap itself around a variety of situations even in one lifetime. Once my family was my birth mom and me, within hours it was my parents and me, and when I found out I was adopted I gained a couple of brothers, a sister in law, and a niece. It has been used to describe my first marriage and my children born to me plus a few kids that we took in to help. Now it has grown to include my new (actually we've been married long enough that I should stop describing him as new and call him slightly used) husband, a son in law, a daughter in law, two stepkids, three grandkids, a brother in law, another sister in law, and some really amazing friends who have become family and filled in the aunts, uncles, and cousins slots. Eventually family will become just my husband and me as the kids move out and begin their own families. Family are the ones that are there for you, that have your best interests in mind, and that support you through all of your changes even if you don't share DNA.
I've been very lucky in that department.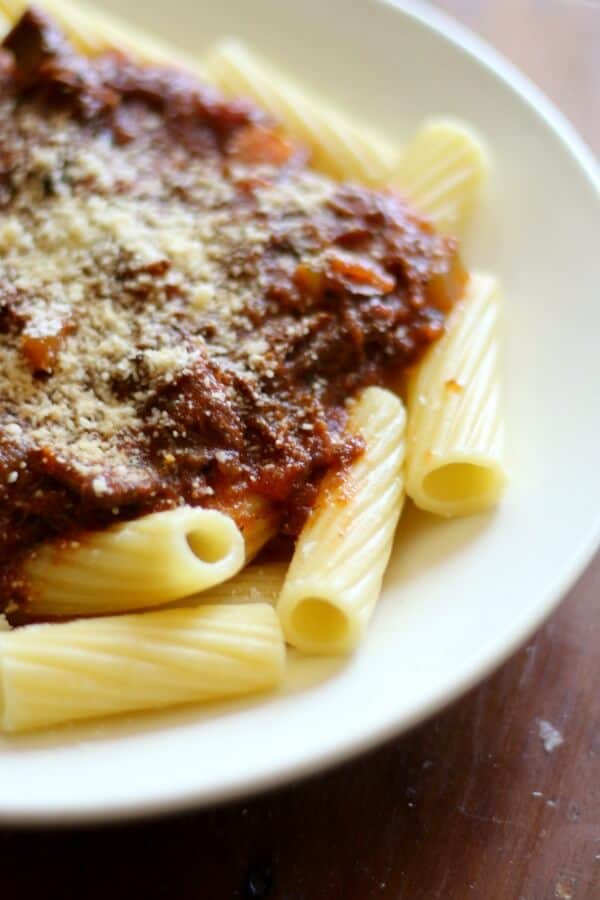 Anyway, whether on not I have some Italian blood rushing through my veins I do like Italian food. My mom created spaghetti with over cooked pasta and a jar of Ragu. For years I thought Ragu was the name of a brand of spaghetti sauce. Then along came adulthood and cookbooks and, low and behold, a recipe for ragu -- real ragu. Real ragu is not a jar of commercial sauce with some cooked ground beef dumped in. It is a slow cooked melange of meat, vegetables, herbs, and wine. If you prefer not to use wine go ahead and use purple grape juice -- it works great! I made this for an event at church and didn't want to add wine in case it would cause a problem for someone. I used grape juice instead and it was perfect.
I like this slow cooked beef ragu sauce with rigatoni because the size and shape of the pasta grabs the sauce and hangs on for dear life. Every single bite is magic. It's easy to make but don't skip the searing step. It makes a huge different in the end result and the flavor is worth it. The slow cooked beef is just so much better that ground meat! The sauce is even better the next day if you can stand to wait.
The following are affiliate links. If you click through and buy something I get a small commission which is used to keep the blog up and running smoothly. Thank you for being a part of Restless Chipotle!
This requires a six quart crockpot. I have this Hamilton Beach crockpot and it's programmable. I love it and highly recommend it.
Here's that slow cooked beef ragu recipe! You're gonna love it!

📖 Recipe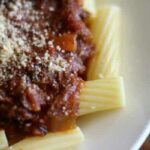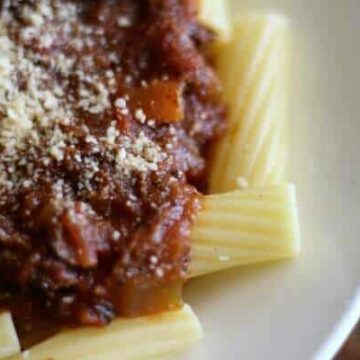 Slow Cooked Beef Ragu Sauce
Print
Save
Saved!
Rich, thick slow cooked beef ragu is full of flavor from chuck roast that is simmered in a combination of vegetables and herbs. Super easy!
As an Amazon Associate I earn from qualifying purchases.
Ingredients
3

pounds

beef chuck roast

2

tablespoons

olive oil

1

tablespoon

kosher salt

1

tablespoon

cracked black pepper

3

cloves

garlic

,

minced

2

cups

diced onion

1

cup

diced carrots

1

cup

diced celery

1

cup

sweet red wine or grape juice

28

ounces

stewed tomatoes

3

dried bay leaves

1

tablespoon

oregano

1 ½

teaspoons

of basil

1

pound

box of rigatoni

Parmesan as desired
I earn a commission from Instacart from qualifying purchases.
Instructions
Rub the salt and pepper over the beef.

Heat the olive oil in a large, heavy skillet until it sizzles.

Add the beef and sear on all sides until it is golden brown.

Remove from heat and set aside.

Add the remaining ingredients (except the rigatoni and Parmesan) to a slow cooker and place the beef on top.

Cook on low for 12 to 16 hours.

About 1 hour before serving shred the beef with two forks and stir it into the sauce.

Remove any large hunks of fat.

Replace the cover and continue to cook.

Cook the rigatoni.

Drain.

Serve the ragu over the rigatoni and pass the Parmesan
You'll find more helpful tips and variations in the body of the post.
Nutrition information is estimated as a courtesy. If using for medical purposes, please verify information using your own nutritional calculator. Percent Daily Values are based on a 2000 calorie diet.
Sign up for the emails and never miss another recipe!!
We'll never share your email or send you spam. Pinkie swear.
If you liked this slow cooked beef ragu you might also like...
Spicy Tomato Cream Pasta Spicy Southern Kitchen
One Pan Baked Ziti Tastes Better from Scratch