I don't know anyone who could take a bite of chicken cacciatore and not feel all calm, safe, and snuggly on the inside. This is real comfort food – o.k. maybe not to a vegetarian…
Now, I am not talking about the high end chicken cacciatore, although I like that, too. This is the stuff pulled straight out of one of my vintage cookbooks. A recipe that is quick, easy, makes the house smell amazing – and will even make you feel like Donna Reed.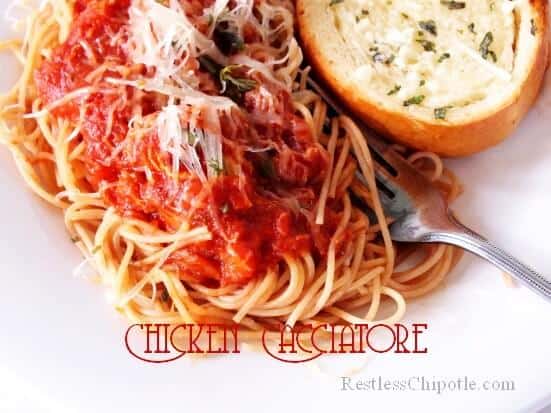 Cacciatore means Hunter Style.
Originally it was made from stuff the hunter found while he was out gathering dinner – wild mushrooms, rabbit or game birds, wild garlic, and other things all mixed together and stewed. Well, by the time 1950s came a long it was often chicken simmered in spaghetti sauce, at least in the middle class neighborhood I grew up in.
This chicken cacciatore is comfort food with plenty of garlic, onions, and herbs in a sauce that is generous enough to dip warm bread into. You can make this on top of the stove if you want to make it quickly but you can also dump the ingredients into a crock-pot and enjoy the scent all day long.
I swear, my mouth is watering just thinking about it.
You can use any chicken you like – some people use a cut up chicken while others prefer thighs or breast. Thighs will be tender and flavorful plus they cost less than breast.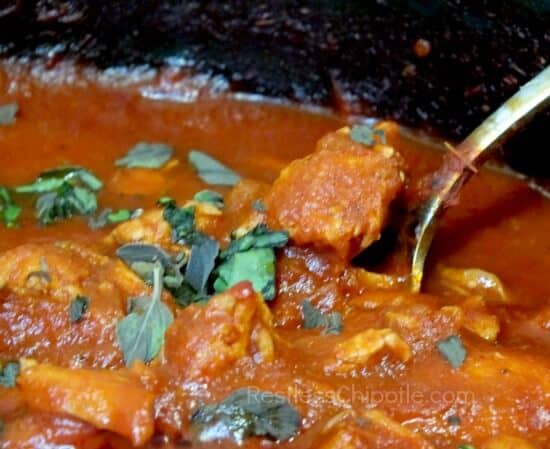 Here's the thing. I love this dish served on one of the first chilly nights in autumn, with the fire crackling and the family at the table. It makes me think of Badger in Wind of the Willows, the descriptions of dinners in Farmer Boy, The Hobbit, and so many other books I have loved.
I probably should have known that I was a foodie from the earliest years of my life. I always read the food descriptions over and over again until I knew them by heart. It was if I was actually in the book, smelling the aroma of the food and enjoying the company of the characters. A crackling fire always makes me think of Badger's house.
The kindly Badger thrust them down on a settle to toast themselves at the fire, and bade them remove their wet coats and boots. Then he fetched them dressing-gowns and slippers, and himself bathed the Mole's shin with warm water and mended the cut with sticking-plaster till the whole thing was just as good as new, if not better. In the embracing light and warmth, warm and dry at last, with weary legs propped up in front of them, and a suggestive clink of plates being arranged on the table behind, it seemed to the storm-driven animals, now in safe anchorage, that the cold and trackless Wild Wood just left outside was miles and miles away, and all that they had suffered in it a half- forgotten dream.
O.k… so no mention of chicken cacciatore there, but the feeling that paragraph evokes in me is the same feeling I get when I eat comfort food like this recipe. I think that is what good food is about – similar to a book or a movie it creates a moment in your life that you come back to over and over again.
Please try this and let me know what you think. I'll eventually getting around to posting a recipe for real Chicken Cacciatore that even Gordon Ramsey would approve of – until then? This is not gourmet, fancy, or expensive. It's just pretty dang good.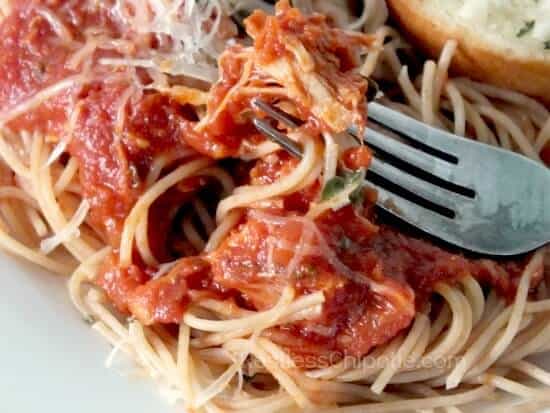 Chicken Cacciatore Recipe
Serve this chicken cacciatore with a good red wine, plenty of garlic bread for sopping up any extra sauce (it keeps you from actually licking the plate), some steamed and buttered broccoli, and vanilla pudding for dessert. Don't forget to sprinkle the top liberally with Parmesan! If you like this recipe please give it a 5 star rating. Not quite what you're looking for? Try this Southwestern Chicken Pasta Skillet
Chicken Cacciatore
An easy to make comfort food. Spicy, tangy tomato sauce is full of the flavor of fresh herbs and rich chicken. Serve hot over your favorite pasta for a warming, filling dish.
Ingredients
2

lbs

of boneless chicken breast

,

, thighs, or while chicken cut up

4

cloves

of garlic

,

, minced

1

coarsely chopped green pepper

1

coarsely chopped yellow pepper

1 1/2

cups

chopped onion

1

can of Ro*Tel diced tomatoes

1 12-

oz

jar of Newman's Own Sockarooni sauce

1/2

cup

thickly sliced mushrooms

,

, optional

2

tablespoons

fresh oregano

2

tablespoons

fresh basil

1

tablespoon

fresh thyme

2

tablespoons

minced fennel leaves

,

, optional

1/2

cup

red wine - a chianti is perfect

1

lb

whole wheat linguine or spaghetti
Instructions
Heat a couple of tablespoons of olive oil in a large high sided frying pan.

Add the onions, peppers, and garlic and saute until limp - about 2 minutes.

Remove from the pan and set aside.

Add the chicken to the pan (and a little more oil if you need it) and brown it quickly.

Add the remaining ingredients except the fresh herbs.

Cover, and simmer for 30 to 45 minutes, or until the meat is tender and done. Stir it occasionally to keep it from sticking and ensure the sauce doesn't scorch.

Meanwhile, cook the pasta in salted water until a la dente (just tender - not overcooked)

Drain well.

Spoon sauce over cooked pasta and serve.
Slow Cooker Instructions
If you are going to make this in a slow cooker just put all of the ingredients except the fresh herbs and pasta in the Crock-pot.

Cook on low for 8 hours.

Add the fresh herbs just before serving.
Nutrition
Calories:
392
kcal
|
Carbohydrates:
51
g
|
Protein:
33
g
|
Fat:
4
g
|
Saturated Fat:
0
g
|
Cholesterol:
72
mg
|
Sodium:
382
mg
|
Potassium:
880
mg
|
Fiber:
4
g
|
Sugar:
6
g
|
Vitamin A:
16.9
%
|
Vitamin C:
48.7
%
|
Calcium:
6
%
|
Iron:
14.3
%
IF YOU LIKED THIS EASY SKILLET DINNER YOU MAY ALSO LIKE…
From left to right: Southern Baked Mac & Cheese with Beer, Macaroni and Cheese, King Ranch Chicken Casserole
Let's Keep in Touch!